Hello!
If you are reading the crypto news last weeks, you have noticed that some public traded companies are starting to accumulate Bitcoin.
In fact, there is more than that, yhey are also sharing how they are doing it so that other companies can easily copy the process. Companies like Grayscale, the largest digital currency asset manager, with more than $5.9B in assets under management have joined the party.
Other well known companies such as Square or MicroStrategy are HODLing Bitcoin on their balances.
I found an image from @coin98analytics, that shows what it means in a visual manner, here it is: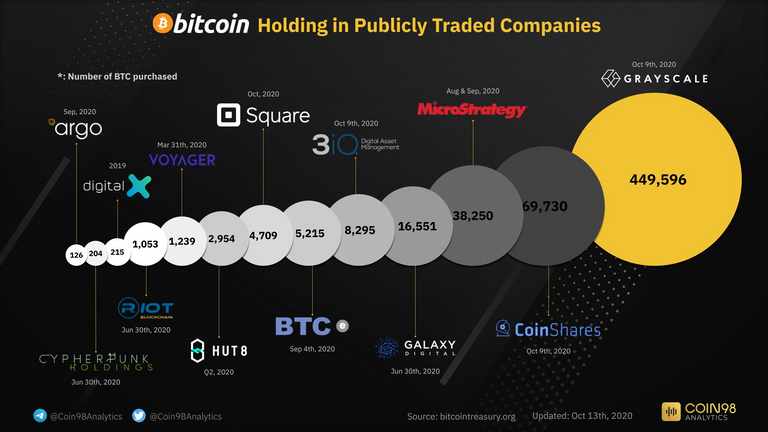 Source
If only 10 companies accumulate more than 600,000 Bitcoins in their balance sheets, have you ever wondered what will happen when more and more companies want to buy?
The answer is easy 🚀
I remind you that the maximum supply of Bitcoin is 21,000,000 and that you have to assume that many are lost forever. Probably with the current supply of 18 million there are less than 16 million available. And by available I am not saying that people are willing to sell...
Just 10 companies probably own 4% of the available Bitcoin supply:
600,000 / 16,000,000 = 4%
Things are going to get wild. I just want more time to accumulate. Bulls, please let me save more money before the most amazing bull run ever.
Stay safe!
Enjoy! 😊
---