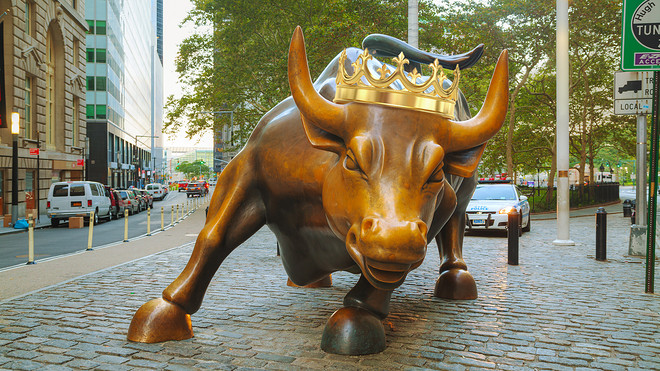 If you were looking at cryptocurrency prices today at the front page of coinmarketcap you would see a lot of red.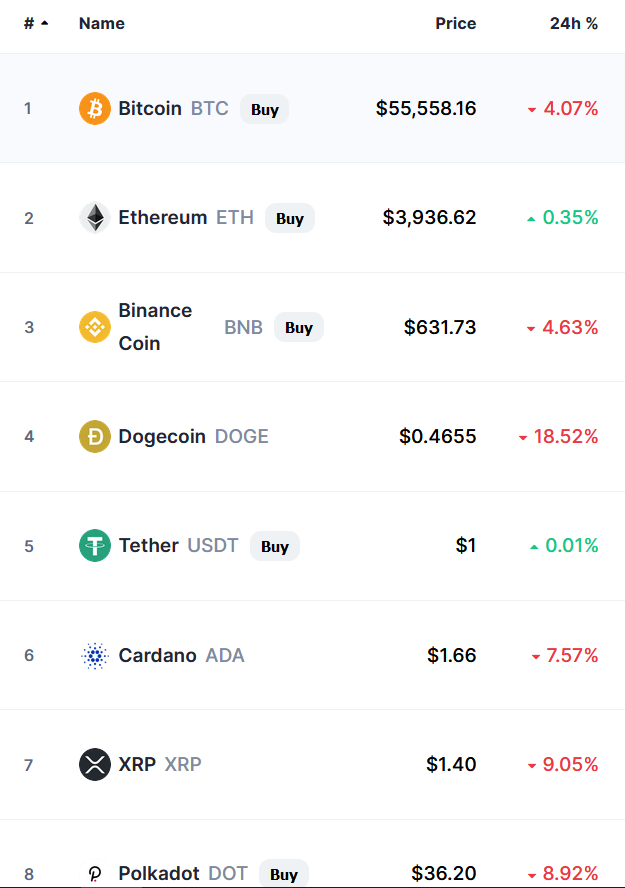 In times like this is ideal not to sell unless you are trying to lock in profits. The idea in investing is to buy low and sell high, never anything more.
Hunting the Next Crypto Coin Boom?
WSJ had an interesting article last week about crypto speculators trying to look for the next Dogecoin boom. Story read here With Dogecoin rallying over 12,000% just in 2021 to date it is difficult to ignore. Heck getting just a fraction of that return in the SPY index yearly is considered by many on Wall Street a good year.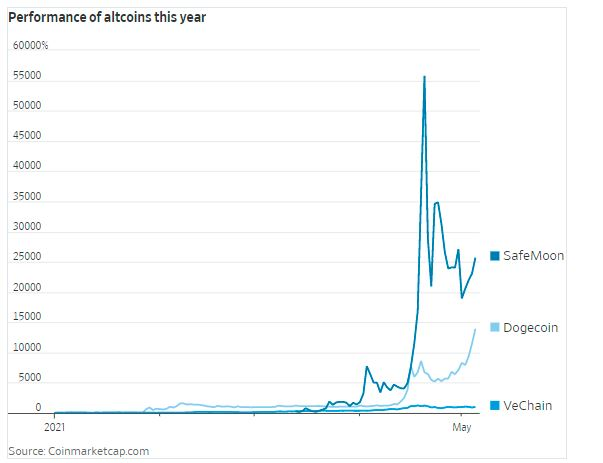 (Courtesy of WSJ)
A couple of coins WSJ spotted recently that looks to have the possibility to go parabolic similar to Dogecoin are Safemoon and Vechain. Investors may not know all the intricacies or tech behind the coins they invest in but the price move is in their eyes sufficient enough to worth investing in.
If you are looking for the next big parabolic you may not have to look too far. In coinmarketcap the daily top gainers and losers list is a good start. Just today here is how the top movers look: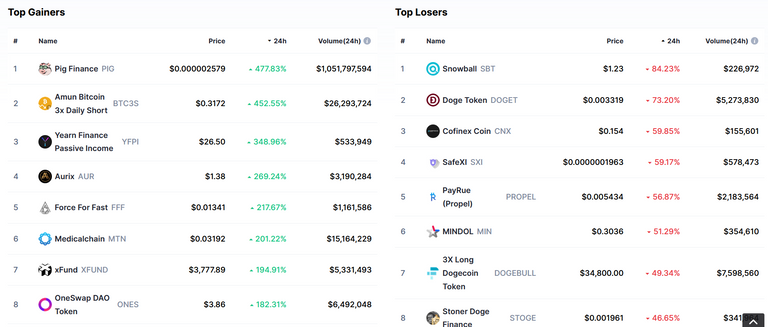 The point I am making is that no matter how red a market looks there will always be an area where it is green. Timing the market for the right move is almost impossible. Those who speculate are gambling with their money. Yet if I invested in coins I believe I have to be patient with the trade.
Conclusions
Huge returns in crypto will come and go but being ahead of the move before it happens is where the big money is to be made. No point to trade while a coin is already going parabolic but to invest in multiple coins that I believe in and holding them as long as I can. While awaiting for that parabolic move that may or may not come. This is apart of investing where there is potential the parabolic move will never come. Yet it most certainly will be better odds than chasing while a coin has already gone parabolic. Its easy to say but difficult to do because the temptation of the potential profits are there when it happens. I end this post by reiterating we want to buy low and sell high. Not the other way around.
Thanks for reading.

LeoFinance = Financial Blog
LeoDex = Hive trading exchange for Secondary Tokens, Low 0.25% fees for deposits and withdraws.
HiveStats = Hive stats per user
LeoPedia = Informative content related to anything about Crypto and how to make financial gains in crypto!
CubDefi = LEO Finance's Defi with CUB Token