I check my post in hive , https://peakd.com/hive-174578/@lebah/mengenal-apa-itu-hive-dan-bagaimana-cara-kerjanya
The post is Indonesian Language. The post is on the second page of google search.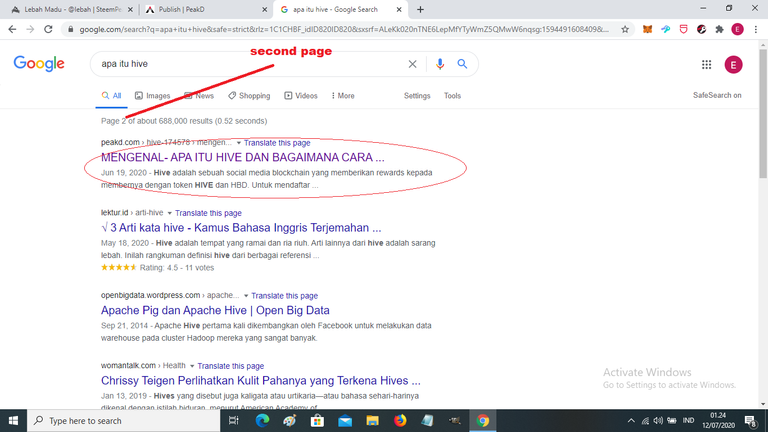 I think there are no competitors that write keyword " APA ITU HIVE?" The result is on the second page. The post was on June 19. It should be on the first page because there are no competitors in the keyword.
WHY HIVE POOR SEO?
There are some reasons when google search do not place a post on the first page. One of them is duplicate contents. Yeah, we see that there are many duplicate contents on hive platform. Some steem users still use the same post to make contents in hive. That is not a problem because there are no rules to post duplicate contents. However, the platform will not be popular in search engines and confuse readers. This is just a suggestion to all content creators to edit few words in the front articles and end articles to manipulate search engines. As I know, the change at least 150 words the first paragraph. Those changes will manipulate search engines so the article will look original.
WHAT SEO BENEFIT
Seo ranking will benefit to visitors from organic readers. Readers will drop to hive blog. They will be interested to join hive and increase the number of new members. The rise of new members will increase demand or hive tokens and boost the price of hive. That is one way to make hive has more value.
SEO FREE MARKETING
Seo is a free marketing campaign. Once a post on the top of search engines, the post will be visited by a lot of visitors everyday. This will help new readers know about hive platform. What post should be on first page? If you can , every post? To get to the first page is not difficult actualy if the content is original. The key is to make title. Title with " SEO keyword research" has more possibility on top of page. In my post I try to make title with seo friendly keyword. Thanks for reading don't forget to follow me @lebah I will follow you back!