Hey all,
I want to introduce a platform that I've been using since 2018. My Nexo journey started with buying its token and holding in the savings account. Until now, I received 3 dividends in which I'm given both base dividend and loyalty dividend.
In addition to dividends, the platform has a better-earning option. You can earn up to %10 for your stablecoins and up to %5 for your Digital currencies. In this post, I will both introduce and exemplify the best options on the platform with screenshots from my personal account.
Even if a platform gives you %100 staking reward/interest, security always comes first. There is no exception. Let's view the security of the platform.
Security
Nexo partners with the world-renowned custodian BitGo to secure all crypto assets. BitGo is backed by Goldman Sachs and is Cryptocurrency Security Standard Level 3 as well as SOC 2 compliant.
Up to $100M of your savings are under the protection of BitGo which is a trustworthy organization. Also, there are other security protocols acquired by Nexo. As a customer, I am comfortable while putting my money into this automated system and I am planning to grow a part of my portfolio in this platform.
Fees
With the increasing fees after De-Fi Mania, People may refrain from the platforms taking high fees from the users. However, Nexo has an awesome campaign which is the "Zero Fees" schedule. You do not pay any fee for your actions as long as you do not get a loan. It's the only time that you are literally paying for something 😌
Which digital assets are accepted by Nexo?
You can deposit BTC, ETH, PAXG, XRP, LTC, BNB, XLM, NEXO, BCH, EOS, and stablecoins
I'm holding BCH & Tether in the savings account to earn interest. The best part of the earning mechanism is compounding interest. Each satoshi/litoshi/cent works for you the moment they are filled in your savings account.
To realize the importance of the compounding interest, take a look at Warren Buffets' ideas over the power of compounding.
Borrowing
Nexo has decreased the minimum borrowing amount to $10 which is the lowest amount that is provided by crypto platforms.
Borrowing works nearly the same for every platform. You can get a loan as collateral to your digital values in your savings account. I have not used this option so I cannot state my experience. Yet, for further information, check: Loan-to-Value (LTV)
Nexo Token | Tokenomy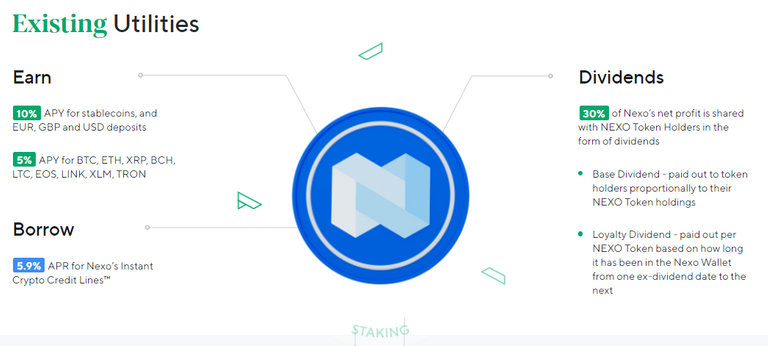 Currently, Nexo enables you to earn higher APY for your digital currencies as well as sharing %30 net profit of the platform at least once a year.
How can you get the highest percentage of APY in Nexo?
There is a simple calculation: %10 of your portfolio is needed to be Nexo token. Let's exemplify with my personal account:
BCH 0.08975724
USDT 79.742015
NEXO 198.67873848 = $28.98
I have 198 Nexo and which makes ~ $29. It means that I can get the highest APY for $290 in my savings account.
Once the amount reaches $290, to get %25 more interest rate (%4 to %5 for cryptocurrencies; %8 to %10 for stable coins) I will add more Nexo token to stake.
I think that a great Tokenomy model to both preserve the value of the token and add utility for it.
What is the minimum deposit threshold to start earning interest?


As you can see, the minimum deposit amount is quite low.
You can even start earning interest for your $1 Stablecoin
Moreover, you are not charged for withdrawal fees. You can send your money without paying any cent.
I also use Nexo as a medium. I buy Tether coins and send them to my Nexo saving balance. Until the time that I need to use them, I'm earning interest.
When I need to spend my stablecoins, I withdraw them with Zero Fees.
Daily Interest Payment: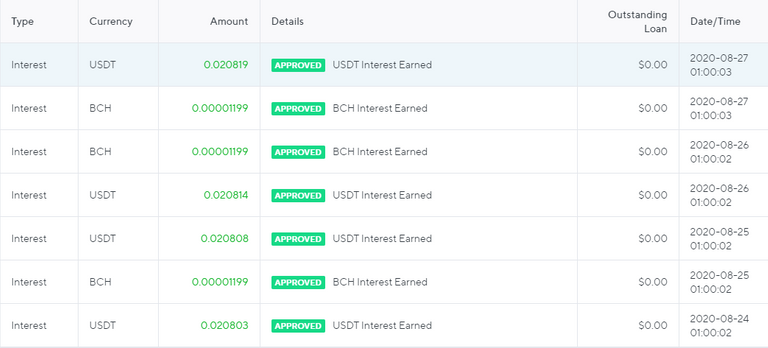 It's a snapshot from my personal account.
BCH 0.08975724
USDT 79.742015
NEXO 198.67873848 = $28.98
For $79 I earn $0.02 every day and it is slightly increasing thanks to compounding.
For 0.089 BCH, I earn 1199 satoshi and it's growing.
I think you can generalize it for your portfolio or you can use a calculator when you create your account.
If you want to compare Nexo with other platforms, Coingecko Earn by @coingecko will help you to calculate and contrast with the others.
TL: DR
Nexo is aiming to become one of the digital banks for your digital values. The platform serves up to %5 for your digital currencies and up to %10 for your stablecoins.
✓ You are not charged for any type of fee.
✓ Your digital values are protected by BitGo thanks to their agreement.
✓ You can earn dividends for your Nexo tokens.
I'm glad to use the platform. For any questions, you can contact me or 7/24 Nexo Support.
Sign Up with my referral link: Nexo Sign Up
Sign Up without my referral link: Nexo
Nexo Dividends: Medium Post: Dividends