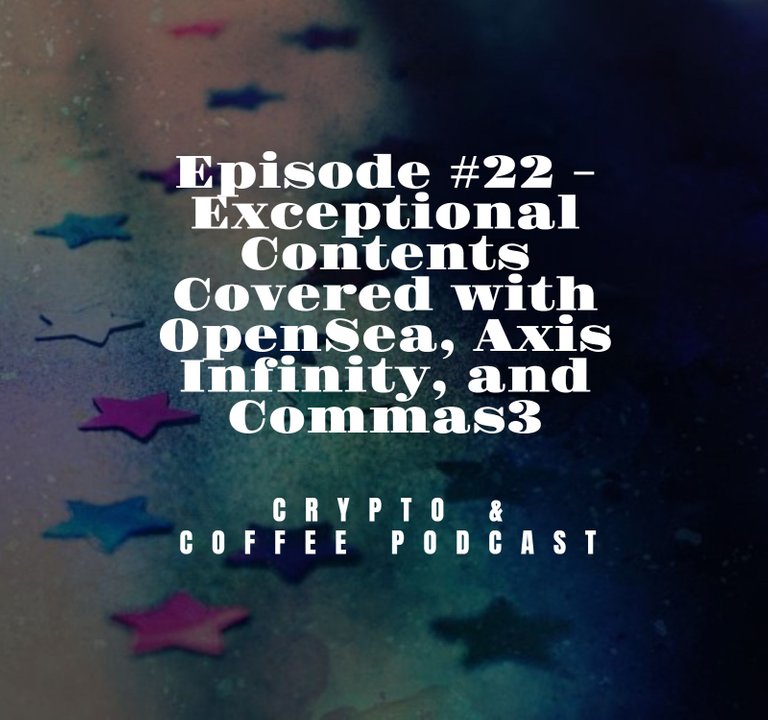 Podcast #22 link: https://anchor.fm/chesatochi/episodes/Episode-22---Exceptional-Contents-Covered-with-OpenSea--Axis-Infinity--and-Commas3-emtuv6
Introduction
It is impossible not to have something to talk about with Bitcoin reached 19k and the beginning of Ethereum 2.0 on December 1.
I love what is happening and is fun to produce content and learn every day something new in the crypto space.
What covered in this podcast?
On this podcast I talk about the following elements:
OpenSea: The ultimate NFTs market on the Ethereum. Axis Infinity: Where I made a profit of $28 Commas3: A robot trading website that is popular.
Lots of phenomenal content.
Last thought
If you enjoy this podcast, why not take a couple of minutes of your time to visit my website, subscribe to my newsletter, and be part of my YouTube channel Crypto & Coffee.
Website: https://chesatochi.com
Newsletter: https://chesatochi.substack.com/
Crypto & Coffee channel: https://www.youtube.com/c/ChesatochiCryptoCoffee