With summer giving away to fall, I made the decision to pull the plug on our tomatoes. While there were still quite a few green tomatoes on the plants, I knew that there wouldn't be enough time for them to ripen before it got cold, and I needed a place to toss down some kale seeds. But, I really hated to see those tomatoes go to waste, so we decided to pickle them!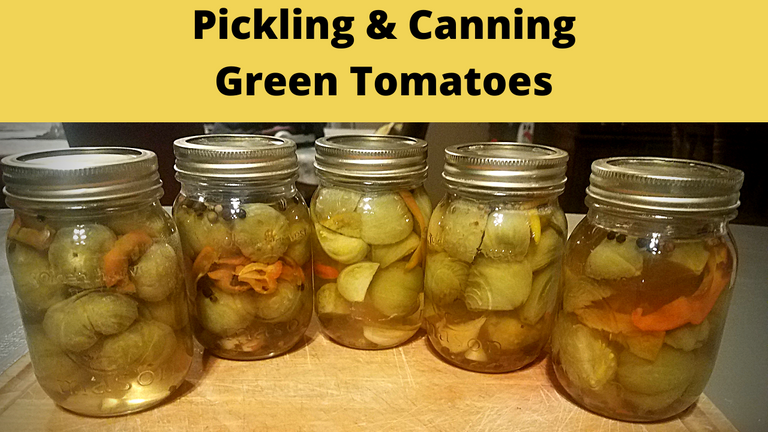 Original Image
Now, I'm not a super fan of pickled... well, anything. But, my wife and kids are. Cucumbers, peppers, okra; you pickle it, and they'll eat it. However, none of us have ever tried pickled green tomatoes. But, even I am curious to find out what they taste like.
The Recipe
Whenever I try to find a recipe for anything, I like to look up several different versions and then combine the parts that I think sound the best. In this case, there were a couple of different recipes that sounded interesting, but they seemed like totally different flavors. So, since I was going to be making about 5 jars of these things, I decided to try a few different ingredient combinations. Here is what I settled on.
Ingredients
I ended up making 5 pint-size jars of pickled green tomatoes.
~ 5 pints of green tomatoes
~ 4 paprika peppers
1 1/2 cups White vinegar
1 1/2 cups water
black peppercorns
coriander
crushed bay leaves
Ball mixed pickling spice
pickle crisp
The Brine
For the brine, I combined 1 1/2 cups of white vinegar with 1 1/2 cups of water in a saucepan and poured in some peppercorns. I didn't measure them. I just poured. Then, I put the saucepan over heat and began bringing it to a boil.
Packing The Jars
While the brine heated up, I began packing the jars. I decided to do each jar a little different. Since I've never made these before, I figured I might as well try several different things to see what everybody likes. You can watch the video to see what I put in each one. I really didn't measure any of the spices or ingredients. I like to learn by doing. We'll see how they turn out and then adjust from there in the future.
The Result
Well, I don't know, yet. A lot of the recipes that I read suggested letting the pickles sit for a couple of weeks before opening them.
All of the can lids did pop, so I'm pretty sure the canning process worked correctly. Now, we'll have to see how they taste. I'll be sure to keep you updated!