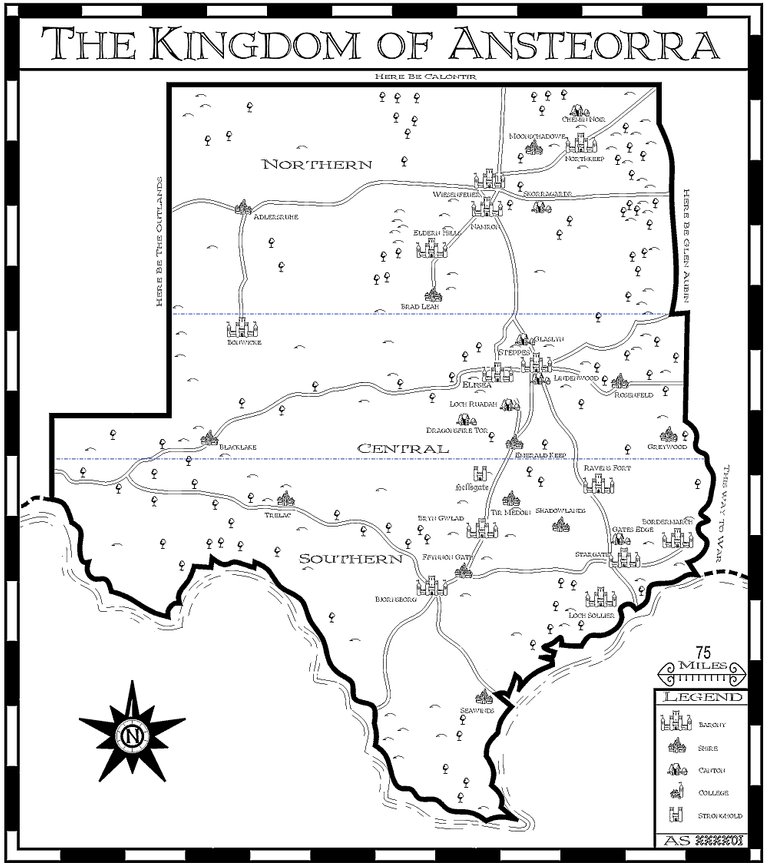 Map of the Kingdom of Ansteorra, click to see source HERE


Once upon a time, during the time of kings, queens, and troubadours there lived a man who was known throughout the

Kingdom of Ansteorra

as Baron Robert Fitzmorgan. He was a landless noble from Southern Provance. After his time following Richard the Lion Hearted and many pilgrimages to

Santiago de Compostella

, Baron Robert Fitzmorgan found he was lonely and wanted to find the love of his life.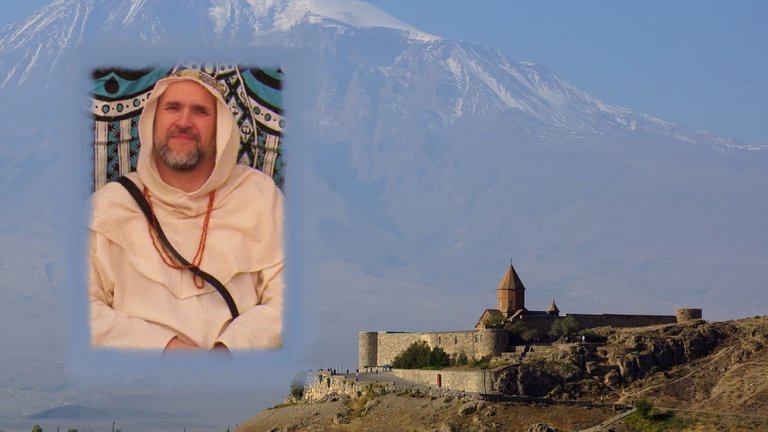 Image of Baron Fitzmorgan taken by Don & Monica Riney
The background image can be found on Pixaby, image by Taken from Pixabay.
You can find the source HERE


The baron searched for many years and was unable to locate a woman who touched his heart. He finally decided he would make his home in the

Barony of Northkeep

and work on poetry and song. It was here he found a place to belong and help the people of this place. Here he would create, teach, and lead to make Northkeep a place of beauty and strength. To help inspire the people of this land, he wrote a poem that is still told today.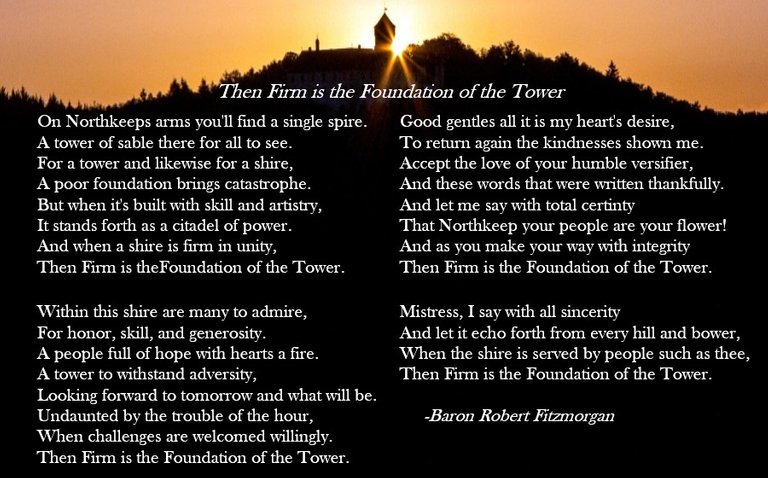 Poem written by Scott Fridenberg as Baron Robert Fitzmorgan.
The background image can be found on Pixaby, mage by Taken from Pixabay.
You can find the source Image by Ted Browning from Pixabay*


One evening the baron found himself at a tavern sharing stories with many other people when a young woman poured wine into his mug. He looked up and found her to have

stolen his heart

as they locked eyes, but it could not be! He was a noble and she was just a tavern wench. It was said the only way a woman could steal a nobleman's heart with one look was if the woman was of noble birth. He decided at that moment he would find out the truth and make her his wife, if she truly was of noble birth.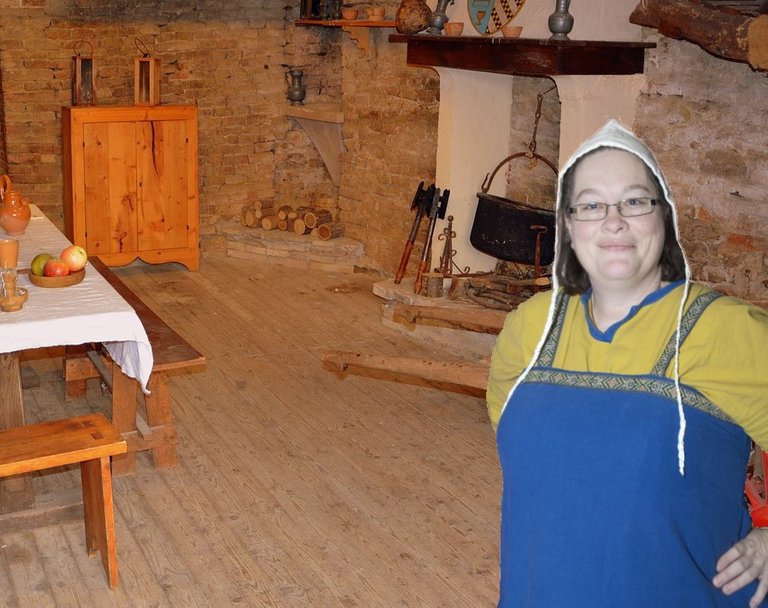 Image of Ren taken by Scott on a cellphone.
The background image can be found on Pixaby, Image by Gianni Crestani from Pixabay
Robert Fitzmorgan began his search by talking with the woman to find out if she knew anything about her ancestry. Her name was Katrine and she had been called "la escolpiera," French for "the gimp," because she had been injured during a shipwreck when she was very young. It was rumored her father was of noble blood and had been in the Crusades. Katrine's father was given the daughter of a great Saracen leader to marry, she was beautiful, intelligent, and soon with child. This family was happy in their Jerusalem home, but Katrine's father longed to take them to his family home in Provance. They boarded a ship and began their journey home.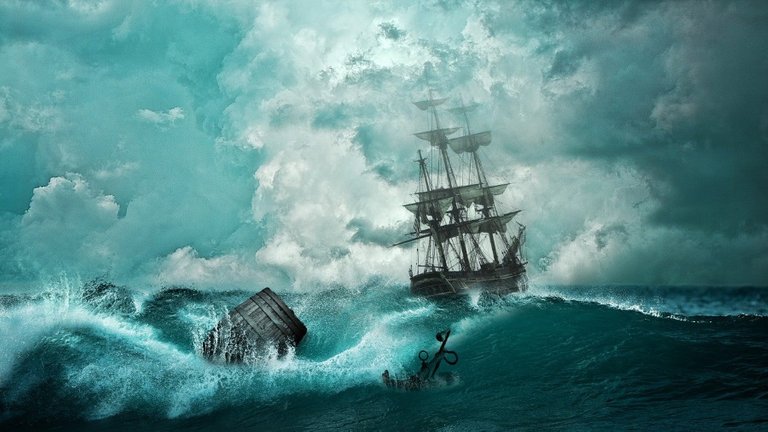 Image by Comfreak from Pixabay
It was here The Gimp's story takes a turn for the worst. A storm overtook the sailing vessel, killing all that were aboard except for her. When she woke, she was pinned to the sandy beach by wood going through her leg. If she lived, she knew she would be a cripple. Fortunately, she was found by the local Ansteorran tavern owner. He and his wife took her in and treated her as their own child. She was happy and truly enjoyed living life to the fullest even though she was cursed to use crutches for the rest of her life. This was the end of what she knew.
Could this be? Could she truly be the daughter of a great Saracen leader? Who exactly was her father? He had to find out if her father truly was of noble blood she was not just a common woman. He had to find out; he had to know. The Baron was in love and wanted her as his wife.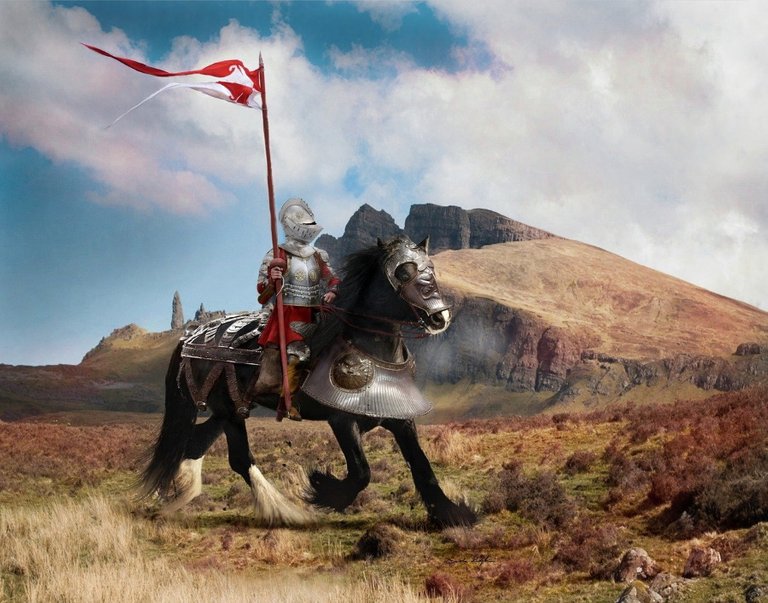 Image by Dorota Kudyba from Pixabay


As the months went by, the Baron searched the lands for information that would prove Katrine not be common, but worthy of marriage to him. Katrine's grandfather was truly a great leader in Isreal. Robert was welcomed into the home and provided all the information he needed to find his daughter's family. Setting sail for Provence, the Baron wrote letters, researched documents, and, finally, found the family he had hoped to find. Katrine was the daughter of a Baron and he would be taking her to be reunited with them soon. Then he would make her his wife and they would live happily ever after.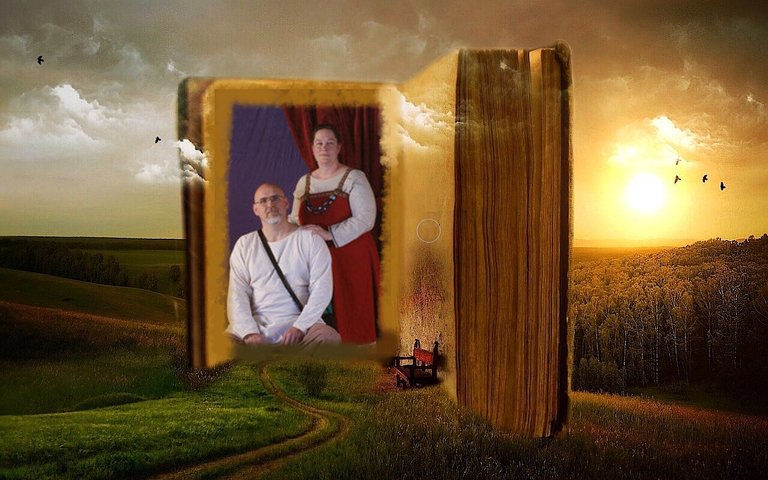 The image was taken by Marc Carlson during an SCA event.
Background Image by Mystic Art Design from Pixabay


---
Yes, this is just a story, but it is one my husband and I tell others who want to know about our personas in the

Society for Creative Anachronism

. The SCA, as the Society for Creative Anachronism, is often called, is where Scott,

Baron Robert Fitzmorgan

, and I, Lady Katrine la Escolpiera, met. I was looking for something to occupy my time and visited one of the events that Scott was volunteering. He explained that the organization was much like the

Civil War reenactment

groups, except they were more focused on teaching and learning the arts, skills, culture, and combat of the pre-seventeenth century world.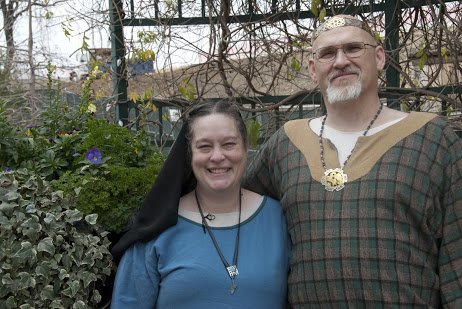 Attending our last SCA event at the Fort Worth Gardens in Texas, 2018.
On the day I first met Scott, I was on crutches. I had broken my ankle earlier in the spring and was in the last few weeks of my "cast time". It was easy to get around and I tried to do what I normally did. Of course, I was much younger then and nothing phased me. Scott explained how events happened and they sounded like a camping trip while being dressed up like a princess! I was all in for that so I had made plans to attend my very first SCA event within a matter of days of first meeting Scott.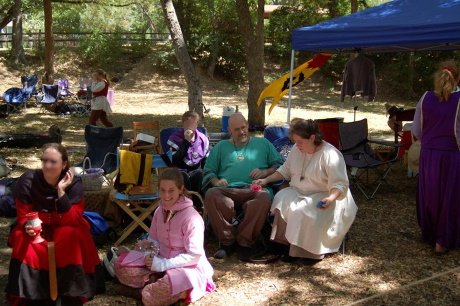 Attending an event in Texas with our daughter (in pink)
for one of the youth rapier (fencing) tournaments in 2015.
At my first event, still on crutches, I was planning to sleep on a park bench because I did not have a tent. All I had was a sleeping bag Daddy had loaned me and a pillow. I had been told there would be "garb" to borrow until I could make my own. It was while I was sitting on the bench I planned to sleep on that I bumped into Scott. He said the bench would not do and he ran off! Soon he brought a dear future friend Vanessa over and she agreed to share her "tent" with me. It wasn't a tent at all! It was a huge pavilion with, not a pad on the ground, but two actual beds that were amazingly comfortable. She also dressed me. The crutches were still an issue, but life is what it is.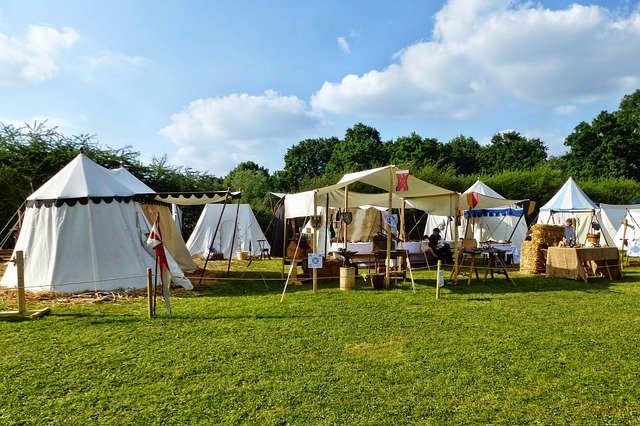 This is a bit more period camping than that first event,
but it will give you the idea of the "tent" I was able to stay in my first few events!
Image by Gabriel LE NAOUR from Pixabay
I attended three other events while still on my crutches (the cast was gone). Scott was right there to chat and help me find my way in the SCA. Then it happened! I was able to attend an event WITHOUT my crutches. I was so excited.
Scott showed up soon after I arrived, with my own tent this time, and he walked right past me with only a "Greetings m'lady." I was stunned. What could have happened to make his greeting so formal? Why did he walk right past me? I felt as if he had just ripped out my heart! Then I became angry. I walk towards him and overheard him asking our mutual friend Vanessa if she had seen the girl with the crutches, "you know, The Gimp."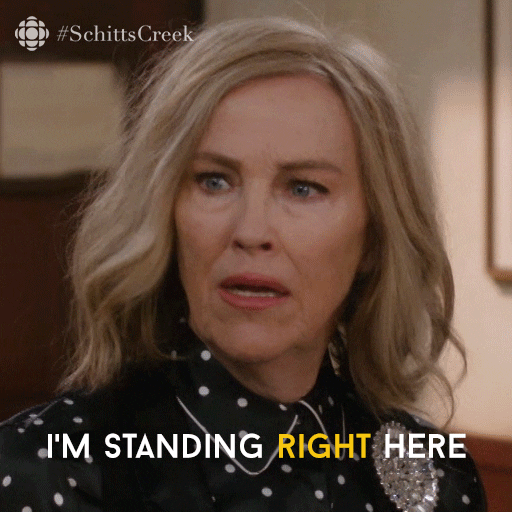 This not only gave me the name "Ren the Gimp" which eventually became my actual SCA persona name "Katrine la Escolpiera", but he never forgot who I was.
---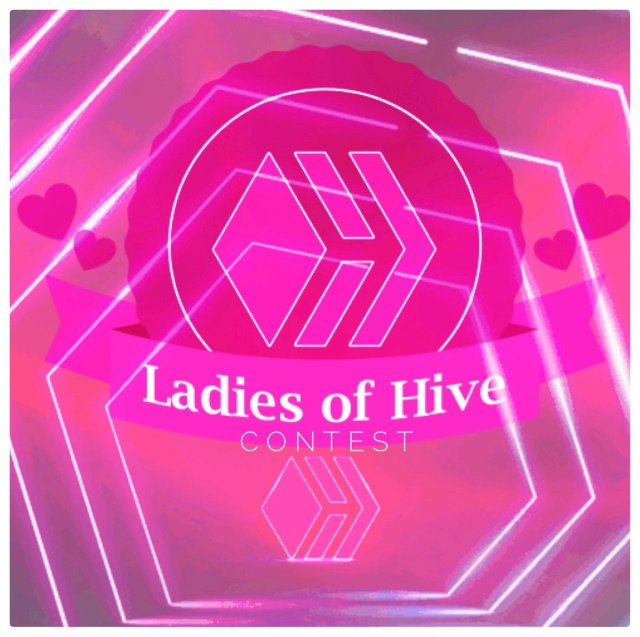 This graphic is from the new Ladies of Hive Community.
You should check them out!
There's so much Lady Power, it's intoxicating!
This brings me to the reason I am telling you the true fairy tale in two parts. The

@ladiesofhive

community is putting on their very FIRST contest right now! They are asking WOMEN to write a post about one of three things:
What did you last use in your house?
Where did you meet your significant other?
What would you do with 100 dollars?
Granted there are some other rules and the deadline is October 4th! So what are you waiting for? GO to the post and find out the rules! There are 5 HIVE waiting to be won! Will it be you?
Hey! All of you Women on Hive, go do it yourselves! It will be fun to see your entries!
Good luck!!!

---




Thank you so much for taking the time to read our blog posts.

We appreciate it so very, very much!


---





to learn more about either of these projects, please visit: @heyhaveyamet or @theterminal