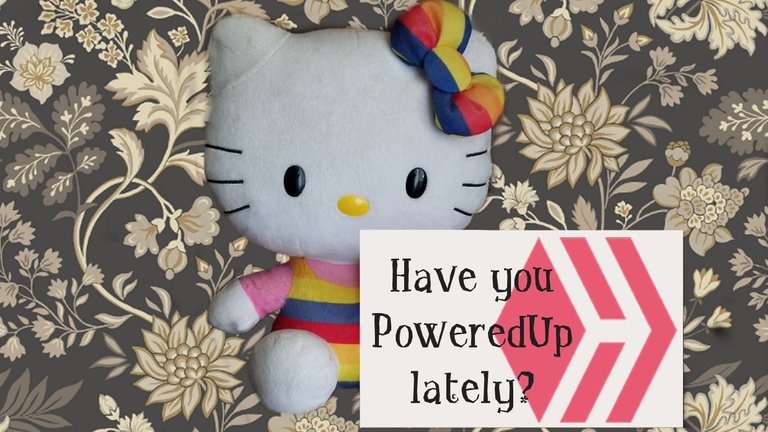 As I have stated in past PowerUp posts:
The PowerUp process is where we take liquid assets (HIVE, in this case) and stake it on-chain. In very simplistic terms, it's akin to buying stock, proving that you believe in the future of the chain. In return for the stake, those who PowerUp have a greater vote-value when they upvote posts (which, in turn, earns greater Curation Rewards), have more Resource Credits (RC) with which to transact with the blockchain, and earn 'dividends' of HP awarded periodically over time. [source]
Even though I have passed the 8,000 HP mark long ago and am no longer eligible for prizes in the big event of @streetstyle's #HivePUD (Hive Power Up Day), currently being run by @traciyork with assistance from @brittandjosie, I am still PoweringUp today!
Much of the liquid HIVE in my wallet currently is earmarked for specific things, so I only planned to PowerUp 200 HIVE this time. But, due to the rampant node errors we've had lately — WTF is going on with that, anyway...?!?!? 😠 — I received an error that my first attempt to PowerUp 200 HIVE failed: Network Error. So, submitted the PowerUp request again. Next thing I knew, both of the transactions cleared and I had PoweredUp more than intended. 😠
Seriously, why are the nodes having such issues all-of-a-sudden? This week has been horrid as far as transactions go. Comments, upvotes, clearing notifications, so much has been failing with errors. The default API has always been particularly troublesome, but the nodes run by @anyx, @pharesim, et al., have been relatively stable until this week. Hopefully @crimsonclad, @gtg, or someone can tell us what is going on! 😮
So, yeah, node errors caused me to PowerUp twice what I intended, but it's not a problem, really, and I will move some funds around to make up for it. The good news, however, is that this PowerUp puts me over the 15,000 HP mark! I am really pumped about this! Yessssssssssss!



 😊






to learn more about either of these projects, please visit: @heyhaveyamet or @theterminal

01-Oct-2020