Ladies of hive Contest the task I rarely do and hate doing the most.
Hello Ladies and princesses here
The African girl child must be taught how to cook clean and take care of the home, that is the quality of a wife material.
Who cares whether you love house chores or not, at 8 years of age you begin to do the dishes and learn how to use the broom.
You must have mastered cooking about 12 years of age and the other cleaning and house routine is all yours.
You get to be lucky when you have older sisters and sometimes the chores get divided amongst you girls but when you are the only girl child, its up to you to put everything in the house in order, the boys are useless in that aspect I must say.
Oh well that has been partly how I grew up and learnt to enjoy doing the cooking cleaning and house keeping
"They say that the most important person in the house is the one who does the dirty jobs".
I may not have gotten anything to offer but my presence is often felt when am not at home to cook, clean and wash the dishes.
This is the one thing I dislike doing.
Laundry
Maybe its a general illness in my house, everybody dislike washing their own clothes, I try to minimize the number of outfit I wear daily to avoid having a pile of dirty clothes in the house.
My siblings too dislike washing and we often had basket full of laundry.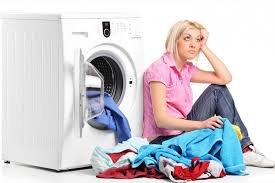 I thought I could proffer a solution to this before the year runs out by getting a mini washing machine that will clean our clothes.
Lacking enough physical strength to wash clothes with hands makes everything worst, and though under doctors advise am not to do hard work as such due to health restrain.
So I wash my under wears daily and wear tiny simple clothes I find easy to wash for now. How funny 😂😂😂😂
@blezyn invited me and reading through her contest post I can sense how lazy she is 😂😂😂😂😂😂😂😂
God bless your sis and I hope your Nigerian boyfriend will tolerate that you hate house chore
Please don't come for my head
Am inviting @bimpcy and @gloriaolar to tell what they hate doing in the house and also participate in this contest.
Thanks for reading through
---
---