¡Hola, Terrícolas!
Últimamente he estado participando mucho más en los concursos e iniciativas que me encuentro en la plataforma. En particular, desde hace tiempo había querido participar en los concursos semanales de la comunidad #LadiesOfHive pero por alguna u otra razón siempre dejaba pasar la oportunidad. Así que bueno, hoy finalmente me decidí a no dejarlo pasar más y es por esto que esta es mi publicación de participación para la semana #24 del Concurso de la Comunidad Ladies Of Hive.
---
Si te llama la atención este concurso, te invito a que consultes las reglas aquí.
---
Para mi participación he decido responder la siguiente pregunta:
¿Cuál "fuerza de la naturaleza" (sol, lluvia, viento, niebla, nieve, volcán, aurora, etc.) es tu favorita y por qué?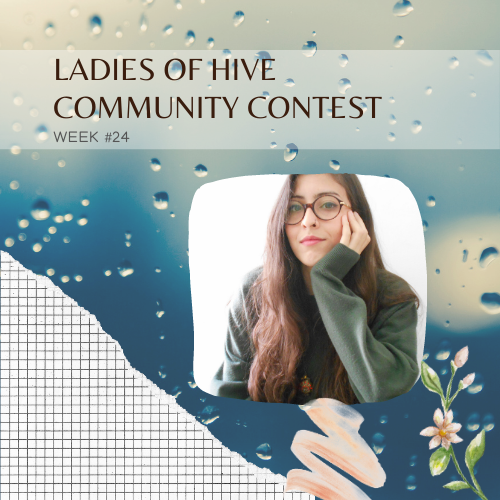 Image elaborada por @maryed en canva.com
Image by @maryed on canva.com
Hello, Earthlings!
Lately I've been participating a lot more in the contests and initiatives I come across on the platform. In particular, I had been wanting to participate in the weekly #LadiesOfHive community contests for a while now but for some reason or another I always passed up the opportunity. So well, today I finally decided not to let it go anymore and this is why this is my participation post for week #24 of the Ladies Of Hive Community Contest.
---
If this contest catches your eye, I invite you to check out the rules here.
---
For my participation I have decided to answer the following question:
Which "force of nature" (sun, rain, wind, fog, snow, volcano, aurora, etc.) is your favorite and why? "

LLUVIA
RAIN
Siempre me han gustado los días lluviosos. Me gusta sentarme en la ventana y ver las gotas de lluvia caer y escuchar su repiqueteo cuando impactan sobre mi ventana o sobre los tejados de las casas. Me gusta el olor a tierra mojada y la frescura del ambiente que resulta luego del aguacero.
Me gusta la lluvia, porque da paso al mejor plan de todos: prepararme una taza de chocolate caliente y acurrucarme en mi cobija favorita, pues para mí este es uno de los mejores placeres de la vida.
I have always loved rainy days. I like to sit at the window and watch the raindrops fall and listen to their pattering as they hit my window or the roofs of houses. I like the smell of wet earth and the freshness of the atmosphere that results after the downpour.
I like the rain because it gives way to the best plan of all: making myself a cup of hot chocolate and curling up in my favorite blanket, because for me this is one of the best pleasures in life.
---
---
Me gusta la lluvia porque rompe con esa rutina de los días soleados. Me gusta extender los brazos hacia el cielo y sentir cada gota de lluvia caer sobre mí, eso me hace sentir viva. Nuestro cuerpo se compone de un 70% de agua, quizás eso explicaría la sensación tan familiar y reconfortante que experimento al estar bajo la lluvia.
Es gracioso como todas las personas corren desesperadas para escapar de la lluvia, pero a mí me gusta sentirla...no importa si mi ropa y mis zapatos se empapan y si mi cabello se vuelve un desastre con tal de sentir en cada gota de lluvia ese toque del cielo inalcanzable.
I like the rain because it breaks the routine of sunny days. I like to stretch my arms towards the sky and feel every drop of rain falling on me, it makes me feel alive. Our body is made up of 70% water, maybe that would explain the familiar and comforting feeling I experience when I am in the rain.
It's funny how all the people desperately run to escape from the rain, but I like to feel it...it doesn't matter if my clothes and shoes get soaked and my hair becomes a mess as long as I feel in every drop of rain that touch of the unreachable sky.
---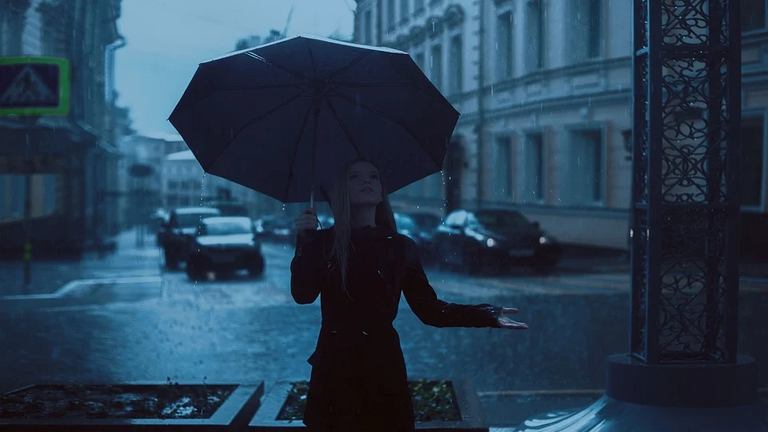 SOURCE
---
Para algunas personas los días grises y lluviosos son sinónimos de tristeza y melancolía, para mí significan todo lo contrario pues me generan felicidad, paz y tranquilidad porque asocio a la lluvia con la purificación pues al llover el agua se lleva consigo todo lo malo, arrastra todas las cosas negativas que puedan encontrarse a tu alrededor y, después de eso, da paso a un camino lleno de luz y esplendor.
Si bien la lluvia posee ese tono melancólico, sus gotas albergan vida. Sin el agua de la lluvia mueren los árboles, mueren las flores, mueren los ríos, morimos todos….pues necesitamos de ella para nutrirnos, para purificarnos. Entonces, ¿cómo ver con ojos de melancolía algo que es tan esencial?
For some people gray and rainy days are synonymous with sadness and melancholy, for me they mean the opposite because they generate happiness, peace and tranquility because I associate rain with purification because when it rains the water takes with it all the bad things, drags all the negative things that can be found around you and, after that, gives way to a path full of light and splendor.
Although rain has that melancholic tone, its drops harbor life. Without rainwater, trees die, flowers die, rivers die, we all die....we all need it to nourish us, to purify us. So, how can we see with melancholy eyes something that is so essential?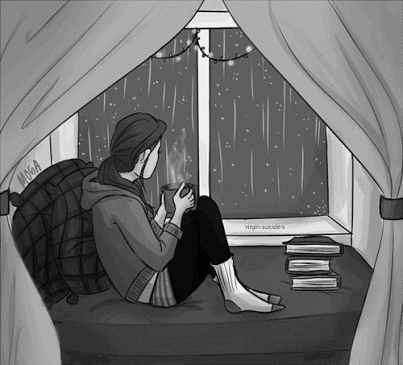 SOURCE

Bueno amigos, esto es todo por hoy. Me encantaría invitar a mi linda amiga @iamsaray para que se una a este concurso.
Well friends, that's all for today. I would love to invite my cute friend @iamsaray to join this contest.
---
✨¡Gracias por leer esta publicación!✨
✨Thank you for reading this publication!✨
---
✂ Separador | Separator: cryptosharon
Translated with www.DeepL.com/Translator (free version)