For yall who have been following my posts for a bit longer and are thinking now because of this title 'huh....but she has grown stuff in the garden before right'?
You are absolutely right but these were mostly herbs and add ons for in the food. This time it is finally time to harvest this red rascal. My first tomato ever!!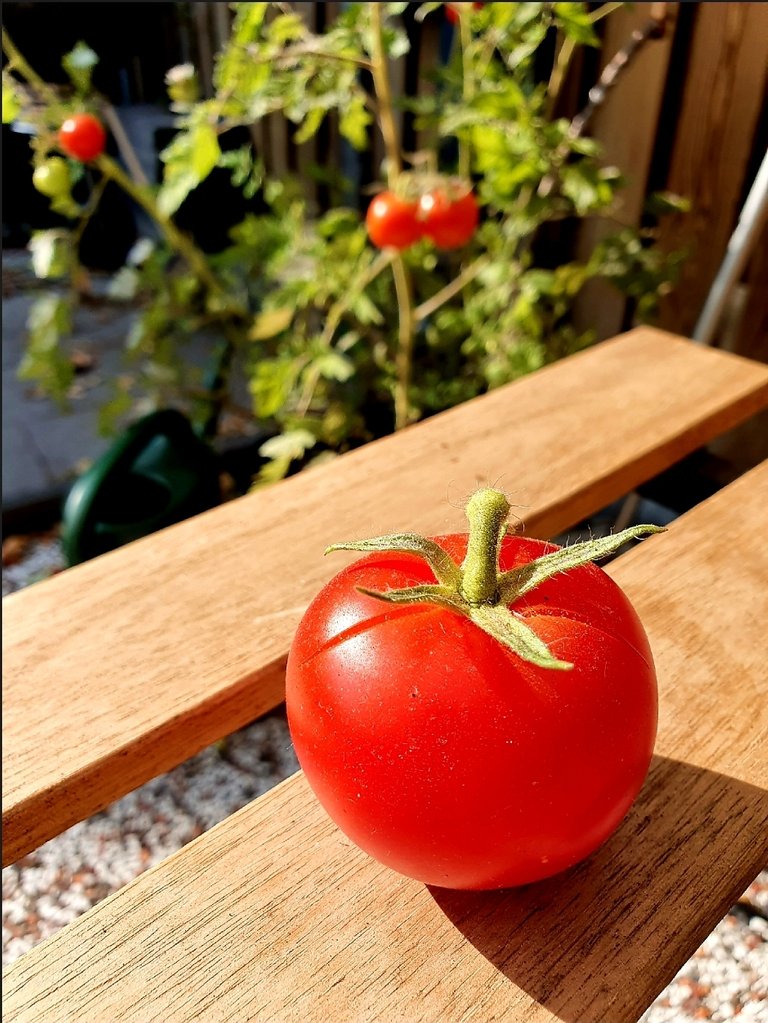 Just look him being all shiny and having even been cracked because he wanted to grow more!


So this tomato journey started with getting the 4 of the most tiny plants from one of my colleague who was growing a lot at the time in her own greenhouse. A greenhouse is beautiful ofcourse because that actually gives you the chance to regulate all the outside factors for growing in there.
But these plants were a little brisky already at the time and a bikride home through the frost is also not the best of protection for these little rascals, so I was really wondering how this would play out.
Tomatatoes need shelter from the rain, but a ridiculous amount of water with that, just not on the plant itself. Kind of challenging where to put them then right? Also the need a lot of sun, but preferably keeping them out of the wind as well.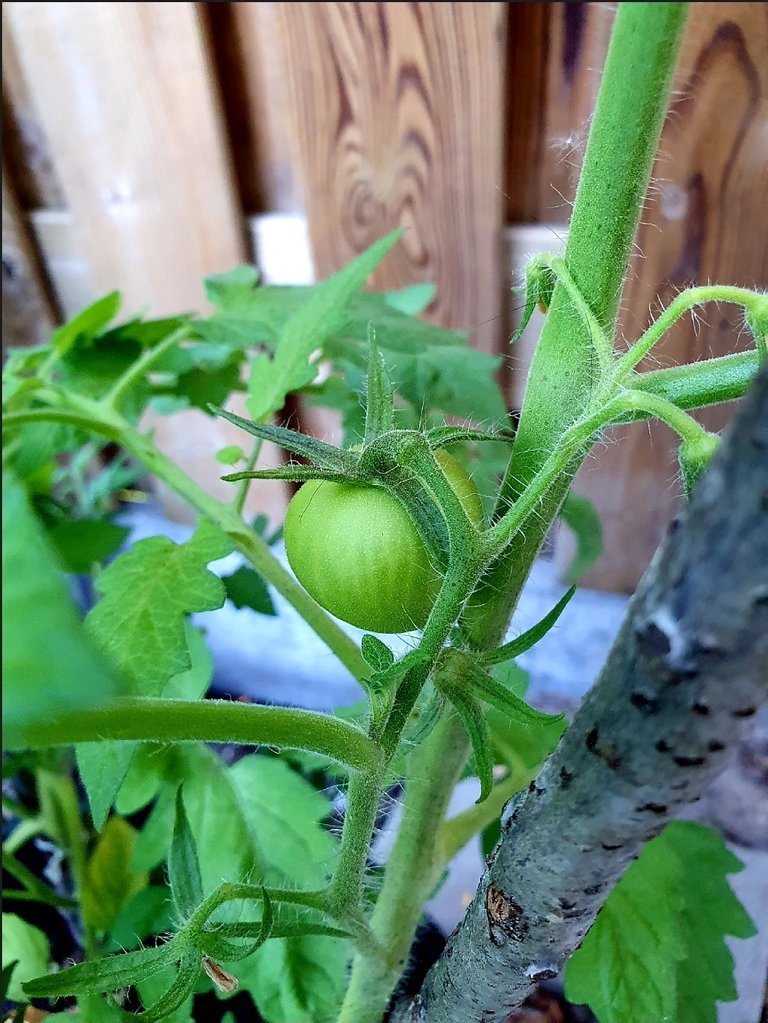 I gave them a spot on the porch where they were standing under a glass roof but still with sun the whole day. Only when it was pouring rain there might have been some excessive watering in there, but in general they only got their daily pour in the soil. My dedication and determination was good I must say


I was surprised how fast they went from their brisky state to a decent plant which was actually growing fast. Faster than I had expected for sure I must say. I needed some support woods in there to support the plants from tipping over which I found in the woods of a decent size.
I had replaced these woods twice for bigger ones, it is crazy how fast tomato plants actually grow.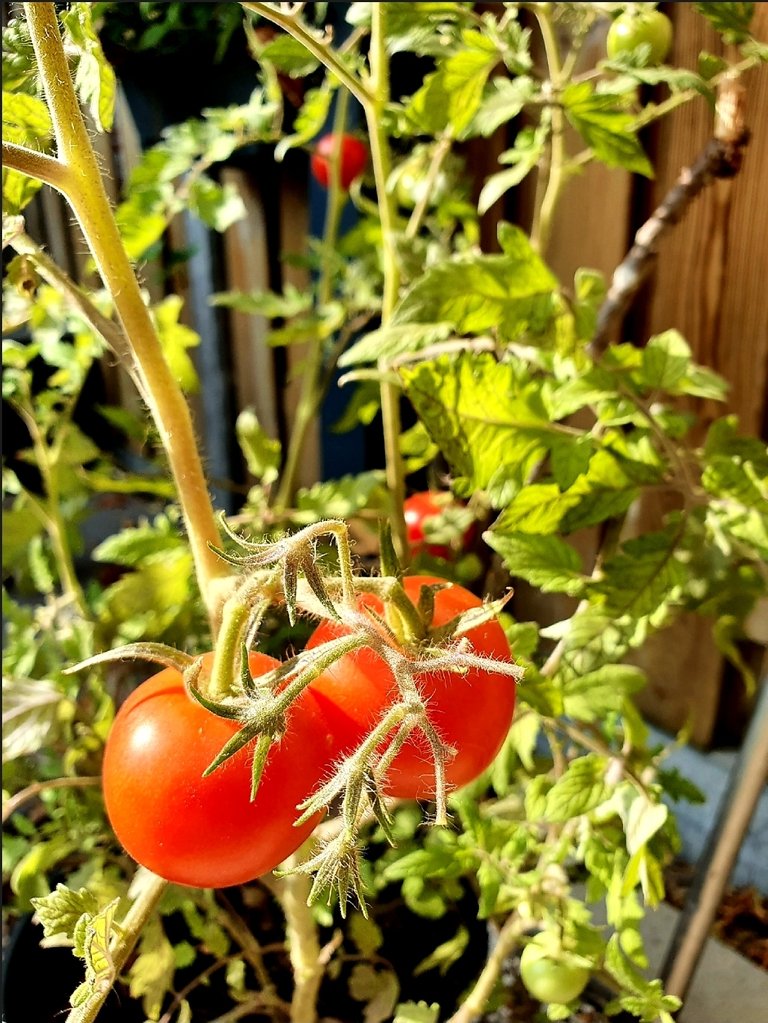 As you can see I really can not complain on how many there are growing in there. Also all of a sudden like two weeks ago they started turning color from green more to orange. I I wonder what triggered the color turning. If that is an amount of days, or when the weather turns to a new season. I didn't do anything on that at least ;)

So one thing that google has told me is that you have to thief the leaves which are not necessary. The plant produces a lot of small in between leaves which don't actually grow but just 'are there'. It is better to pluck these so the plants can give its energy to making the actual tomato in stead of investing it in these leaves. I looked like a llittle plant lady doing this every week. I guess this is a new phase in life for me ;)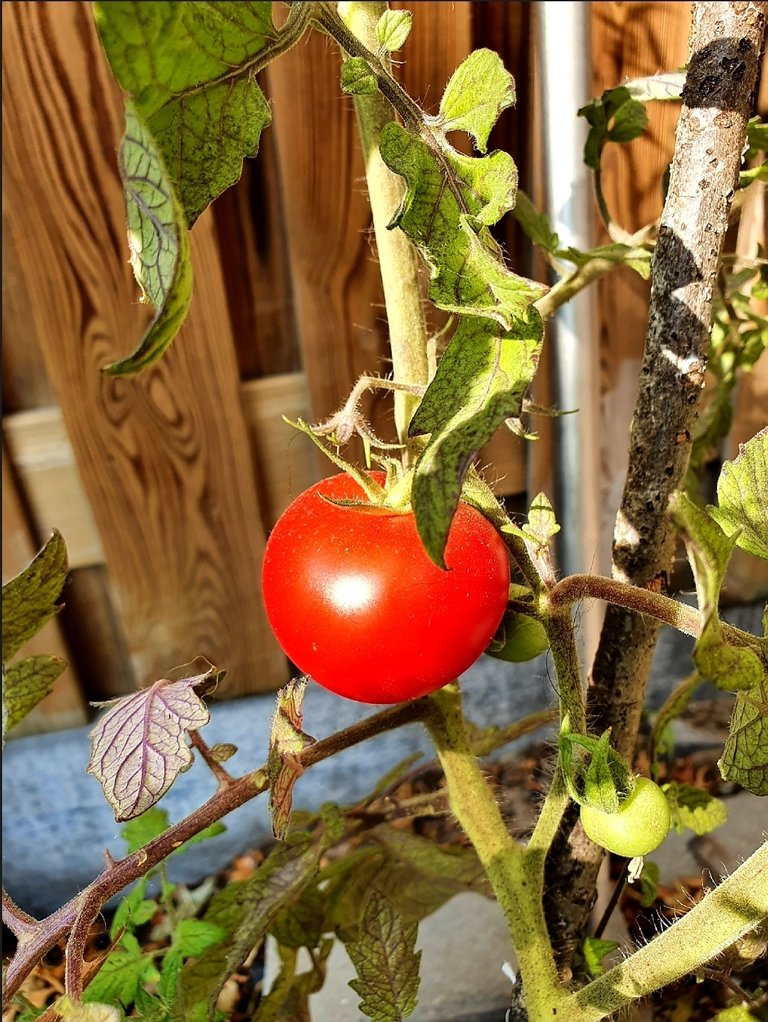 Honestly I can't wait to try out this tomato in a nice caprese salad with mozzarella cheese or even preferable burrata mozzarella, with also some basil form the garden tossed over it. But the tomato is still waiting for a couple of days on this little plate, because they say it turns sweeter when you leave it for a couple days extra off of the plant. So that is what I am doing.
Tomatoes for the win! I grew stuff!