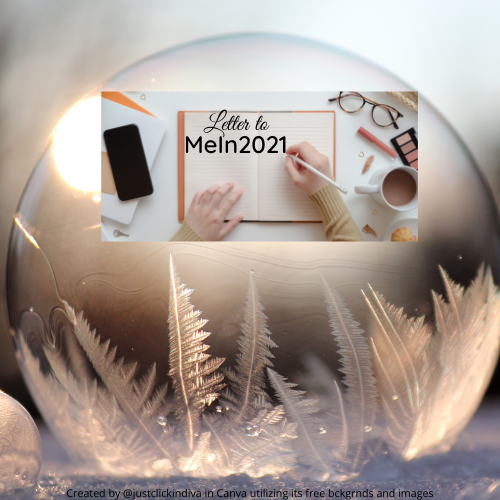 Dear MeIn2019:
First, I'd like to ask how are you feeling today this New Year's Eve, 2019? I remember you fell ill after Christmas. You're on the verge of entering a new year in a few hours.
There are no words to express to you the unforeseeable circumstances in the coming year. There are no best of times in 2020; only the worst. But you and everyone else are hopeful.
How do I describe to you how to avoid the pitfalls of life in the coming year.
I'll start here. You always have trepidation when starting a new venture. I guess that's understandable. I remember when you retired several years ago. You wondered where you would be in five or ten years and what you would be doing. Of course, you're nowhere near where you thought you wanted to be by the end of 2019.
But I can say you accomplished a lot. You started off in one direction hoping things would work out for you. Changing course is never easy. However, in you is that person who sees the writing on the wall and responds in kind. You're never wasteful with your time and energy. Continue on this path in 2020 and you will be fine.
Concerning your health. As you know, in May, 2019 you were diagnosed with Type 2 Diabetes. It was a devastating to hear. Almost all your family members suffer with this disease.
I applaud how you handled it in attempting to lower your A1C levels. It was tough going all year, and you didn't take it seriously at first. So you made the decision to tackle it head on in 2020.
With the help of immediate family members and your goal setting chart, you will be able to lower your numbers each month until you finally reach the number your doctor deems suitable to sustain your life going forward. It won't be easy as some months your number will rise. Don't worry, you have frequent sinus infections and other illness that contribute to it. Stay calm and don't get discouraged. You WILL reach your goal towards the end of the year.
Concerning your offline life. How can I tell you this knowing you start to cry. The year 2020 will bring such despair to your family. You all will experience more deaths this year than the past five. Some will be close; some extended; one will leave you after just celebrating only a couple months since his arrival. But the hardest part will be that you'll learn of the new disease that is ravaging your family. This caused half of them to succumb to it.
Remember how you used to sit and wonder a few years ago why the people in China were compelled to wear those facial coverings called masks for a particular disease they were exposed to then.
Well, there will be another disease called COVID-19. You won't hear about it until a couple months into the new year. But it won't be the last month because this new disease will be devastating not only to the U.S. but also to all people in every country. Eighty-three million people worldwide will contract this disease as of this letter. Over 1.81 million worldwide have died from it. Once contracted, very few have been able to escape it's debilitating effects.
I can tell you that as of this New Year's Eve, 2020 letter to you, no one in your immediate family will contract the virus. That's not to say you're safe. According to health experts, the worst is yet to come.
Celebrating special events and holidays as your family have always done with extended love ones will come to an end.
Good news though is that several drug makers have developed vaccines. I can't guarantee you they're safe; only that they are reported to be up to 95% effective. I urge you to please make sure you and your family are vaccinated as soon as it's allowed. This definitely won't be in 2020, so please stay safe until then. Your new word you will learn and practice probably for several years is social distancing. Take it serious. I can't stress that enough. It'll not only help you, but me as well.
You will stop allowing outside stressors to wear you down. You will make decisions concerning your volunteerism and participation in several events that will alleviate your stress and give you time to pursue other dreams.
Finally, don't make long term plans in the coming year. Take each year one at a time. Organize your personal affairs. You're not a procrastinator; however, on this project you started; then worked on it a bit each year. Stop this now. You've put it off for too long. Dedicate the year 2020 to finalizing it. Then relax.
Concerning your online presence. The bright spot so far in all I've mentioned is that you will get through it not only with your family's help, but the help of your online family, friends, and acquaintances. You will put into words your thoughts and feeling on all topics.
You'll make new friends and encounter those who believe in you to the point of desiring to Follow your journey. You were a bit worried that this part of your life wouldn't work out as planned after having joined the social platform in July. I applaud you in reaching some of your online goals.
That's it for now.
I'll see you on the other side of Midnight!
Chris,
Youin2020

This Letter to Me In 2019 was was made available by @livinguktaiwan.
A letter to Me in 2019
If you'd care to join in, please do so @carmenm20 and @antoniarhuiz

@flaxz initiative #iamalivechallenge (Published my final post for the year 2020 for my blog today)

Thanks,
@justclickindiva
Happy rest of the week everyone with whatever your endeavors.


SOURCES:
a) JustClickindiva's Footer created in Canva utilizing its free background and images used with permission from discord admins.
b) Unless otherwise noted, all photos taken by me with my (i) Samsung Galaxy 10" Tablet, (ii) Samsung Phone, & (iii) FUJI FinePix S3380 - 14 Mega Pixels Digital Camera
c) Purple Butterfly part of purchased set of Spiritual Clip Art for my Personal Use
d) All Community logos, banners, page dividers used with permission of Discord Channel admins.
e) Ladies of Hive banner used with permission of and in accordance with the admin's guidelines.

Your Personal Terminal Discord Invite