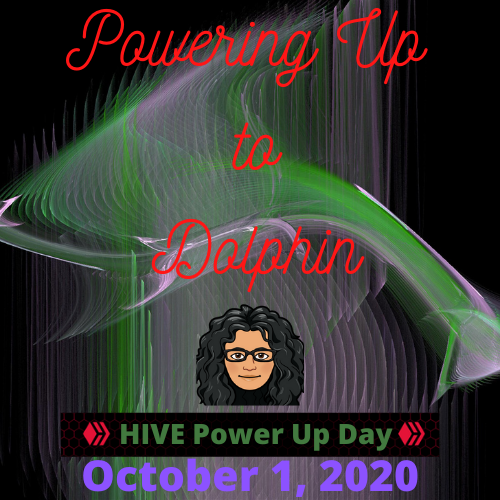 Image created in Canva with free bckgrnd and free image by lisaleo
@traciyork
ANNOUNCEMENT POST - Hive Power Up Day, October 1st 2020
The occasion today causes for two celebrations. I feel October, 2020 will be an exciting month for me to venture into different aspects of the blockchain and and discover new opportunities.

LEVELING UP TO DOLPHIN STATUS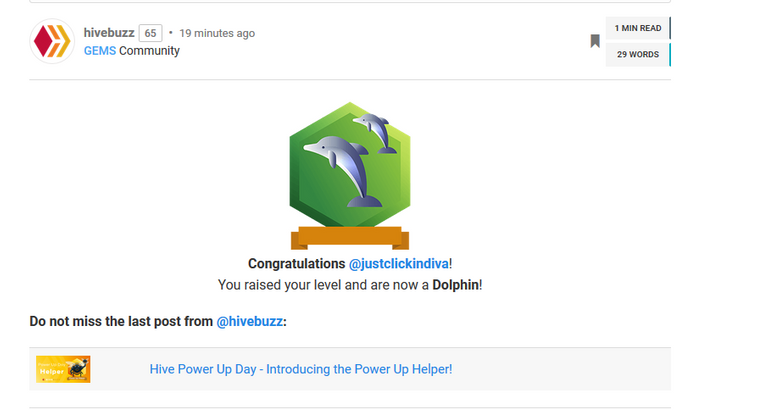 Celebrations are in order today in my reaching a milestone of 5,000 HP and thus leveling up to Dolphin status. This event occurred immediately after I powered up. I was surprised because as soon as I powered up, I received my new Dolphin badge notice from @hivebuzz.
This is an achievement for me since observing my one year anniversary in July, albeit a small one on the Hive blockchain. I won't be all knowing nor all powerful in terms of Hive Power. I'll simply be one level up from a Minnow in the wide sea of other members on Hive.
What it does mean is that I'll be able to help a few more members new to Hive. That is a realistic, down to earth definition of a baby Dolphin. My Vote Value: .06 is still small as are my resource credits, but they're larger than when I started a year ago!
Also, I plan to locate Communities and give a small delegation to start. Last month I was invited to join a new Community named Ladies of Hive. It didn't take me long to realize this Community was awesome in their intentions on the Hive blockchain, so I delegated 100 HP to them.

HIVE POWER UP DAY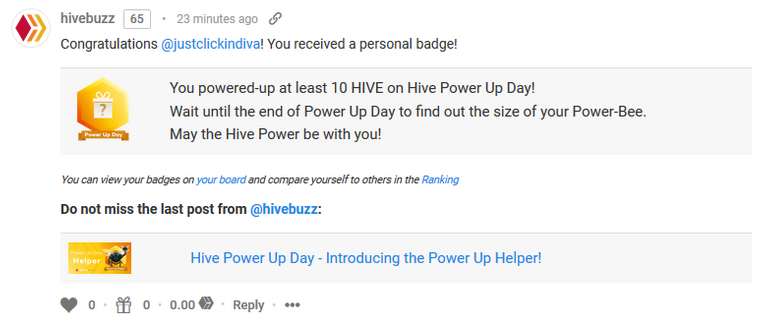 Today, on Hive Power Up Day for October 1, 2020, I powered up 870 Hive. The minimum amount to power up is 10 Hive; however, I decided to power up all my available liquid Hive from last month. Then, I received my notice from @hivebuzz that I complied with the minimum requirement.
The temporary badge I received with the question mark in the center denotes that I'll have to wait until the end of the Power Up Day today to find out the size of my Power Bee. I'm excited to see what badge I'll receive.
By powering up for October, I'm continuing to help keep the initiative alive that @streetstyle started. The ability to power up today is indeed something to celebrate. It doesn't matter how much you power up, as long as you're able to participate.
Remember, powering up your HIVE tokens give you special abilities on Hive for:
Greater voting power on content posts;
More curation rewards when you vote on other authors' posts;
More resource credits to perform transactions on Hive.
Thanks @traciyork for your announcement post for the OCTOBER 1st HIVE Power UP Day. I settled my account, and participated in the power up for today.
I created a simple table to show my balances on 10/1/2020:
| | HIVE | HP |
| --- | --- | --- |
| Beginning Balance | 870.00 | 4,475.431 |
| Rewards Claimed | +0.000 | +0.000 |
| New Balance | <870.00> | <4,475.431> |
| Powered Up | -870.00 | +870.00 |
| Current Balance | 0 | 5,345.431 |

First I captured a screenshot of my Wallet before I started my power up.


Next, I powered up my Hive and captured this step in a screen print. Below are the steps and proofs for my power up.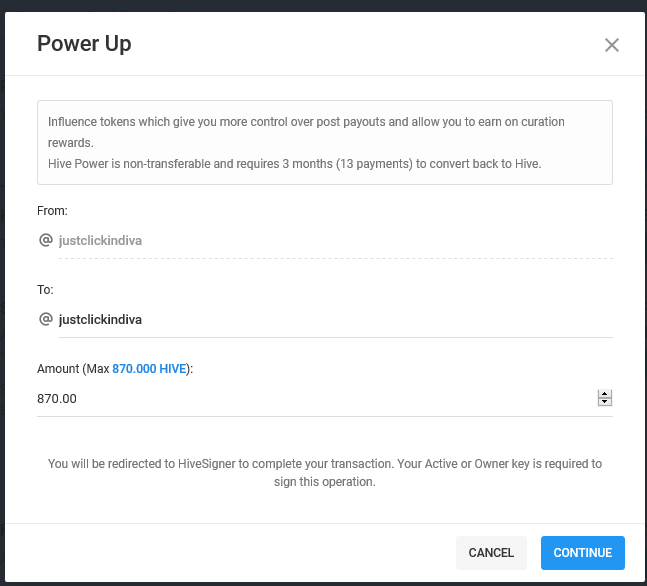 Finally, I took a screenshot of my current balances after powering up.


I'm thankful for the Hive Power Up Day initiative started by @streetstyle and now being administered by @traciyork in his absence. I enjoy participating each month. I plan to spend my day reviewing delegations and deciding how much more I can assist new accounts on Hive.
Happy Power UP day today everyone! See you in November.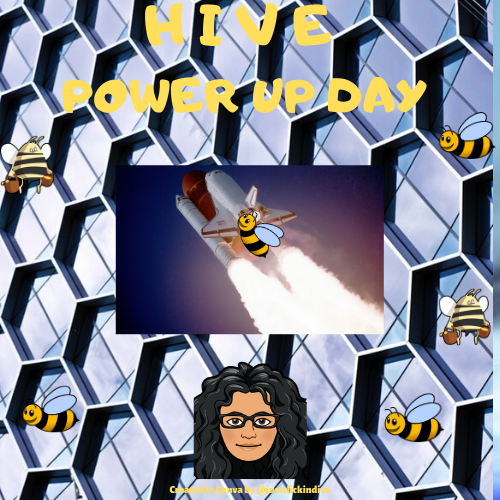 @flaxz initiative @iamalivechallenge: (Published my HIVE Power Up post today)

Thanks,
@justclickindiva
Happy rest of the week everyone with whatever your endeavors.

---
SOURCES:
a) JustClickindiva's personalized PHC signature created by and purchased from PHC.
b) Unless otherwise noted, all photos taken by me with my (i) Samsung Galaxy 10" Tablet, (ii) Samsung Phone, & (iii) FUJI FinePix S3380 - 14 Mega Pixels Digital Camera
c) Purple Butterfly part of purchased set of Spiritual Clip Art for my Personal Use
d) Separator Lines Free ClipArt Belt from Public Domain Vectors & ShadedLine from ClipArt-Library
e) All Tribe logos used with permission of Tribe Discord Channel admins.
f) HIVE gif created by @peakstudio for Hive users. Used herein according to guidelines.

Your Personal Terminal Discord Invite