Let's talk about Grease [ENG/ESP]
This post is written in two languages and divided for ease of reading.
Este post está escrito en dos idiomas y dividido para facilitar la lectura.
imagen editada en canva | s o u r c e

Oficialmente estamos en la semana número 20 de los concursos propuestos por la comunidad de Ladies of Hive y, una de las preguntas para ésta semana era hablar sobre alguno de tus musicales favoritos.
En ésta ocasión me gustaría hablar sobre el primer musical que vi cuando estaba pequeña y el que quizás, a día de hoy continúo viendo por lo menos unas 3 veces más al año, grease

We are officially in week number 20 of the contests proposed by the Ladies of Hive community and, one of the questions for this week was to talk about one of your favorite musicals.
This time I would like to talk about the first musical I saw when I was little and the one that perhaps, to this day, I continue to see at least 3 times a year, grease.

s o u r c e
Grease fue estrenada en el año 1978 y está protagonizada por John Travolta y Olivia Newton-John.
Película que tiene como trama principal la relación romántica que irán desarrollando Sandy (Olivia) y Danny (John) una vez que se reencuentran luego de sus vacaciones de verano en la secundaria.
Grease was released in 1978 and stars John Travolta and Olivia Newton-John.
The main plot of the film is the romantic relationship that Sandy (Olivia) and Danny (John) will develop once they meet again after their summer vacation in high school.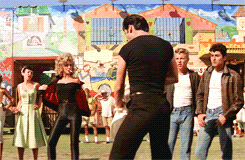 s o u r c e
Hay joyas musicales que salieron de ésta película que a día de hoy se mantienen vigentes y perduran en las siguientes generaciones, como lo es Hopeless Devoted To You.
Una canción que describe perfectamente el enamoramiento juvenil.
There are musical gems that came out of this movie that are still alive today and endure in the following generations, such as Hopeless Devoted To You.
A song that perfectly describes youthful infatuation.

La verdad es que grease es de mis musicales favoritos porque me traslada a una infancia feliz en la cuál habían reuniones familiares y siempre estaba de fondo las extraordinarias canciones que éste musical nos ofreció.
Y pese a que ese entonces era muy pequeña para entender la trama general de la película, yo simplemente era muy feliz bailando todas y cada una de las canciones.
The truth is that grease is one of my favorite musicals because it takes me back to a happy childhood in which there were family reunions and there were always in the background the extraordinary songs that this musical offered us.
And even though I was too young at the time to understand the overall plot of the movie, I was simply too happy dancing to each and every song.

Ésta película marcó un antes y un después en las películas que incluían musicales en ella, inspirando años después a la famosa película titulada Hairspray y, considero que High School Musical mantiene muchísimas referencias en todas sus películas.
En el otro lado del mundo, específicamente en Latinoamerica, Grease fue punto de inspiración principal para la tercera temporada de la famosa serie venezolana Somos tu y yo: Un nuevo día.
This movie marked a before and after in the movies that included musicals in it, inspiring years later the famous movie called Hairspray and, I consider that High School Musical keeps a lot of references in all its movies.
On the other side of the world, specifically in Latin America, Grease was the main inspiration for the third season of the famous Venezuelan series Somos tu y yo: Un nuevo día.
Y ni qué decir de la canción que marcó el cambio de Sandy en la película, you're the one that i want es mi canción favorita, ésta misma la bailé cuando estaba pequeña en el colegio (fue un día muy feliz, yo bailando en el colegio una canción que me gustaba muchísimo).
And what about the song that marked Sandy's change in the movie, you're the one that i want is my favorite song, I danced to it when I was little at school (it was a very happy day, me dancing at school to a song that I loved so much).
---
---