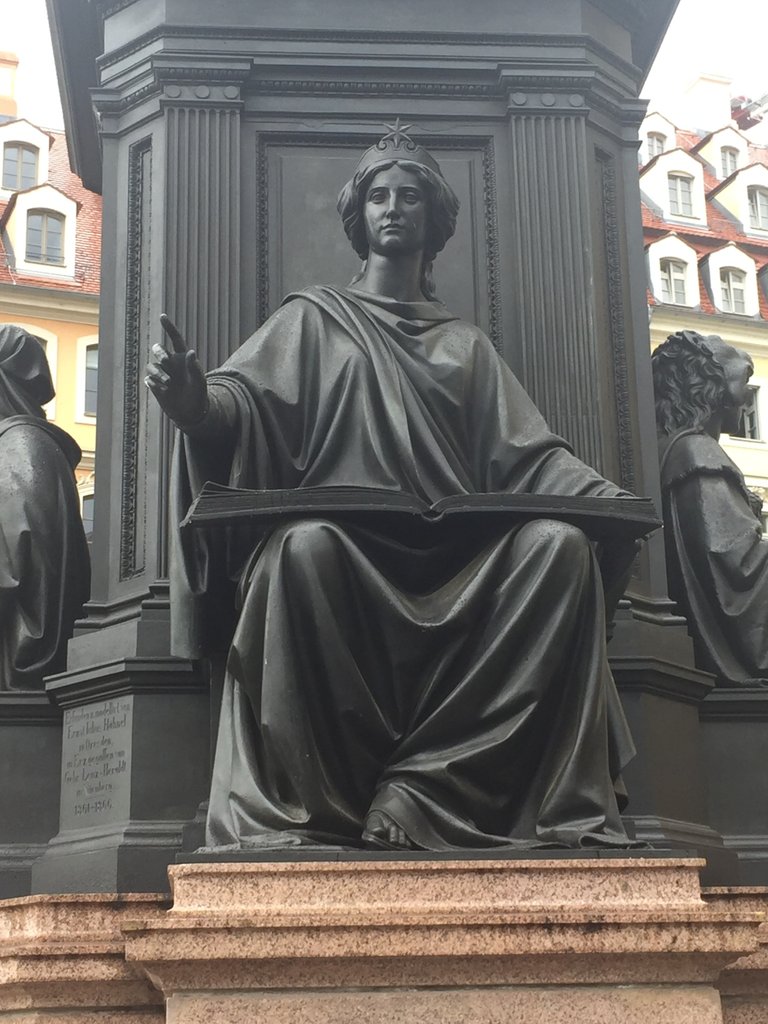 Am Sockel des Denkmal von König Friedrich August II auf dem Dresdner Neumarkt befinden sich vier allegorische Figuren der Herrschertugenden (Frömmigkeit, Mut, Gerechtigkeit und Weisheit), die hier in einer kurzen Serie vorgestellt werden sollen. Zum Artikel über das Denkmal von Ernst Julius Hähnel gehts hier entlang.
Die Herrschertugenden sind die christlich konnotierten Abwandlungen der antiken heroischen Tugenden.
Die Vorstellung, dass Herrschern eine außergewöhnliche Tugendhaftigkeit quasi als göttliche Gabe verliehen wurde, kam im mittelalterlichen und frühneuzeitlichen Europa auf. Es wurde zunehmend üblich heroische Tugenden und Herrschertugenden synonym zu begreifen, da die Helden der klassischen Geschichte und Mythologie für die Monarchen zu wichtigen Identifikationsfiguren wurden. Diese politische Begriffsverwendung der "Herrschertugenden" stellt eine eigenständige historische Entwicklung dar, die jedoch Ähnlichkeiten zu einem sich parallel herausbildenden religiösen Begriffsverständnis aufweist, das der heroischen Tugend eine bedeutende Rolle in den Heiligsprechungsverfahren der gleichen Periode zuweist.
Weisheit
Weisheit bezeichnet ein tiefgehendes Verständnis von Zusammenhängen in Natur, Leben und Gesellschaft. Aus diesem Verständnis erwächst die Fähigkeit, bei Problemen und Herausforderungen die jeweils schlüssigste und sinnvollste Handlungsweise zu identifizieren.
Weisheit zeugt von geistiger Beweglichkeit und Unabhängigkeit: Sie befähigt ihren Träger, systematisch Dinge zu denken,zu sagen oder zu tun, die sich in der gegebenen Situation als nachhaltig sinnvoll erweisen.
Dargestellt wird die Allegorie der Weisheit als weibliche Figur im langen Mantel und mit den Attributen Buch und Sternenkrone.
---
On the pedestal of the monument to King Friedrich August II on Dresden's Neumarkt are four allegorical figures of the ruler's virtues, which are to be presented here in a short series. For the article about the monument of Ernst Julius Hähnel click here.
The ruler's virtues are the Christian connoted variations of the ancient heroic virtues.
The idea that rulers were endowed with an extraordinary virtue as a quasi-divine gift came up in medieval and early modern Europe. It became increasingly common to understand heroic virtues and ruler virtues as synonyms, as the heroes of classical history and mythology became important figures of identification for monarchs. This political use of the term "ruler's virtues" represents an independent historical development, which, however, has similarities to a religious understanding of the term that developed in parallel and assigned heroic virtue a significant role in the canonization procedures of the same period.
Wisdom
Wisdom refers to a deep understanding of the interrelationships in nature, life and society. This understanding leads to the ability to identify the most logical and meaningful course of action when faced with problems and challenges.
Wisdom testifies to mental agility and independence: it enables its wearer to systematically think, say or do things that prove to be lastingly meaningful in the given situation.
The allegory of wisdom is depicted as a female figure in a long coat and with the attributes book and crown of stars.