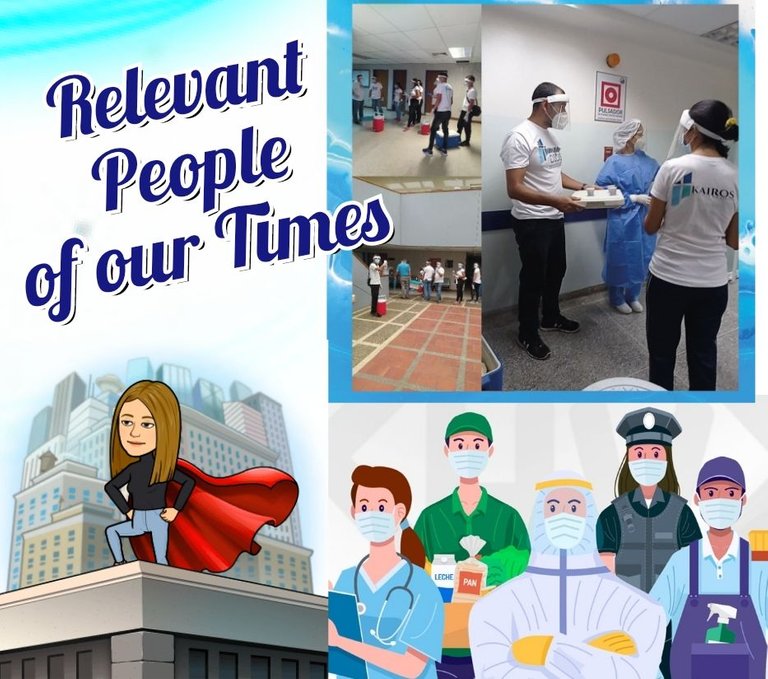 Every week I love how @ecotrain's questions make me think questions I may not have asked myself at some point in my life, so this week's question left me thinking a bit.
WHO ARE THE MOST RELEVANT PEOPLE OF OUR TIME TO YOU?
When talking about heroes or relevant people we usually think of well known people, politicians, youtubers or book writers, however for me it is not like that, for me they are those people that almost nobody knows and with what little they have they help many without asking anything in return and only do it out of love for others.
The Doctors and Nurses: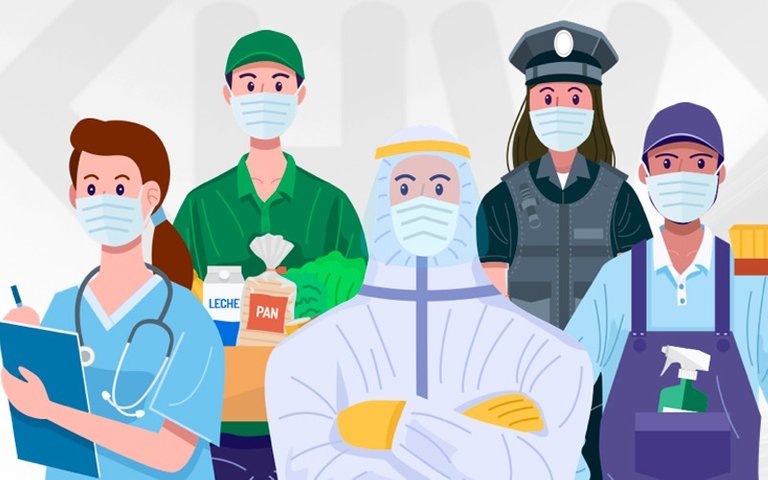 Link
These two people for me that are "Relevant" in these times, they are heroes without a cape, as many have died to save the lives of others, fighting this worldwide pandemic that is killing many people's lives.
These heroes regardless of the hours they have had to spend away from their homes and away from their family, have followed the vocation that one day they decided to have and this has been the most important thing, saving lives even risking their own, not everyone has this courage and thanks to them and God first of all many have also been saved.
Unknown: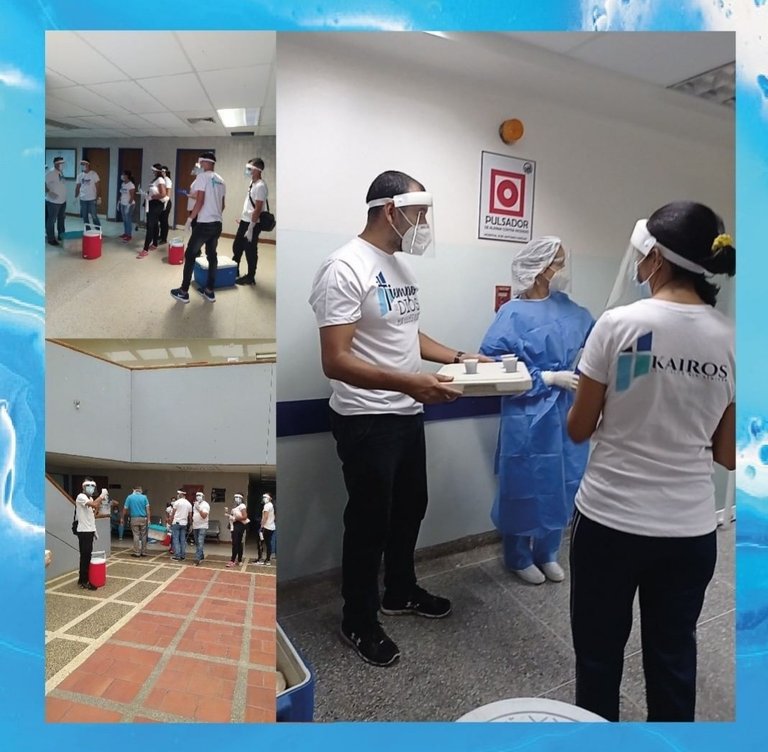 Link
I got to thinking too and for me the important people at this time are not known, they are the people who in these times of pandemic are taking food and the word of God to the sick, to the doctors in hospitals.
I know that many people do not know that there are people who by the grace of God go to the hospitals, pray in the hospital and take food to the relatives that many are there without a morsel of food, especially in my country Venezuela this happens a lot, the relatives go hungry because many times they can not move from the place and have no one to take them food, and there are Christian communities that are dedicated to this to help the needy.
In these times of pandemic most people are locked up in their homes with fear and it is normal to be afraid, so for me these people are heroes who go out into the streets to bring word of life and food to the needy.
The other relevant people are those who leave their homes every day to work to make the country, the world a better place, to help their homes and families, those are the people I want in my life and in the world.
Translated with www.DeepL.com/Translator (free version)

Español: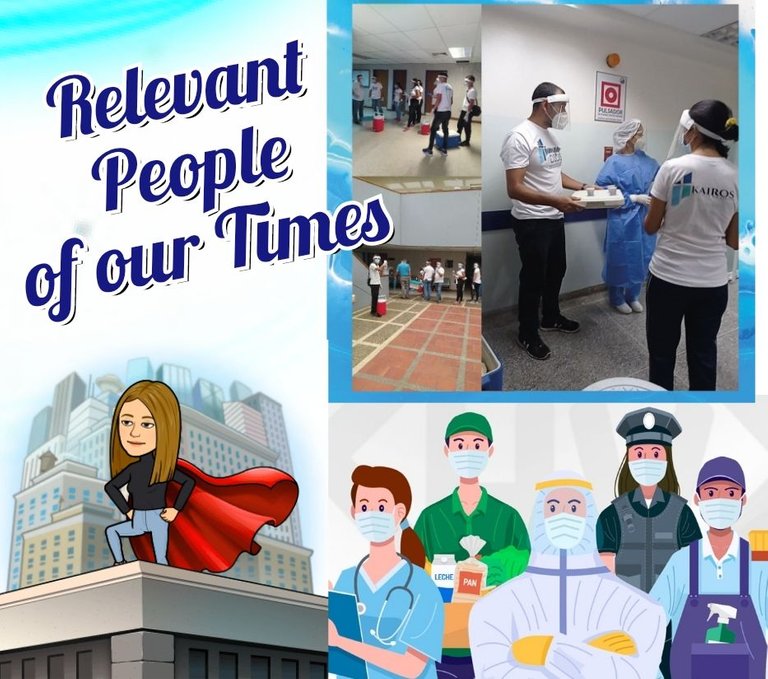 Todas las semanas me encanta como me hacen pensar las preguntas de @ecotrain preguntas que puede que no me halla hecho en algún momento de mi vida, así que la pregunta de esta semana me dejo pensando un poco.
¿QUIÉNES SON LAS PERSONAS MÁS RELEVANTES DE NUESTRO TIEMPO PARA USTED?
Al hablar de héroes o personas relevantes solemos pensar en personas conocidas, políticos, youtubers o escritores de libros, sin embargo para mi no es así, para mi son esas personas que casi nadie conoce y con lo poco que cuentan ayudan a muchos sin pedir nada a cambio y solo lo hacen por amor al prójimo.
Los Doctores y Enfermeras: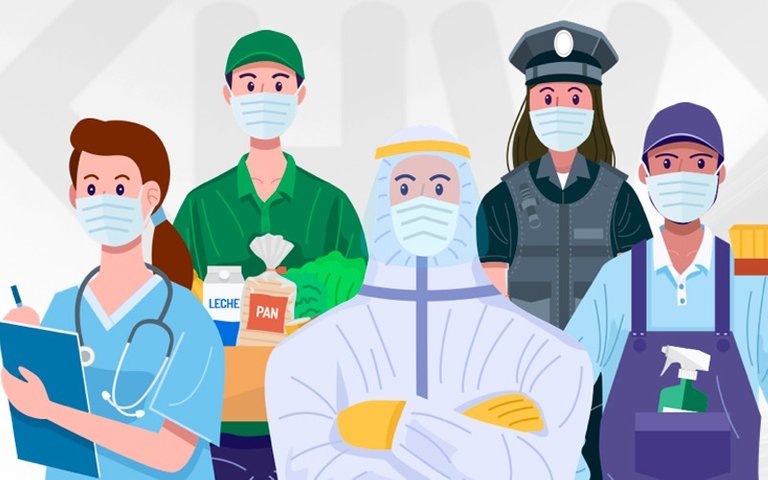 Link
Estos dos personas para mi que son "Relevantes" en estos tiempos, son héroes sin capa, ya que muchos han muerto por salvar las vidas de otros, luchando con esta pandemia mundial que está acabando con la vida de muchas personas.
Estos héroes sin importar las horas que les ha tocado pasar fuera de sus casas y lejos de su familia, han seguido la vocación que un día decidieron tener y esto ha sido lo más importante, salvar vidas aún arriesgando las propias, no todo el mundo tiene este temple y gracias a ellos y Dios primeramente muchos también se han salvado.
Desconocidos: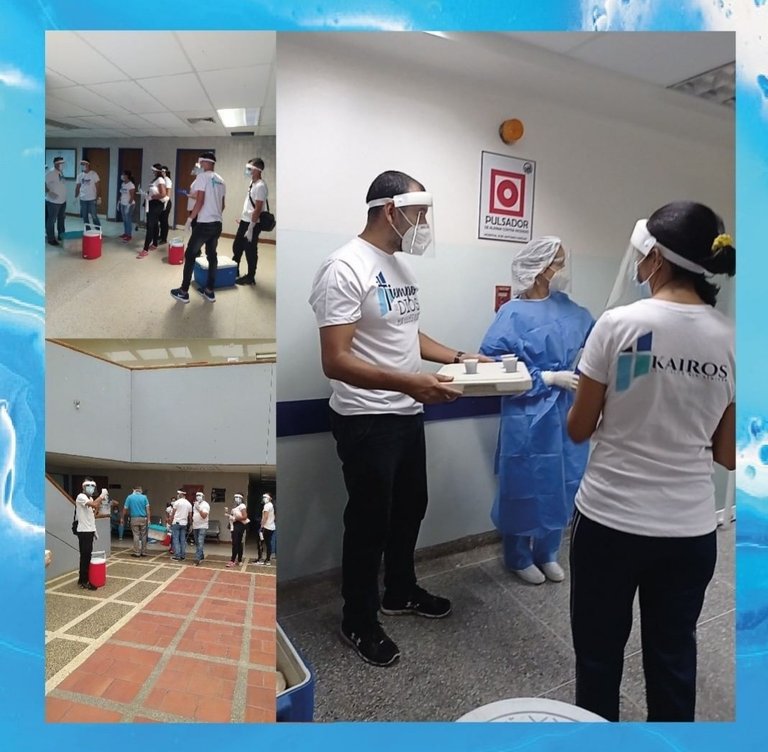 Link
Me puse a pensar tambien y para mi las personas importantes en este tiempo no son conocidos, son las personas que en estos tiempos de pandemia están llevando comida y palabra de Dios a los enfermos, a los doctores en hospitales.
Se que muchas personas no saben que hay personas que por la gracia de Dios van a los hospitales oran en el recinto y llevan comida a los familiares que muchos están allí sin un bocado de comida sobre todo en mi país Venezuela esto pasa mucho, los familiares pasa hambre pues muchas veces no pueden moverse del lugar y no tienen quien les lleve alimento, y existen comunidades cristianas que se dedican a esto a ayudar a los necesitados.
En estos tiempos de pandemia la mayoría de las personas están en sus casas encerradas con miedo y es normal tenerlo, por eso para mi estas personas son héroes que salen a las calles a llevar palabra de vida y alimentos a los necesitados.
Las otras personas relevantes son esos que salen de sus casas día a día a trabajar para hacer del país, del mundo un lugar mejor, para ayudar a sus hogares y sus familias, esas son las personas que quiero en mi vida y en el mundo.
---

Fotos principal editada con Canva.
Cámara: Samsung A20S
Traducido con www.DeepL.com/Translator (versión gratuita)
Photos edited with Canva
Quote> Camera: Samsung A20S
Translated with www.DeepL.com/Translator (free version)

---