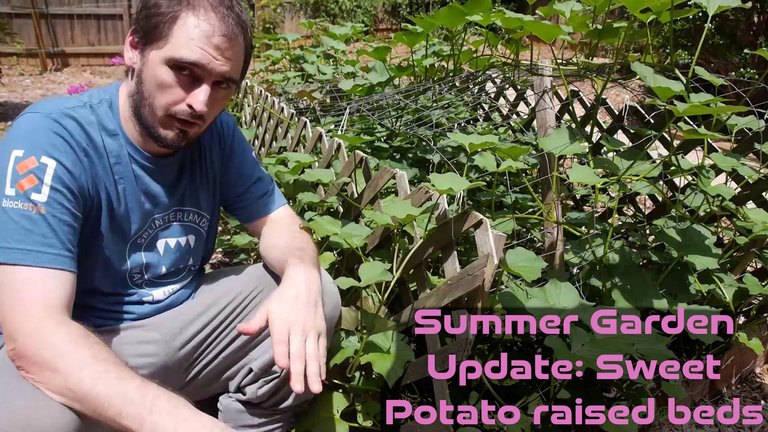 Once the soil warmed up these vines really took off. I planted them back in early spring and did not see much growth from them. Until we started getting consistently warm days. Now every few days I am finding vine runners that I have to route back into the raised beds.
This is the first time I have grown them on a two level raised bed garden setup. Using some welded wire I gave them a second support to grow even more vines onto. So there are two canopies on this raised bed. The second bed does not have the canopy, but thats fine. They are not growing as fast as the first bed.
Maybe that is because I used sliced spuds in the first larger bed, and the second bed is all slips. There is certainly a noticeable difference between the two. I am hoping next year I can grow the slips larger and maybe they will keep up with the cut up spuds performance.
I will let these spuds keep growing until the frosts come around in a few months. Or wait for the leaves to turn yellow, usually a sign they are done for the year. At that point I will peel back the welded wire and go digging in the mulch to see if spuds are in there.
This year I have been munching on the Sweet Potato leaves, I did not know you could eat them until a follower told me they are edible. Both raised beds have been producing flowers for the last few weeks. We have gotten dozens of flowers, really surprised we got so many. Seeing those flowers reminds me this plant is part of the nightshade family. A deep purple bell shaped flower, the Bees really like them and I find them buzzing around in the thick patch of Sweet Potato vines all the time.
I expect these plants to still be around for upcoming fall update, though if I harvest early maybe that will be the actual update. Otherwise the winter update will include the yields of the spuds in the hard wood chips.
These beds have really been holding up well, I put them in the ground with used wood about five years ago. First time having raised beds for my plants, and using mulch inside for soil seems to be working well for the Sweet Potatoes.
---
Addresses below to help me buy better camera equipment and support me to travel to locations to do photo and video and overall great blogs in new places.
| Coin | Address |
| --- | --- |
| BTC: | bc1qhfmvd2gywg4fvrgy2kkkkyqta0g86whkt7j8r7 |
| LTC: | ltc1qdyzm5cwgt8e2373prx67yye6y9ewk0l8jf3ys9 |
| DASH: | XkSqR5DxQL3wy4kNbjqDbgbMYNih3a7ZcM |
| ETH: | 0x045f409dAe14338669730078201888636B047DC3 |
| DOGE: | DSoekC21AKSZHAcV9vqR8yYefrh8XcX92Z |
| ZEN: | znW9mh62WDSCeBXxnVLCETMx59Ho446HJgq |