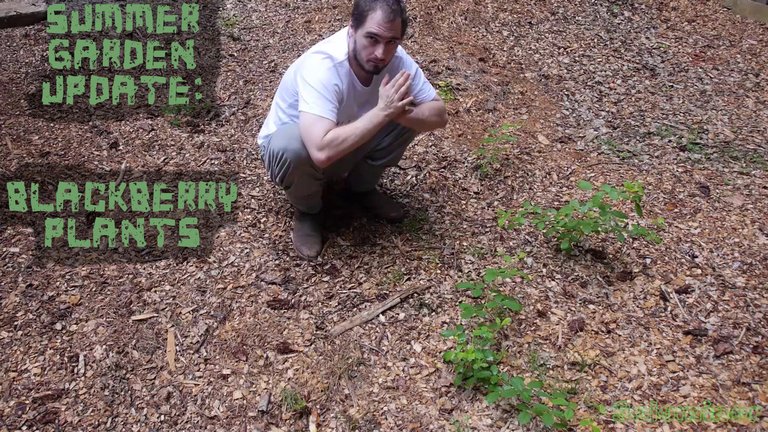 This is the second time I have tried to establish Blackberry bushes. The first time I made the critical mistake of leaving the stalks too long when planted. This time around I cut them down to just a few inches before placed in the ground. And sure enough this way of propagation worked.
I now have about a dozen Blackberry plants growing, they are very small right now and will probably not produce fruit for awhile. But I think within a few years these should be very nice. It is native to Georgia and I see them all over the place. So I think it will have no problems with being here. I planted some in an area with full sun. And then some others in an area where its mostly sun from morning till afternoon. We shall see how the berries turn out in each location. I am pretty sure the ones with the longer sun light cycle will do better.
With my Raspberries having troubles I decided to go the route of trying a similar plant. But not the same so hopefully what killed the Raspberry plants will not do the same to the Blackberry plants.
I am surprised how much growth the Blackberry plants have already put on. With them only being in the ground for a few months they have all put on about a foot of growth. One day they will be taller than me, I have walked through power line cuts where they grow eight to ten feet tall.
These plants have spines on them, like roses have. But if I am careful I do not need to wear gloves to handle. And when it comes to picking the berries I may get a little cut up but that fine for many berries collected.. haha
Looking forward to having my own berries, the closest place I know that has a bunch in the wild is an hour away. So having them so close to me will be quite nice.
Hope this winter they do well and go dormant, maybe next year I will get even more growth from them.
---
Addresses below to help me buy better camera equipment and support me to travel to locations to do photo and video and overall great blogs in new places.
| Coin | Address |
| --- | --- |
| BTC: | bc1qhfmvd2gywg4fvrgy2kkkkyqta0g86whkt7j8r7 |
| LTC: | ltc1qdyzm5cwgt8e2373prx67yye6y9ewk0l8jf3ys9 |
| DASH: | XkSqR5DxQL3wy4kNbjqDbgbMYNih3a7ZcM |
| ETH: | 0x045f409dAe14338669730078201888636B047DC3 |
| DOGE: | DSoekC21AKSZHAcV9vqR8yYefrh8XcX92Z |
| ZEN: | znW9mh62WDSCeBXxnVLCETMx59Ho446HJgq |