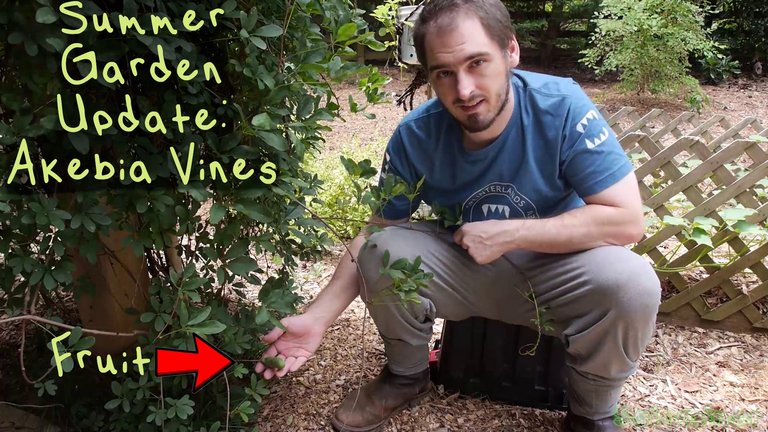 I have been growing one of these vines for at least five years. And this year fruit formed, this is not the first time. Though I lost my last fruit that formed years ago due to needing to cut back the vines for getting the deck rebuilt.
Glad to see another fruit has decided to form, It took it a few years to do it again so seems this may not be an annual thing. But maybe it will be when my Shirobana Akebia vines reach maturity and start flowering. Curious if they will as they are mostly in the shade.
Two kinds of Akebia are needed for form fruit, so I have one standard Pink flowered vine. And two white flowered Shirobana vines.
A mystery remains, how did this fruit form? As my other two Akebia vines are not flowering yet. I wonder if a pollinator traveled from somewhere else that had an Akebia vine flowering and happened to visit mine as well.
My Bees were quite busy pollinating the Akebia that fruited, maybe they visited some other Akebia vine near by and came back to mine which made fruit. Either way I got a fruit forming and looking forward to trying it, maybe in a few weeks to a month it should be ripe. I believe they break open when ready and mine has not done that yet. Looking forward to trying it, I have never had any so its going to be all new to me. I recently tried my passion fruit and ate most of two fruits and really enjoyed it. So maybe these will end up being tasty as well.
The vine itself is a vigorous grower. I find myself pulling down vines every week trying to get up through the deck gaps where the boards are. It also wraps itself around anything it can reach including my former hanging strawberries, and other plants near by.
Glad to have the vine, the flowers in early spring are a great interest to my solitary bees, that alone is a good reason to keep it, the flowers smell great too and have a unique appearance to them.
More info on this vine:
---
Addresses below to help me buy better camera equipment and support me to travel to locations to do photo and video and overall great blogs in new places.
| Coin | Address |
| --- | --- |
| BTC: | bc1qhfmvd2gywg4fvrgy2kkkkyqta0g86whkt7j8r7 |
| LTC: | ltc1qdyzm5cwgt8e2373prx67yye6y9ewk0l8jf3ys9 |
| DASH: | XkSqR5DxQL3wy4kNbjqDbgbMYNih3a7ZcM |
| ETH: | 0x045f409dAe14338669730078201888636B047DC3 |
| DOGE: | DSoekC21AKSZHAcV9vqR8yYefrh8XcX92Z |
| ZEN: | znW9mh62WDSCeBXxnVLCETMx59Ho446HJgq |