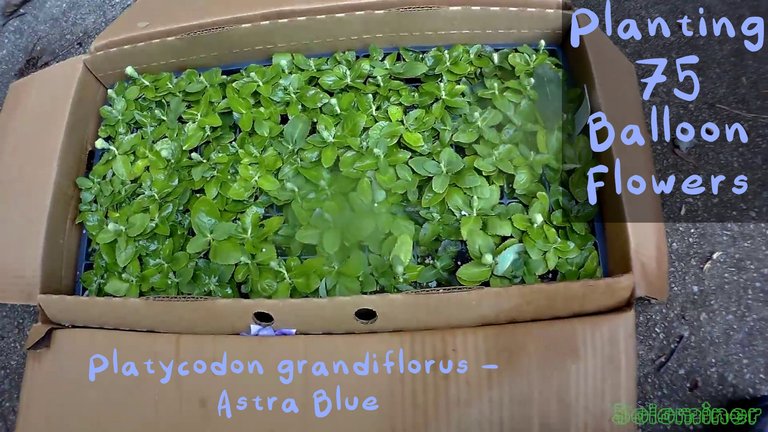 I bought a pallet of flowers, normally I only buy a dozen or less. But I found a great deal on bulk flowers. And a kind that I happened to have planted the year before. So I know I like these, I went ahead and bought more. Platycodon grandiflorus is a perennial that produces balloon shaped flowers. They are quite unique looking and its a hardy plant in the area that I live.
So with all of these little plants to start I got to digging. I do not expect all of them to survive but hoping many of them will. It is the middle of the summer while planting these. But by next year we should know which ones hung on over the winter.
I set up my action camera and do some video lapse of me digging, and placing the little plants into holes and then back filling. Took me a good part of the morning to get all that digging and planting done. But I am sure long term these plants will be a great edition to the garden. Just got to make sure they get enough water between rains.
From what I have read these plants are medicinal as well. They may exhibit neuroprotective, antimicrobial, anti-inflammatory, anti-cancer, anti-allergy, improved insulin resistance, and cholesterol lowering properties.
The roots can be used to make a tea called Doraji-cha. Though I do not want to dig them up and kill them just to make some tea. Maybe if they expand for a few years I can take some root, but for now they need everything they got.
I do not see these flowers much in the states, but from what I have read they are quite popular in Japan, Korea and China. The type I got are called Astra Blue, due to the bright blue coloring of the petals of the flower.
---
Addresses below to help me buy better camera equipment and support me to travel to locations to do photo and video and overall great blogs in new places.
| Coin | Address |
| --- | --- |
| BTC: | bc1qhfmvd2gywg4fvrgy2kkkkyqta0g86whkt7j8r7 |
| LTC: | ltc1qdyzm5cwgt8e2373prx67yye6y9ewk0l8jf3ys9 |
| DASH: | XkSqR5DxQL3wy4kNbjqDbgbMYNih3a7ZcM |
| ETH: | 0x045f409dAe14338669730078201888636B047DC3 |
| DOGE: | DSoekC21AKSZHAcV9vqR8yYefrh8XcX92Z |
| ZEN: | znW9mh62WDSCeBXxnVLCETMx59Ho446HJgq |