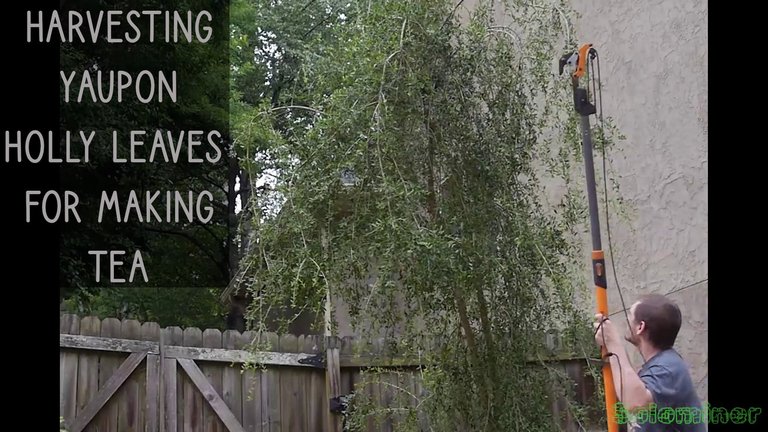 With all the growth these trees have put on, it was time for a good pruning. And I could use the leaves for a tea, an alternative to black tea with a similar amount of caffeine content.
This evergreen tree reaches thirty feet tall if not pruned, so every year or so I need to top the trees to keep them from reaching such heights.
In the video the tree has to be twenty feet tall already and I have only had it a few years. Quite amazed how quickly they grow. Their weeping appearance has a special look to it as well. I have three of them but the one in the video gets the most sunlight and is the tallest. My others are around six to eight feet tall. Still much taller than the three feet they all were when I got them.
I cut the branches and set them up in a dry place to cure for a few weeks. This makes the tea consumable, otherwise it may make you sick I hear. I also make sure no berries find their way into the leaves. After that I dry them and grind them up. I made a video on this awhile back from a previous pruning I did of this tree.
Link to tea making video:
https://peakd.com/hive-120586/@solominer/homemade-yaupon-holly-tea
Still have some of the tea left, but im going to be out soon. So a good time to make more of it. I may get one more cutting before the winter slows down its growth hopefully.
Doubt I have enough for a daily cup of tea all year around, but I do have it for special occasions. Its flavor is distinct, and really does have a nice pick me up to it.
---
Addresses below to help me buy better camera equipment and support me to travel to locations to do photo and video and overall great blogs in new places.
| Coin | Address |
| --- | --- |
| BTC: | bc1qhfmvd2gywg4fvrgy2kkkkyqta0g86whkt7j8r7 |
| LTC: | ltc1qdyzm5cwgt8e2373prx67yye6y9ewk0l8jf3ys9 |
| DASH: | XkSqR5DxQL3wy4kNbjqDbgbMYNih3a7ZcM |
| ETH: | 0x045f409dAe14338669730078201888636B047DC3 |
| DOGE: | DSoekC21AKSZHAcV9vqR8yYefrh8XcX92Z |
| ZEN: | znW9mh62WDSCeBXxnVLCETMx59Ho446HJgq |