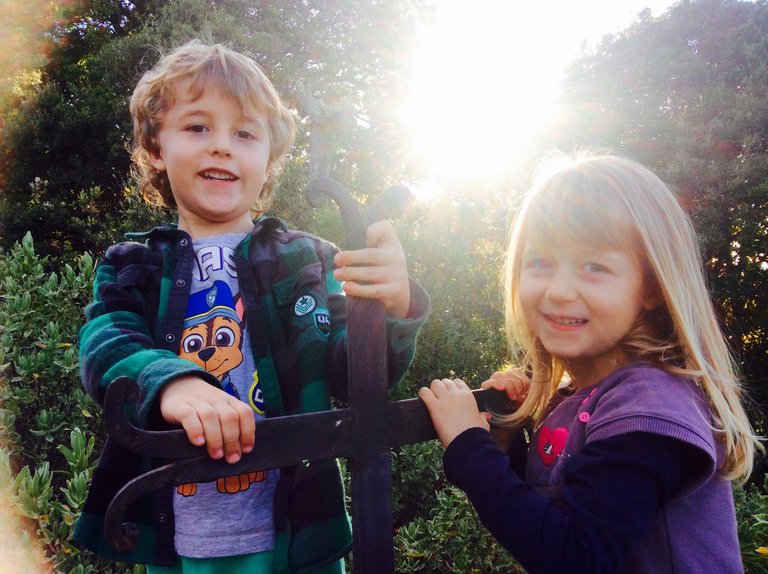 Three children you may ask? Yes. I also have a cat who is very much part of the family and behaves just like one of the kids in so many ways. She loves walking with us wherever we go and when she is in unfamiliar territory like this she will always stay within earshot, usually right at our side.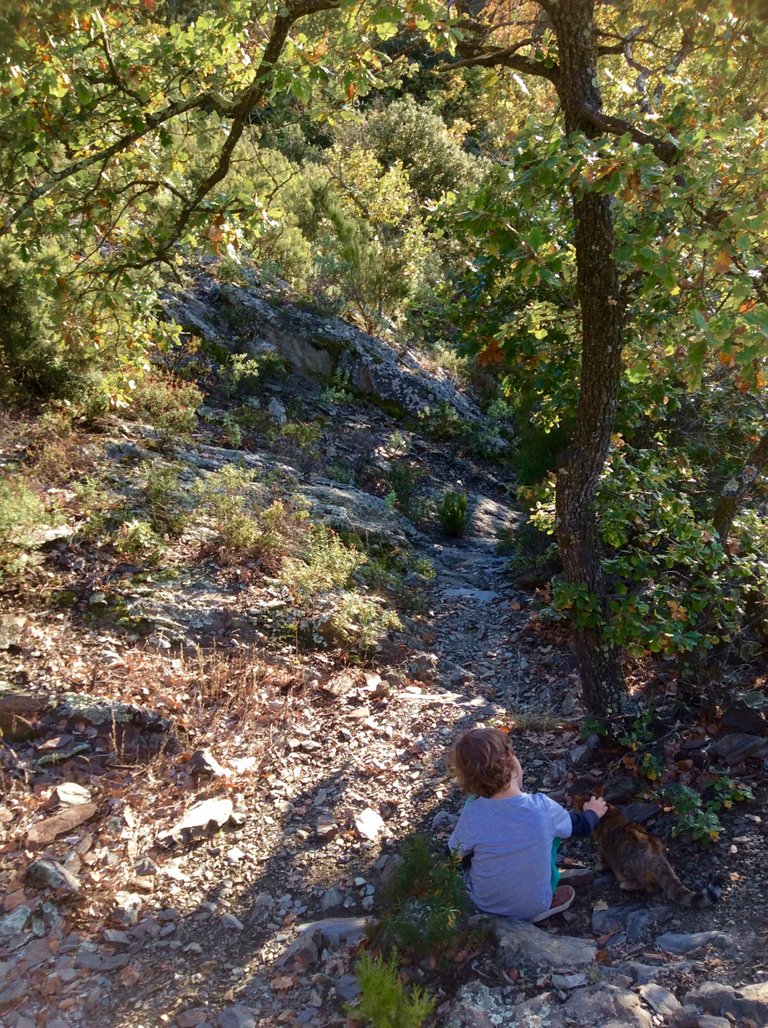 The walk actually consists of 14 crosses and takes one to our nearest summit, which if you recall I did this summer.
It is quite a testing little trek so I have been bringing Esteban & Luna on it regularly, going a little further each time. One day we will make it to the top as a family and perhaps if we are feeling daring, continue all the way into Spain.
Here we are at number one, displayed in roman numerals within a heart at the base of each cross.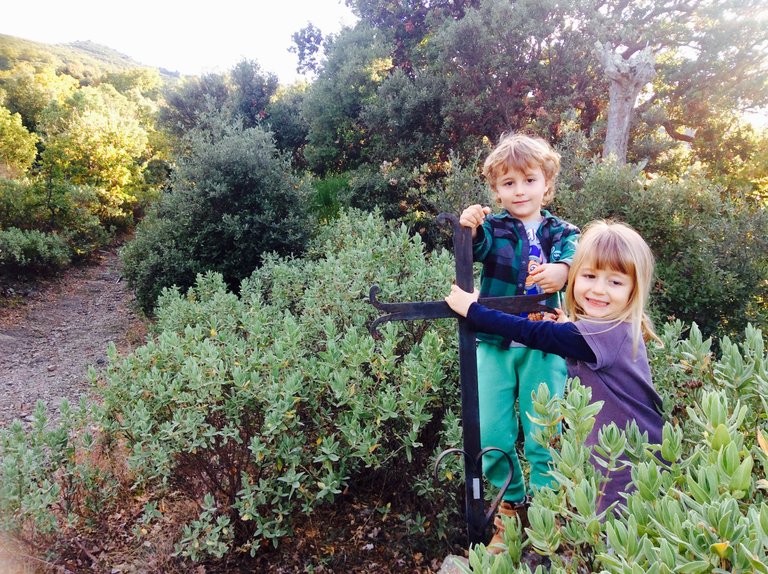 The first is located just above our village.
Number two is not all that far from the first and gives one a sense they will make it to number fourteen in no time at all.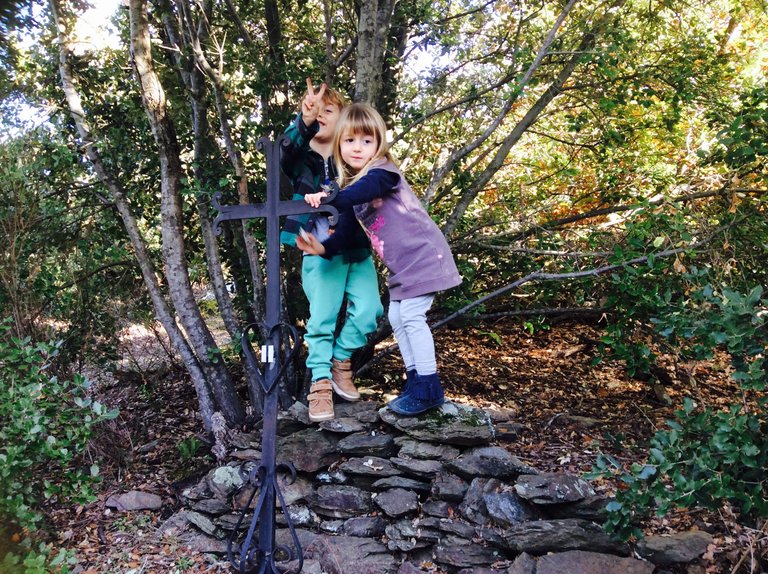 But this is just an illusion because the the walk to the third cross is around 25mins (with kids & cat) and the journey to the top at least a few hours.
This section of the walk is very beautiful because we are at the perfect altitude for moss to grow in abundance and we often collect it here for art projects.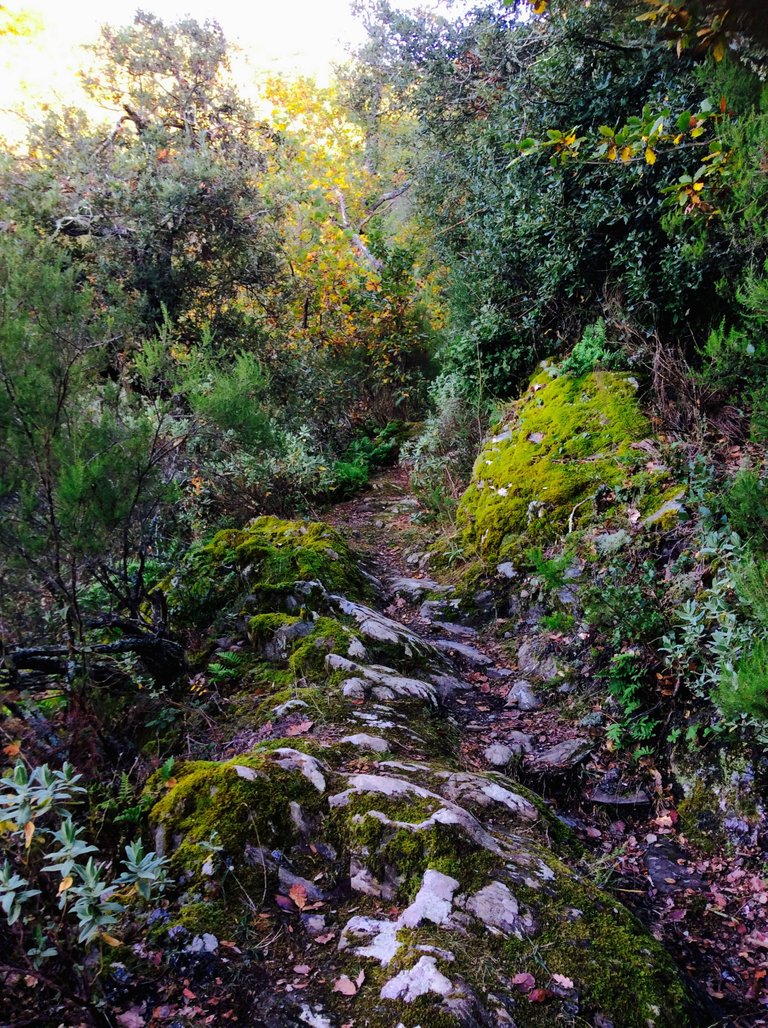 Esteban & cat at cross number three here.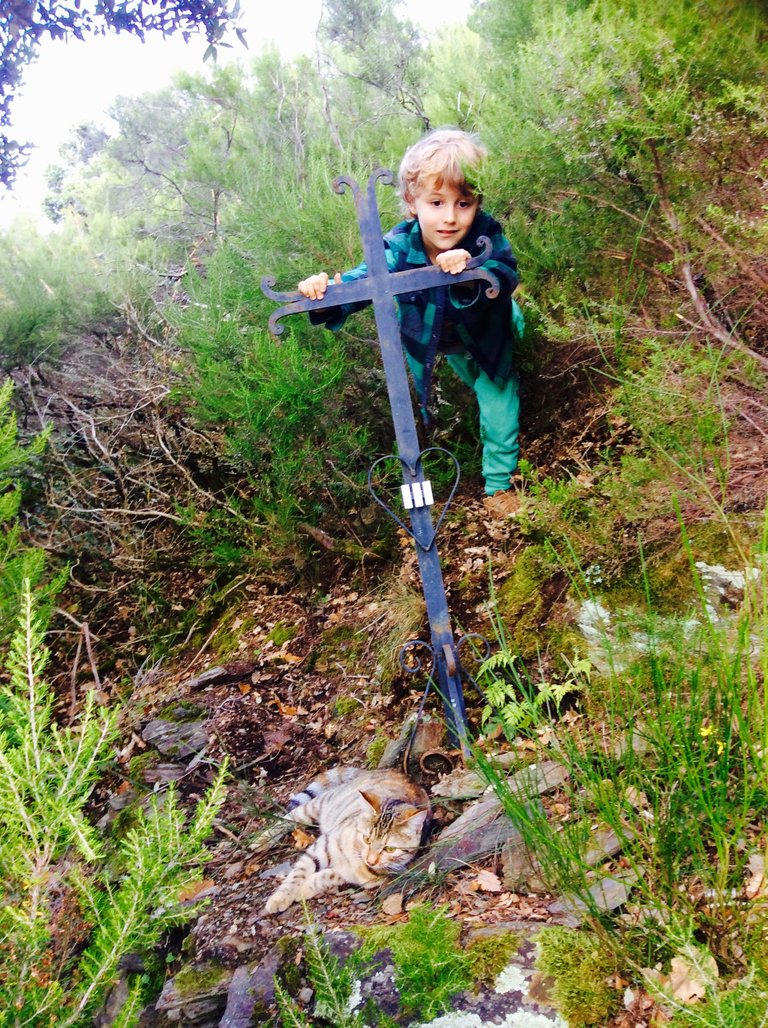 This was as far as we went but it should be noted that Esteban has previously made it to number four, when Luna wasn't with us. She is only three so I guess I shouldn't push her too hard.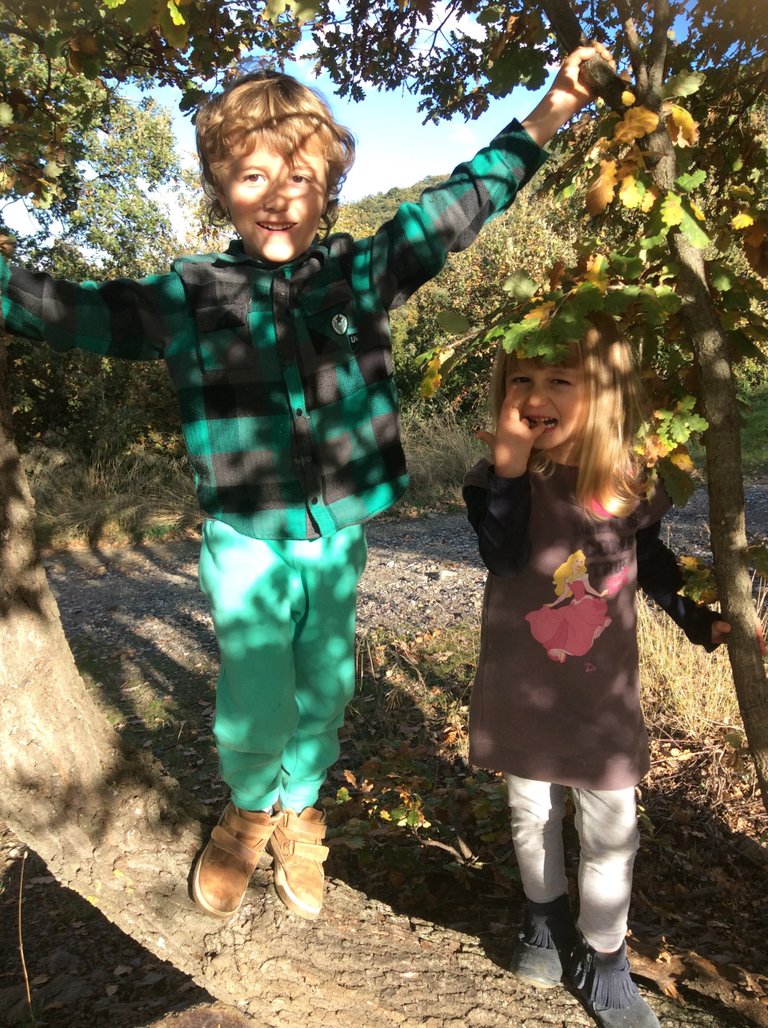 The walk offers some fabulous views. Looking north, here is the lower section of our village in the valley.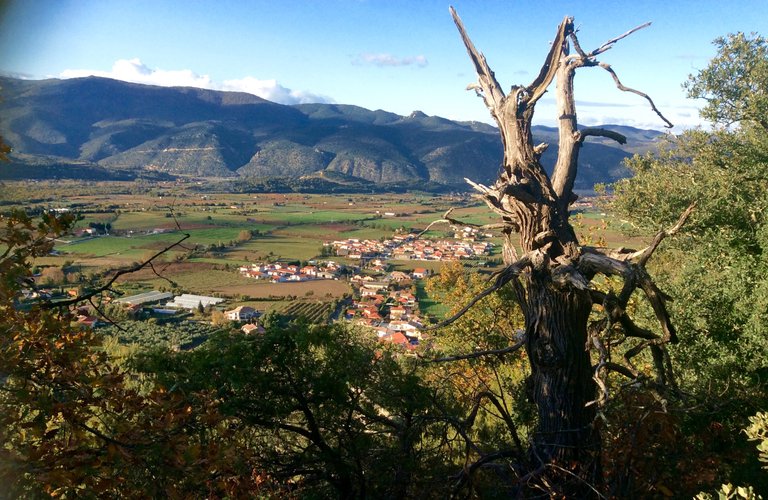 Looking west towards the setting sun it is hard to not feel completely satisfied by the intensity of the autumn colours.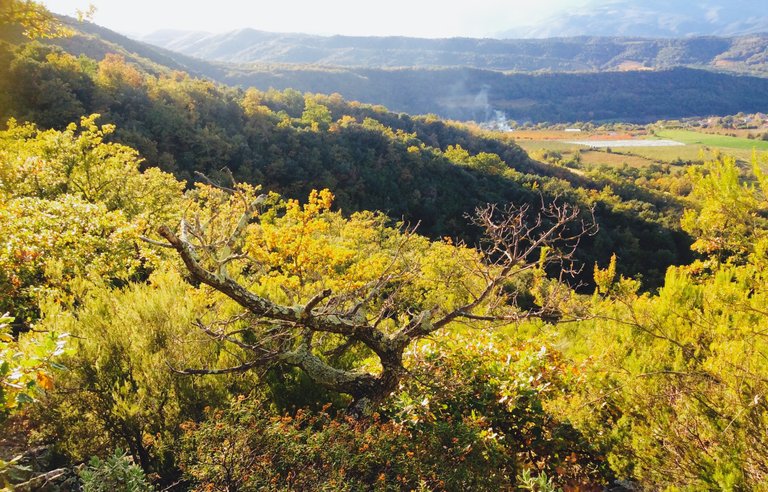 There are endless forests here which are known only by the hunters who in the days before covid, used to gather regularly in the early mornings to shoot wild pigs in a way which I can only describe as lazy and cruel. They identify the paths upon which the pigs move and half of them will hide alongside one of these paths with their guns at the ready, while the other half will release dogs further down the path, scaring the pigs to run up the path where their fate awaits them.
Sometimes they will bring dying pigs into the village and have a few drinks in the carpark outside our home to celebrate their (not so tough) achievement. I am always awake at this time and can often here the pigs screaming before they drive them away to cut their throats over something which will catch their blood. Cheery stuff.
Anyway, thankfully these strange archaic people are no longer permitted to do this any more. So, three cheers for covid!
And I am left looking at this beautiful forest knowing it is all mine now.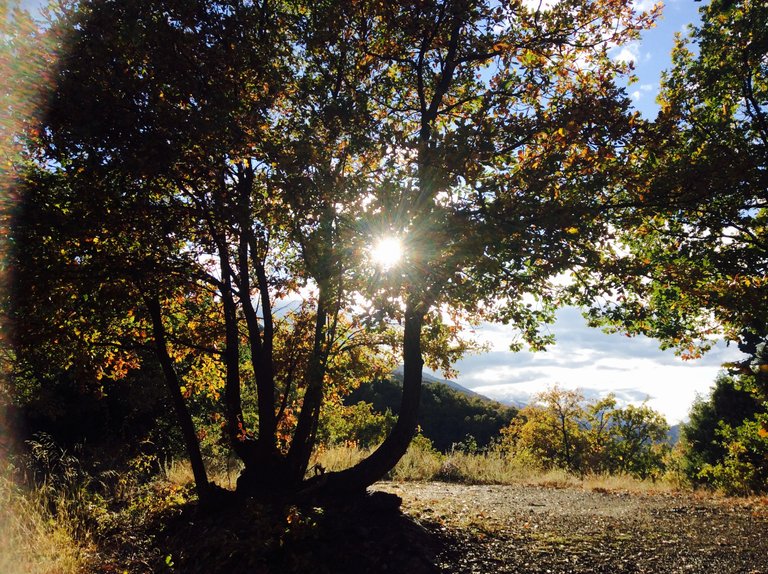 Almost makes me want to go build a house somewhere in these trees ;)
Love & Light everyone 🌱