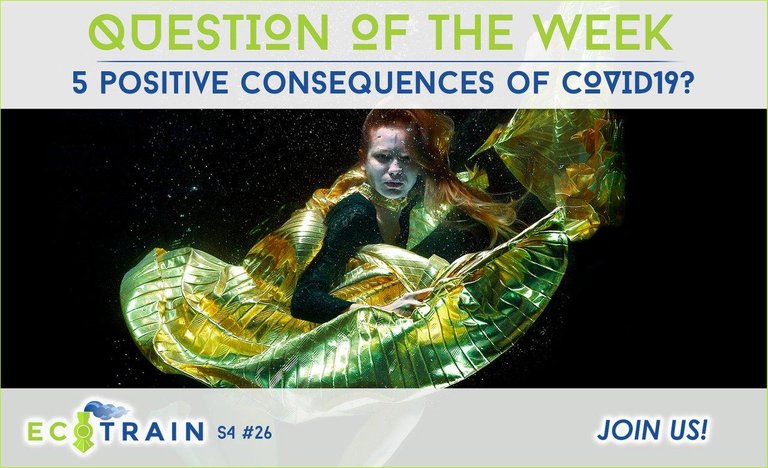 It's the 11th month of the year 2020 yet as early as midyear, almost everyone has just had enough of this dreadful year. Here in the Philippines, almost after the New Year's celebration, we have been bombarded with terrible terrible events. From the volcanic eruption, to quarantine protocols, jobs lost, news of death almost everywhere we look, people frantic with worry, neighbors turning against each other. And as if the Filipino people are not yet down on our knees, typhoon after typhoon slammed the country relentlessly. The Ecotrain Question of the week is Name 5 positive consequences of COVID19. I opened this post with all the negatives. This is because we need to see and appreciate the good even more when we realize how bad everything else has been.
How can we be thankful and appreciate the good when there is just so much bad going on all around us? It's easier to just dwell on what we can see. It's a lot easier to just blame the world and everybody else for all the mishaps and misfortunes for this year. But that's just leading a sad, miserable life.
So, looking past all the negative things that have happened during this pandemic, what are the 5 positive things I was able to see in my life?
Exposing the Best in the Best of us
At the start of the quarantine protocols, when the panic was rising, and the negativity was at its peak, it sure did show the worst of the worst people all over the world. You can hear news about violence. It was disheartening. But still, the positive news is able to outshine the negative ones. I was part of the Earsavers PH project where crocheters all over the Philippines crochet ear savers to be donated to several hospitals to help the frontliners. My friends who are gifted in cooking donated food for hospital workers. Donations of food and monetary assistance came flooding from those who have the heart to help those who were gravely affected by the lockdown procedures. Volunteers from all walks of life helped distribute these packages to the poor. Sure, it is expected that people will react negatively to a negative situation but still, there are those who stepped forward and showed that the best humans capable of showing compassion to one another still exist and they are ready to go front and center in the midst of uncertainty. The pandemic did bring out the worst of the worst of us, but it sure did bring out the best in the best of us.

The distance made us appreciate our close relationships more
Family is family, no matter how long we don't see each other, no matter how far we are from each other. And I'm not talking about only the blood relatives. I'm talking about our friends who have grown close to our hearts. During the busy days before the lockdown, our hustle and bustle world did not allow us to connect with our family. Covid 19, even though it caused panic and anxiety showed us that one of our most valuable assets in life is our relationships. Thanks to technology, it helped keep us sane. We are still able to nurture our relationships.

The gift Time
We've been so busy. We have our lives, our problems to handle, bills to pay, bosses to please, requirements to complete. Seriously, who has the time? Covid 19 gave that to us. It seemed like the world was at a standstill. No vehicles on the road, no people standing by at every corner of every block. No one's rushing. No one's hurrying. Everyone was locked down in every home, worrying and wondering. Praying for all these to be over, and basically just hoping that everything would go back to normal when we wake up the next morning. But in truth, we were given the time to recover. To rediscover ourselves. To finally take the time to rest, or read that book that's been sitting on the shelf collecting dust, or hone that skill we've been wanting to acquire. For the first time in our entire lives, we were not in a hurry. We have been given the gift of time. Time to think, and rethink. Time to breathe. Time to regroup.

Earth's reset button
While on lockdown, we in the city were able to see clear skies for the first time. I did not see the mountain range that was actually visible from our rooftop if there weren't smog covering it. Stars were more visible at night if we look out the window. It was more peaceful to sleep because there isn't any noise coming from vehicles. For the first time in my life, Mother Earth was able to breathe.

Realizing the importance of being prepared
I know a lot of people who are superstitious and think that saving money on coin banks means we are expecting or wanting for someone to be sick in the family. After all the job losses, people who saved up even little by little had the advantage of stocking up food until winter is over. A lot of us were taken by surprise by this virus. No one could have ever prepared for what we went through over the past months. By now, most of us would have realized that having a safety net for emergencies could mean life and death. Whether we admit it or not, if not for the help of the good-hearted people, those living on their daily wages would have resorted to desperate measures just to survive.
Right now, the economy seems to be slowly recovering. I am hearing news about their paychecks returning to 100%, skeletal workforce strategy is no longer in place. My friends who work in insurance and VUL sales made more sales now. Truly, it is better to have it and not need it than need it and not have it.
There are a lot of realizations that this pandemic has brought to us. And now that we are getting used to the new normal, I am sure that these realizations have changed our point of view about life and people in general. If we look well enough, if we look way past all the hardships we went through, there are tons of things to be thankful for.
Cover photo is grabbed from the contest post, link above.

---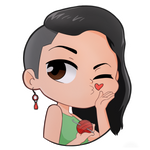 @romeskie is a full-time stay at home mom juggling homeschooling, crocheting, and homemaking. A Business Administration graduate with a major in Marketing who ended up in the contact center industry, on the frontlines, climbing her way up to Workforce Management where she found her passion in real-time analysis and management. A once self-proclaimed careerwoman who soon realized homemaking was her real calling. Her passion varies from reading, writing, photography, and most of all, crocheting.
Connect with her through her Facebook Page: The Leftie Crocheter and on Instagram. Feel free to subscribe to her Youtube Channel: The Leftie Crocheter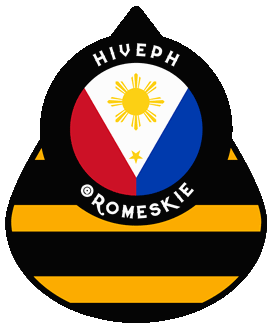 Big thanks to @bearone for my Hive PH badge.