Very happy to see our weekly #HiveChat that was very successful, thanks for our hard-working moderators who help us to give away all the #Hive sponsored by @hivetips Team.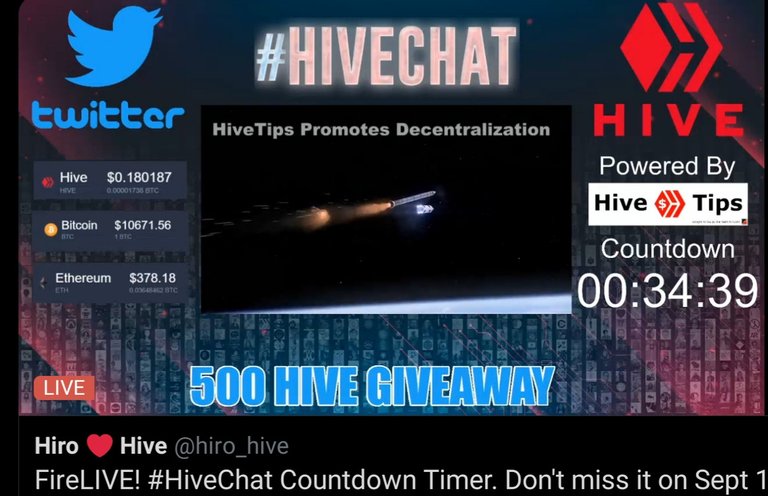 In my part, I can say it was an intense whole week for the preparation of the hivetips extension for our moderators by giving the test, preparing the questionnaire using the canva, setting up the design layout for the Countdown Livestream on Twitter with the help of @doze, preparing the OBS server, thanks to @cre47iv3. This was used on the countdown which started running more than 80 hours nonstop until it crashed down 5 minutes before the main event :D
Our first post regarding this HiveChat event.
@stellabelle was the host for the 8th #HiveChat that was taken place last September 8, 2020.
This is where it started, right after @stellabelle did a great job on her #HiveChat moment, it was my turn now to prepare what is necessary to make this day to be a memorable event for all of us.
First and foremost, obviously, we need 5 sets of questions.
Canva was my great tool to make the thumbnail images more appealing. Then I ask some suggestions and proofreading in my grammar to make it more understandable as possible, thanks to @stellabelle for assisting me in this part.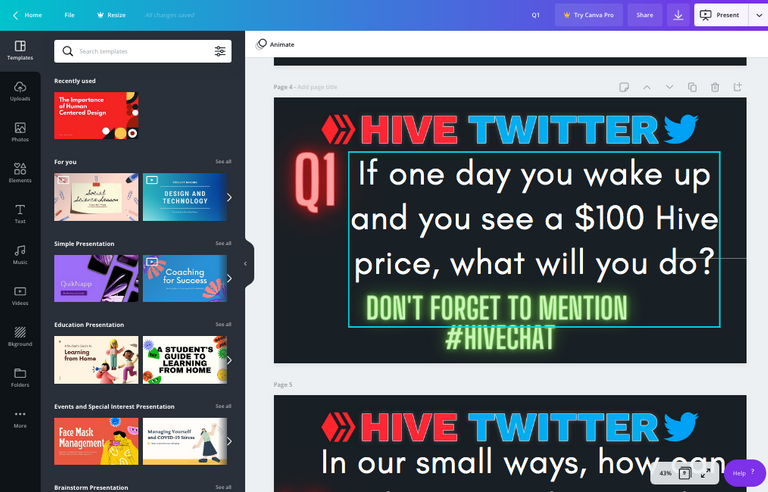 Then an idea sparks to my little mind to ask the @fullalt team if they want to take part in this event by sponsoring our giveaways, which they are gladly be doing, thanks for your optimism @jackmiller. These can't be achieved without your great tool, thank you for making tips made easy to do for all.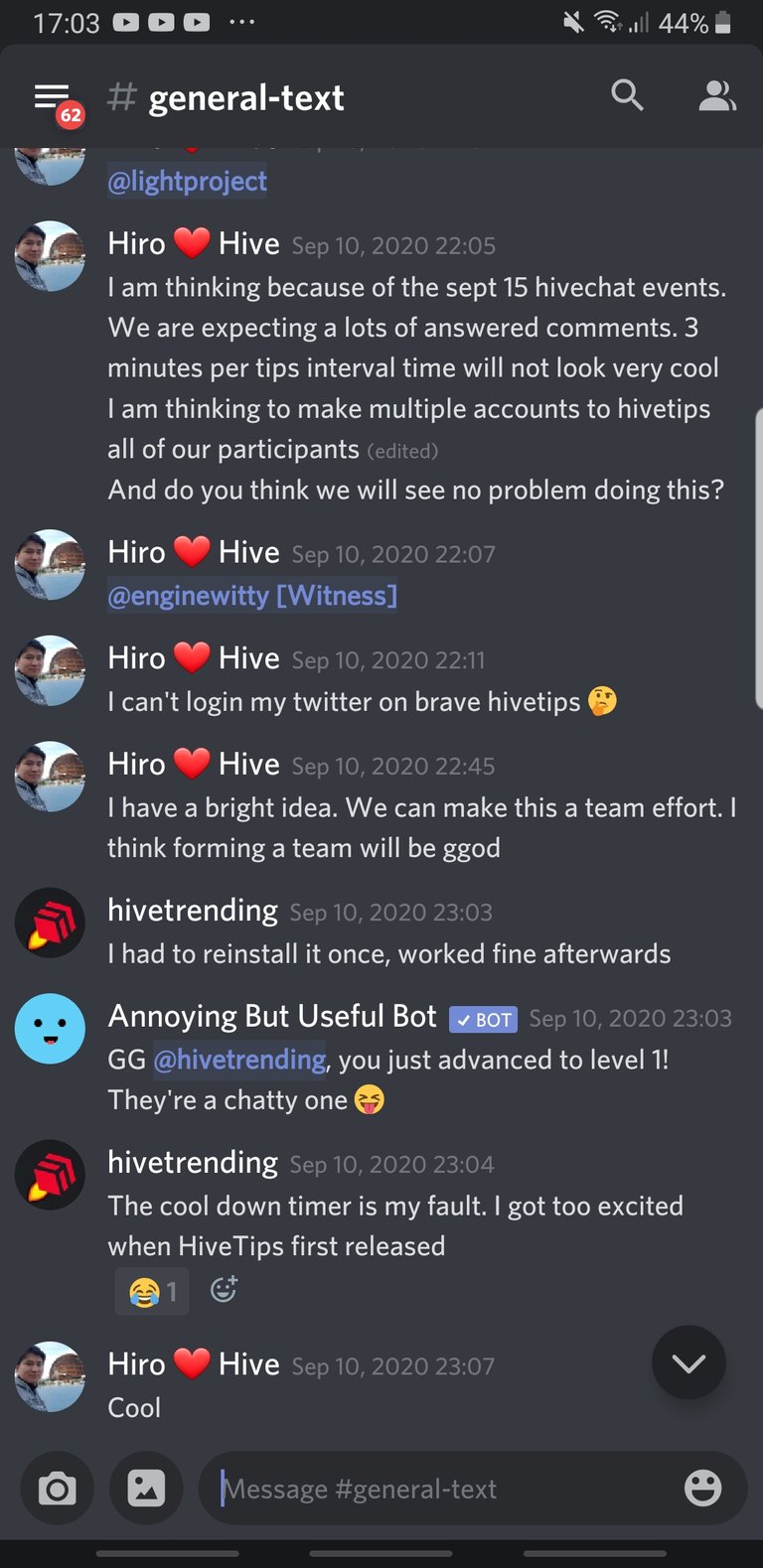 Another problem pop up after the @Hivetips team decided to sponsor 500 Hive for this event, each twitter @hivetips transaction has a 3 minutes cooldown. Its the measure was taken by @hivetips to avoid being censored and blacklist on Twitter, so removing the cooldown is not so cool to consider.
For this be possible I need moderators that can help participate in the giveaways. I cannot imagine if I am doing all the @hivetips by only myself, just doing the math and my calculation it will take 500 Hive x 3 minutes = 1,500 minutes or 25 hours, given without sleeping or resting, I guess it will take one week or I may die doing by my own 😅😂
The next move is to message every #Hive owners I know in Twitter. Oh boy, I message everyone you can imagine, in my mind that every 5 people I will message there are 1 or 2 people will say Yes. I have faith in the community for I know it for quite a few years and know how kind-hearted and good people we have in the community. I can safely say that you can find the best people in the Hive. ❤😉
Messaging them one by one, aside from waiting and praying for their positive response, patiently. Everyone who can agree will get on the list on my excel cause I don't want to forget them. Making a list of who is available and unavailable, and there are people who are more than willing to help but lack of resources like a computer or laptop because the @hivetips is an extension that needs to be done on a computer for the meantime and currently the @fullalt team is working hard to deliver mobile apps for tipping. There are also that are not sure with their schedule and needs a follow up a day before the #HiveChat.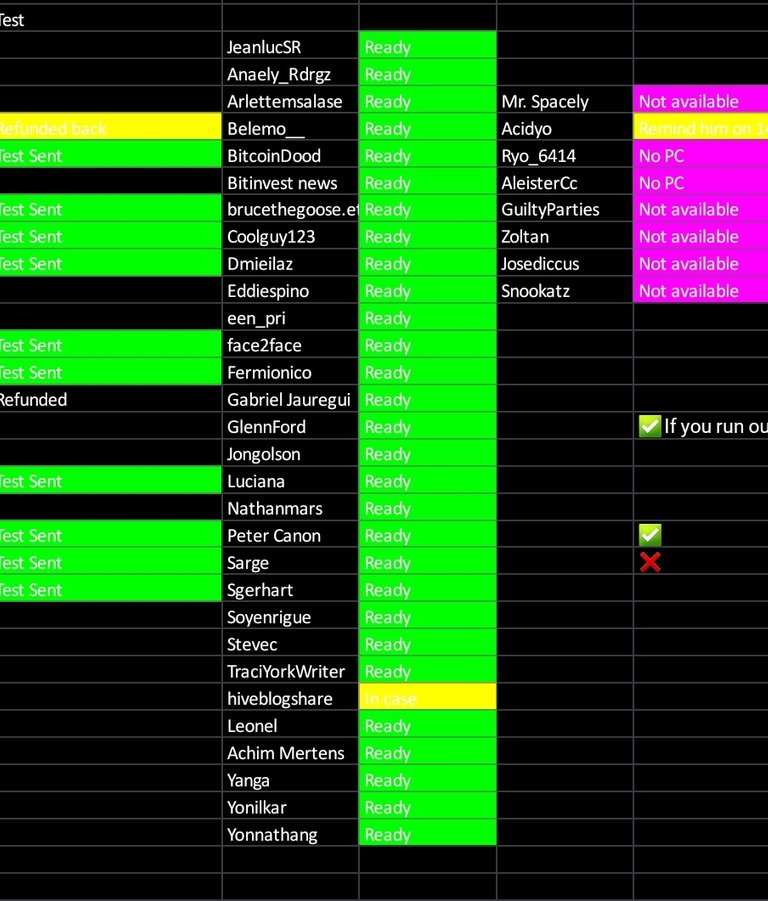 There is a need to create our own private group chat on Twitter and all available are invited inside the group on Twitter. The twitter chatroom can only accommodate 50 people inside so obviously there are some that are not included inside.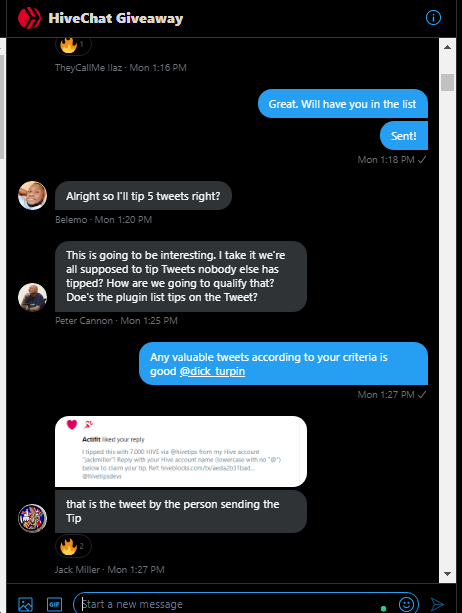 Not all people and we can say most are still weren't familiar with how @hivetips works. This takes small briefing in my part to talk about how the @hivetips extension works
Teaching everyone how @hivetips works and best to try it out first on my tweets and refunding it back to them for the sake of just trying things out first. Thus when the time of the event comes, we know everyone would be very busy and no one can teach us how it works so we better get prepared and taste your first transaction beforehand.
After making a team and teaching everyone to get familiarized with tipping. I am now getting the OBS design layout which is badly design at first, thanks to @doze and @cre47i3 for helping me out and suggesting an improvement in which I was very happy with the results.
You can compare the before and after the total makeover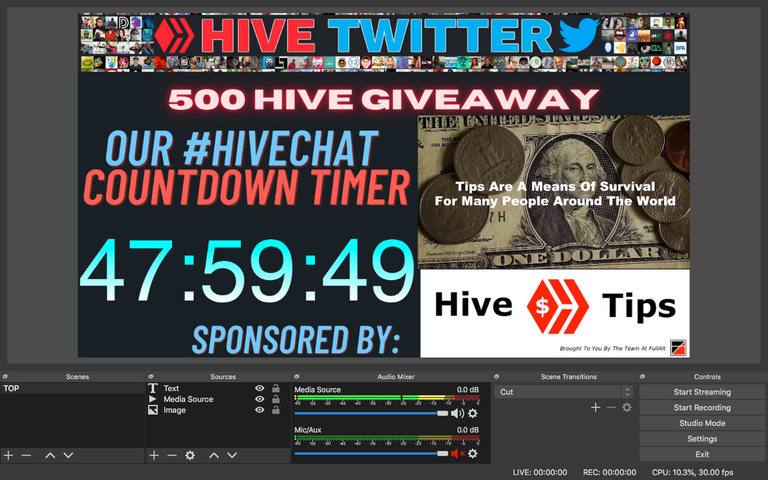 Before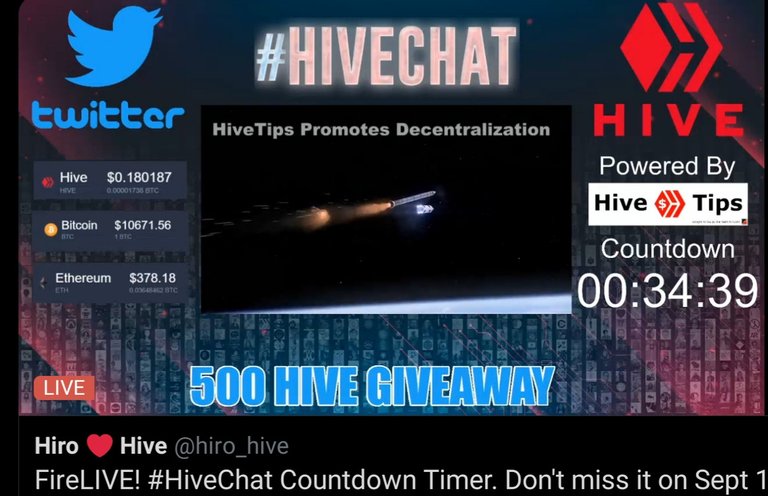 After
Few days before the event how lucky that I broke my laptop that I needed to call someone to set up my OBS Livestream server countdown timer for Twitter.
Thankfully @cre47iv3 is there to help me set this up, he allows me to use his separate desktop computer to run the Livestream for more 80 hours without shutting it down. Great to have someone like him in the team. Made a post here.
After that, we need some Test #HiveChat before the main event to test things out on how the @hivetips will work out, the procedure, and the timing of whose getting the tips or not. Few hours before the Test HiveChat I need to send our short briefing in the group and on Direct messages. The test is to tipping each other moderators' reply.
I need to ask confirmation first before sending the Hive funds given that we have different time zones and sometimes there are unexpected problems scenarios like internet connection problems, etc.
For better transparency, I sent the Hive funds through @hivetips on Twitter to our moderators.
For test #HiveChat, I had only two questions that are not related to Hive since this was only a test, I threw some questions which is more personal to me to hear the answers. Made a post about this
Our 9th HiveChat is quiet unique not only because it has a 500 Hive Giveaway but also we included the Spanish on this event, usually it's only for English but we dedicated the Spanish translated questions 5 minutes each question which was beautifully done by @victoriabsb, appreciate your help, dear. <3
She made the thumbnail image and proofreading my Spanish tweets as we want more people to grab the free Hive giveaways.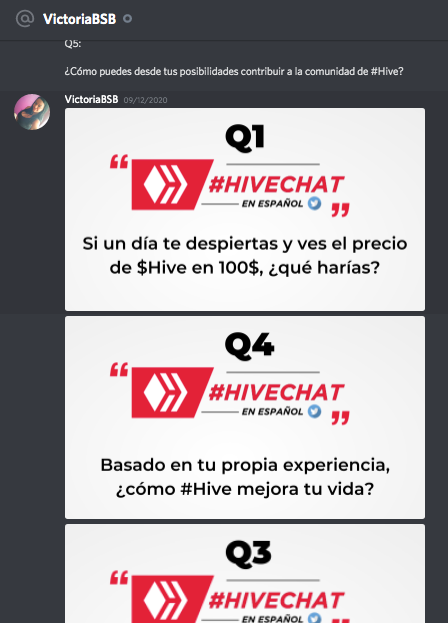 I hardly sleep a few days before the event as we are still making our final preparation and still something is not perfect and still need some furnish like what happened here that we triple sent a Hive in one tweet of @jeanlucsr, lol. 😂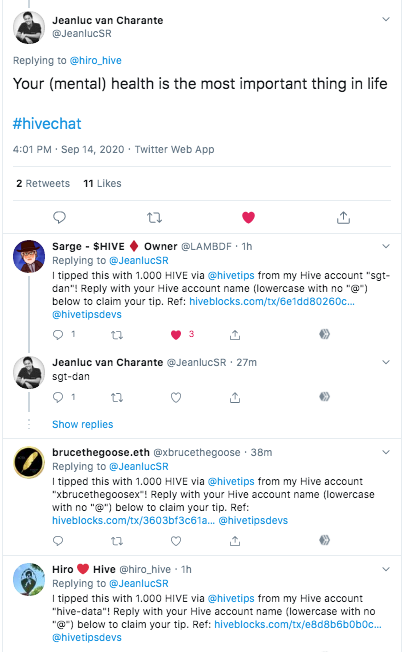 Right after, I need to remind ourselves about the lapses and whats need to improve a few hours before the main event. About 5 hours before the event, I made the short briefing again about the do's and don't's in our group and via direct message.
Then our final briefing...
‼️ #HiveChat Sept 15 @ 12:00 GMT
✅ 10 Question( 5 English|5 Spanish translated) - You can tip both
✅ Tip only 1 Hive each tweet. Newest good tweet you can find
✅ Tip a good reply to the question
✅ Tipping Timing: If your First Name starts with the letter A~F start tipping after 1 minute mark, G~L start w/ 2 minute, M~S start w/ 3 minute, T~Z start w/ 4 minute
✅ Use the remaining Hive from the Test
✅ If you run out of funds, pls tell asap
✅ Tell us if you are willing to tip until all comments has been tipped, if available will be sending more
✅ If possible, Interact with the participants
✅ Late comer can still be tipped
❌ Don't tip tweets without #HiveChat. Pls remind to use tags
❌ Avoid double tipping. Don't tip the tweet that has already been tipped
❌ Avoid Tipping the same person twice
❌ Don't forget to participate
❓If everything is clear, type "YES". After confirming, will send the Hive to your recent tweets
After confirming 'YES', I am now sending the initial Hive funds via @hivetips in their recent tweets.
Just 2 hours remaining, I am now getting more busy and busy that our moderators are waking up and messaging me one by one, oh boy, I cannot even go to the toilet, haha.
Also visited some Discord group to invite everyone in our #HiveChat. Thanks, @jaynie for the special mention and helping us invite our people to participate in the event.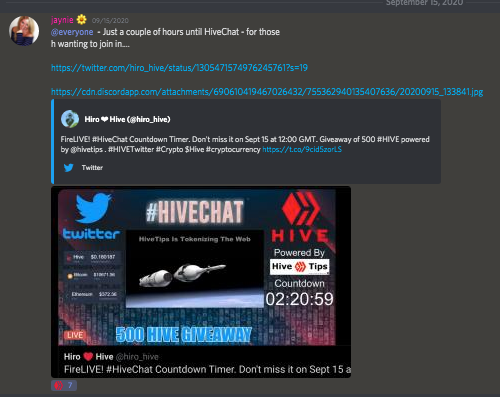 The moment of truth is now a few minutes to go. How lucky that my OBS Livestream crashed only a few minutes before the #HiveChat.
All of the questions are got prepared beforehand, thanks to the twitter features about the scheduled tweets that give me a sign of relief not to be overly concerned about the exact time to tweets so I can focus my energy on some other matters like interacting and tipping all the participants.
As the timer runs out, it's now officially opened at 12:00 GMT. Looking at the comments we can see people are very excited to answer some questions.
As much as I want to interact more in all the comments, I cannot because of all that troubles me about so I can only do some GIF reactions on some comments.
Then the first question started, I am very happy to see the replies in this question that I wish I had more time to read it through that time. I only had a chance to check it just a day later.
After sending initial funds to the moderators, there are still some Hive funds left to be distributed. Drop a message on anyone who still got interested to tip all participants can message me to replenish their @hivetips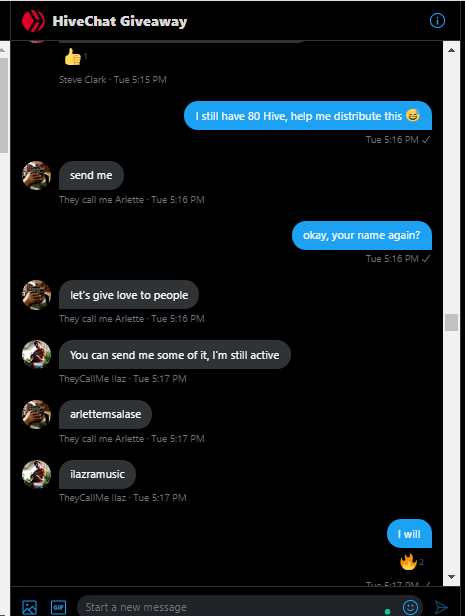 It all went through smoothly all the 5 questions, aside from during the event, I am busy to solve some problem in the moderator on the tipping issue and guide them while tipping and interacting in the replies.
That was a 2-hour intense time in my life, whew! but it was really fun though I am lack of sleep throughout the week I really enjoyed it. We also hit the trending page on Venezuela, great to have them participated on #HiveChat.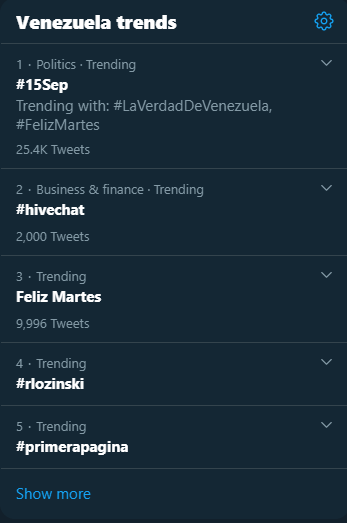 Just an hour after the #HiveChat, I am still seeing many comments are coming but my body is telling me to rest after not having enough sleep for a week, I made deep very good sleep after the event. Whew!
So the question is am I willing to do this again? To this, I tweeted again @jeanlucsr.
Big Yes to me! it's an honor for me to be a small instrument on preparing the #HiveChat event, this won't be possible without the help of God and the help of people who believe in what we are doing. In my faith, I know God brought me to you to make this one of the kind event possible! For this I am forever grateful to God and to all who participated. I am hoping to see you again soon and work with you again in the nearest possible time, its an honor and pleasure to work with guys our #HIVETwitter Family <3