EvangeliQels
Recently we've seen MAGA Republicans publicly advocate for Christian Nationalism in America. Their idea of Making America Great Again entails the eradication of the separation between Church and state and the establishment of America as an exclusively Christian nation.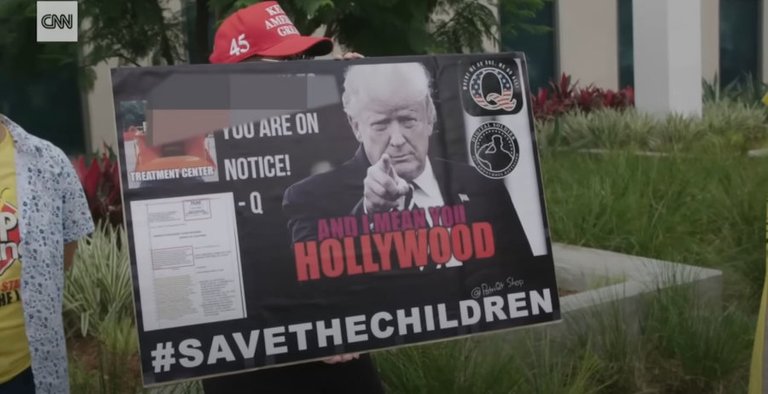 source: YouTube
That in itself is a big problem and a denial of the country's founding principles. Making Christianity the exclusive or official religion is antithetical to freedom of religion and freedom of speech. If your idea of a Great nation is based on the white-picket-fence American Dream and white suburbia under God, you love Trump; he'll build you a wall keeping out brown people, he'll propose an outright ban on Muslim-immigration and he'll do so in a brazen unapologetic manner. This has been the basis for the unholy alliance between Trump, QAnon and Evangelicals.
Evangelicals and born-again Christian Republican conservatives have been staunch and politically active supporters of the GOP since the early 1980s when they backed the election of Ronald Reagan. This alliance would have grave consequences for the state of American politics, and would lead to tens of thousands of deaths that could have been prevented during the HIV and AIDS pandemic of the 1980s.
Reagan understood that a great deal of his power resided in a broad base of born-again Christian Republican conservatives who embraced a deeply reactionary social agenda of which a virulent, demonizing homophobia was a central tenet. In the media, men such as Pat Robertson and Jerry Falwell articulated these sentiments that portrayed gay people as diseased sinners and promoted the idea that AIDS was a punishment from God and that the gay rights movement had to be stopped.
source: Forward
AIDS was first reported in the medical and popular press in 1981, but Reagan kept silent and inactive on the matter until 1987 when he first publicly spoke about it, and by then some 28,000 men and women had died. How many of those deaths could have been prevented? We'll never know, just like we'll never know how many could have been saved if Trump took the COVID-19 pandemic seriously from day one, instead of ignorantly claiming it'll go away by summertime or riling up hate for Asians by claiming it was a Chinese hoax.
Religious people, not just Christians, are raised in faith. That is to say that they're raised to believe in something without evidence, and to derive their knowledge from up high. To base their entire life on that belief. It provides them with the warm embrace of false certainty and an uncomplicated morality; everything God made or commands is good, and evil is the work of Satan. Homosexuals were demonized, AIDS was God's punishment for their sins. Biden and all leftists are now demonized, and God will punish them for their sins through Trump who will return. Some Evangelical pastors have bought in completely into the conspiracy theories of the stolen election and QAnon. And pastors who don't go with that conspiracist flow risk being opposed or abandoned by their congregants:
The congregants were worried about Frailey's intentions. At Coffee Creek, his evangelical church outside Oklahoma City, he had preached on racial justice for the past three weeks. He says the couple didn't appreciate his most recent sermon, which urged Christians to call out and challenge racism anywhere they saw it, including in their own church. Though Frailey tries to keep Coffee Creek from feeling too traditional—he wears jeans, and the church has a modern band and uses chairs instead of pews—he considers himself a theologically conservative Southern Baptist pastor. But at one point, the couple Frailey spoke to said they believed that he was becoming a "social justice warrior."
source: MIT Technonoly Review
That's from an article titled "Evangelicals are looking for answers online. They're finding QAnon instead"; I suggest you read it in its entirety. It's the sad story of how these people's religiosity is used against them to draw them into the conspiracy theory holding that Donald Trump is fighting a secret Satanic pedophile ring run by liberal elites. I mean, these people believe that Tom Hanks eats babies! Compared to that, believing that the election was stolen is fairly mild. I personally can't think of any other reason for people's belief in such wild and unfounded claims than a lifetime of preparation for believing without evidence. Believing that everything is neatly divided into Good and Evil, and that everything that's not Good must be Evil and therefore Satanic. And somehow children are always central to these apocalypse-level beliefs: homosexuals are child-groomers, Democrats eat babies and rock bands poison the minds of youths with their Satanic music.
I've written about this topic several times now, but maybe I'm not the best person to tell this story as I've never been raised in faith and have never been inclined to believe anything without good reasons to believe it. So maybe watch the below linked video by someone who has been raised in faith. And of course all this isn't to say that this is all Christians or all Evangelicals, or all QAnon believers for that matter. It's just that there's always been, or at least since the 1980s, a significant overlap between deeply religious Christians and belief of conspiracy theories, one that can't be ignored.
Why Do Evangelicals Fall For Conspiracy Theories? | Belief It Or Not
---
Thanks so much for visiting my blog and reading my posts dear reader, I appreciate that a lot :-) If you like my content, please consider leaving a comment, upvote or resteem. I'll be back here tomorrow and sincerely hope you'll join me. Until then, stay safe, stay healthy!

Recent articles you might be interested in:





Thanks for stopping by and reading. If you really liked this content, if you disagree (or if you do agree), please leave a comment. Of course, upvotes, follows, resteems are all greatly appreciated, but nothing brings me and you more growth than sharing our ideas.

---
---