A pot of gold. That's what's at the end of the rainbow, if you believe in this famous fable. In truth however, a rainbow is a full circle, half of which is obscured by the horizon most of the time. And a circle has no end, hence no pot of gold...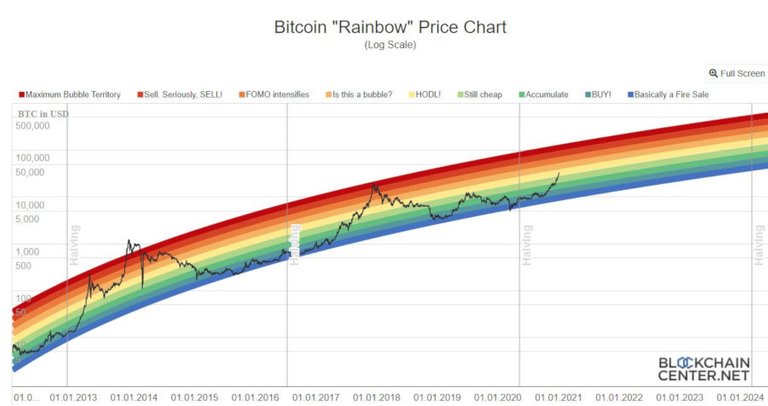 source: blockchaincenter.net
There is another kind of rainbow, one that's real enough to potentially lead the way to another pot of gold. Digital gold. I'm talking about the bitcoin rainbow chart depicted above. And if this chart's predictions come true, holders of bitcoin will have a very profitable year ahead of them. Still, I think it's wise to share with you the precautionary text that accompanies this chart:
The Rainbow Chart is not investment advice! Past performance is not an indication of future results. The Rainbow Chart is meant to be be a fun way of looking at long term price movements, disregarding the daily volatility "noise". The color bands follow a logarithmic regression (introduced by Bitcointalk User trolololo in 2014), but are otherwise completely arbitrary and without any scientific basis. In other words: It will only be correct until one day it isn't anymore.
The same goes for this post or any other post from my hand on this subject: this is no way financial advice! Having said that, it's undeniable that bitcoin blasted off this year with a bang. For those of us who have been following the news and trends it's no surprise that bitcoin's price surpassed the psychological resistance of 30,000 dollar with relative ease; it even peaked shortly above 34,000 dollar yesterday before retracing back to 32,000 dollar and back up to 33,000 dollar. These kinds of wild moves will be the norm for some time to come and 2021 will be a year in which the price of our digital gold can move thousands of dollars up or down within a couple of hours. The last three weeks alone the price skyrocketed from 19,000 to 34,000 dollar; that's 15,000 in three weeks!
Back to the rainbow though. Several analysts I've been following have recently mentioned this chart, as well as a couple of other indicators, and compared bitcoin's current moves with previous bull-runs; they all conclude that it's likely that bitcoin's price will surge to a ridiculous 50,000 dollar in April or May this year. Price predictions for the end of 2021 are even more bullish and hard to believe. In December, a leaked Citi report revealed one of the bank's senior analysts thinks bitcoin could potentially hit a high of 318,000 dollar by December 2021, calling it "21st century gold." Most predictions however hover around the 100,000 to 120,000 mark for the end of this year. Whatever may be the case, for now I'm following the advice on the bitcoin rainbow chart; with the current price being smack in the middle of the yellow band, that advice is to HODL! Watch this short video for more crucial information about this colorful chart. And keep in mind that
bitcoin has a way of surprising even the most experienced and skilled analysts out there, so don't invest money you can't afford to lose!
TODAYS BITCOIN PUMP FLASHES THE BIGGEST BTC WARNING SIGN EVER!!!!!!!!
***
Thanks so much for visiting my blog and reading my posts dear reader, I appreciate that a lot :-) If you like my content, please consider leaving a comment, upvote or resteem. I'll be back here tomorrow and sincerely hope you'll join me. Until then, keep safe, keep healthy!

Recent articles you might be interested in:





Thanks for stopping by and reading. If you really liked this content, if you disagree (or if you do agree), please leave a comment. Of course, upvotes, follows, resteems are all greatly appreciated, but nothing brings me and you more growth than sharing our ideas.