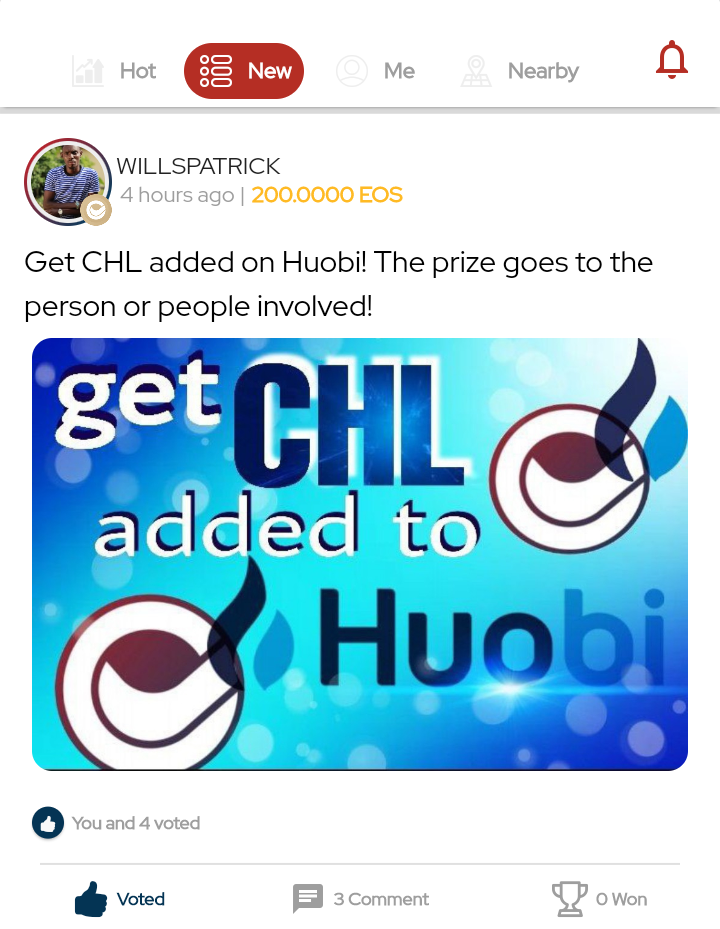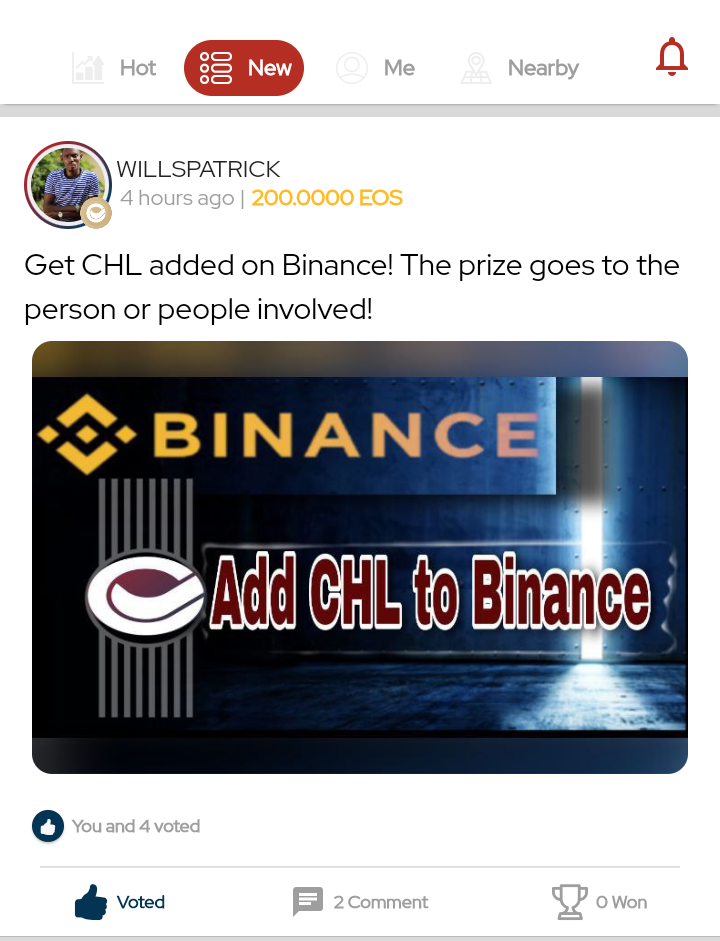 Much love to the Challengeeos Team for always spreading love to mankind. There are presently two Huge Task Challenges on board with 200 EOS each as prize pool. Make sure to join this Challengeeos Team sponsored task challenge. The person/persons able to complete the task gets to win or share 200 EOS of they are more than one person. The tasks are Get CHL token (Challengeeos App's native currency) added on Huobi and Binance exchanges. This can be made possible my sending a mail to the exchanges incolved.
If you do not have the Challengeeos App already on your mobile. It is an App which allows it's users to create and receive Challenges. When the challenges are completed successfully, the challenge receiver wins free Crypto reward. The Challengeeos Team is based in San Diego, California.

READ CHALLENGEEOS WHITEPAPER HERE:
https://drive.google.com/file/d/1-4NOmlUDMMd3MjacS22rFmfIKqSmpV_0/view?usp=drivesdk
Download the Challengeeos Version 5 App here:)
For Android Users:
https://play.google.com/store/apps/details?id=challengedac.com.challenge_dac_app
For iOS Users:
https://apps.apple.com/us/app/challengeeos/id1478759780
Buy CHL via @newdex-io:
https://newdex.io/trade/challengedac-chl-eos
Visit https://challengedapp.io for more details
Challengeeos Social Media Accounts:)
Join Challengeeos Telegram Community
https://t.me/Challenge_DAC
Instagram: https://www.instagram.com/challengedacdapp/
ChallengeDac YouTube: https://www.youtube.com/channel/UCnYWlP_UT6k5EIfuLSD3Spg
Twitter: @ChallengeDac
Discord: https://discord.gg/HHXFfVN
Reddit : https://www.reddit.com/r/ChallengeDac
SEIZE YOUR REWARDS!!