Tuesday evening, just the right moment for irritation.
Dienstagabend, genau der richtige Moment für Irritation.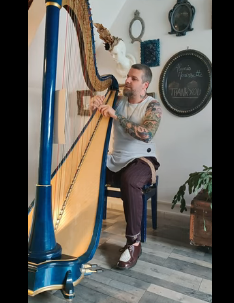 Music is something that brings or triggers something for everyone, positive sometimes, also negative, in any case an emotional concatenation of something.
Also in my case, it triggers something, what exactly I can't say.
When I'm on the internet I collect music that I save into a file until I have 4-5 links.
This music is rather curious or special.
It probably says something about my bad taste in music.
Musik ist etwas das jedem irgendetwas bringt oder auslöst, positiv mitunter, auch negativ, auf jeden Fall eine emotionale __Verkettung__ von irgendwas. Auch beim @siphon löst das irgendwas aus, was genau kann ich nicht sagen. Ich sammle wenn ich im Internet unterwegs bin Musik die ich in eine Datei speichere bis ich wieder 4-5 Links beisammen habe. Diese Musik ist eher kurios oder besonders. Wahrscheinlich sagt es etwas über meinen kaputten Musikgeschmack aus.
---
We start this Tqml like last time with "The sound of silence" but with background.
Auch dieses Tqml starten wir wie beim letzten mal mit "The sound of silence" aber mit Background.
---

Somewhat abstract but still beautiful, so no cat moaning at all, maybe whining.
Etwas abstrakt aber doch schön, so gar kein Katzengejammer, höchstens vielleicht Gewinsel.

---

Plim Plim plus Punk pure Pläsir. Thank you!

---

Georgian chickens for everyone!
Georgische Hühner für alle!

---

Mr. Müller makes music, the name is the program. The lyricism is not to be underestimated either.
"Sorry if I am a twerp, Now or Never...Sorry Tschery"
Herr Müller macht Musik, der Name ist Programm. Auch die Lyrik sind nicht zu verachten. "Sorry wenn ich ein Stoffel bin, Jetzt oder Nie...Sorry Tschery"

---

And even if the world may end, this one last song is played to the end. Barcelona in the middle of anti-lockdown protests that turn into violence. Beautiful Surreal World! Eternal Flame - The Bangles
Und wenn die Welt auch untergehen mag, dieses eine letzte Lied wird zu Ende gespielt. Barcelona mitten in den Anti-Lockdown Protesten die in Gewalt umschlagen. Beautiful Surreal World! Eternal Flame – The Bangles

---

This post you have just read, heard and seen is finished. Open another one and read someone else's post empty.
Diesen Post den du gerade gelesen, gehört und gesehen hast ist zu Ende. Mach doch noch einen auf und lese den Post eines anderen leer.

Bannner @pacolimited