Zugegeben da war doch einiges Glück dabei. Seit ein paar Wochen habe ich mich schon auf Lauerstellung um die Plätze 20 befunden.
Mein Level ist etwas niedriger als der Spieler die üblicherweise in diesen Sphären unterwegs sind.
Mir hat das Glück in die Karten gespielt beim ersten und bisher letzten Event auf #holybread als ich doch einige Knochenbrecher Items erhalten habe.
Admittedly there was some luck involved. For a few weeks now I have been lurking around 20th place. My level is a bit lower than the players who usually play in these spheres. Luck was on my side at the last event on
#holybread
when I got some bone crushing items.

Das alleine hat aber noch nicht ausgereicht um in die Top 10 zu kommen, das brauchte noch einen kleinen moralisch fraglichen Hinterhalt.
Ich bin ja nicht gut genug für die Top 10, also müssen mir die Top 10 entgegen kommen.
But that alone was not enough to get into the top 10, it needed a little morally questionable ambition. I'm not good enough for the top 10, so the top 10 have to meet me halfway.
---
Das haben dann auch einige zeitgleich gemacht (lucky me). Das bedeutet das Top Spieler zeitweise schwache Heros in ihren slots zum leveln haben und geradezu danach schreien einen in den Hintern getreten zu bekommen.
Some people did that at the same time (lucky me). This means that top players will have weak Heroes in their slots at times to level up and scream for a kick in the ass.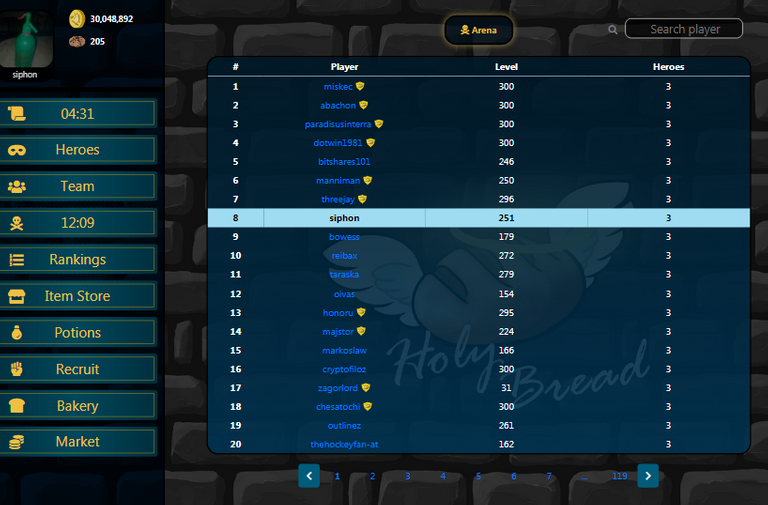 Ich selber habe jetzt auch (reichlich spät) angefangen Epic Heros zu skillen, leider sind viele sehr viel weiter als ich.
Da muss ich mich wohl darauf einstellen im Ranking sukzessive abzurutschen, sind aber auch zu viele Glücksfaktoren in meinem Erfolg.
I myself have now also started (quite late) to skill Epic Heros, unfortunately many players are much further than me. So I have to prepare myself for a gradual drop in the ranking, there are too many lucky factors in my success.
---
Das ändert nichts daran das ich trotzdem total happy über diesen Erfolg bin und die Gewissheit das nicht nur "Die immer gleichen" ganz oben sind, sondern auch einmal ein Glücksritter wie ich.
That doesn't change the fact that I'm still totally happy about this success and the certainty that not only "the same players" are on top, but also a shady fortune hunter like me.

Hive on