Hive-Engine news
Neue Token:
Token Name
AENEAS
Supply (Circulating / Total / Max)
25.4 M / 25.401 M / 100 M
Issuer
@aeneas.fund
Website URL
https://www.aeneas.blog
Derzeit läuft der airdrop bis Morgen!
https://peakd.com/hive-165469/@aeneas.fund/4-days-to-go-or-100000-ash-airdrop
Ein neuer Clone der Hive chain.
Also abwarten wie er sich entwickelt?
Ich stake mal ein paar zum testen und rüste dann eventuell auf
Es gibt passive stake rewards.
Ganz neu index
Token Name
Hive Engine Index
Supply (Circulating / Total / Max)
26,298.928 / 26,298.928 / 20 M
Issuer
@he-index
Website URL
https://he-index.io
Sehr gute Idee ein Index-Zertifikat der Top 10 auf Hive-Engine!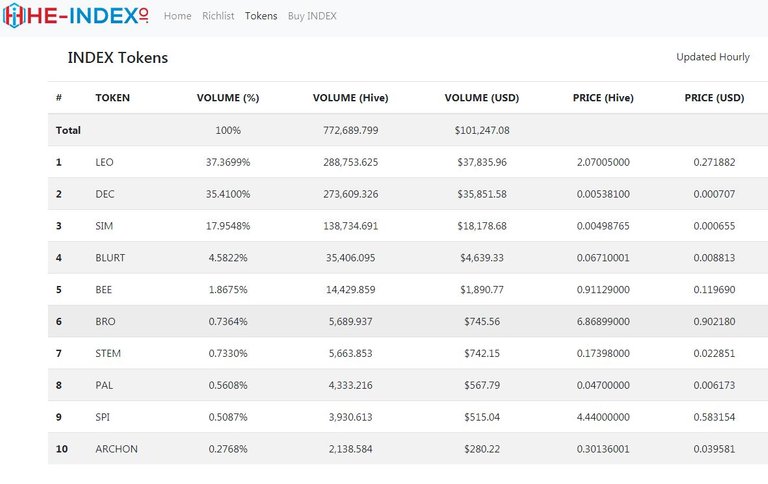 Ich habe den Verlauf der Transaktionen verfolgt:
nach jedem kauf von index auf Hive-Engine erfolgt automatisch ein kauf der 10 token anteilmässig
Die tägliche Dividende ist noch gering, aber wird wohl nach 2-3 Wochen stark ansteigen.
Dann noch TAN
Token Name
TANGENT
Supply (Circulating / Total / Max)
3,739.001 / 4,263.86 / 10 M
Issuer
@tan.token
Website URL
https://peakd.com/@theguruasia
Description
A Comment based "Tip Token", no manual minting & the daily mint process is based on @hiveupme curator's daily rewards. TANGENT has a powerful Token economy. Not a large-scale project. But binds with rich project features / simple & limited between true fun token holders. Call $tangent or $tan at Post => Comment Section to reward "Quality Contents".
Sehr Hohe Dividende!
Derzeit 20 SIM täglich für 30 staked Tan!

Unser Depot von @investinthefutur wird die neuen Token nach und nach aufnehmen!