It is a well known fact that we tend to eat quite well at the Mazunte Build. We love trying out new recipes, take turns cooking the most delicious food to impress each other with, but I should add that ours is mostly an omnivorous diet. Of course we do try to take into consideration if someone is allergic to raw tomatoes, prefers not to eat meat, or simply doesn't like the taste of soy sauce. However, this week we were faced with another challenge: a very consequent and all-in vegan volunteer.
Initial Apprehension Turned into Enthusiasm
As welcoming and open-minded we generally are, at first most of us were a bit uneasy with hosting a volunteer who doesn't eat animal products of any kind, including honey. And that was not because any of us had any problems with vegans, by any means. It was rather that none of us were used to cooking without even a bit of butter, cream, or cheese (yeah, a good third of our group is French).
But we knew that veganism isn't so much about omitting things, as about substituting other delicious ingredients, that gives a whole new spectrum of tastes to the simplest things. By living this lifestyle, vegans are intimately familiar with these amazing culinary tricks. So while none of us felt ready to cook for a vegan, all of us were more than ready to give good vegan cooking a try. So it was just a matter of time before someone suggested: "How about letting her do all the cooking?"
Instant Success for Everyone Involved
Normally I would feel horrible about sending someone into the kitchen full-time while there were so many other cool things to get involved with, such as building a green reciprocal roof. But since construction has halted anyway at the moment due to a really inconvenient bottleneck in materials (the typical desmadre you can expect in Mexico), there wasn't really too much she'd be missing out on. So we asked our prospective volunteer how she would feel about cooking some vegan dishes for us, and she responded with the most enthusiastic and cheerful way imaginable. (Yeay!!!) So that settled it: we'd be going vegan for a week, under the guidance of our vegan chef Fabiola.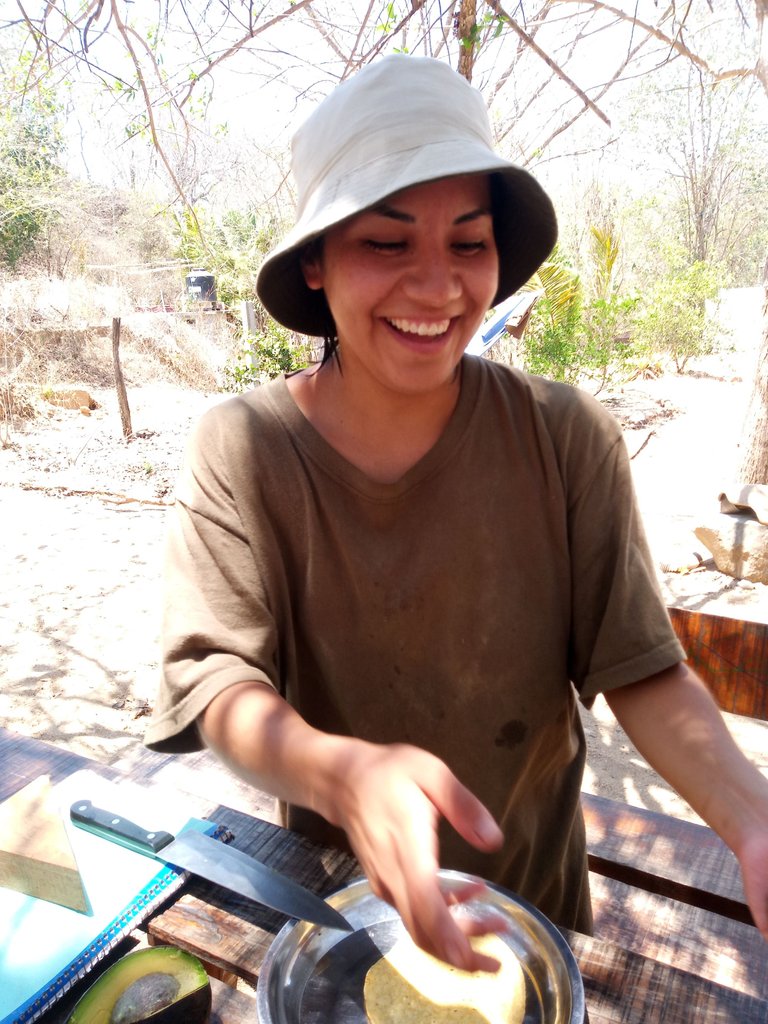 Lentils, Plantains, and Vegetables in all Forms
Hailing from Guadalajara, Fabiola is a passionate vegan. She explained right on her arrival, how veganism is not really a diet, but an attitude to life, particularly regarding the treatment of animals. Sure, it does have many health benefits (as it comes with certain nutritional drawbacks, for which she takes supplements), but it is mainly based on a decision not to hurt fellow animals. But while discussing the issue is mainly hot air, the substantiality of vegan lifestyle really becomes apparent in the food we ate. And was it tasty? Man, was it ever!
On her first day Fabiola made us delicios lentil stew, using up the last remaining veggies in our fridge. It tasted fantastic! Creamy, sweet-and-spicy, with a deep and heavy texture. And all without any dairy products, or even an egg? Of course! The secret: plantains (you know, the kind of big, angular bananas, you can't use until they're all black, and even then you need to fry them). Soooo good! Over the next days we got to taste these two ingredients in other ways too.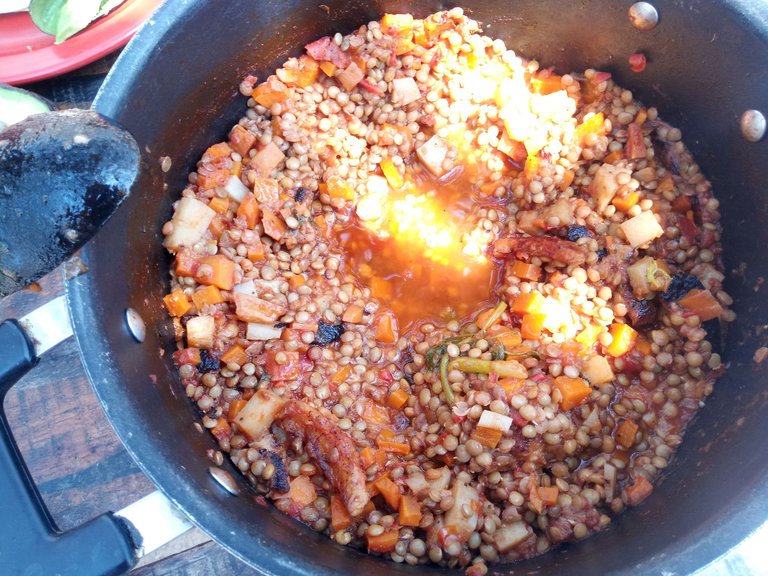 Burgers and Steaks, all Plant Based
After covering the lentil stew, which - let's be honest - still falls into the category of food we would have come up with that doesn't use animals, we arrived at the heart of the matter, with such hearty dishes as hamburgers and steaks made out of the same lentil-plantain base. But this time they were formed into patties, and fried in a pan.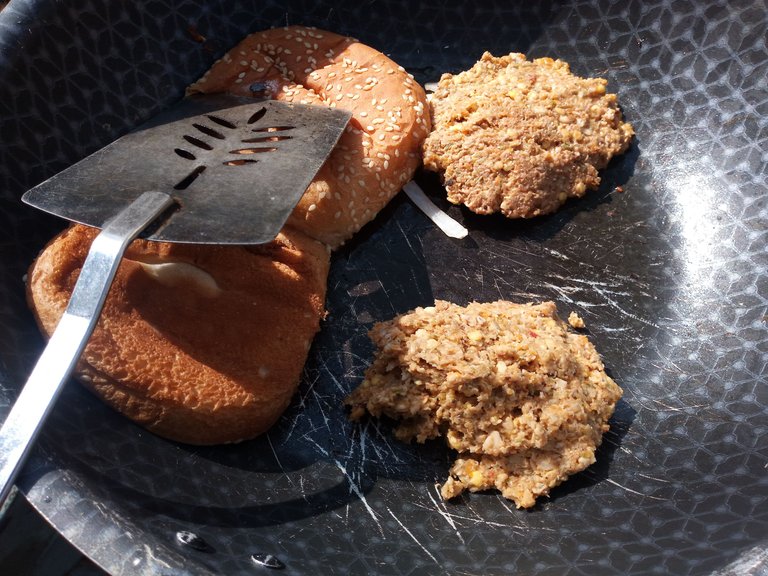 I could not begin describing the explosion of flavors we were treated to. So good! And what's more, it was all very rich and filling. By the end we all felt this familiar sensation of wanting to enjoy more, just for the taste of it, if it weren't for our stomachs full to the brim.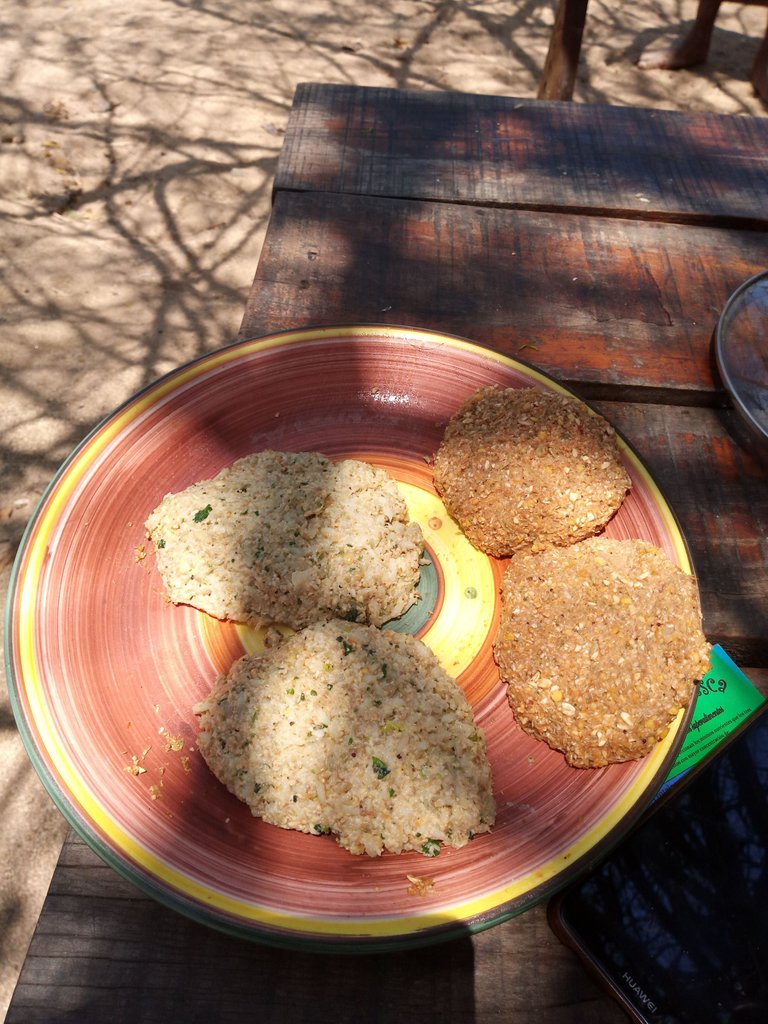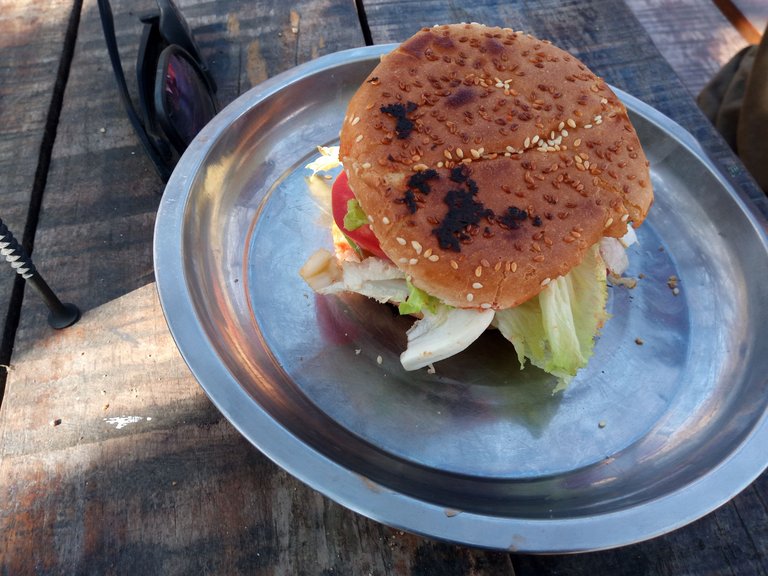 Accompanying these savory treats we had more "usual" side dishes, such as mashed potatoes (with lots of onions and pepper), steamed veggies, spaghetti in tomato sauce, but then also exquisite French dishes, like tomato provencal, oven roasted with herbs, garlic, and breadcrumbs.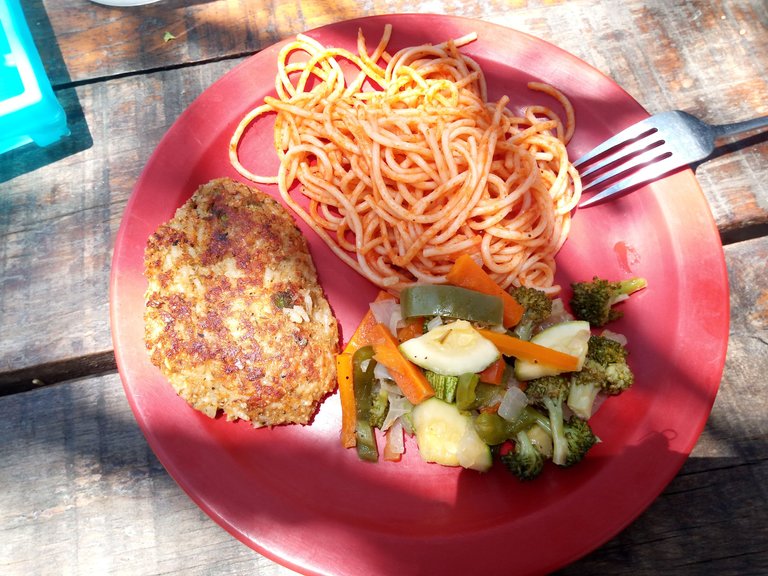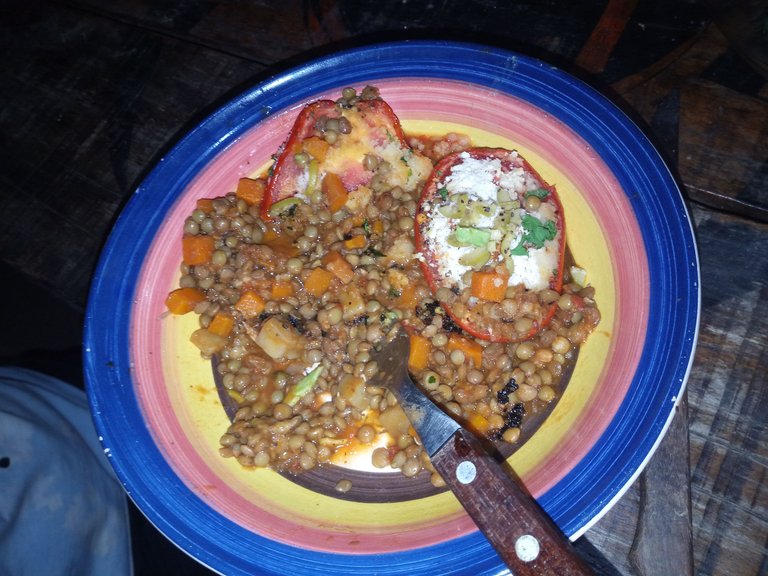 All Good Things Come to an End
As much as it delighted us to have Fabiola cook for us, it only lasted for four days. On her last day she used up the rest of the veggies and prepared a ceviche that is still looking for its match. I'm still floored from the culinary experience bestowed upon us, and I think I am going to ask her for some of the recipes to try at home.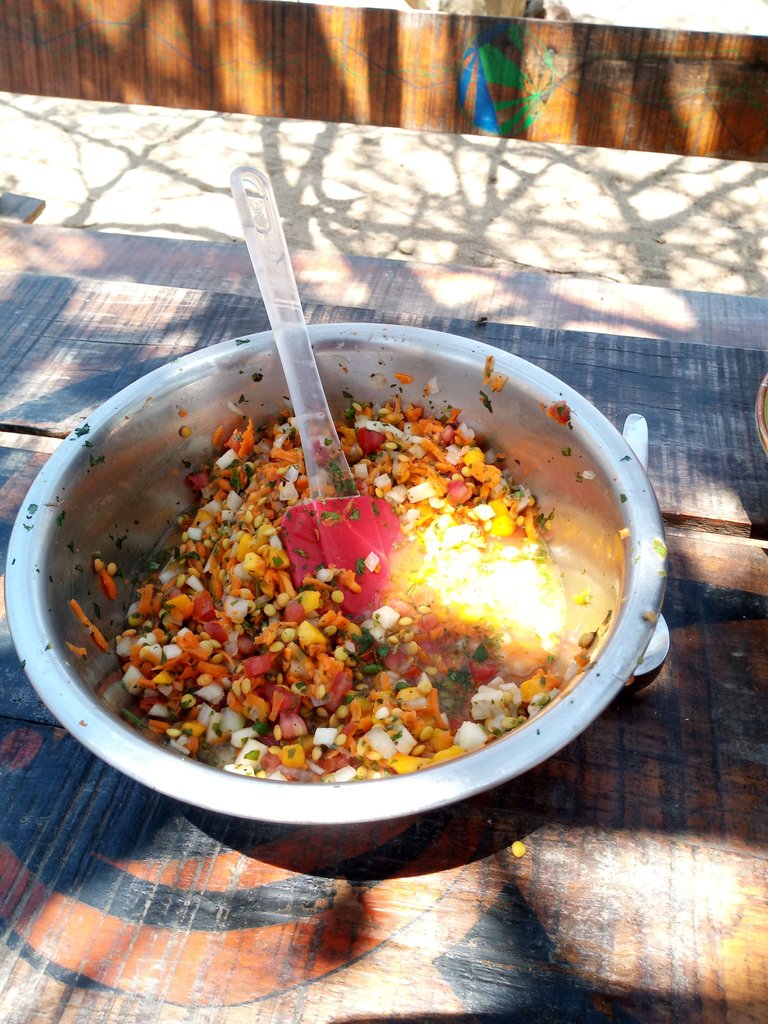 Though in the end these few vegan days were but a brief introduction into this lifestyle, and I never had any intentions of going 100% vegan, I am absolutely certain to copy some of these cooking ideas and take them up into my repertoire. After all, it's always fun to experiment with new things and explore alternative tastes. And as for Fabiola, who knows, I might convince her to join Hive herself...

Take a Look at my Previous Posts on this Exciting Construction Project:
Lost and Found: The Promotional Video for the Theater on the Beach
Back in the Circus of Mazunte
Up on the Roof Again
Teaching a Reciprocal Roof Workshop
Green Mazunte
Yoga for Construction Work
The Quickest Tent Structure: Building a Flex Yurt
Previous Series on Construction Projects in Mazunte: