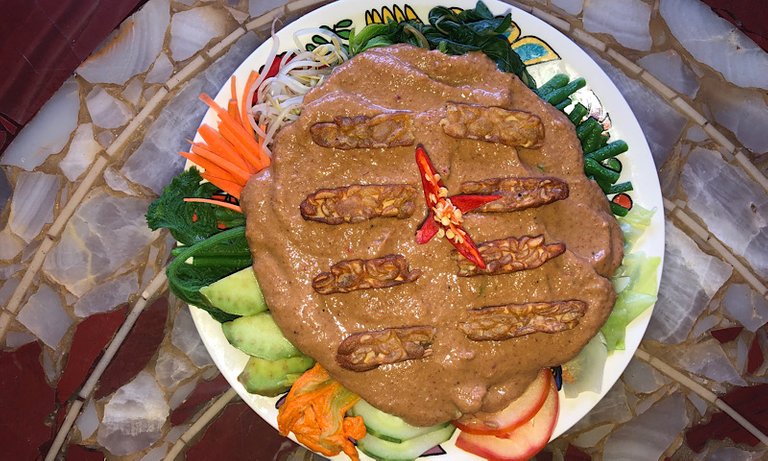 Hey guys, how are you today? I will to sharing with you about vegan gado gado recipe for #FruitsAndVeggiesMonday. This is a recipe my favorite food.
It is for @lenasveganliving and @plantstoplanks. You can see this week at 🥕 Lena's Fruits And Veggies Monday 🍅.
I want to everyone know it and I hope you can make it by yourself. Really delicious and great health. Let's go with me.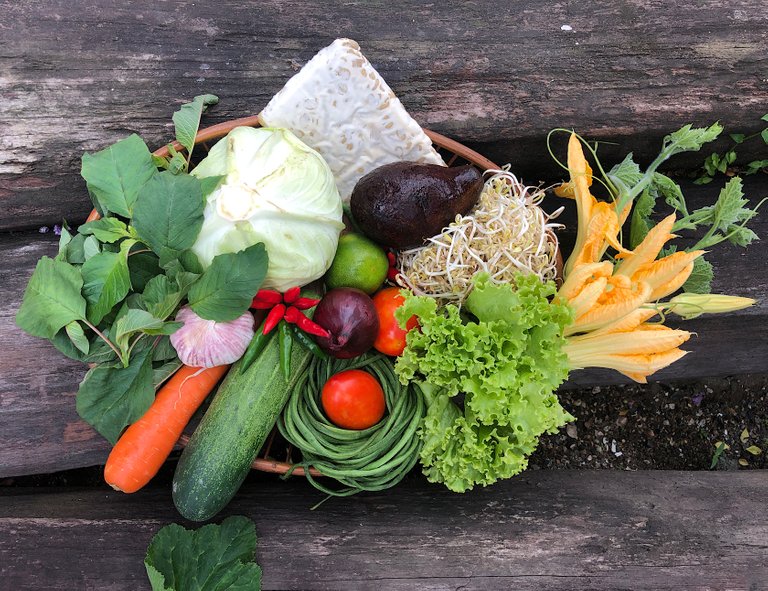 🧄🧅 Gado-Gado Sauce Recipe 🥜🌶️

Ingredients
1 cup peanuts
3 cloves garlic
1 red onion or 3 shallots
3 red chilies (or to taste)
1 lime's juice (or to taste)
1/8 cup pulp tamarind
2 tbsp soy sauce
3 tbsp palm sugar
1 tsp sea salt
1 cup of the good water
Step 1

Deep-fry peanuts.

Step 2

Grind peanuts in the machine first of all.

Step 3

Then put all ingredients, garlic, red onion, soy sauce, tamarind, chili, plum sugar, lemon juice, salt, water grinds together.

Step 4

Grinds it until very well.
Now we made peanuts sauce recipe already.

🥒🍅 Gado-Gado Salad Recipe 🥕🥑

Ingredients
1 block tempeh
bean sprouts
longbeans
1 cucumber
1 carrot
a little spinach
1 avocado
piece cabbage
pumpkin shoot and flowers it
1 tomato
Step 1

Cut vegetables tomato, cucumber, avocado, carrot, lettuce like this or as you want.

Step 2

Cut vegetables for boil or steam like this.

Step 3

Put the water in a pot on the stove until boiling. Next, put salt 1 tsp and put little oil and boil vegetables maybe one or two minutes.

Step 4

Then take it from outside spitting then put in ice water step one step.

Step 5

Then take it outside cool water put it in a colander.

Step 6

Arrange vegetables like this.

Step 7

Like this step or arrange vegetables as you want.

Step 8

Deep-fry tempeh until like gold.
Finally put the peanuts sauce on the salad arrange already and put fry tempeh on peanuts sauce.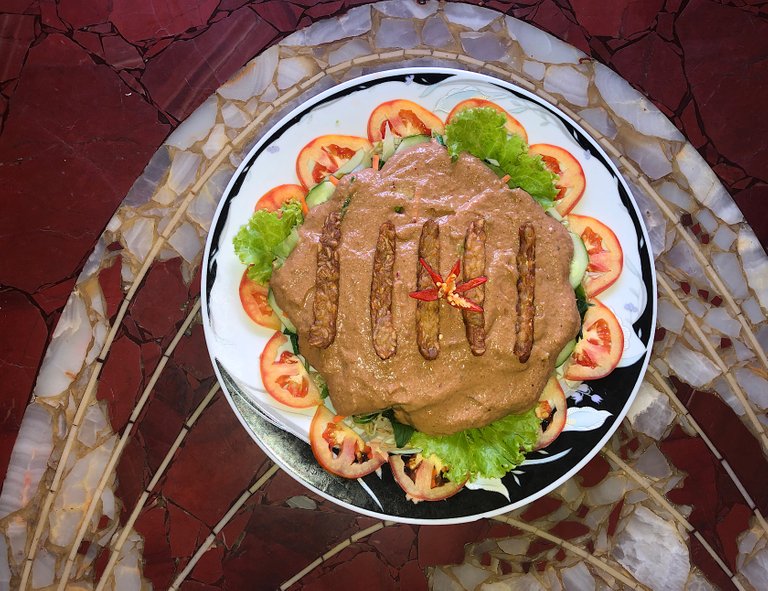 Now we made a gado gado already. You can eat gado with all veggies as you like or you have, it delicious all with peanuts sauce.
Wish you all have a great day. See you next post.😋😘🥰

🙏 THANKS FOR READING 🙏
If you enjoyed this post, please upvote and reblog.

WE PROUDLY SUPPORT
@themarkymark
@joshman
@canadian-coconut