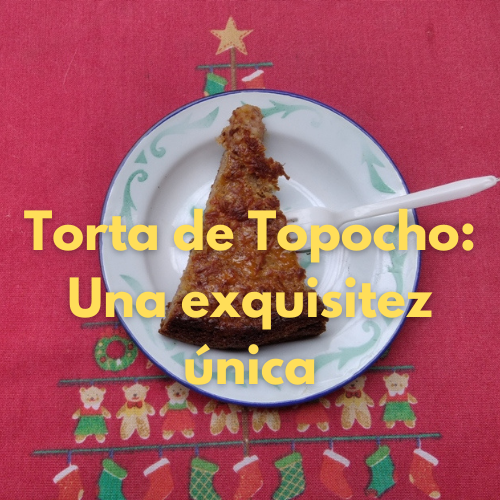 Buen domingo, feliz día para todos. Hoy he querido traerles una torta que para mí es una delicia singular, ya que su sabor es súper complejo, con muchas capas, texturas y giros que puede llegar a asombrarnos. A veces pareciera que estuviésemos degustando una torta a la que se añadió coco, otras pareciera una preparación a base de frutos secos, en otras un budín o torta de pan… lo cierto es que es un postre contundente, y aunque yo lo prepare continuamente nunca deja de sorprenderme; y lo mejor es que como ya saben, cultivo y cosecho su ingrediente principal en mi solar: El topocho.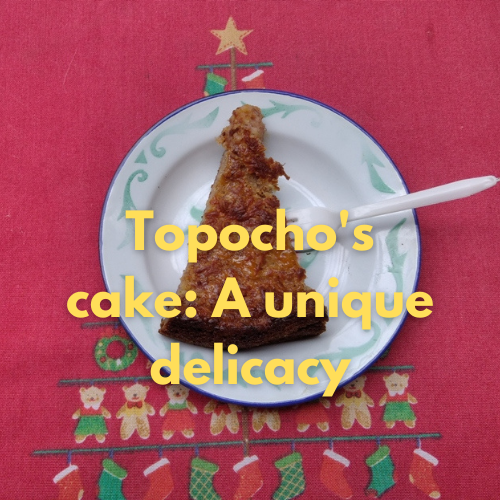 Good Sunday, happy day everyone. Today I wanted to bring you a cake that for me is a singular delight, since its flavor is super complex, with many layers, textures and twists that can surprise us. Sometimes it seems that we are tasting a cake to which coconut was added, other times it seems a preparation based on nuts, in others a pudding or bread cake ... the truth is that it is a forceful dessert, and although I prepare it continuously it never ceases to amaze me; And the best thing is that as you know, I grow and harvest its main ingredient in my back garden that is, the topocho.
---
El topocho es una musácea, cuyo nombre científico es Musa paradisiaca L., perteneciente al grupo Musa ABB, y es una variedad muy adaptable y resistente al estrés hídrico, sin embargo es muy recomendable que tenga buen suministro de agua para asegurar una buena carga. No obstante, son susceptibles a plagas como los ácaros y fueron estos insectos precisamente los que parasitaron algunas de mis plantas, afectando negativamente su rendimiento, razón por la cual aunque una de las plantas fructificó, tuvo escasa producción. Generalmente las bellotas de los topochos alcanzan entre 7 y 9 manos o racimos individuales, pero en este caso la planta escasamente rindió tres manos, y parte de éstas fueron las que utilicé para hacer estas tortas de topocho, que sirvieron para comer en casa y para obsequiar. Cabe señalar que me divertí mucho cuando la gente que probaba el postre no atinaban a saber qué era lo que estaban comiendo, pues como ya dije, su sabor es muy muy complejo y puede ser engañoso. Aquí les muestro el fruto aún en la planta, luego cuando fue cosechado y su proceso de maduración. Cabe señalar que el período que transcurre desde que emerge la bellota hasta que se encuentra apta para cosecha, oscila entre 3 ½ y 4 meses.
---
The topocho is a musacea whose scientific name is Musa paradisiaca L., belonging to the Musa ABB group, and it is a highly adaptable variety resistant to water stress, however it is highly recommended that it has a good water supply to ensure a good load . However, they are susceptible to pests such as mites and it was precisely these insects that parasitized some of my plants, negatively affecting their performance, which is why even though one of the plants did bear fruit, it had little production. Generally the acorns of the topochos reach between 7 and 9 hands or individual clusters, but in this case the plant barely yielded three hands, and part of these were those that I used to make these topocho cakes, which were used to eat at home and for give away. It should be noted that I had a lot of fun when the people who tried the dessert did not know what they were eating, because as I said, its taste is very complex and can be misleading. Here I show you the fruit still on the plant, then when it was harvested and its ripening process. It should be noted that the period that elapses from when the acorn emerges until it is ready for harvest, ranges between 3 ½ and 4 months.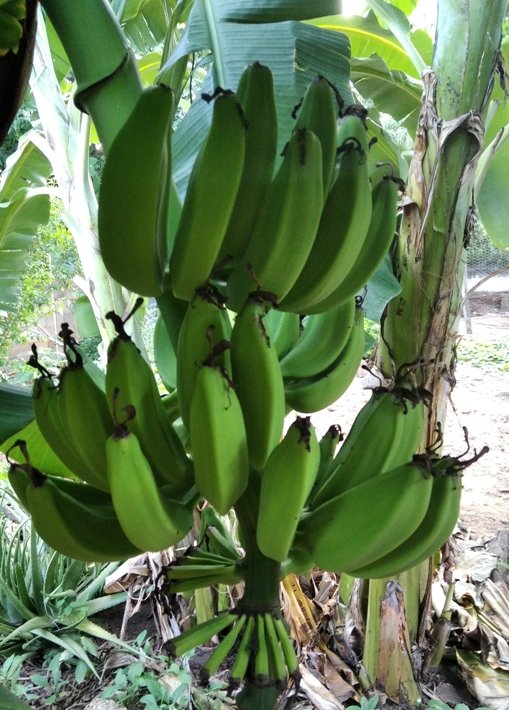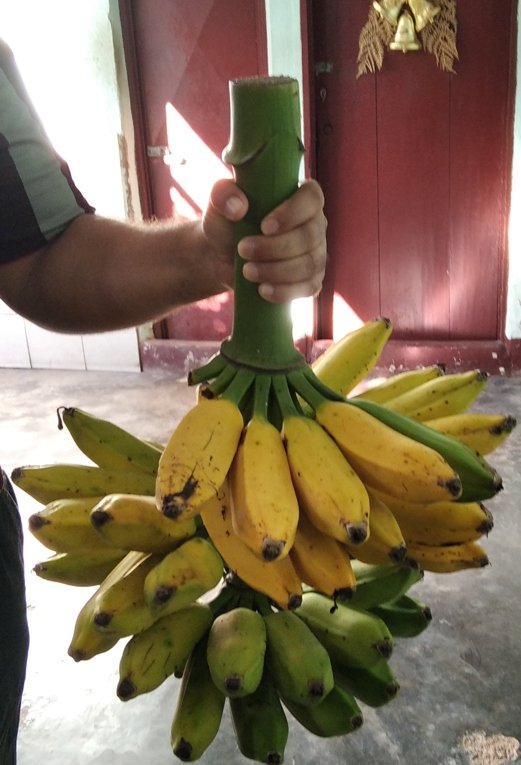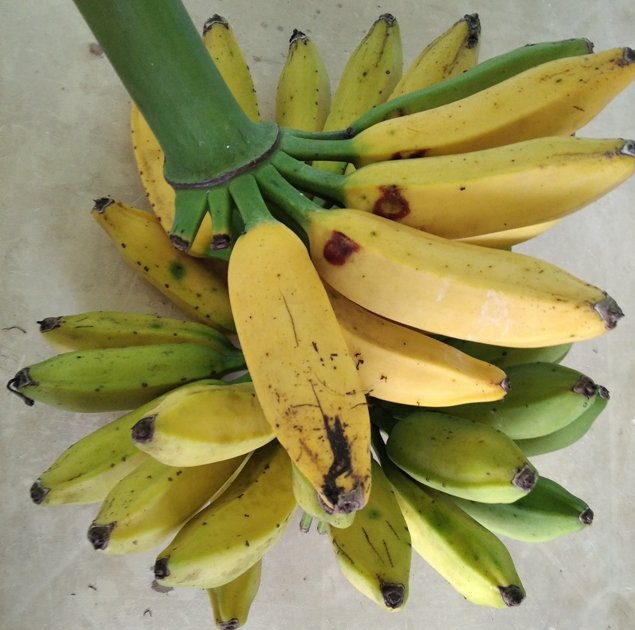 LA RECETA / THE RECIPE
---
Ingredientes y equipo:
---
Para preparar siete tortas o pasteles de las siguientes medidas (de los moldes para hornear): Uno de 29 cms de diámetro; dos de 19 cms de diámetro y cuatro de 9 cms de diámetro, se requieren los siguientes ingredientes y equipo:
---
2.5 kg de topochos muy pero que muy maduros, casi rozando con la descomposición; ya triturados y sin su cáscara. Si no consiguen topochos, pueden utilizar cualquier otra variedad de cambures o plátanos, siempre y cuando estén realmente maduros, como dije, casi descompuestos. Aunque suene increíble, este proceso de fermentación permite que los sabores se expresen plenamente, es precisamente esto lo que le aporta complejidad al postre.

600 ml de leche, si es fresca, recién ordeñada, aún mejor; sino, pueden emplear la que viene en polvo o pasteurizada. Pueden conocer el proceso de esterilización y extracción de materia grasa de la leche de ordeño en esta publicación aquí.

300 gr de azúcar blanca.

330 gr de queso blanco duro, rallado, (de estos apartar 100 gr para colocarlos en los topes de las tortas).

350 gr de harina de trigo con leudante, cernida, (reservar 50 gr para enharinar los moldes).

1 cucharadita de vainilla. Si tienen canela en polvo, pueden añadirle 1 cucharadita (además de la vainilla). En este caso no le adicioné porque yo no tenía disponible, pero la canela en polvo aporta un sabor muy recomendable ya que combina maravillosamente con la preparación.

2 huevos.

1 cucharadita de bicarbonato.

½ cucharadita de sal.

Mantequilla, margarina o aceite para engrasar los moldes.

Moldes para hornear (de su preferencia), un triturador de papas manual o un tenedor fuerte, una cuchara o paleta para mezclar, un bol lo suficientemente grande para hacer la mezcla. Tomen en consideración la cantidad y medidas de los moldes que yo utilicé para esta receta, o sea, rinde bastante la mezcla.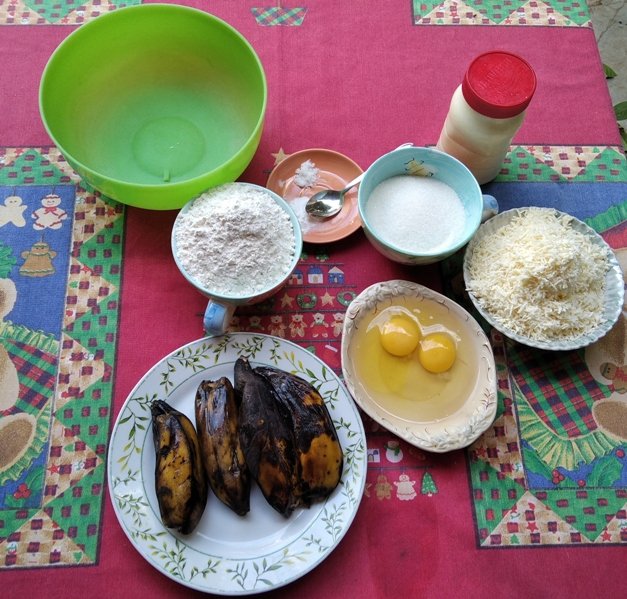 Ingredients and equipment:
---
To prepare seven cakes or pastries of the following measures (from the baking molds): One 29 cm in diameter; two of 19 cm in diameter and four of 9 cm in diameter, the following ingredients and equipment are required:
---
2.5 kg of very, very mature topochos, almost bordering on decomposition; already crushed and without its shell. If they can't find topochos, you can use any other variety of bananas, as long as they are really ripe, as I said, almost decomposed. Although it sounds incredible, this fermentation process allows the flavors to be fully expressed, it is precisely this that adds complexity to the dessert.

600 ml of milk, if it is fresh, just milked, even better; otherwise, they can use the one that comes in powder or pasteurized form. You can learn about the process of sterilization and extraction of fat from milking milk in this publication here.

300 gr of white sugar.

330 gr of hard white cheese, grated, (of these set aside 100 gr to place on the tops of the cakes).

350 gr of self-rising wheat flour, sifted, (reserve 50 gr to flour the molds).

2 eggs.

1 teaspoon of baking soda.

½ teaspoon of salt.

Butter, margarine or oil to grease the molds.

Baking pans (your preference), a manual potato masher or strong fork, a mixing spoon or paddle, a bowl large enough to mix. Take into consideration the quantity and measurements of the molds that I used for this recipe, that is, the mixture yields a lot.
---
EL PROCEDIMIENTO / THE PROCESS
---
Debemos iniciar el proceso pelando los topochos, los cuales escurrirán un líquido claro que es producto de la fermentación, ese líquido sirve para la torta, le da profundidad en el sabor. Una vez retirada la piel, se procede a machacarlos con un triturador manual como el de la foto o con un tenedor fuerte. La idea es hacer un puré, pero no tan prolijo, pueden quedar algunos trozos enteros de fruta. Como ven en la foto, tuve que colocarlos en un bol más amplio para poder trabajar cómodamente.
---
We must start the process by peeling the topochos, which will drain a clear liquid that is the product of fermentation, this liquid is used for the cake, it gives depth to the flavor. Once the skin is removed, they are crushed with a manual grinder like the one in the photo or with a strong fork. The idea is to puree, but not so fine, there may be some whole fruit pieces. As you can see in the photo, I had to place them in a larger bowl to be able to work comfortably.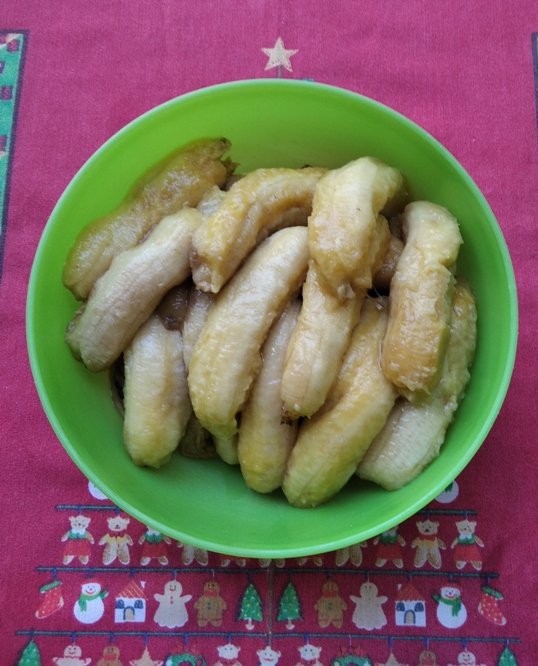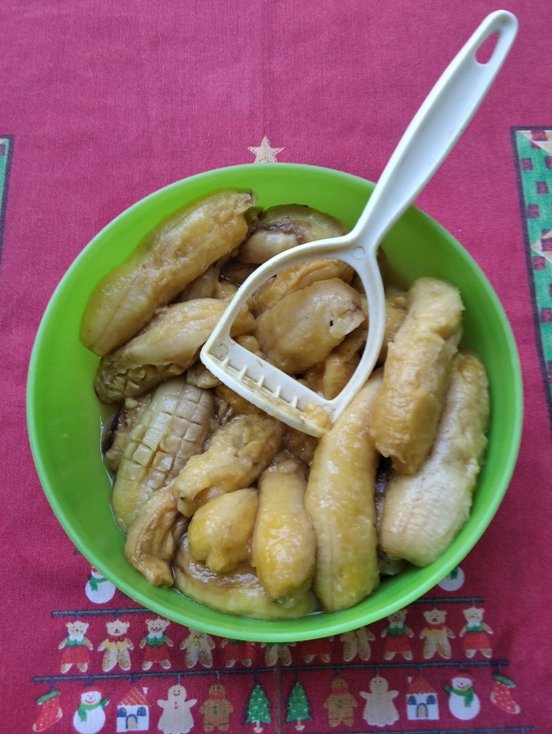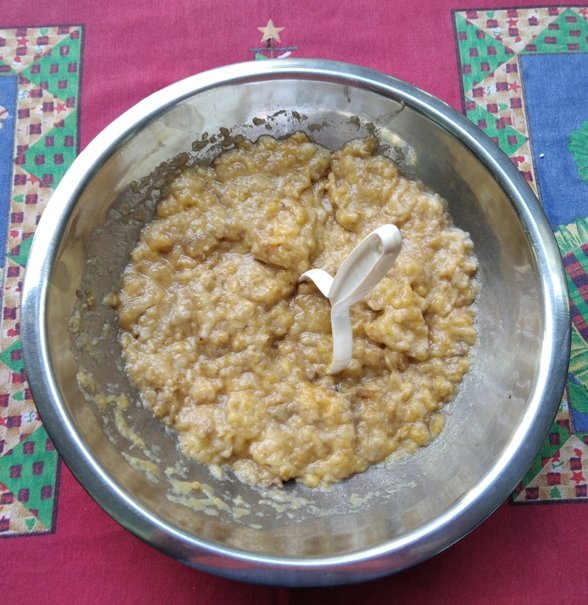 Posteriormente, adiciono progresivamente a los topochos triturados, el resto de los ingredientes; y es preciso cada vez que se incorpore algo, remueva bien para que se homogenice. El orden es el siguiente: Huevos, leche (pueden diluir la vainilla allí, aunque como pueden ver, yo no lo hice), azúcar (las fotos quedaron horribles, por eso no están), sal y bicarbonato, harina (poco a poco, reservando los 50 gr que indiqué previamente), el queso blanco rallado, (lentamente, distribuyéndolo bien en la mezcla y reservando los 100 gr que también señalé). Remover hasta lograr una mezcla uniforme.
---
Later, I progressively add the rest of the ingredients to the crushed topochos; and it is necessary each time something is incorporated, stir well to homogenize it. The order is as follows: Eggs, milk (you can dilute the vanilla there, although as you can see, I did not do it), sugar (the photos were horrible, that's why they are not there), salt and bicarbonate, flour (little by little, reserving the 50 grams that I previously indicated), the grated white cheese, (slowly, distributing it well in the mixture and reserving the 100 grams that I also indicated). Stir until smooth.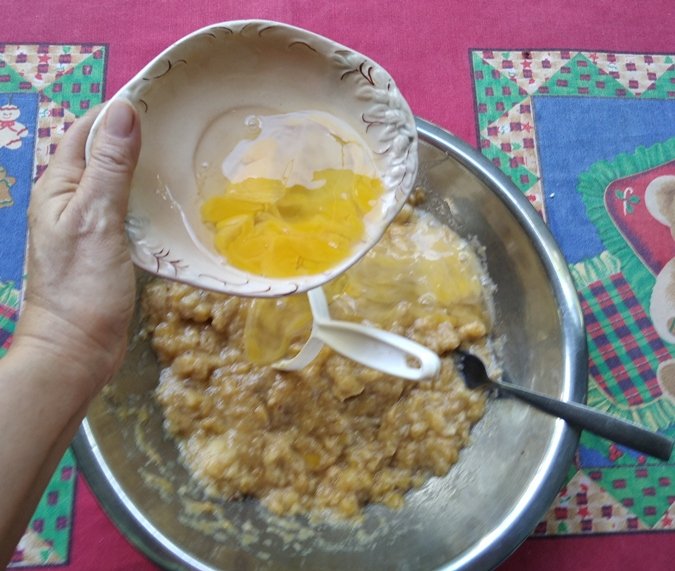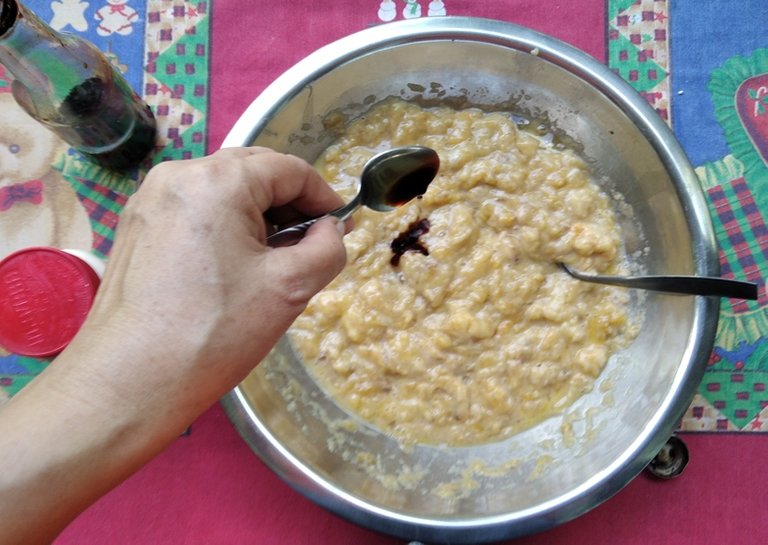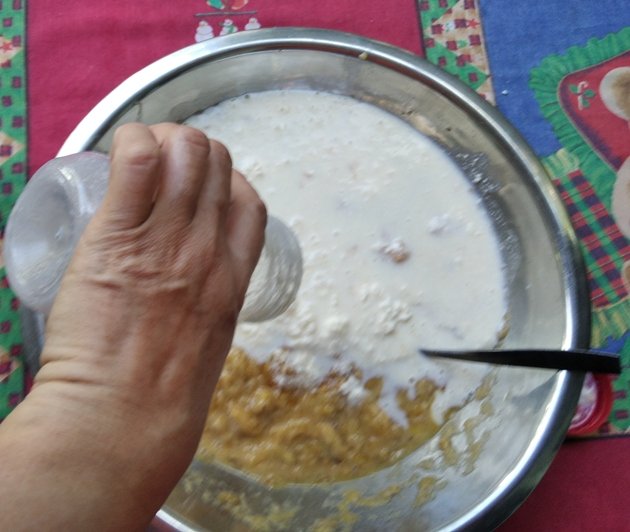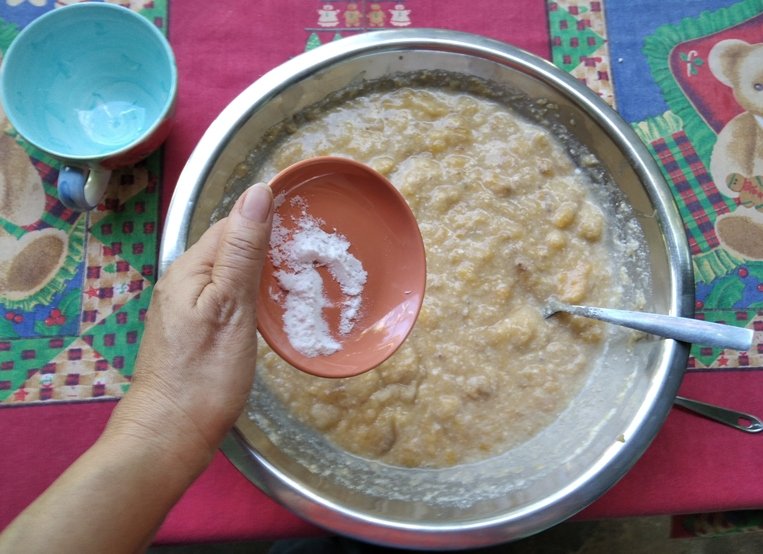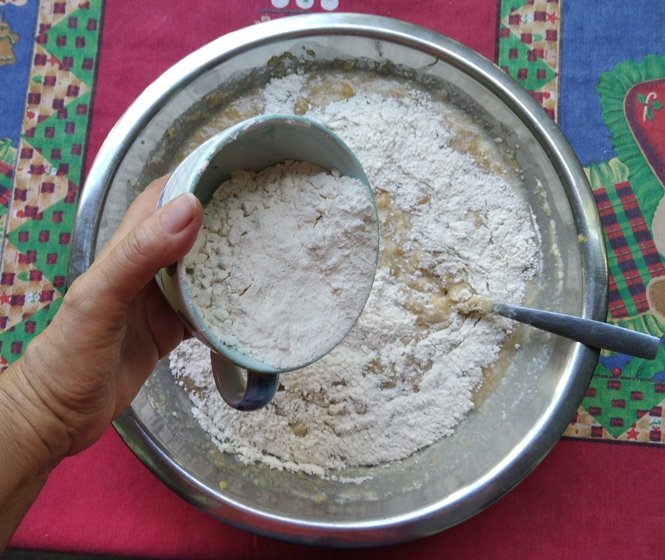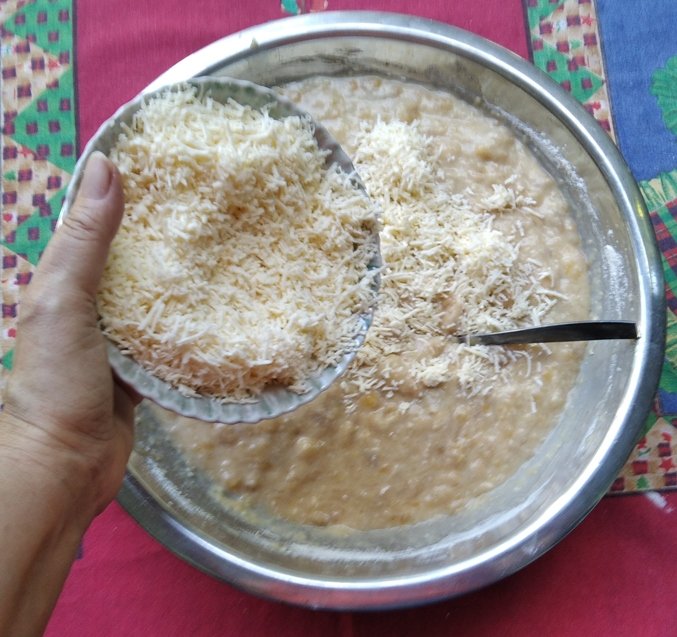 Sirvo la mezcla en los moldes previamente enmantequillados (o aceitados) y enharinados, trato de no llenarlos hasta el borde para que no se derrame el contenido. Espolvoreo el queso restante por la superficie de cada torta, a fin de estando en el horno se gratinen, y procedo a hornear por 60-70 minutos a 180 ºC. Una vez cocidas, es necesario esperar a que enfríen para desmoldarlas. Esta torta es conveniente conservarla fría en la nevera, y a mí, en lo particular, me gusta comerla al siguiente día, cuando ya sus sabores se han asentado. Es increíble la explosión de sabores en la boca, no lo podrán creer, porque como ya dije, a veces sabe a coco, a frutos secos, a budín de pan, y también, obviamente, a topocho. ¡Buen provecho!
---
I serve the mixture in the molds previously buttered (or oiled) and floured, I try not to fill them to the brim so that the content does not spill. I sprinkle the remaining cheese on the surface of each cake, so that they are gratin in the oven, and I proceed to bake for 60-70 minutes at 180 ºC. Once cooked, it is necessary to wait for them to cool to unmold them. This cake is convenient to keep cold in the fridge, and I, in particular, like to eat it the next day, when its flavors have settled. The explosion of flavors in the mouth is incredible, you will not believe it, because as I said, sometimes it tastes like coconut, nuts, bread pudding, and also, obviously, topocho. Enjoy your meal!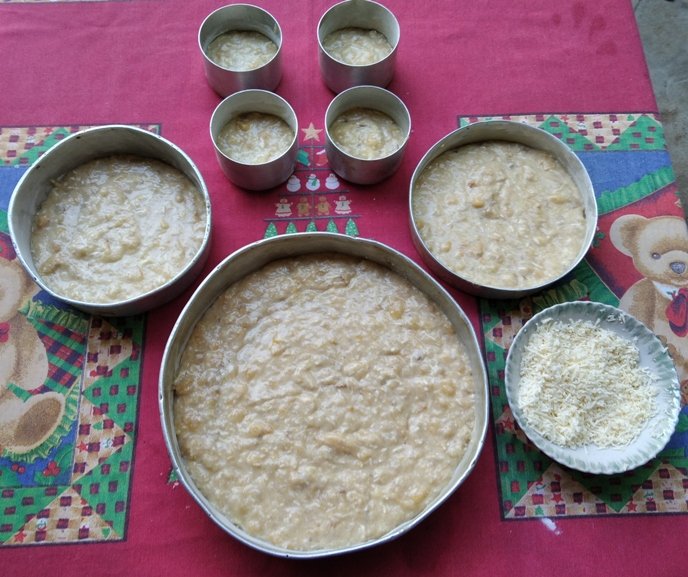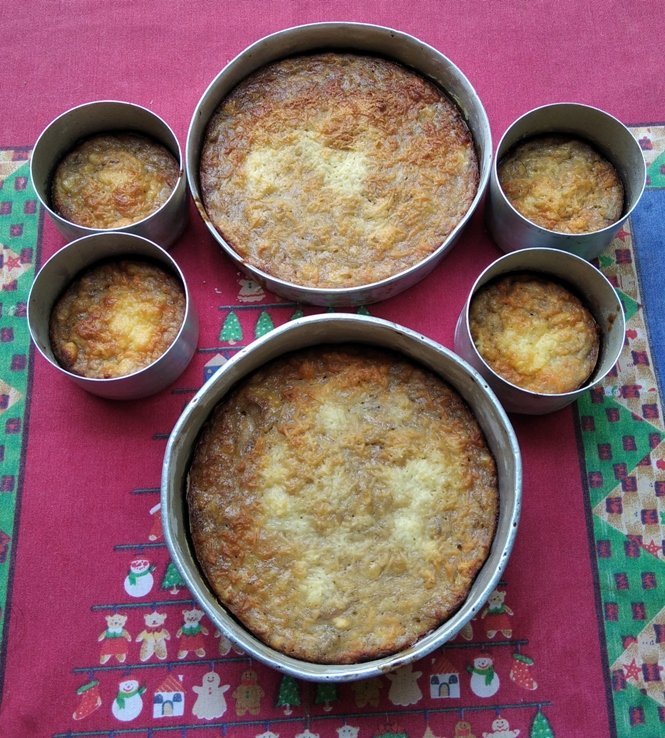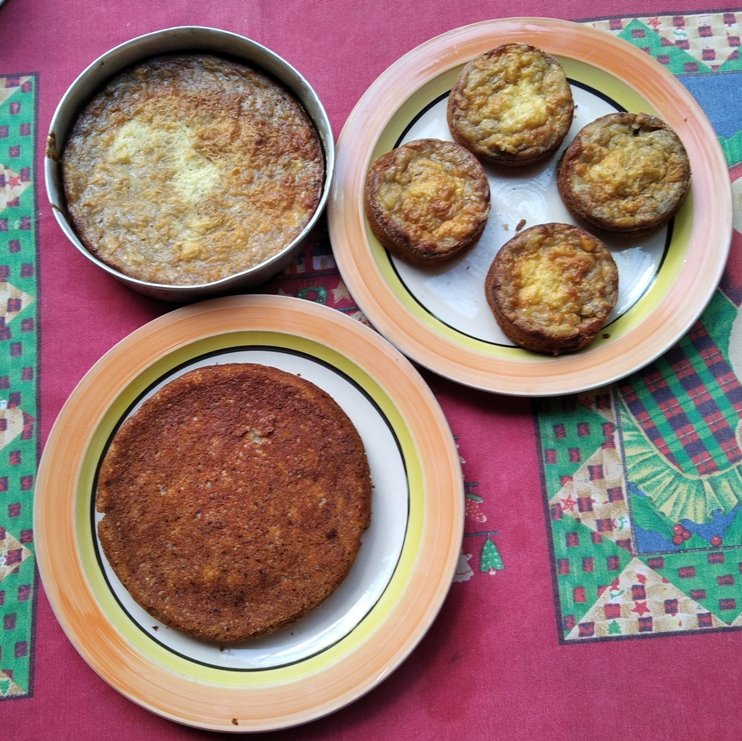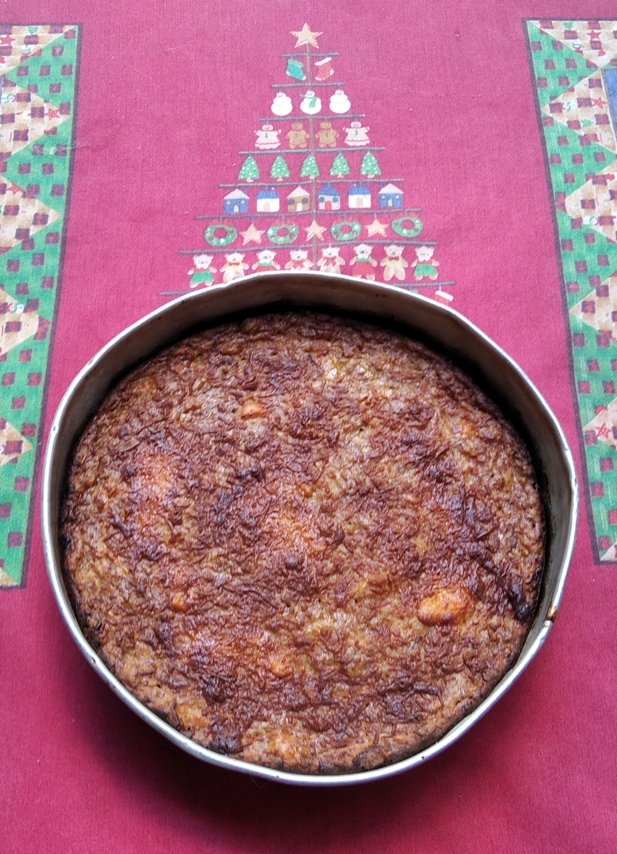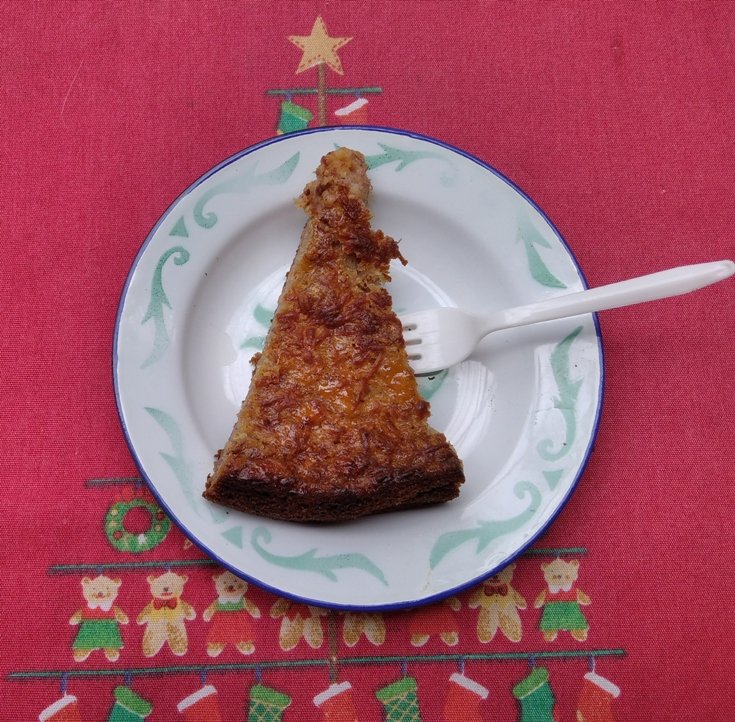 Aquí finalizo mi publicación de hoy, espero que haya sido agradable para todos ustedes. Un gran abrazo.
---
Here I end today's publication, I hope it has been pleasant for all of you. A big hug.
---

Fuentes de las imágenes / Image sources:
Estas fotos son de mi autoría y fueron tomada con un teléfono Xiomi REDMI 8 A / These photos are my own and were taken with a Xiomi REDMI 8 A phone .

Los separadores utilizados, son cortesía de @eve66 quien comparte hermosos diseños que embellecen el maquetado de nuestros post. / The dividers used are courtesy of @eve66 who shares beautiful designs that embellish the layout of our post.

El diseño de portada incluido en esta publicación, han sido elaborado por mi persona con la aplicación CANVA / The cover design included in this publication has been made by me with the CANVA application.

En caso de que se requiera emplear el contenido o imágenes de este post y de mis otras publicaciones, agradecería se hiciera referencia a mi autoría (Fabiola Martínez) y se citara el link correspondiente. Gracias. / In the event that it is required to use the content or images of this post and my other publications, I would be grateful if my authorship (Fabiola Martínez) was made and the corresponding link was cited. Thank you.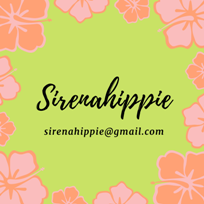 CommunityIIDiscord