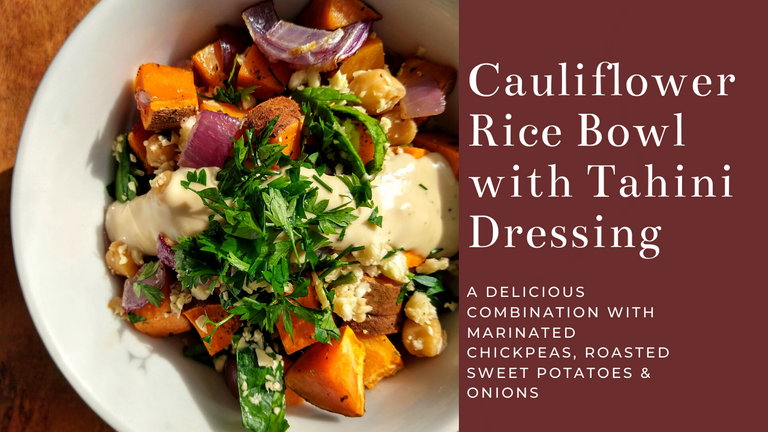 Happy Monday friends! This last week was a bit crazy with a tropical storm passing through and knocking out our power for a few days, and now tomorrow is finally election day here in the US. Definitely lots of things to cause a little extra stress, but with the power back on and a refrigerator full of farmers market goodies I hid away from the outside world for a full day in the kitchen yesterday. I meal prepped like a madwoman, along with making a few extras I hadn't made from scratch in a while. On the list was this bowl I'm sharing today, as well.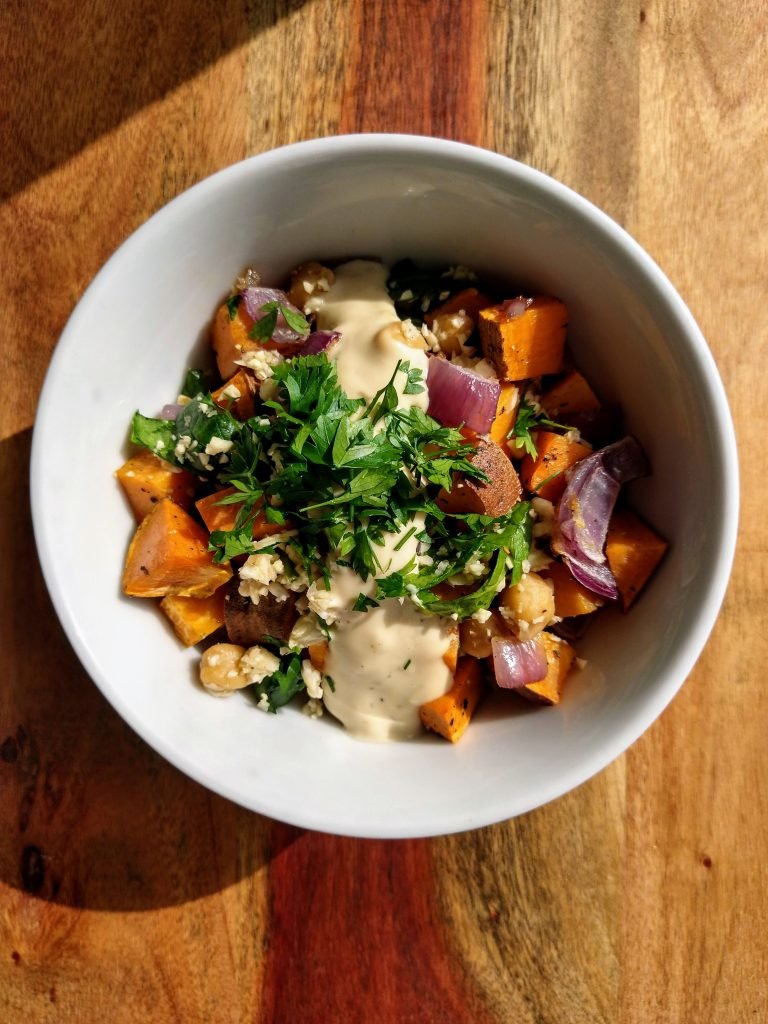 One of my colleagues had asked a while back if I might be able to recreate this meal from the freezer section of Trader Joe's. His thought was to be able to make it himself at home for a healthy meal prep item. He sent me a picture of the box with the ingredients, and besides looking delicious, it was all ingredients I generally keep on hand. Now that the sweet potatoes and cauliflower have popped back up at the farmers market, I finally gave a shot at making the veggie-packed bowl myself!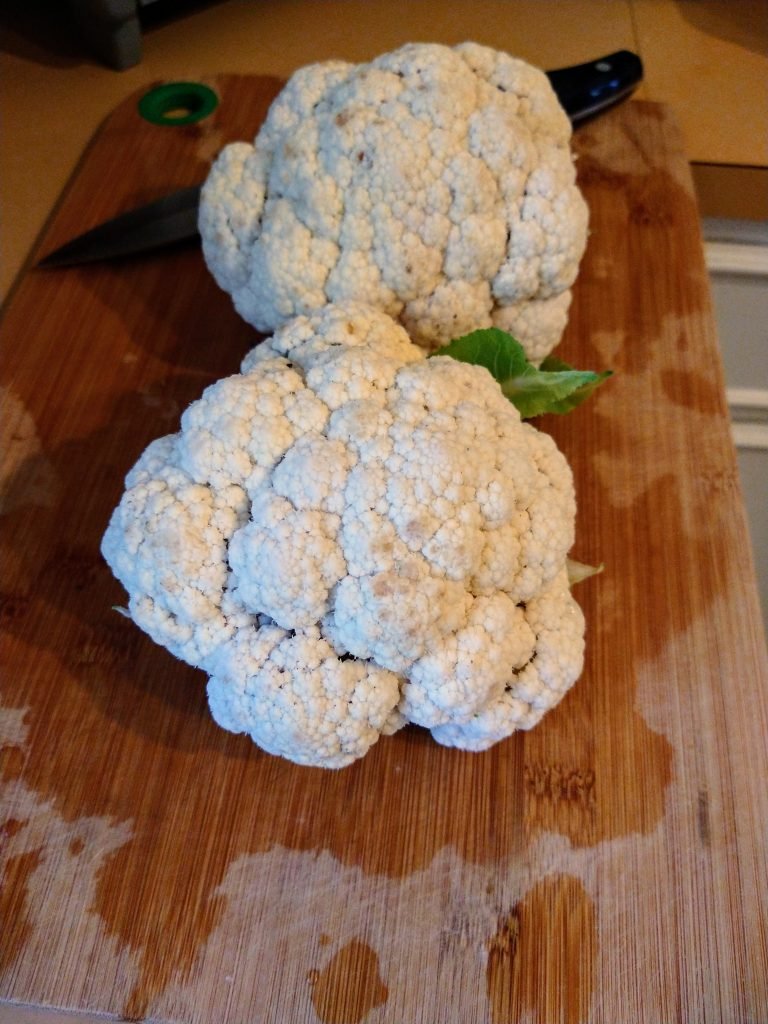 I love being able to get the freshest ingredients from the farmers market, but you can easily get cauliflower at the grocery store to "rice" it yourself in the food processor. All you have to do is cut the cauliflower into florets, then pop it into the food processor to pulse until finely chopped. To make it even easier, many stores now have riced cauliflower in the refrigerator or freezer sections if you really want to go simple for your meal prep!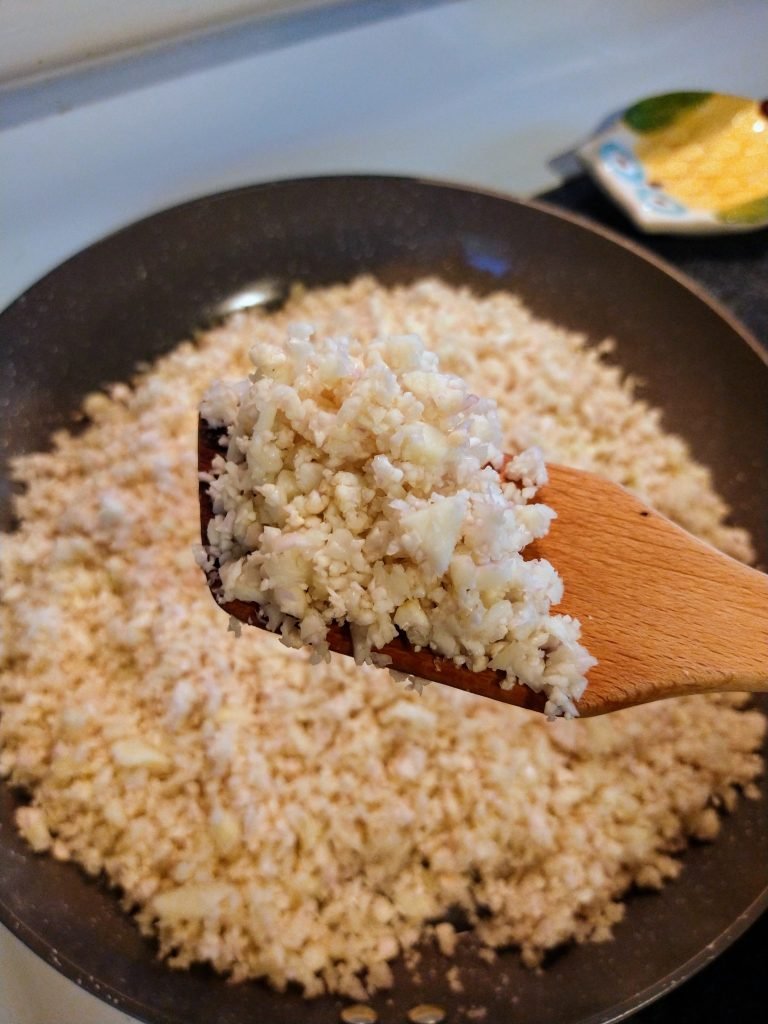 Another colleague was asking how many dishes I went through to make this as I was telling her about it. I get it--I hate washing dishes, too, and try to use as few as possible when I'm cooking. I had one dish to marinate the chickpeas and a jar to make the tahini dressing, but as far as cooking goes all that I used was a baking sheet and a frying pan. I even try to prepare all the veggies at once so I only have to wash the cutting board and knife one time. It's all about efficiency in the kitchen to knock our your meal prep as quickly as possible. This ended up making a solid six meals for your time to boot. If I had anything else to roast for the week, I would have put it in at the same time as the potatoes. ;)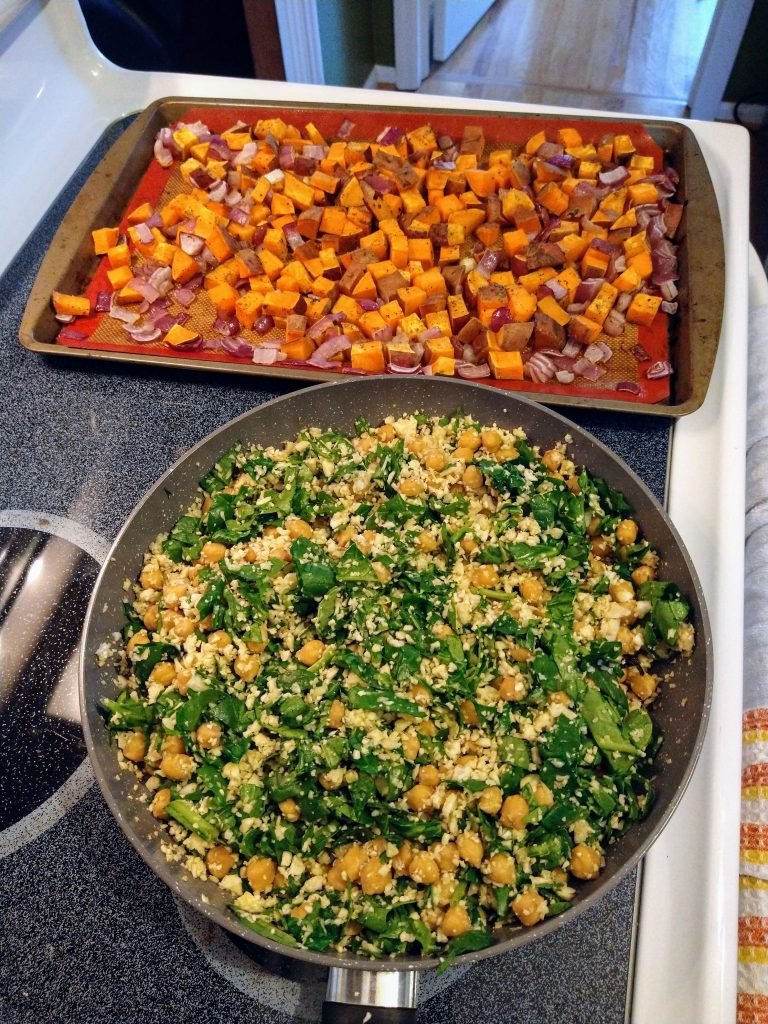 The only switch from the original bowl was the omission of tofu. While I enjoy tofu, it was perfectly hearty and satisfying without it. I also forgot to get kale at the farmers market, so I subbed out fresh spinach this time around. Just about any dark leafy green would work here. And though I can't vouch for how it compares to the inspiration, I will say I think it is a delicious combination! The tahini dressing is something I love anyway, so drizzle that on just about any mix of vegetables and I'll be a happy gal.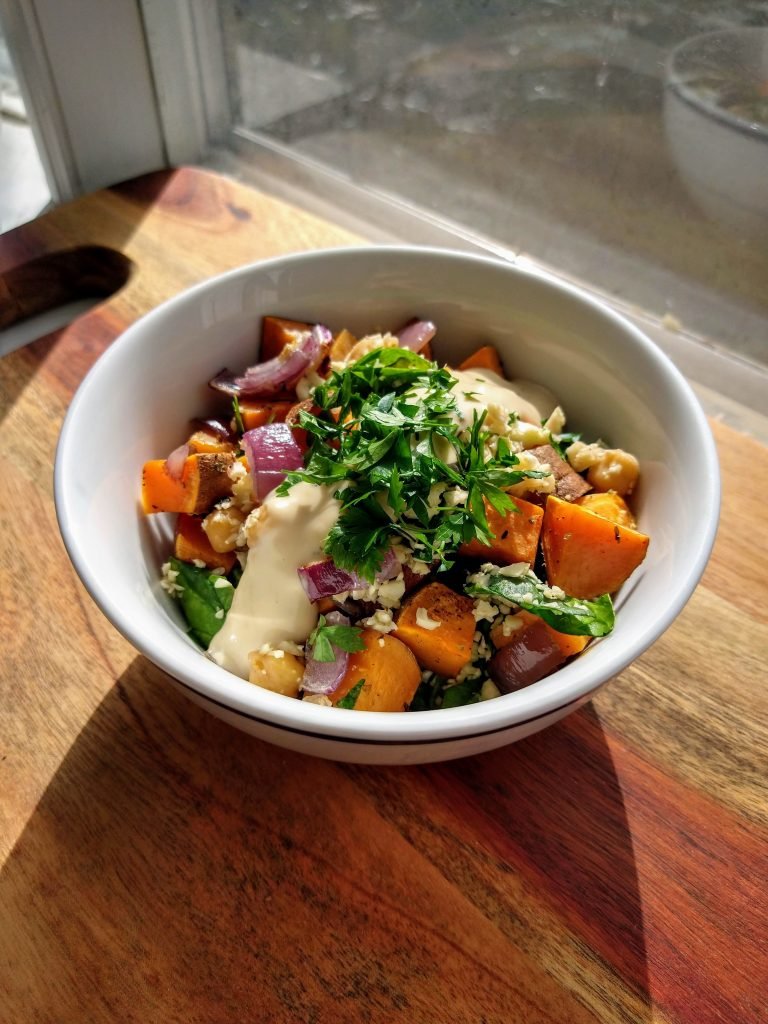 Cauliflower Rice Bowl with Tahini Dressing
Makes 6 servings
Marinated Chickpeas:
2 cups cooked chickpeas (or 1 15-ounce can)
1 tablespoon olive oil (I used Cilantro & Red Onion from Olea Oliva for extra flavor)
1/2 teaspoon chili powder
1/4 teaspoon garlic powder
1/4 teaspoon dried oregano
1/4 teaspoon ground cumin
1/4 teaspoon sea salt
Tahini Dressing:
1/2 cup tahini
1 large lemon, juice & zest
4 tablespoons of water
1-2 cloves garlic, minced
1/2 teaspoon dried marjoram
1/4 teaspoon sea salt
Remaining Ingredients:
2 medium sweet potatoes, chopped
1 large red onion, peeled & chopped
1 tablespoon olive oil
1 large or 2 small heads of fresh cauliflower, finely chopped into "rice"(should yield 3-4 cups)
1 tablespoon low-sodium tamari
1 bunch fresh kale or spinach, tough stems removed and roughly chopped
fresh parsley
First mix your chickpeas with olive oil and spices in a bowl. Set aside overnight or at least 4-5 hours in the refrigerator to let marinate.
In a jar, whisk together the dressing ingredients. Add more water as needed to get the dressing to your desired consistency. Taste and adjust the seasoning to your liking. Set aside.
Preheat the oven to 375 degrees Fahrenheit. Chop your sweet potato and onions, then place on a lined baking sheet. Drizzle with your olive oil, using an infused flavored oil like I did if you prefer. I also sprinkled the vegetables with just a bit of salt and pepper. Roast for 20 minutes, then stir and continue roasting for another 10-15 minutes or until cooked through.
While your sweet potatoes are roasting, warm a skillet over medium heat on the stove top. Add in the cauliflower rice and tamari. Cook for about 5 minutes, stirring occasionally, until the cauliflower softens slightly. Add in the marinated chickpeas and cook for an additional 3-5 minutes to warm through. Remove from heat and mix in the greens to just wilt.
Once all of the items are prepared, place a few scoops of the cauliflower rice mixture in a bowl with a few scoops of the sweet potatoes and onions. Top with a generous dollop of tahini dressing and a teaspoon or two of freshly chopped parsley. Serve warm or enjoy cold for leftovers throughout the week.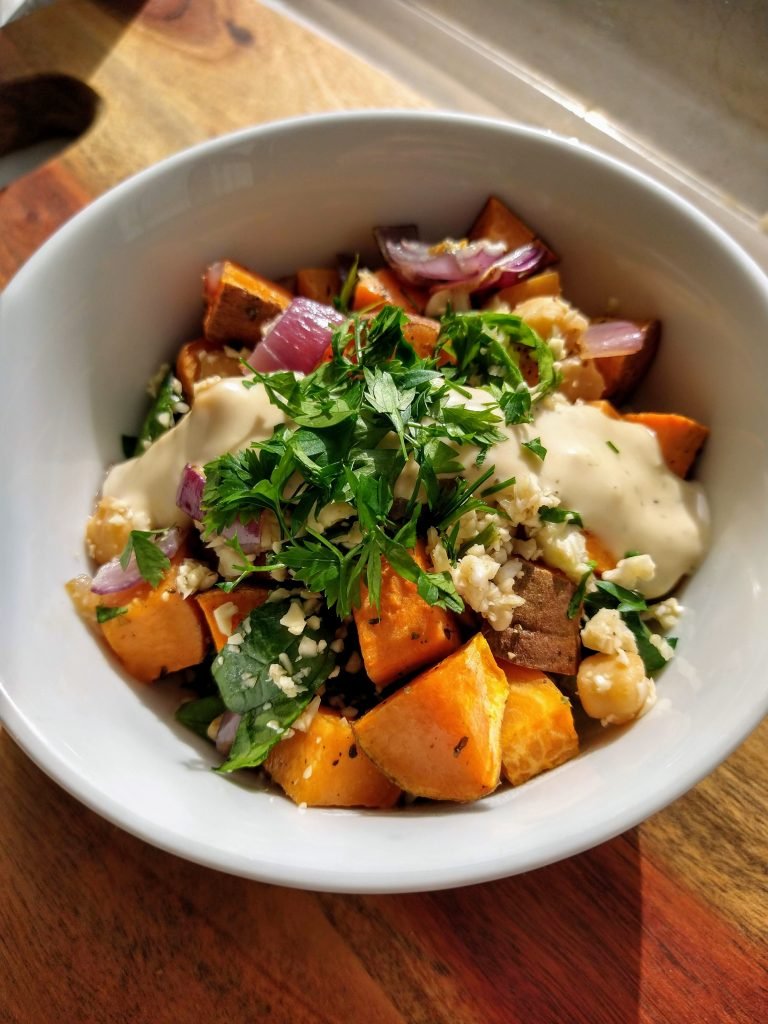 I'm very glad my friend asked me to give this a shot because it turned out well enough that I'll happily add it to my own meal rotation! I don't always like cauliflower rice as a straight substitute for rice as it is so light it doesn't usually satisfy me, but mixed in with the chickpeas and sweet potatoes it was much more enjoyable and added a nice texture to the bowl. Many stores have some great options for frozen plant-based meals these days in a pinch, however they usually just can't be fresh if you have a little time to put in the kitchen.
Have you tried recreating a meal from the freezer section before? How did it turn out?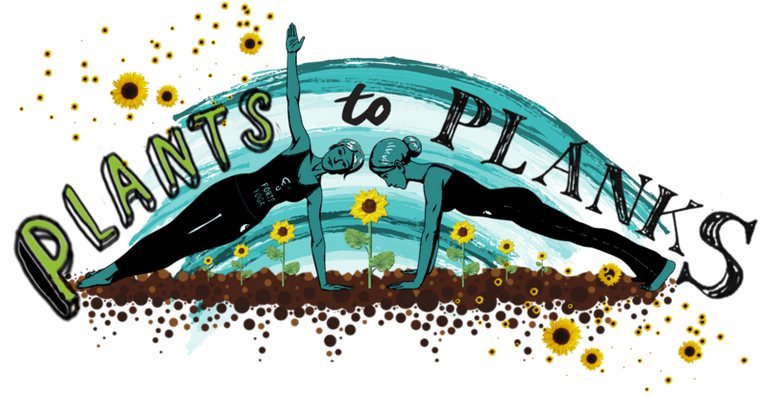 Banners by @woman-onthe-wing and @dksart

Join The Best Natural Health Community on Hive
---
Posted from my blog with Exxp : https://plantstoplanks.com/cauliflower-rice-bowl-with-roasted-vegetables-tahini-dressing/
---