Hey Beefriends! I finally got up the energy and made some pot pie today, but I was experimenting with tweaking the recipe from how I made it for so many years. The original recipe wanted peas, carrots, and celery in there, and now all three of those land on my allergy list. So I wondered what I could replace them with that would taste alright in a pot pie?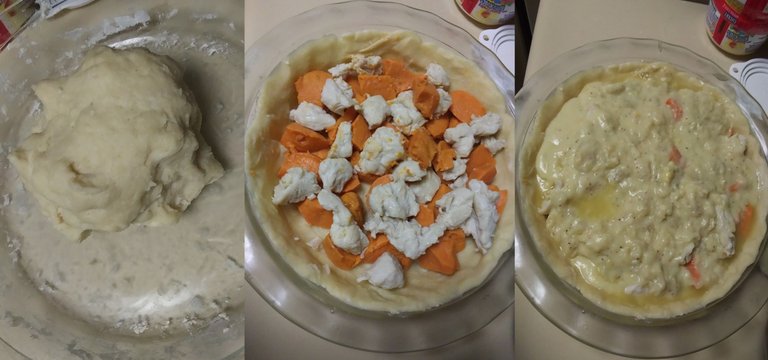 Garnet sweet potato! I was going to add mushrooms too, but I actually let them go too long in my fridge before I finally made the pie, and they dried up (when I said "finally," at the beginning, I meant it, because I've been meaning to make this dish for a while, lol. Long enough for mushrooms to shrivel up and turn to stone in my fridge. Oops).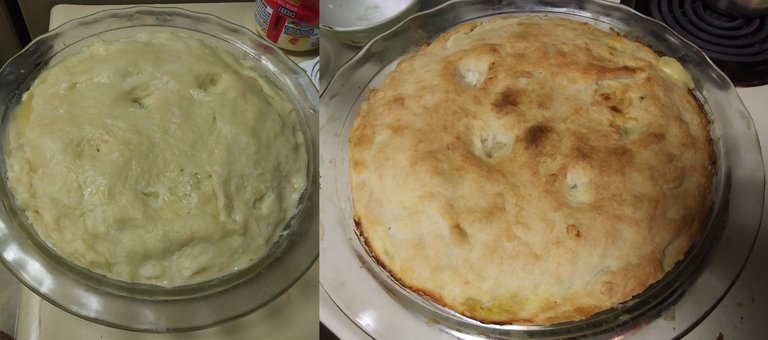 The other change actually was a surprise: the recipe I have used for so long, I had already tweaked because in the original, the ratio of veg and chicken to gravy - and pie crust - was off. There was so much filling it essentially made two pies, so I would make double the crust and pour in as much extra chicken broth as I made gravy. I used to bake it in my giant casserole dish instead of a pie pan. The kind that can fit a lasagne.
So with one big honkin' sweet potato and two chicken breasts, it was actually the correct ratio of filling to gravy and pie crust to make one pie! It's amazing! You can tell in the third part of the triptych above that I did actually pour in a little extra broth just to see if there were gaps that maybe the gravy wasn't filling, but no. It was enough. A Pagan miracle!
The result?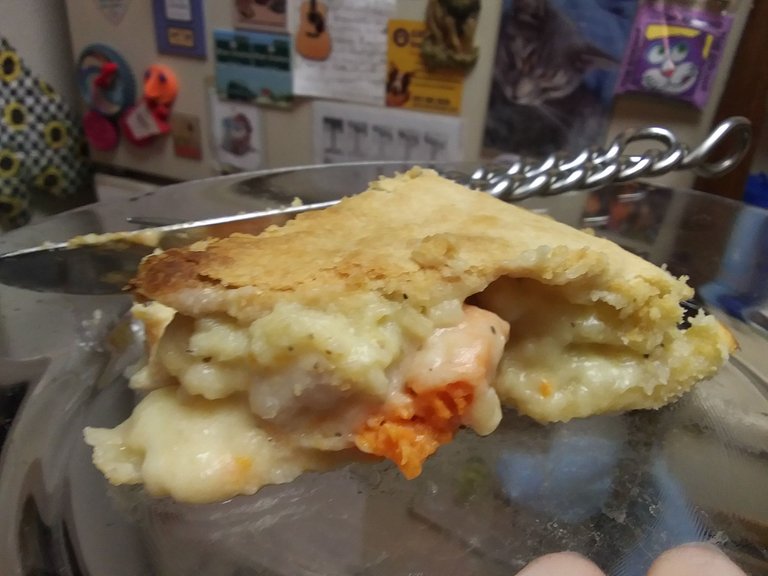 Delicious! I just ate my first piece. :) Now I'm gonna go and rewrite that recipe because if I edit the page I had it written on a third time it will be really confusing, lol.
Hooray for getting one of my favorite foods back with an allergy-safe modification! Next time I still want to try mushrooms, I just need to not be a slug and actually cook it soon after I grocery shop...
Have a great day, everyone!