The jellyfish salad
Hi everyone. How do you do? Today I went back to the kitchen to make a dish that is quite familiar to Vietnamese people. I hope that today's food post will spread some of your interest in cooking. Everyone often asks me: "why do I like cooking so much?" I replied humorously: "Fine words butter no parsnips". Indeed, thanks to eating and drinking, people have enough energy to fight all day long. But that's not why we eat in an unscientific way. I remember I got up late so I skipped breakfast to get to work on time and thought I would make up for lunch. Day by day I am gradually exhausted even though I eat quite a lot at lunch and dinner. I decided to go see a dietitian to advise me on my diet. I started to realize the importance of eating for my body more. I really enjoy taking care of my own meals and those of my loved ones by myself. That's where my passion for cooking started.😊
Today I want to share with you all a dish that is not as sophisticated as the previous dishes, but it is also very nutritious for our body.

The jellyfish salad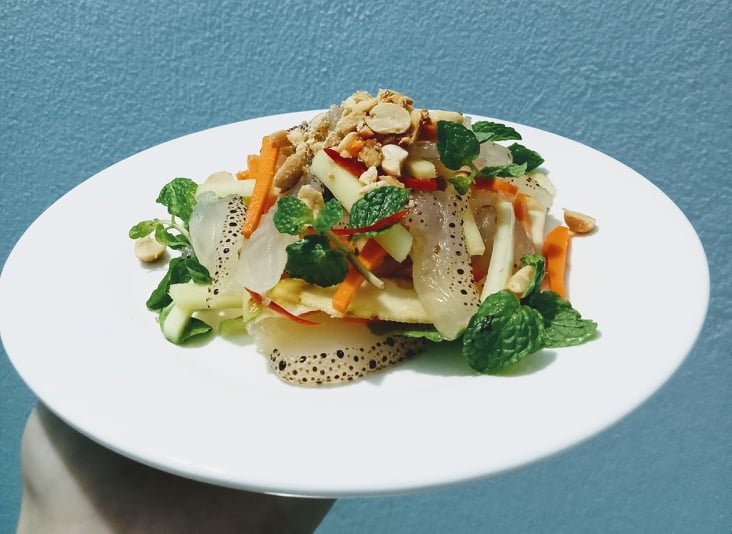 Let's learn a little bit about the benefits of eating jellyfish.
Supplement many nutrients for the body such as protein, antioxidants and some other minerals.
Reduce the risk of heart disease because as far as I know, jellyfish contain a lot of Omega 3 and Omega 6 fatty acids.
Memory support: Because jellyfish contain choline content.
Another use that I know is to help youthful skin because jellyfish contain a lot of Collagen.
What are you waiting for without joining me to make this delicious dish from this magical jellyfish?
The ingredients needed for this dish are as follows:
1 pack of jellyfish
Green mango
Carrot
Figs
Mint leaves
Peanuts
Hot chilli pepper
Garlic
Lime
Seasoning
Monosodium glutamate
Sugar
Oil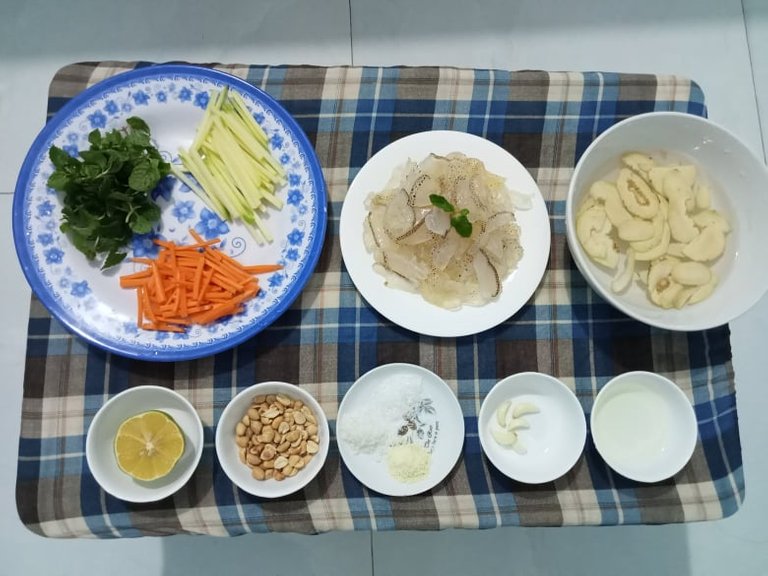 You can easily buy jellyfish in supermarkets or markets. One thing you should note is that after buying jellyfish, you must immediately put it in the refrigerator if not processed immediately to keep the jellyfish's crispiness.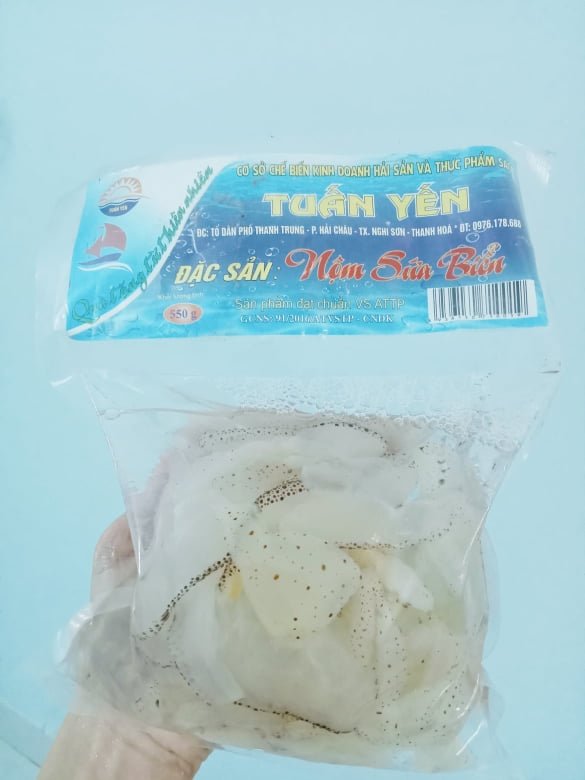 Food preparation
Wash jellyfish, cut into bite-sized pieces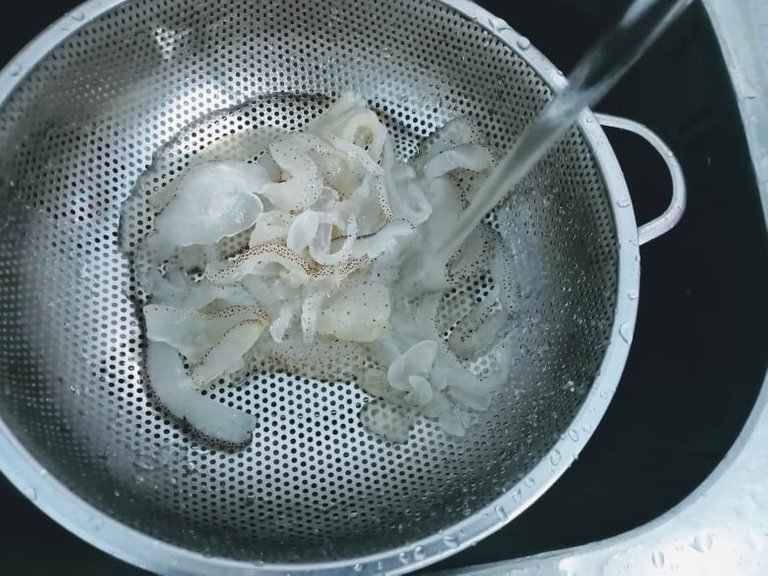 Wash the mango and carrot then cut into strips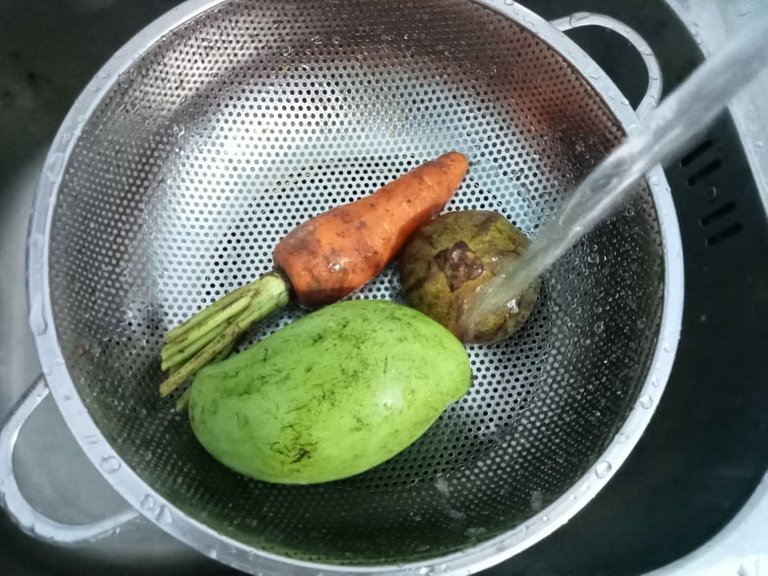 Wash the figs then slice them thinly
Mince garlic
Note: After cutting the figs, you should immediately put them in a bowl of water so they don't change color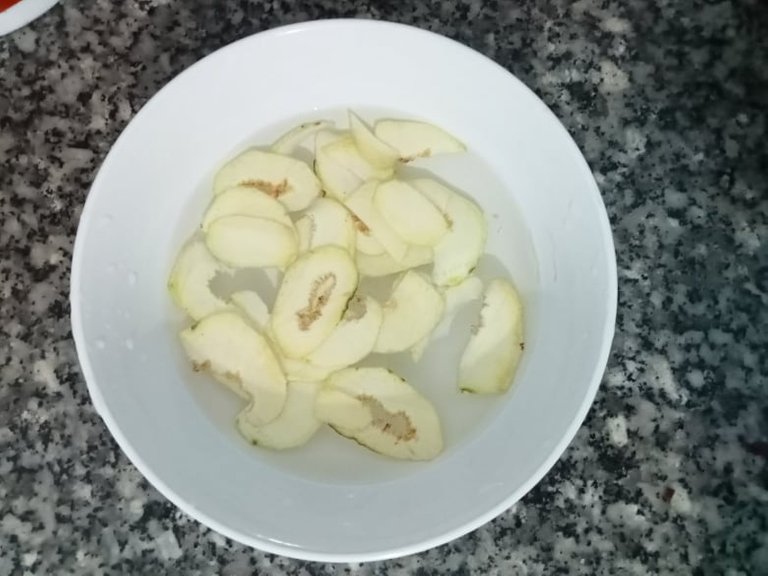 Cooking
Put the pan on the stove, add the oil, wait until the oil is hot, then add the garlic and fry until fragrant. When the garlic turns brown, turn off the heat to let the oil cool completely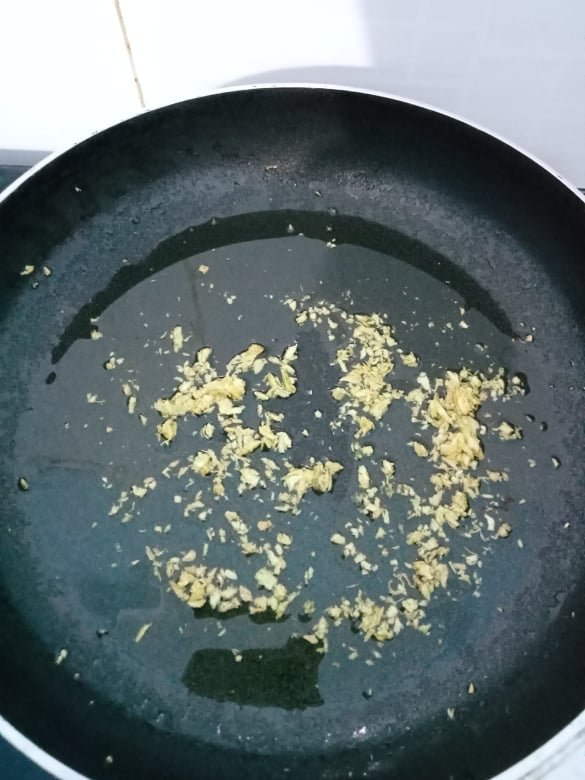 Put the jellyfish in a bowl and start seasoning: 1 teaspoon seasoning, 1 teaspoon MSG, 1/2 teaspoon sugar, 1/2 lime. Then mix well so that the jellyfish can absorb the spices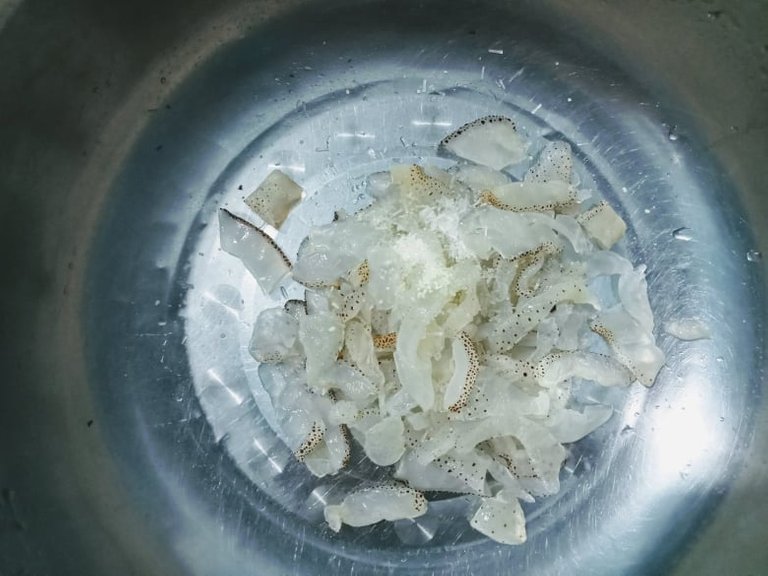 Next, add all the remaining ingredients and mix well, including the oil before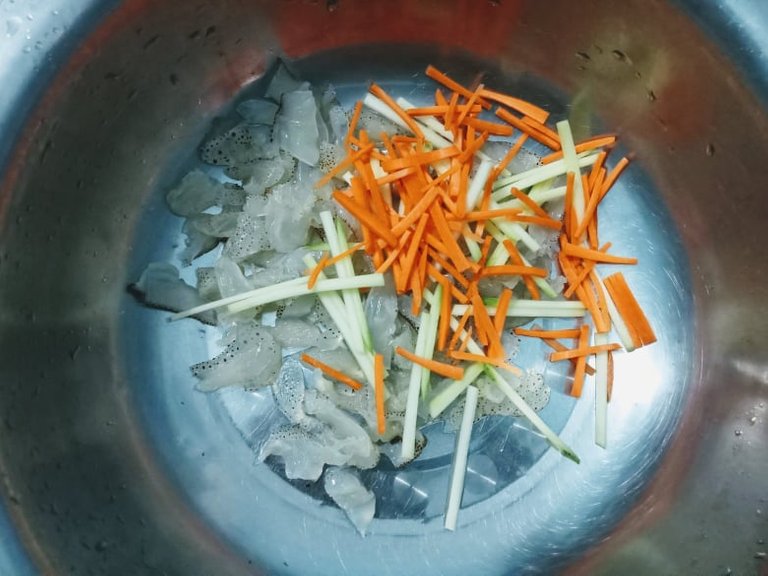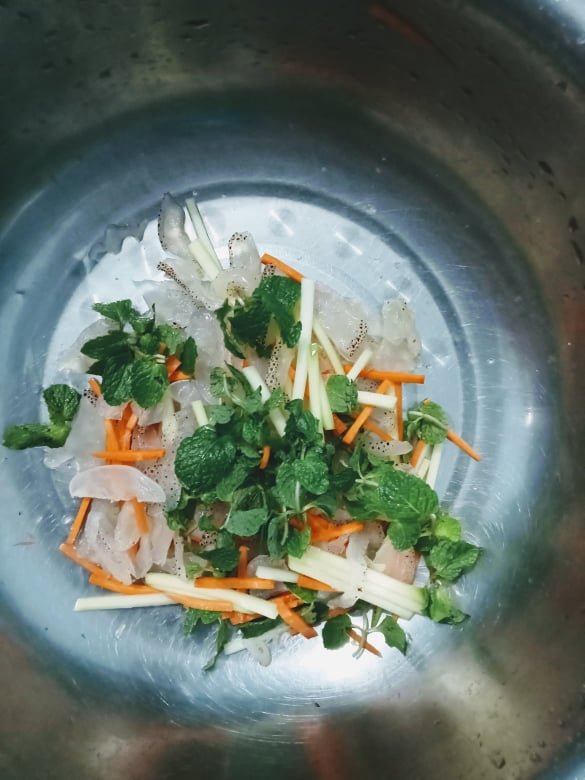 Finally, transfer to a plate and remember to sprinkle roasted peanuts on top. 😊
Especially, this dish is very suitable when served with fish sauce. Make sure to always have this condiment on hand every time you plan to make this jellyfish salad.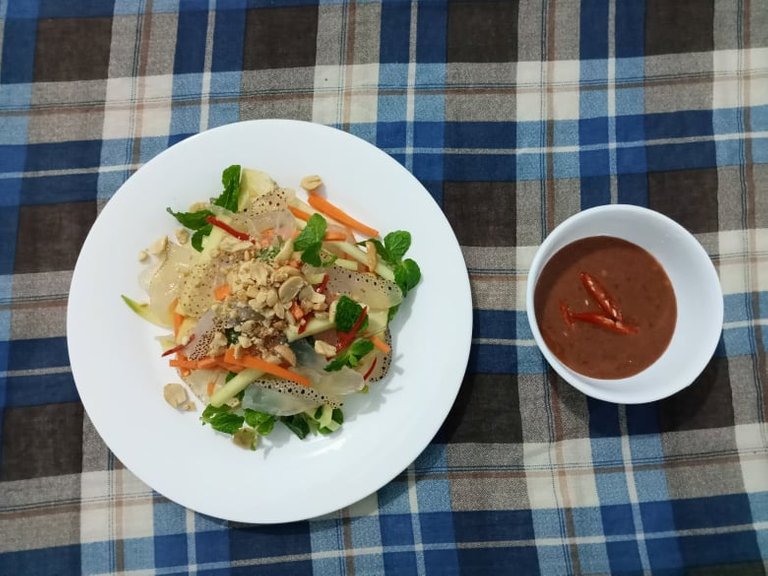 Good luck to you guys making this. I'm always here if you have any questions and look forward to interesting posts from you guys.

Thanks for taking the time to read my post. Have a great day
---
---