¡Mis queridos hivers!... un caluroso saludo y abrazo desde la distancia. Mi gente, si tienen como asignatura pendiente saber su estado de salud por medio de exámenes de laboratorio, PRIMERAMENTE NO SE AFLIJAN. ¡TODO SALDRÁ BIEN!
¡My dear hivers!... a warm greeting and hug from a distance. My people, if you have as a pending issue to know your state of health through laboratory tests, FIRST DO NOT BE AFRAID. ¡EVERYTHING WILL BE GOOD!
Les doy un tips sobre la importancia de las sopas y caldos proteicos para mejorar nuestros valores en el cuerpo. Favorece los componentes de la sangre, los niveles de azúcar y grasas, el estado de los riñones y el hígado. El recordatorio es no desperdiciar la ocasión de probar UNA RICA SOPA. ¿Y SI ES DE COSTILLITAS? Te despides de la anemia con alegría.
I give you some tips on the importance of protein soups and broths to improve our values ​​in the body. It favors the components of the blood, the levels of sugar and fats, the state of the kidneys and the liver. The reminder is not to miss the chance to try A RICH SOUP. ¿WHAT IF IT IS FROM RIBS? You say goodbye to anemia with joy.
Así que sin prisa, pero sin pausa... preparemos nuestra sopa de costillas. Para que salgas en tus exámenes de rutinas con puntaje 10 pts de 10 pts.
So slowly, but surely ... let's make our rib soup. So that you go out in your routine exams with a score of 10 pts of 10 pts.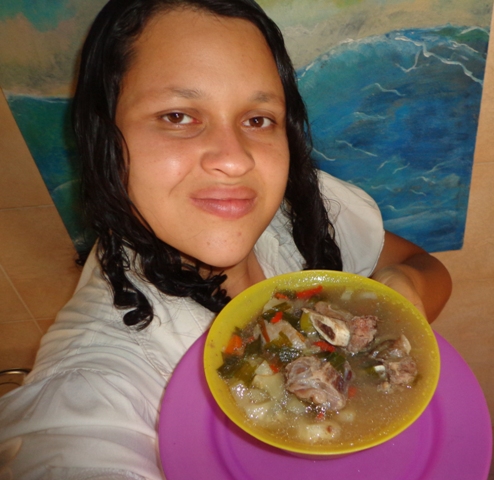 Fotografía tomada por @nancybmp.
Como cuando se captura un momento importante. También se captura un momento desenlace con estos ingredientes.
LOS INGREDIENTES QUE NECESITAS PARA ESTA PREPARACIÓN:
- 1 kg de Costilla.
- 1 1/2 kg de Yuca.
- 1/2 cucharada de sal (al hervir el agua donde se cocinaran los ingredientes).
-1/4 cucharada de sal (Al sofreír las costillas).
- 2 Ajíes Maduros grandes.
- 3 cucharadas de aceite vegetal.
- 80 grs de Cebollín.
- Harina de maíz (para hacer arepitas).
Like when an important moment is captured. An outcome moment is also captured with these ingredients.
THE INGREDIENTS YOU NEED FOR THIS PREPARATION:
- 1 kg of Rib.
- 1 1/2 kg of Yuca.
- 1/2 tablespoon of salt (when boiling the water where the ingredients will be cooked).
- 1/4 tablespoon of salt (When frying
- 2 large Ripe Chili Peppers.
- 3 tablespoons of vegetable oil.
- 80 grams of Chives.
- Corn flour (to make arepitas).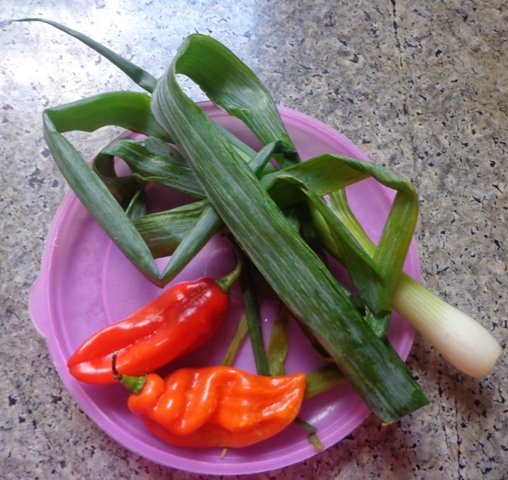 Fotografía tomada por @nancybmp.
La potencia de la naturaleza... cebollin y aji.
The power of nature... chives and chili.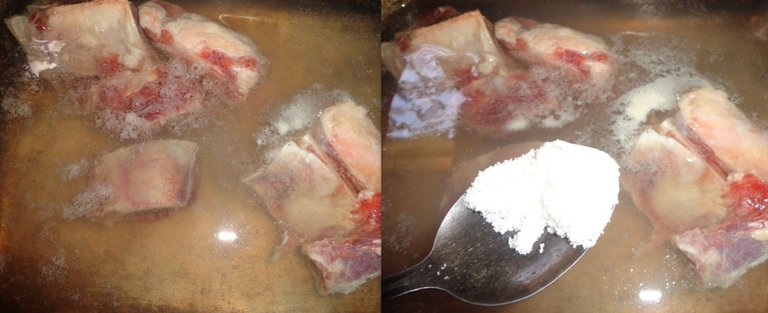 Fotografía tomada por @nancybmp.
Mientras vamos picando los ajies... montamos las costillas con 1/2 cucharada de sal y taza de agua para que vaya ablandando.
While we are chopping the peppers... we mount the ribs with 1/2 tablespoon of salt and a cup of water to soften it.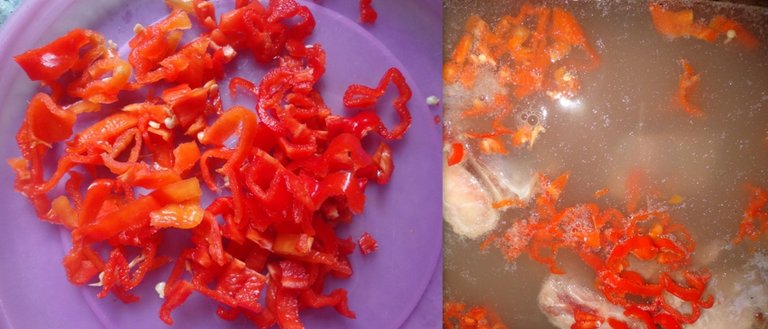 Fotografías tomadas por @nancybmp.
Agregamos el ají y cebollin picados en la sopa, después de haber sido sofritos con 3 cucharadas de aceite vegetal y 1/4 de sal.
Add the chopped chili and chives to the soup, after being fried with 3 tablespoons of vegetable oil and 1/4 of salt.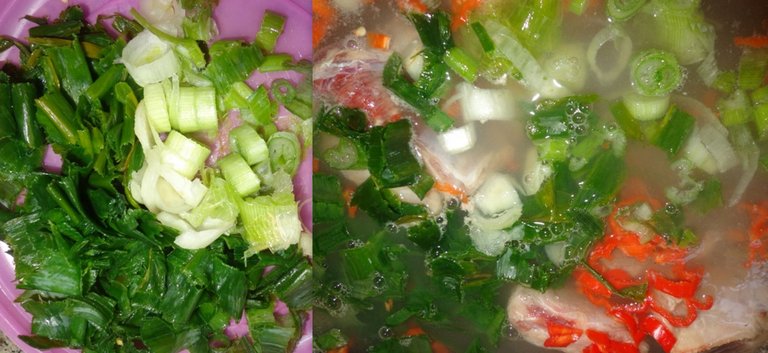 Fotografías tomadas por @nancybmp.
Ya lavada y picada en trozos la yuca, la agregamos cuando ya haya hervido el caldo de la sopa por aproximadamente 40 minutos. Tiene que estar parcialmente blanda la carne. Porque no queremos que quede dura en nuestra sopa.
Once the yuca has been washed and chopped into pieces, we add it when the soup broth has boiled for approximately 40 minutes. The meat must be partially soft. Because we don't want it to be tough in our soup.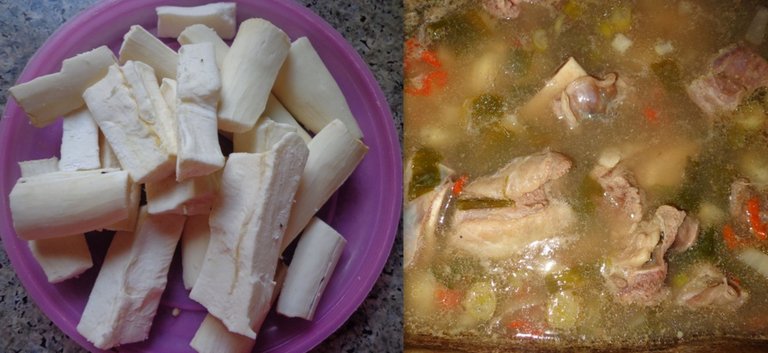 Fotografías tomadas por @nancybmp.
30 minutos más cocinándose todos los ingredientes en nuestro caldo y serán suficientes para considerarla terminada por su cocción.
30 more minutes cooking all the ingredients in our broth and it will be enough to consider it finished for its cooking.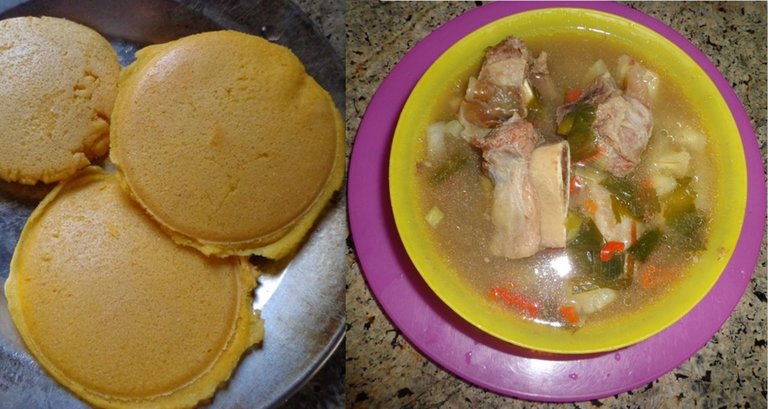 Fotografías tomadas por @nancybmp.
Servimos nuestra sopa un plato hondo y en presencia tan idónea con unas crocantes arepas de maíz.
We serve our soup in a deep dish and in such an ideal presence with some crunchy corn arepas.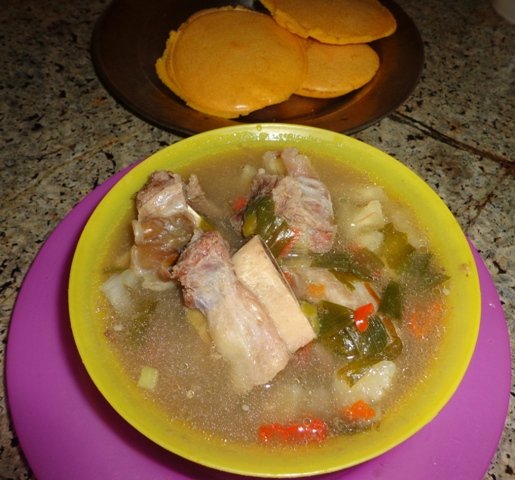 Fotografías tomadas por @nancybmp.
Muy apetecible y reconfortante sopa al paladar y a los valores o componentes vitales para nuestra existencia.
Very appetizing and comforting soup to the palate and to the values ​​or vital components for our existence.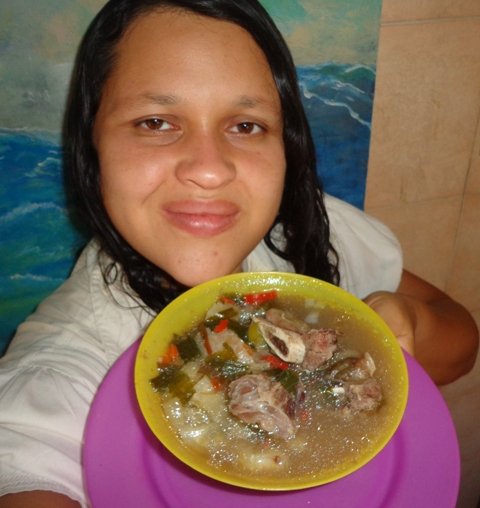 Fotografías tomadas por @nancybmp.
¡Hasta la proxima mi gente linda de Hive y Buen provecho!
¡Muchas gracias por el apoyo a todas las comunidades presentes!
¡Until next time my beautiful people from Hive and Bon appetit!
¡Thank you very much for your support to all the communities present!

Copyright @nancybmp - All rights reserved
¡MI MOTIVACIÓN ES QUE DISFRUTES DE MI POST!.
¡GRACIAS POR SU APOYO!
¡NO TE OLVIDES DE SEGUIRME Y VOTARME!
¡UN FUERTE ABRAZO! @nancybmp