¡Feliz fin de semana mis Hivers queridos! Por cual tenemos la dicha de sentir, respirar y amar una vez más... ¡Eso lo tenemos que celebrar, pero YA! Que forma más fascinante y gratificante que una buena comida casera.
¡Happy weekend my dear Hivers! For which we have the joy of feeling, breathing and loving once more ... We have to celebrate that, but NOW! What a more fascinating and rewarding way than a good home cooked meal.
Que tal les parece si preparamos un plato que contenga pollo, cambures y arroz como ingredientes principales. Espero que sea un rotundo ¡Si! en los comentarios, porque ya comenzaremos a elaborar ARROZ AL AJILLO CON POLLO SUDADO Y DULCE DE CAMBUR.
How about if we prepare a dish that contains chicken, bananas and rice as the main ingredients. I hope it is a resounding ¡Yes! in the comments, because we will start to make GARLIC RICE WITH SWEAT CHICKEN AND SWEET FROM CAMBUR.
---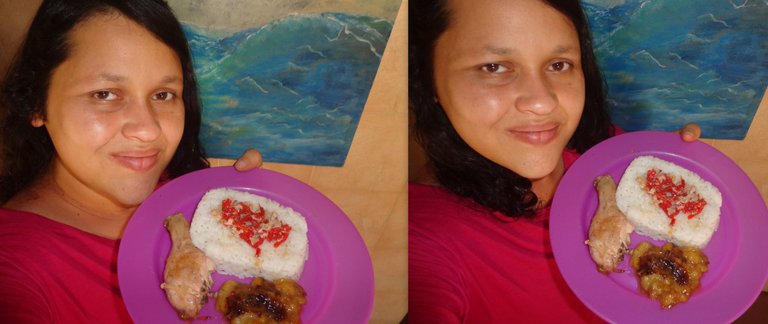 Fotografía tomada por @nancybmp.
Como cuando se captura un momento importante. También se captura un momento desenlace con estos ingredientes.
LOS INGREDIENTES QUE NECESITAS PARA ESTA PREPARACIÓN:
- 500 grs de Arroz .
- 2 Muslos de Pollo.
- 1/2 cucharada de sal (al hervir el agua donde se cocinara el arroz).
-1/ 4 cucharada de sal (Al sudar el pollo).
- 3 cucharadas de aceite vegetal.
- 1 cabeza de ajo pequeña.
- 3 ajíes maduros.
- 4 cambures grandes
- 1 pizca de adobo.
Like when an important moment is captured. An outcome moment is also captured with these ingredients.
THE INGREDIENTS YOU NEED FOR THIS PREPARATION:
- 500 grams of Rice.
- 2 Chicken Thighs.
- 1/2 tablespoon of salt (when boiling the water where the rice will be cooked).
- 1/4 tablespoon of salt (When sweating the chicken).
- 3 tablespoons of vegetable oil.
- 1 small garlic head.
- 3 ripe chili peppers.
- 4 large bananas
- 1 pinch of marinade.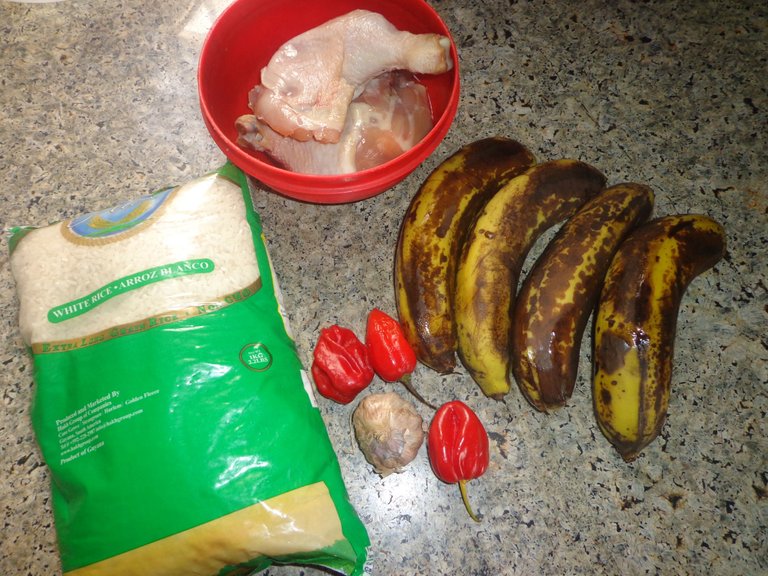 Fotografía tomada por @nancybmp.
Medimos nuestros 500 grs de arroz. Pondremos a hervir en la olla de tu preferencia un 1 litro de agua.
Cuando esté bien caliente el agua es el momento de agregar la 1/2 cucharada de sal y el arroz.
We measure our 500 grams of rice. We will boil 1 liter of water in the pot of your choice.
When the water is hot it is time to add the 1/2 tablespoon of salt and rice.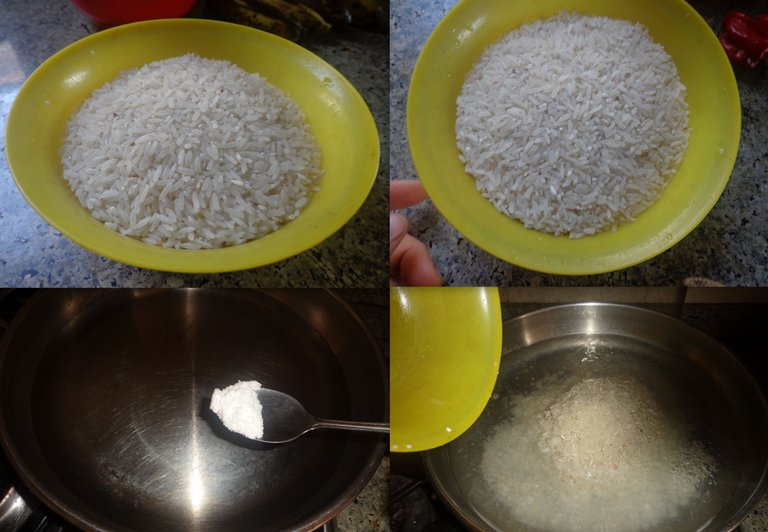 Fotografía tomada por @nancybmp.
A olla semi-tapada dejamos cocinar el arroz por aproximadamente 20 minutos.
¡Sueltecito y listo es el arroz!
In a semi-covered pot, let the rice cook for approximately 20 minutes.
¡Let go and that's it, the rice!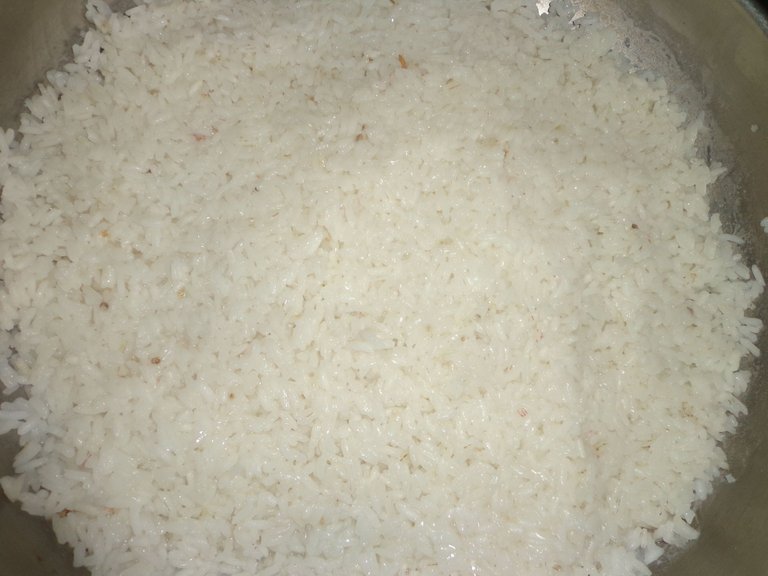 Fotografías tomadas por @nancybmp.
Pasando a otro proceso... que se fue ejecutando en el transcurrir que se cocinaba el arroz. Limpiando y cortando lo que usaremos como aliño.
Entonces higienizamos nuestra cabeza de ajo y los ajíes seleccionados. Para luego cortarlos finamente.
Moving on to another process... which was carried out in the course of cooking the rice. Cleaning and cutting what we will use as a dressing.
Then we sanitize our garlic head and the selected peppers. To later cut them finely.


Fotografías tomadas por @nancybmp.
En el sartén de tu preferencia colocamos nuestro aliño ya picado, con las cucharadas de aceite vegetal ya mencionadas y el 1/4 de cucharada de sal. Sofreir un par de minutos y agregar un vaso mediano de agua.
In the pan of your preference we place our dressing already chopped, with the aforementioned tablespoons of vegetable oil and the 1/4 tablespoon of salt. Sauté for a couple of minutes and add a medium glass of water.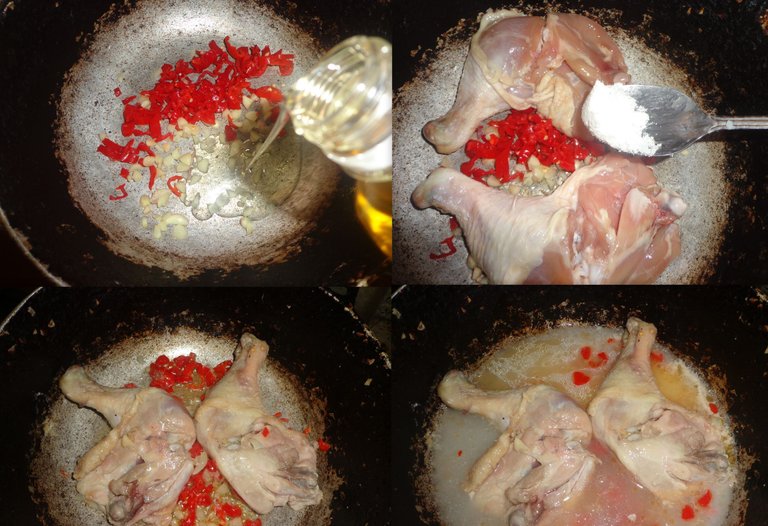 Fotografías tomadas por @nancybmp.
A sartén semi-tapado, dejamos sudar el pollo hasta que el agua se seque a un 80 % (El pollo queda hidratado, jugoso y blando).
In a semi-covered pan, let the chicken sweat until the water dries to 80% (The chicken is hydrated, juicy and soft).


Fotografías tomadas por @nancybmp.
Con respecto a nuestro postre del plato. Comenzaremos de la siguiente de la forma: En sartén colocamos 1 cucharada de aceite, los cambures en trozos, pizca de sal y 1 cucharada de azúcar (El cambur estaba lo suficientemente maduro y con dulzura natural ideal para este postre).
Regarding our dessert of the plate. We will start as follows: In a pan we place 1 tablespoon of oil, the bananas in pieces, a pinch of salt and 1 tablespoon of sugar (The bananas were ripe enough and with ideal natural sweetness for this dessert).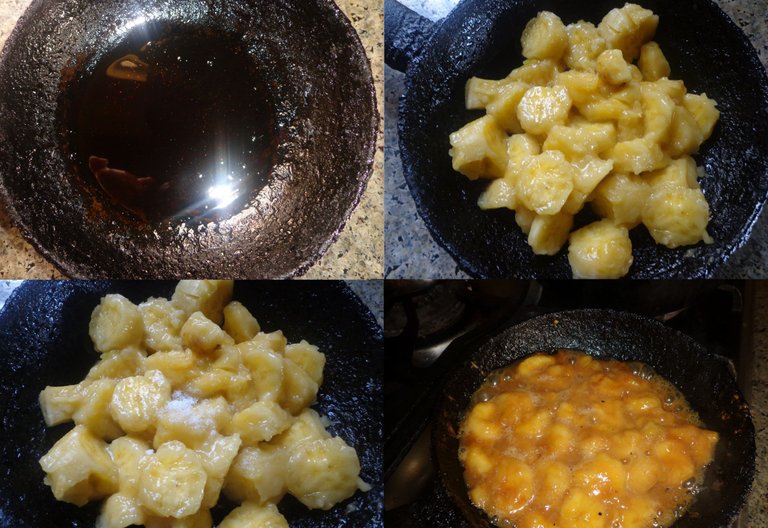 Fotografías tomadas por @nancybmp.
Dejamos que se caramelice a fuego medio por un par de minutos (en menos de 10 minutos estará listo el dulce de cambur).
Let it caramelize over medium heat for a couple of minutes (the sweet banana will be ready in less than 10 minutes).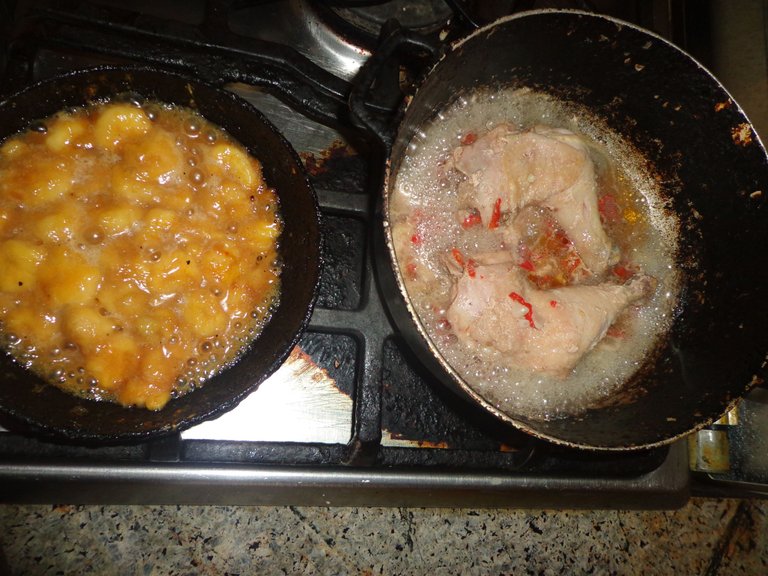 Fotografías tomadas por @nancybmp.
Pueden visualizar el aspecto de nuestras preparaciones a minutos de ser servidos.
You can see the appearance of our preparations within minutes of being served.


Fotografías tomadas por @nancybmp.
Arreglamos nuestros platos, adornandose con el arroz y el dulce de cambur.
We arrange our dishes, decorating ourselves with rice and sweet banana.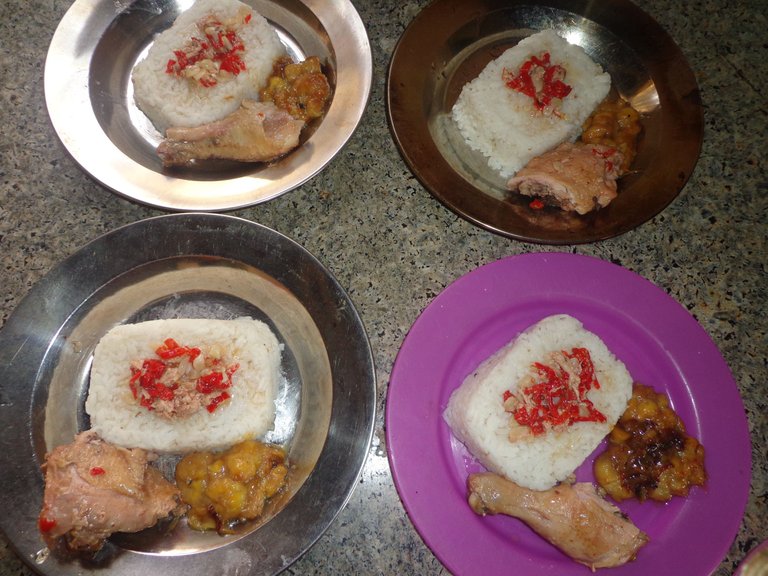 Fotografías tomadas por @nancybmp.
Cerramos con sello de oro. ¿CON QUÉ SERÁ?
We close with gold seal. ¿WHAT WILL IT BE WITH?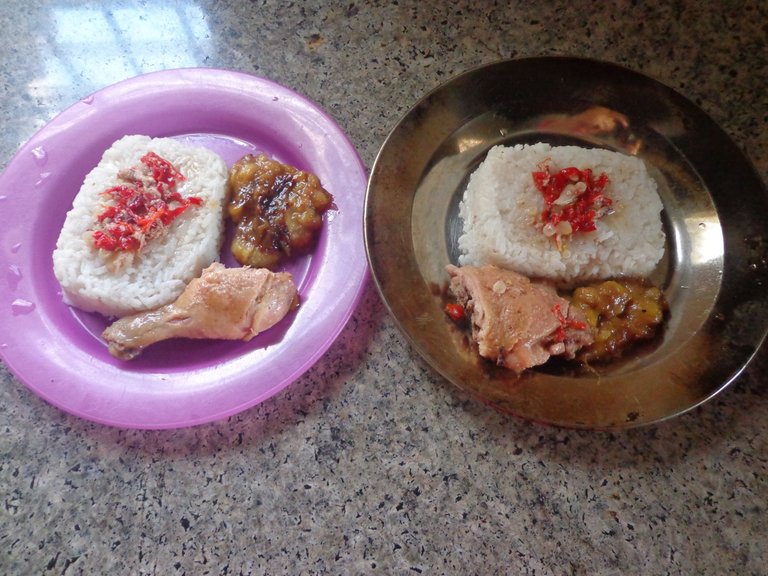 Fotografías tomadas por @nancybmp.
Con la presa de pollo sudado y jugoso, coronamos el plato de fin de semana.
With the juicy and sweaty chicken prey, we topped off the weekend dish.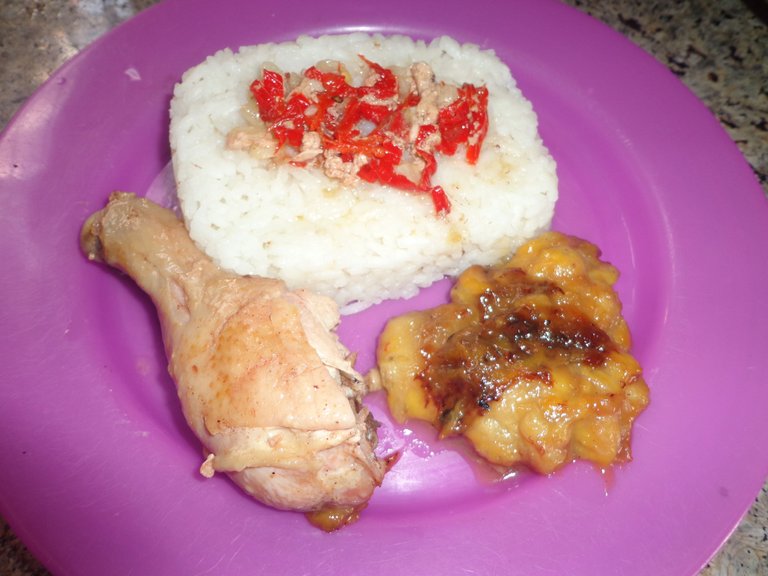 Fotografías tomadas por @nancybmp.
¡Les deseo un Feliz fin de semana al mejor estilo que se los puedo demostrar ;)!
¡I wish you a Happy weekend in the best style that I can show you;)!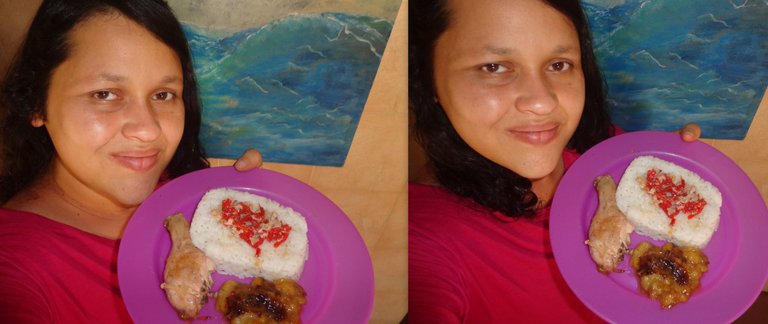 Fotografías tomadas por @nancybmp.
¡Hasta la proxima mi gente linda de Hive y Buen provecho!
¡Muchas gracias por el apoyo a todas las comunidades presentes!
¡Until next time my beautiful people from Hive and Bon appetit!
¡Thank you very much for your support to all the communities present!

Copyright @nancybmp - All rights reserved
¡MI MOTIVACIÓN ES QUE DISFRUTES DE MI POST!.
¡GRACIAS POR SU APOYO!
¡NO TE OLVIDES DE SEGUIRME Y VOTARME!
¡UN FUERTE ABRAZO! @nancybmp