Who wants to give those chicken feet a pedicure?
Wer mag diesen Hühnerfüßen eine Pediküre geben?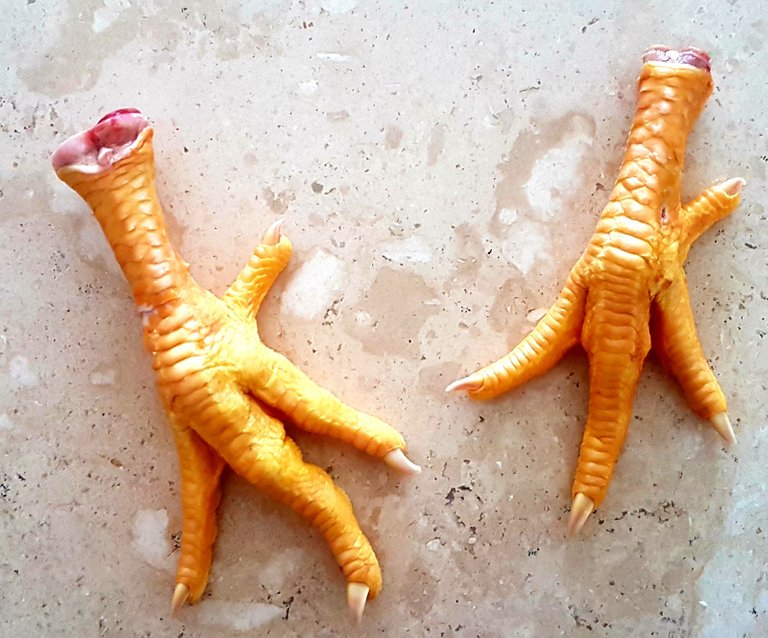 Welcome to Mexico!
Yesterday I baked a crispy chicken. When I bought it, the feet, heart and liver were also included. They were already chopped off and stuffed into the chickens stomach. That's very kind of them, but unfortunately not for us.
Willkommen in Mexiko! Gestern habe ich ein knuspriges Hühnchen gebacken. Beim Kauf waren die Füsse, Herz und Leber auch mit dabei. Das ist ja total nett gemeint, aber leider nichts für uns.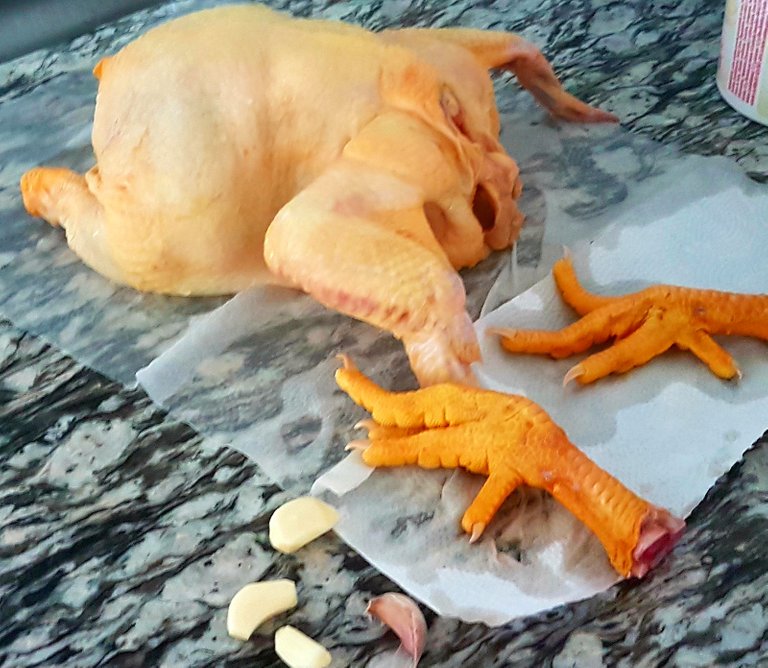 Today I want to show you how to cook a tasty, juicy chicken. First of all you make a herb butter with butter and herbs, as well as garlic.
Heute möchte ich Euch zeigen, wie man ein schmackhaftes, saftiges Huhn kocht. Als erstes macht man sich mit Butter und Kräutern, sowie Knoblauch eine Kräuterbutter.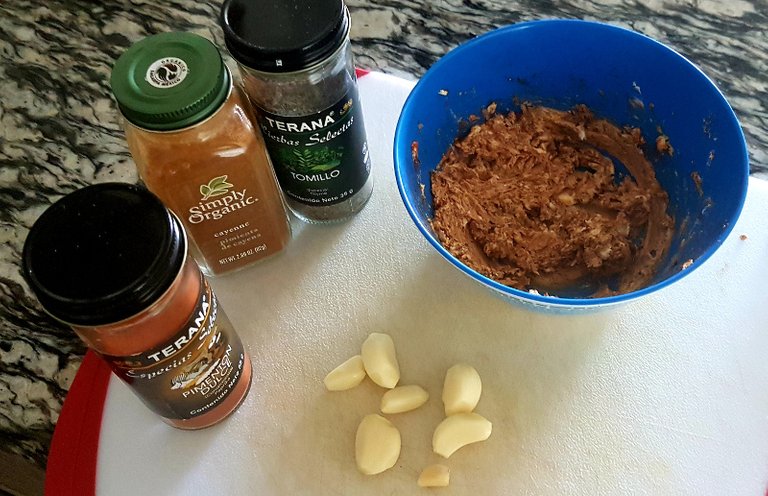 Then you separate the skin from the chicken meat and now comes the trick. The herb butter and garlic are placed between the skin and the meat. This makes the chicken so juicy and aromatic.
Danach trennt man die Haut vom Hühnerfleisch und nun kommt der Trick. Die Kräuterbutter und Knoblauch platziert man zwischen der Haut und dem Fleisch. Das macht später das Hähnchen so saftig und aromatisch.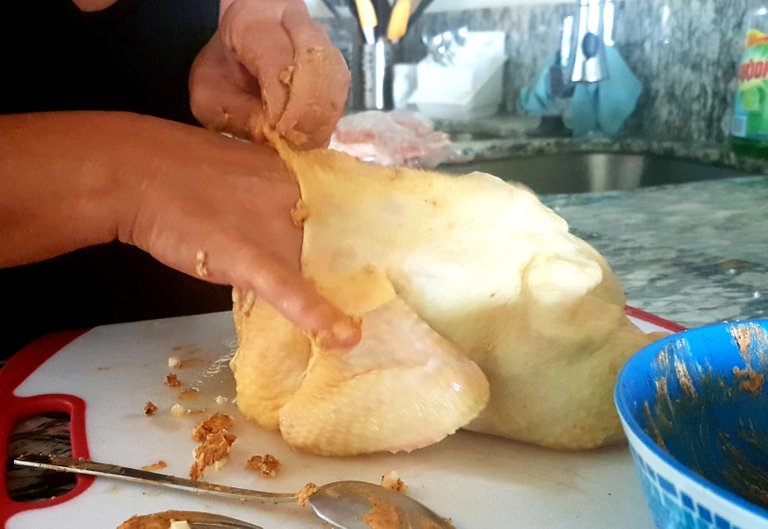 Now quickly conjure up a marinade of oil, salt, pepper, honey, tomato paste, garlic and some red wine and rub it onto the chicken. The chicken legs are tied together with a kitchen string.
Jetzt wird noch schnell eine Marinade aus Öl, Salz, Pfeffer, Honig, Tomatenpaste, Knoblauch und etwas Rotwein gezaubert und auf das Hühnchen eingerieben. Die Hähnchenbeine werden mit einem Küchengarn zusammengebunden.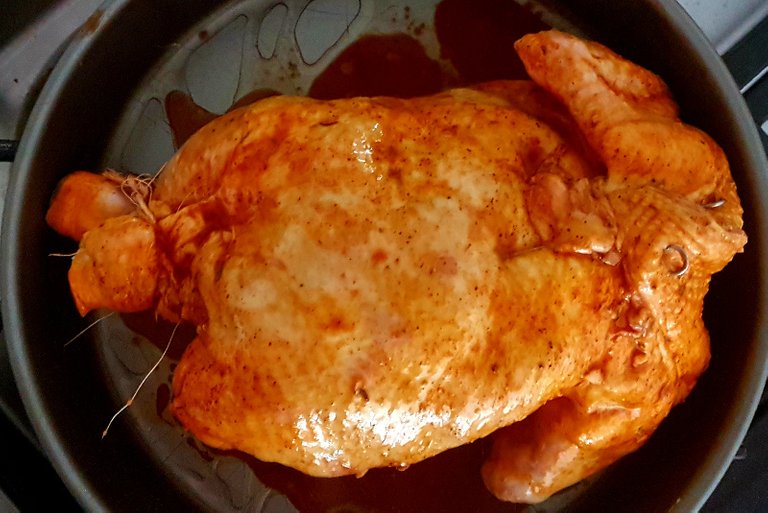 Now put everything in the oven for about 1.5 to 2 hours. Coat the chicken again with the marinade.
Done! This is what it should look like.
Nun kommt alles für ungefähr 1,5 bis 2 Stunden in den Ofen. Das Hähnchen nochmal mit der Marinade bestreichen. Fertig! So sollte es dann aussehen.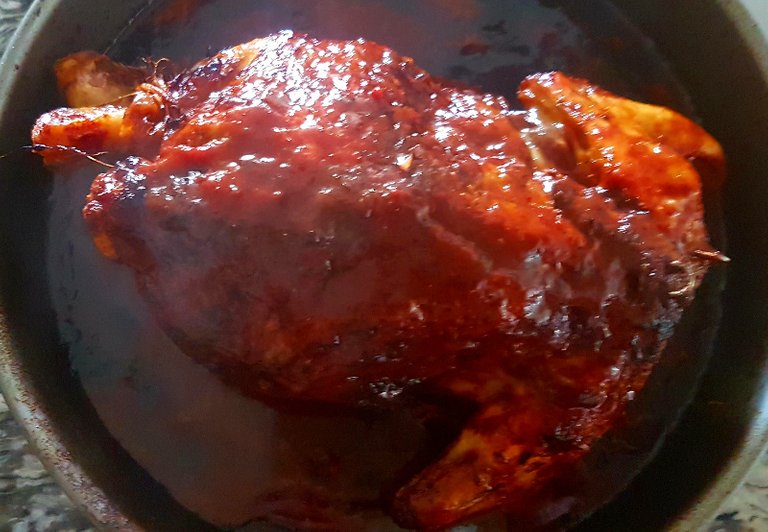 I steamed vegetables. So now it can be served. I wish you all a lot of fun with the recooking and wish you Bon appétit!
Dazu gab es gedünstetes Gemüse. So nun kann angerichtet werden. Ich wünsche allen viel Spass beim nachkochen und wünsche einen guten Appetit!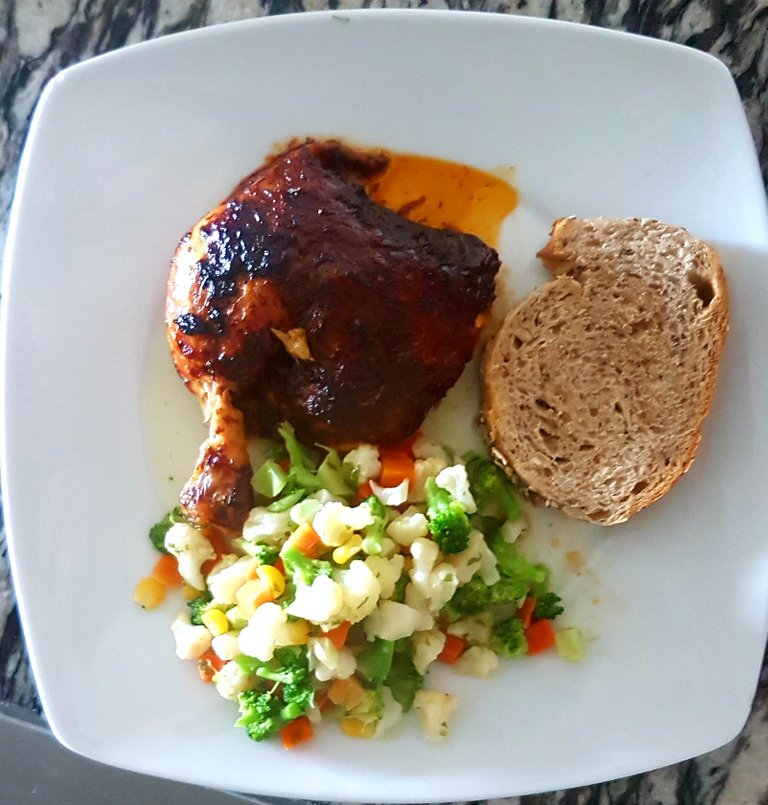 "We cannot direct the wind. But we can adjust the sails."
(Wir können den Wind nicht ändern, aber wir können die Segel richtig setzen.) Aristotle
Please like, comment and follow my work. I have a lot more to come!! :)