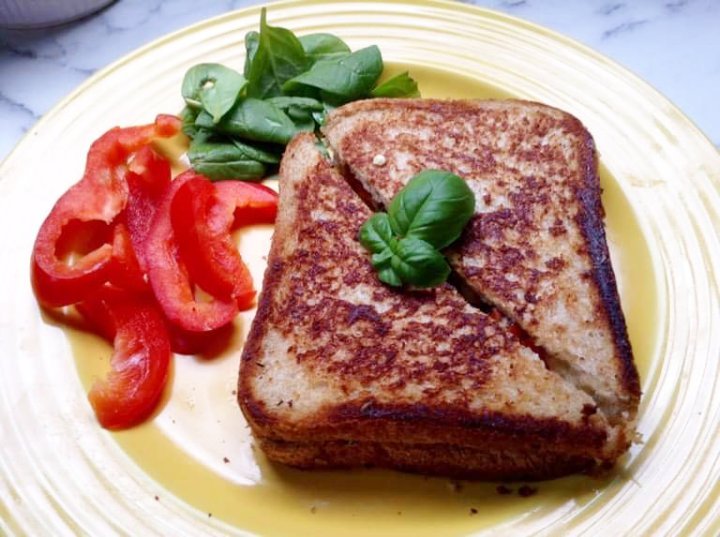 ---
For a tasty, comforting and filling lunch, a quick and easy option is always a Grilled Cheese Sandwich . To add some pizzazz, I include Basil Pesto and Tomatoes, with sprinkles of Dried Herbs such as Parsley, or Mixed Herbs, adding a pinch of Chili Flakes.
I hate to waste food, so I'm always meticulously observing food items in my refrigerator, to plan my meals around using perishable items, mixed with other items already in use.
---
To make my specially created Grilled Cheese Sandwich With Green Pesto and Tomatoes, here are the ingredients needed.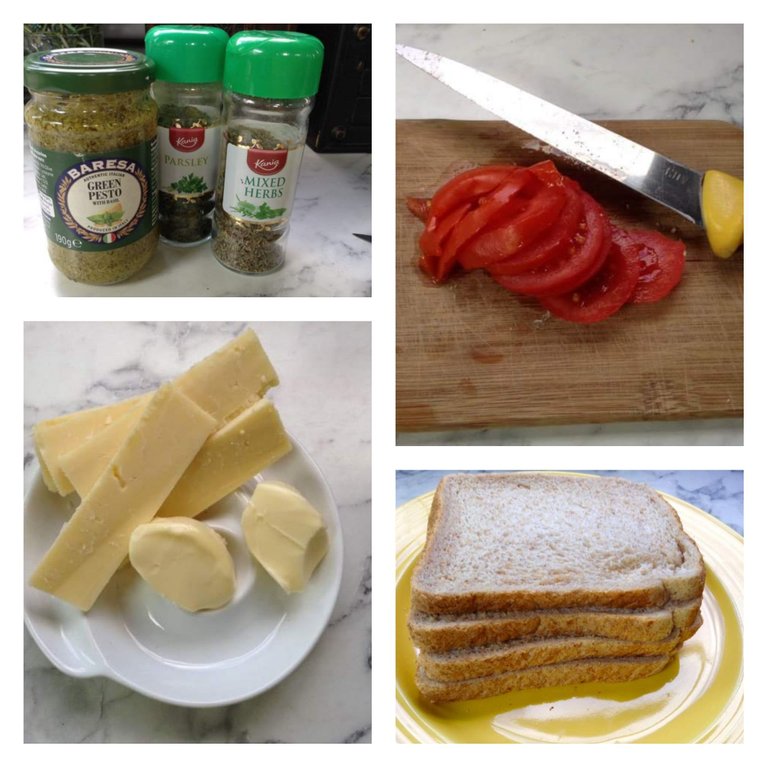 Ingredients (for 2 persons)
1 small tomato, thinly sliced
4 slices of Cheddar Cheese (I'm using Mature Cheddar)
4 slices of sandwich bread (brown, my choice)
2 tsp of Basil Pesto (feel free to add more)
2 tbsp of Unsalted Butter
a pinch of Black Pepper
a pinch of Chili Flakes
a pinch of Dried herbs (Parsley, and Mixed Herbs, or your preferred herb)
a few slices of Red Capsicum / Bell Peppers for garnish (Salad)
Baby Spinach Leaves (Salad)
Basil Leaves for garnishing
---
Tools
1 small Frying Pan
1 buttering Knife
1 Tablespoon
1 Chopping Board
1 Spatula
---
METHOD
I've divided all ingredients in half, since I'm making two sandwiches for four persons.
Melt Butter to spreadable form
Butter one side of Bread (to be placed butter side down in frying pan)
On the unbuttered side of the Slice of Bread, spread half the amount of Pesto, and top with half the amount of Cheese.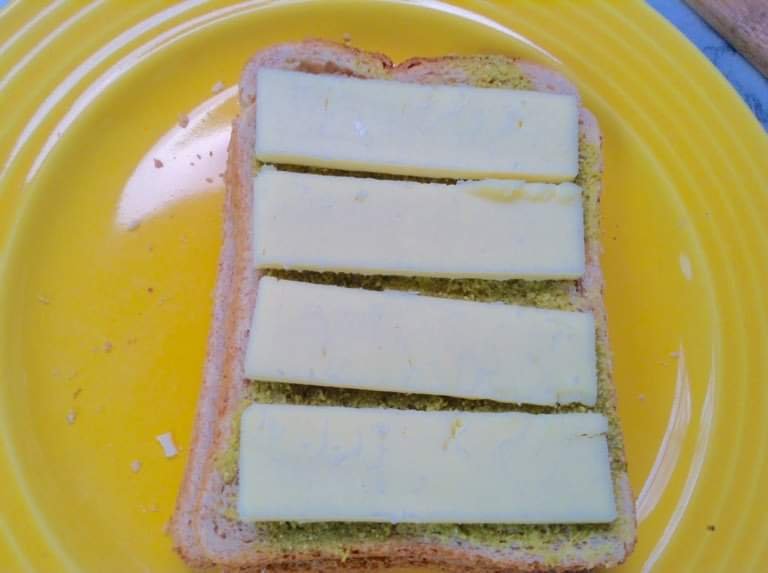 Add half the amount of Tomatoes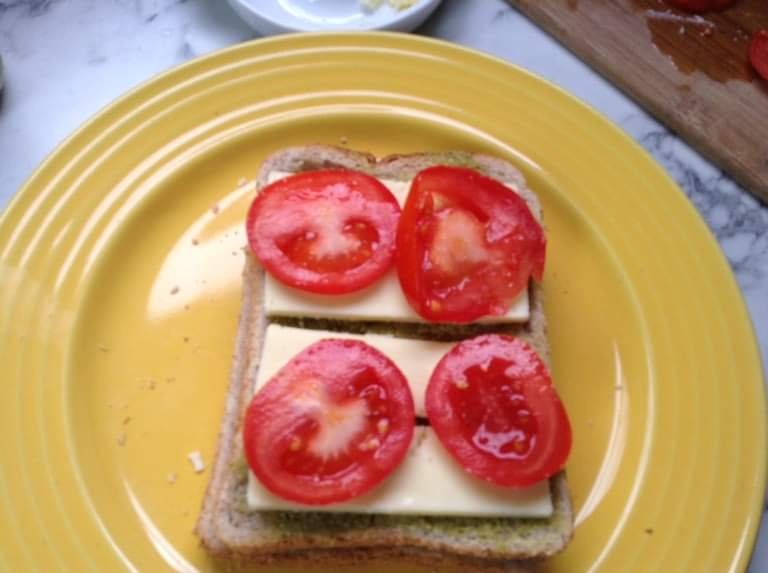 Sprinkle with Dried Herbs of choice, or simple Black Pepper.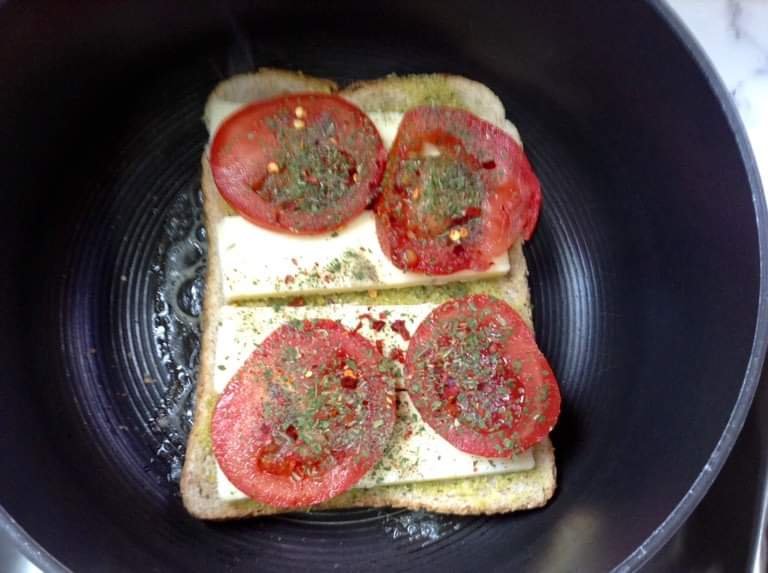 Butter the second slice of Bread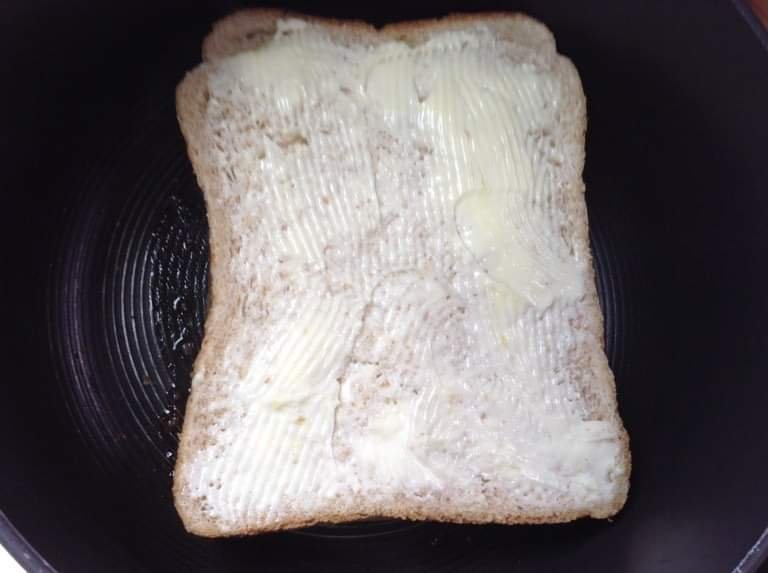 Cover the open sandwich with the second slice of Bread, with Butter side facing up.

Place sandwich on medium heat in frying pan, and toast for 2-3 mins on each side till golden brown, and Cheese melted.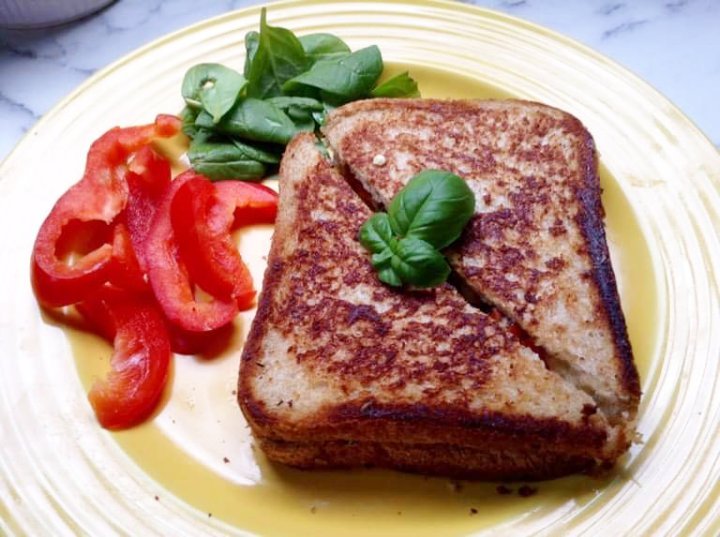 Follow steps for second sandwich, or if you have a large frying pan as I normally do, you could grill both sandwiches at once to save time.
Slice sandwiches to whatever looks most appealing to you.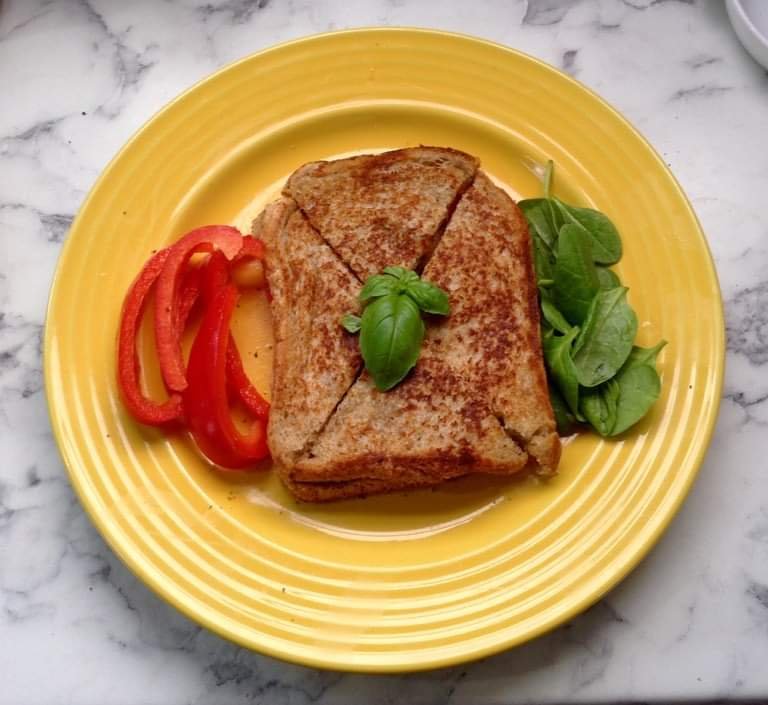 Serve with fresh salad or a nice soup, or eat just as it is.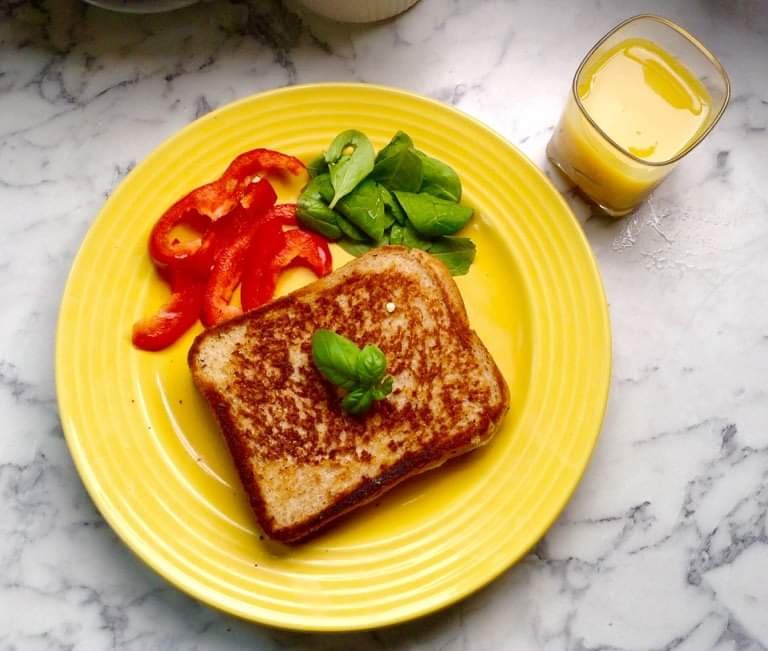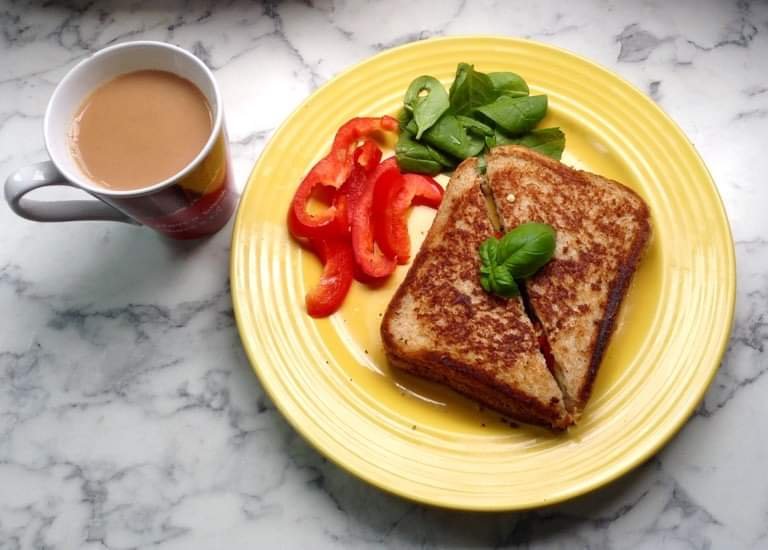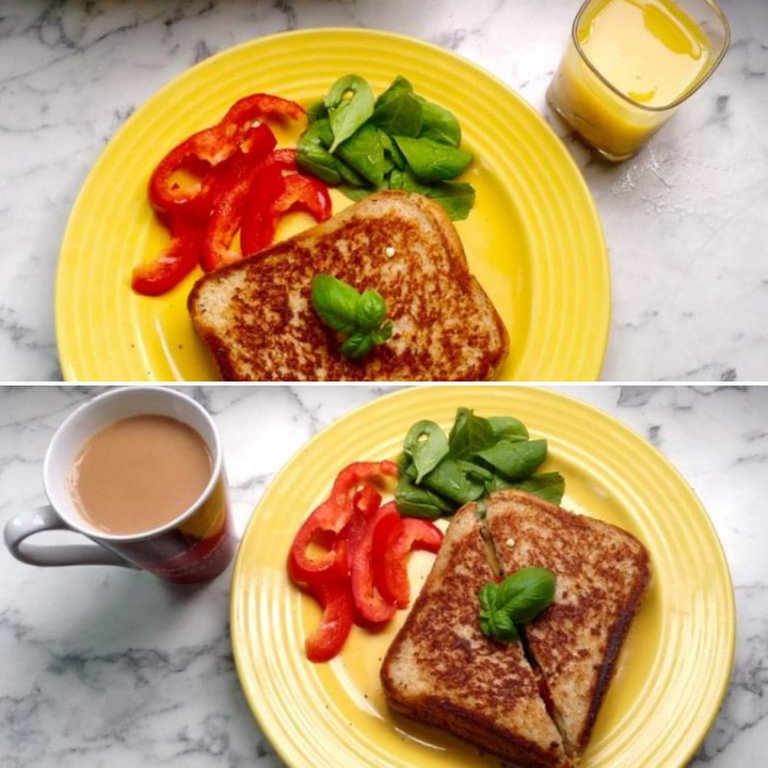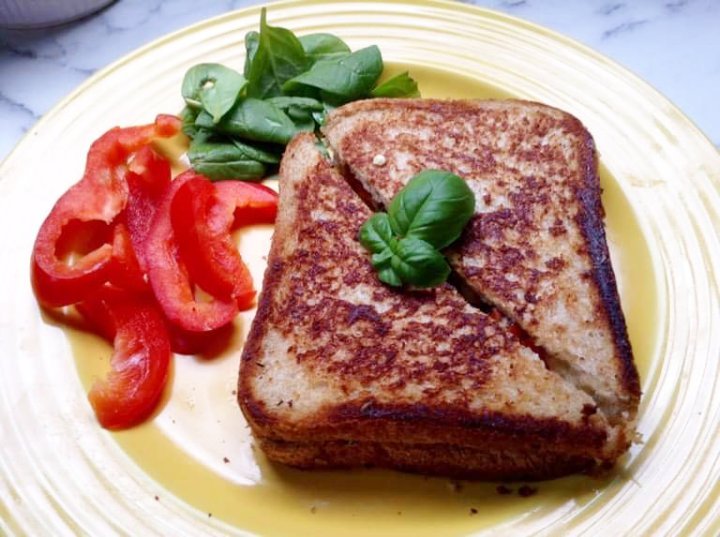 Serve warm and enjoy!