Hola a todos cómo están? Hoy quiero compartirles como hacer mi salsa de tomate especial, ideal para acompañar pastas, pizzas, milanesas o cualquier cosa que se te antoje. Esta a base de tomate, pero tiene otros vegetales para aumentar su sabor.
Hi everybody how are you? Today I want to share with you how to make my special tomato sauce, ideal to accompany pastas, pizzas, milanesas or whatever you want. It is tomato based, but has other vegetables to increase its flavor.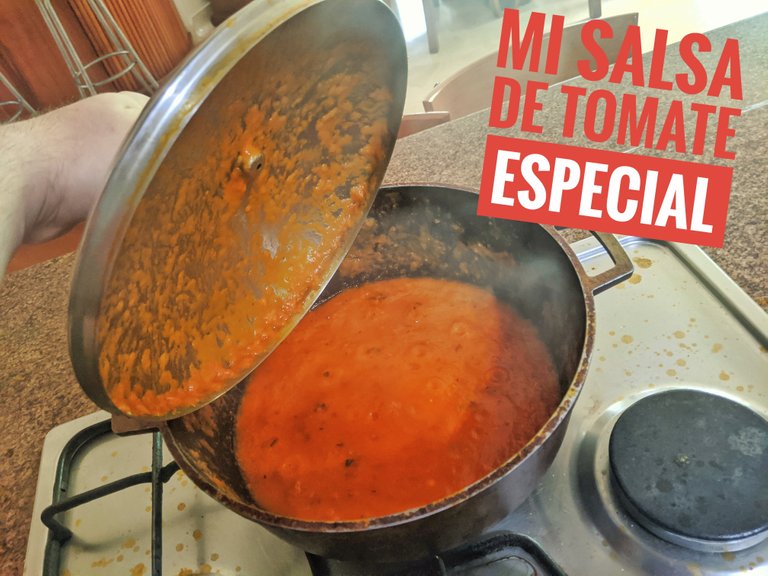 Empecemos a preparar la salsa / Let's start preparing the sauce.
Para empezar necesitamos una lata de tomates pelados, aunque también puedes usar tomates normales y pelarlos tu mismo.
To start we need a can of peeled tomatoes, although you can also use normal tomatoes and peel them yourself.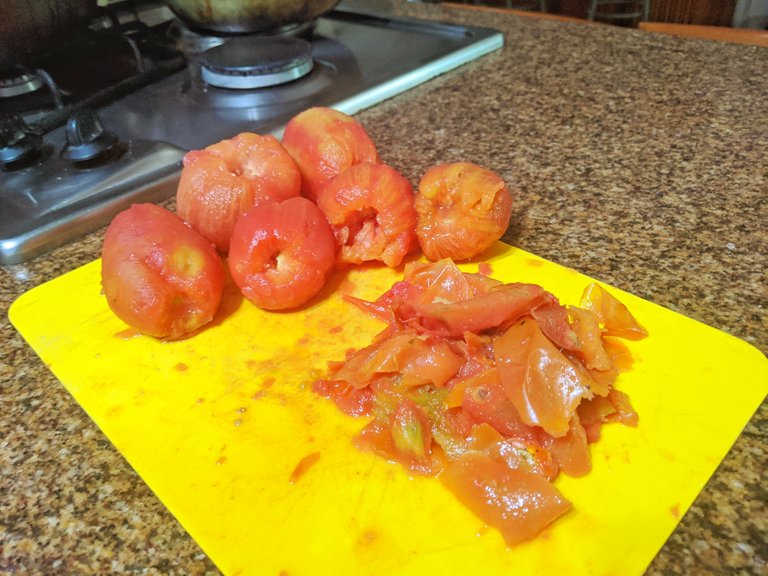 Vamos cocinar los tomates en una olla con una buena cucharada de mantequilla.
We are going to cook the tomatoes in a pot with a good spoonful of butter.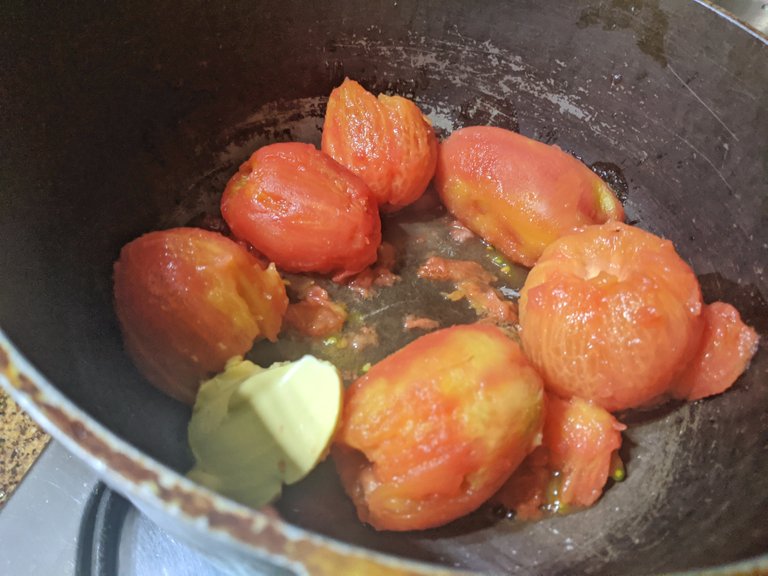 A medida que se vaya cocinando ve machacando los tomates, déjalos por unos 8 minutos para que tomen un buen sabor y se suavicen más.
As it cooks, crush the tomatoes, leave them for about 8 minutes so that they take on a good flavor and soften more.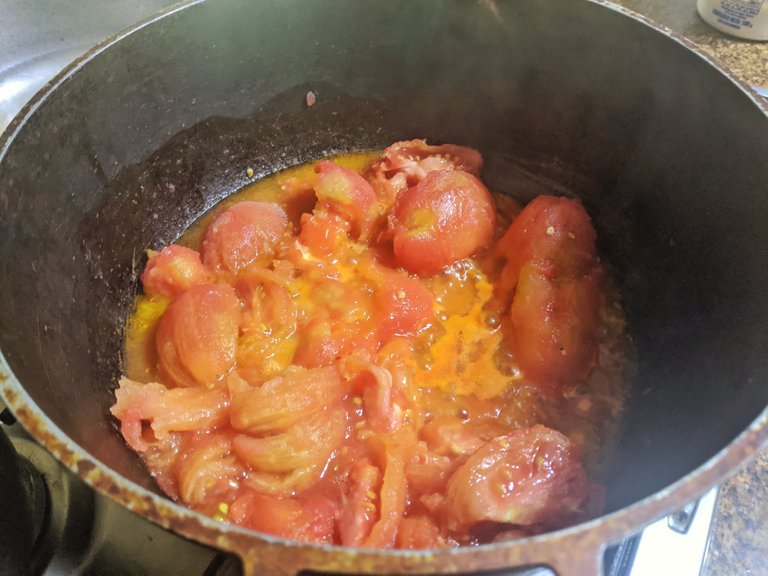 Ahora agrega una cebolla de tamaño mediano, cuatro o cinco dientes de ajo y un pimentón rojo. No importa el tamaño, ya que igual irán a la licuadora por lo que no tardes tanto en cortarlo.
Now add a medium-sized onion, four or five garlic cloves, and a red bell pepper. The size does not matter, since they will still go to the blender so it does not take so long to cut it.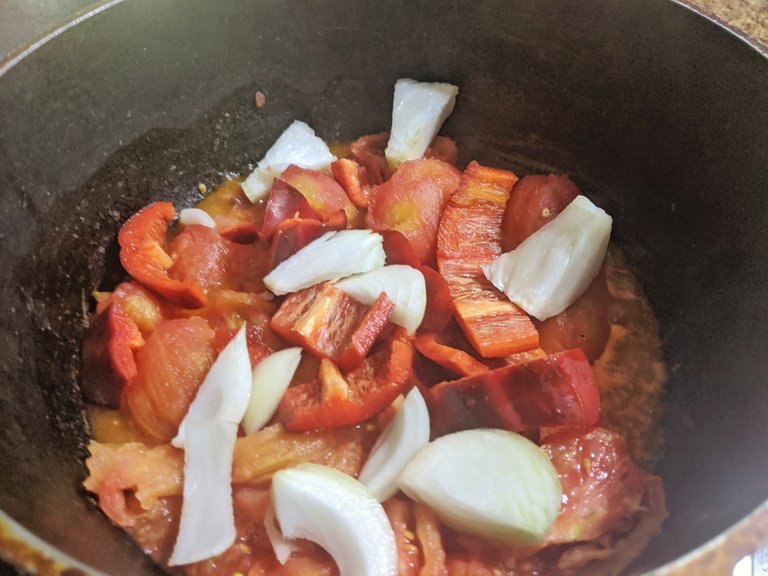 Pasados unos 10 minutos tomarán la consistencia que ves en la foto. Ya cuando la cebolla este como translúcida, es el momento de llevarlo a la licuadora.
After about 10 minutes they will take the consistency that you see in the photo. When the onion is as translucent, it is time to take it to the blender.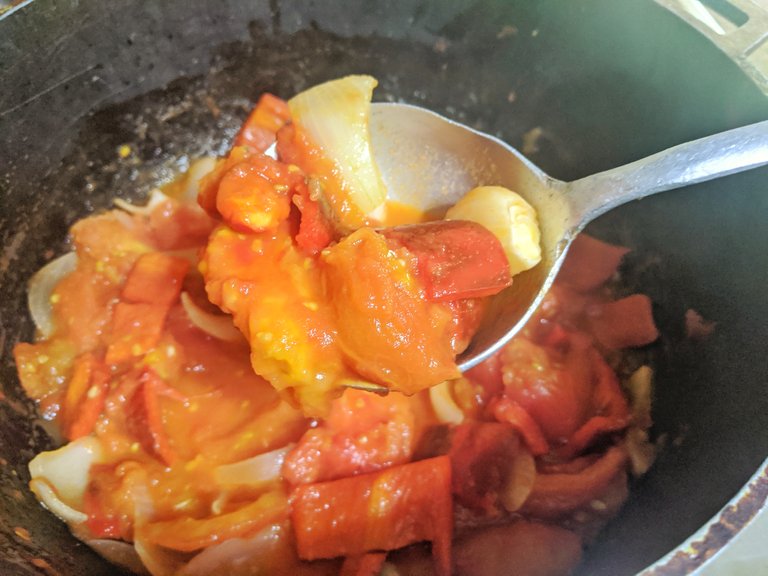 A mí me gusta que tenga dos texturas, por lo cual licuó todo sin líquido para que el resultado final sea un poco más grumoso.
I like that it has two textures, so it blended everything without liquid so that the final result is a little more lumpy.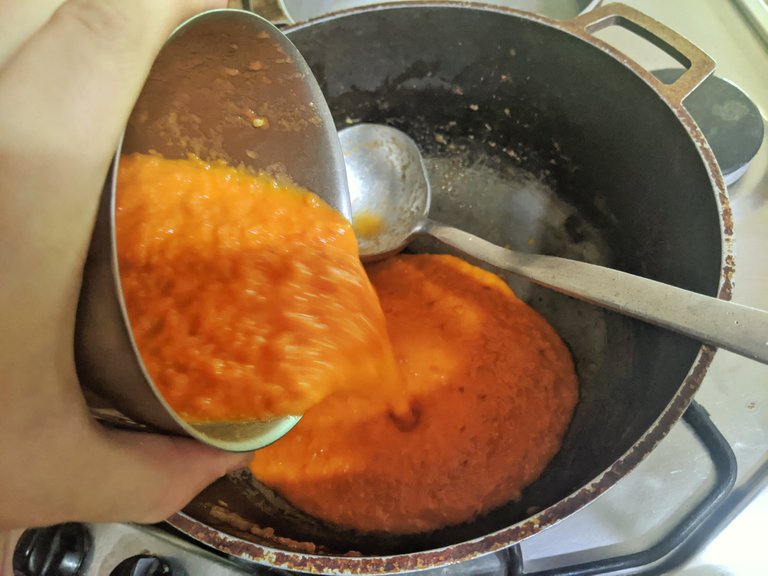 Después de sacar la mitad de la mezcla y ponerlo en la olla donde estaba cocinando antes, agrego un poquito de agua y licuó por unos minutos para conseguir la consistencia que ves en la foto.
After removing half of the mixture and putting it in the pot where it was cooking before, I add a little water and blend for a few minutes to get the consistency you see in the photo.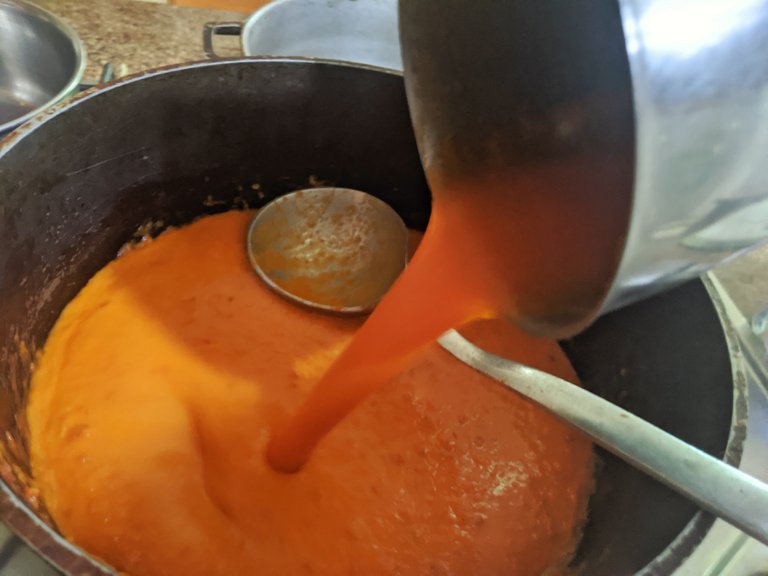 Ahora vienen las especias / Now come the spices.
Yo utilizo una cucharadita de orégano molido, una de ajo molido, una de paprika y media de canela molida. Revuelve todo para que se integren todos los ingredientes.
I use one teaspoon of ground oregano, one of ground garlic, one of paprika, and half of ground cinnamon. Stir everything so that all the ingredients are integrated.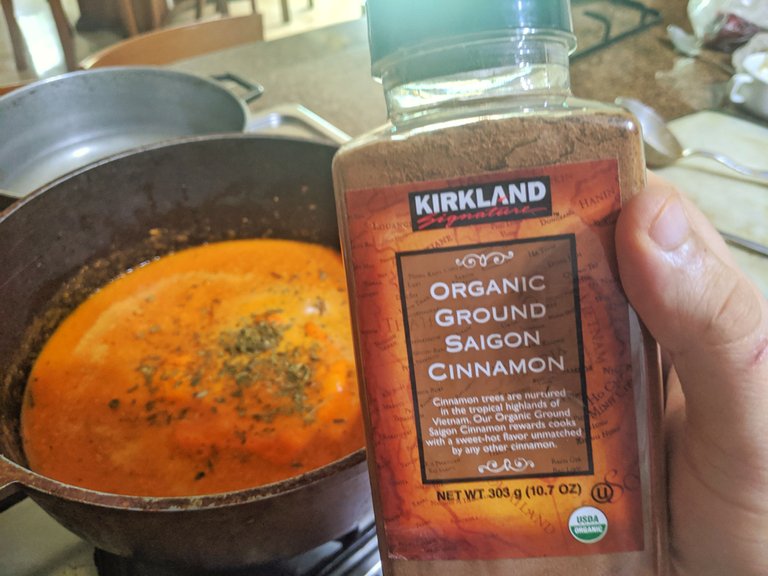 Corrige sal y pimienta a tu gusto y deja hervir la salsa por unos 30 minutos con tapa para que no se evapore por completo el líquido. La idea de dejarlo cocinar por tanto tiempo es para intensificar todos los sabores.
Correct salt and pepper to your liking and let the sauce boil for about 30 minutes with a lid so that the liquid does not evaporate completely. The idea of ​​letting it cook for so long is to intensify all the flavors.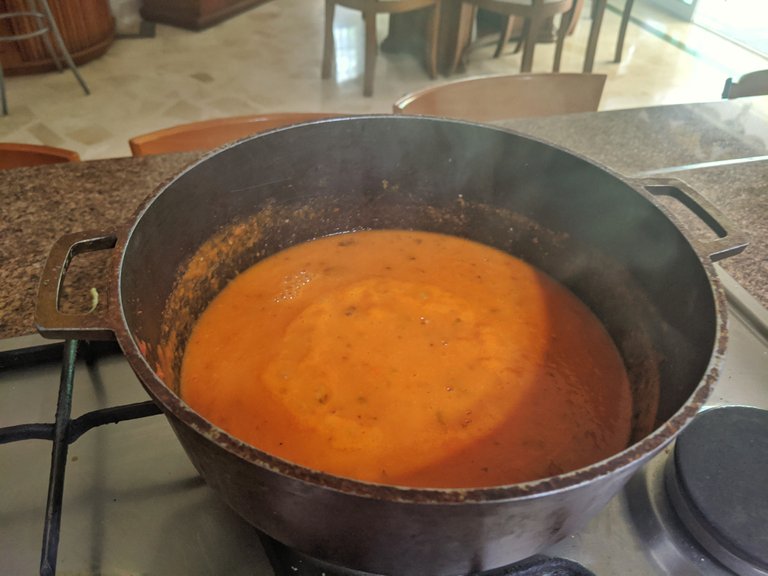 Pasado el tiempo revisa la consistencia de la salsa, en caso de que te guste un poquito más líquida, puedes agregar un poquito más de agua y lo cocinas por un poco más hasta lograr la consistencia adecuada.
After time check the consistency of the sauce, in case you like it a little more liquid, you can add a little more water and cook it for a little longer until you achieve the right consistency.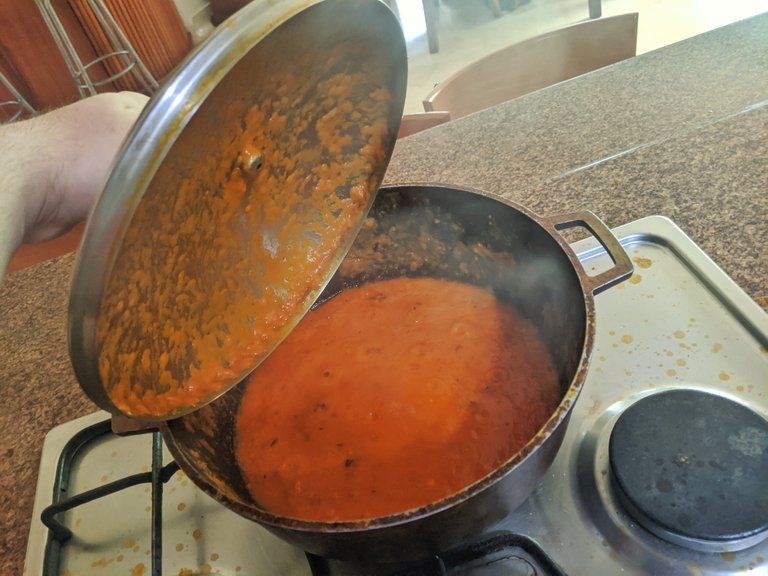 Ideas para utilizar la salsa / Ideas for using the sauce.
Puedes utilizar la salsa en una milanesa de carne. Quedará muy bien con el empanizado y si le gratinas un poquito de queso, muchísimo mejor.
You can use the sauce in a meat milanesa. It goes very well with the breaded and if you gratin a little cheese, much better.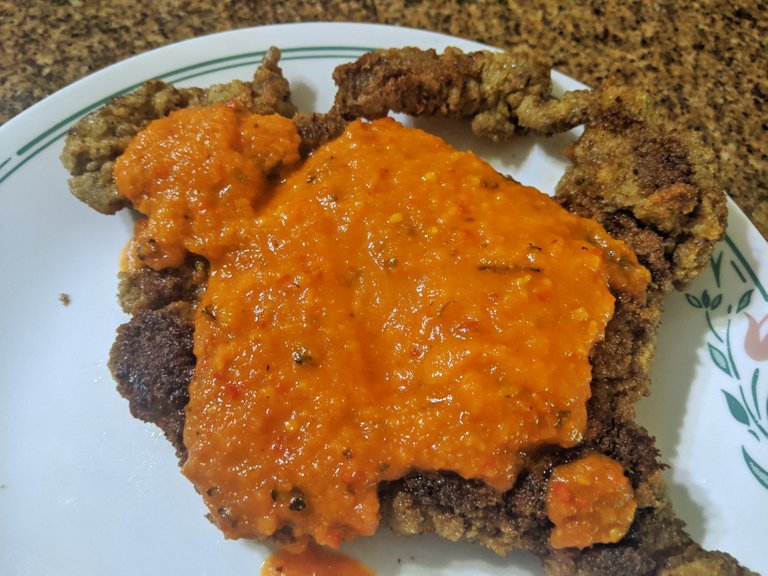 También puedes utilizar esta salsa para hacer pizza. Sera una buena base para ella y quedará muy bien con queso mozzarella.
You can also use this sauce to make pizza. It will be a good base for her and will go very well with mozzarella cheese.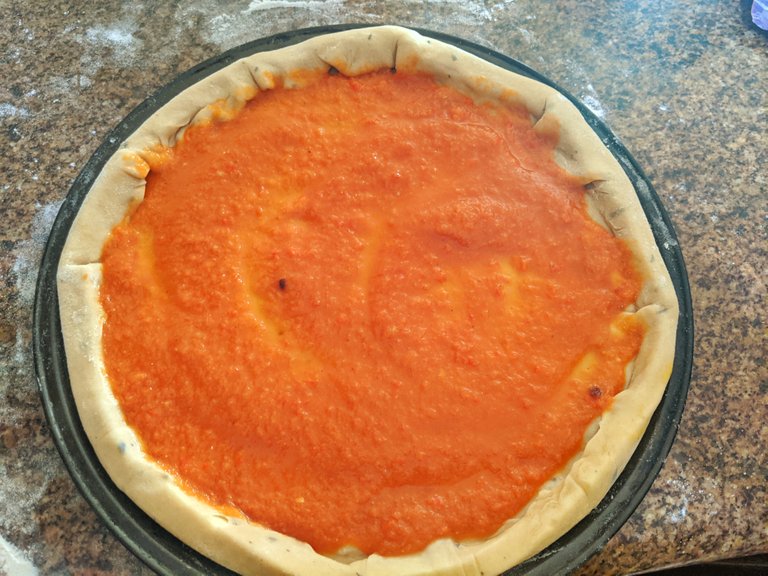 También puedes utilizarla en una pasta normal o puedes guardarla en un envase de vidrio esterilizado para usarla después. Puede durar fácilmente 4 a 5 días en la nevera.
You can also use it in a normal paste or you can store it in a sterilized glass container for later use. It can easily last 4 to 5 days in the fridge.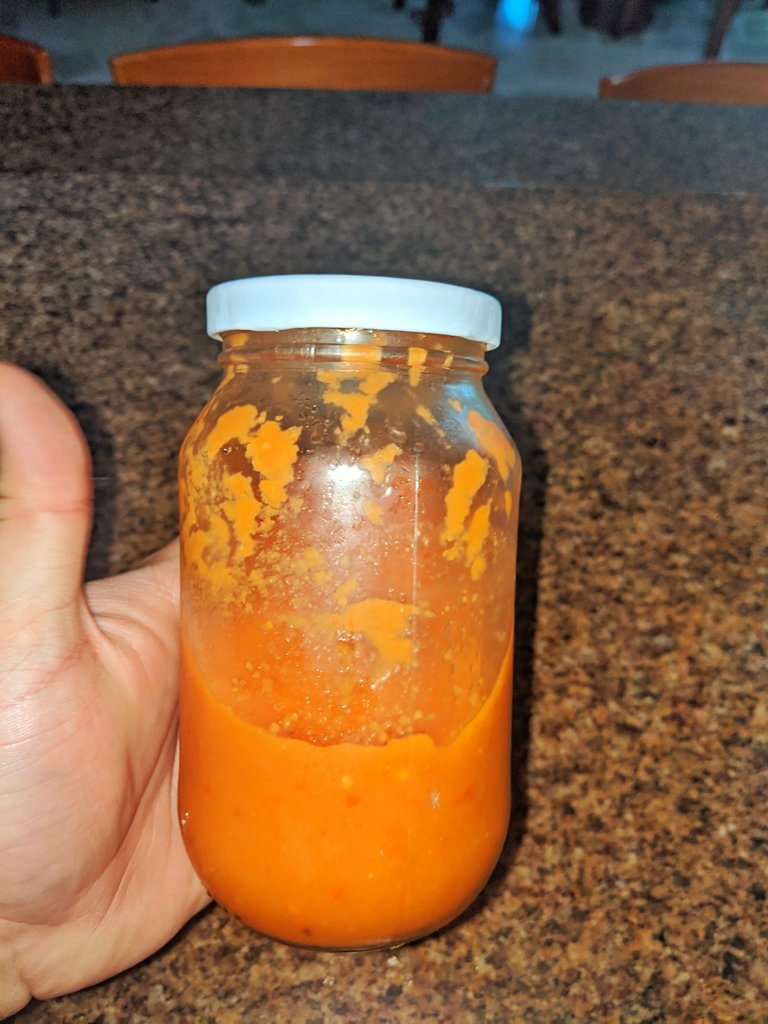 Buen provecho! / Bon appetit!