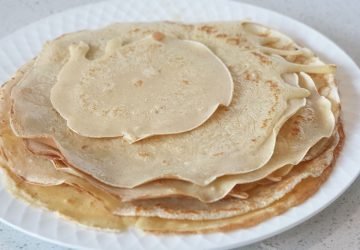 Vanilla Crepes! A family treat that's light and yummy!
INGREDIENTS
1 cup (150g) plain flour
1 teaspoon vanilla extract (I use Queens Vanilla paste)
1 teaspoon caster sugar
240ml milk
2 eggs
Canola oil to cook (you can use any oil, I find canola works best)
DIRECTIONS
Place all ingredients in large mixing bowl and whisk to form batter.
Lightly brush surface of a hot fry pan with canola oil. pour in a ladle full of batter, tilt and turn pan to cover base with a thin layer of batter mix.
Cook batter for 1 minute. flip and cook for 30 to 40 seconds.
NUTRITIONAL INFORMATION – estimates only, per serve
CALORIES 92
PROTEIN 4g
FAT TOTAL 3.8g
SODIUM 37mg
CARBOHYDRATES 10g
Don't forget to let us know how you found our Vanilla crepes recipe and check out our other awesome recipes