[ESP-ENG] MAJARETE DE COCO CON SABOR VENEZOLANO // COCONUT MAJARETE WITH VENEZUELAN FLAVOR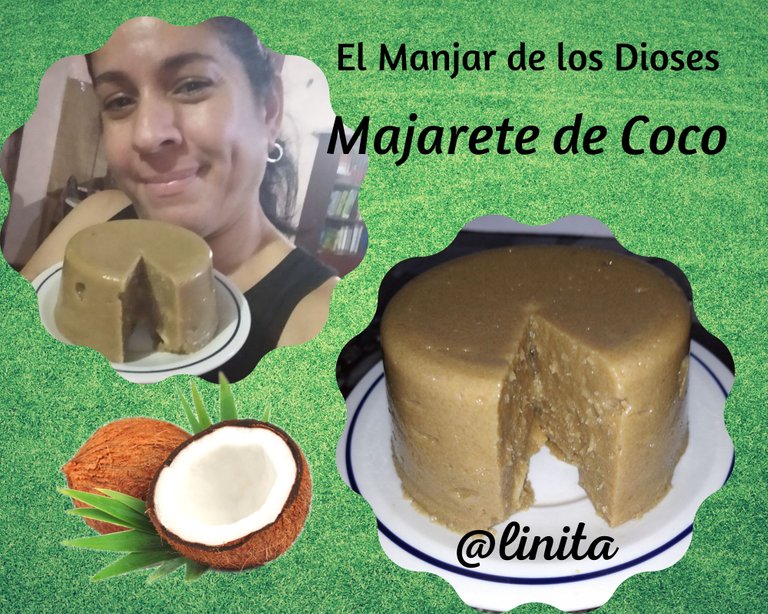 Spanish
¡Holaaaaaaaa! Mis queridísmos amigos de Hive.
Hoy les traigo un rico manjar de coco que aquí en Venezuela llamamos Majarete. Este manjar es una especie de flan de coco y harina de maíz precocida y endulzado con papelón o panela. Se elabora desde la colonia, pero en vez de usar harina de maíz precocida utilizaban el grano de maíz tierno molido y su preparación y degustación ha trascendido de generación en generación con algunas transformaciones formando parte de nuestra gastronomía como un dulce tradicional en nuestra cocina.
Sin más, comencemos.
English
Helloooooo! My dear friends from Hive. Today I bring you a delicious coconut delicacy that here in Venezuela we call Majarete. This delicacy is a kind of precooked coconut and cornmeal flan, sweetened with papelón or panela. It is made since the colony, but instead of using precooked corn flour they used the ground tender corn grain and its preparation and tasting has transcended from generation to generation with some transformations forming part of our gastronomy as a traditional sweet in our kitchen. Without further ado, let's get started.
---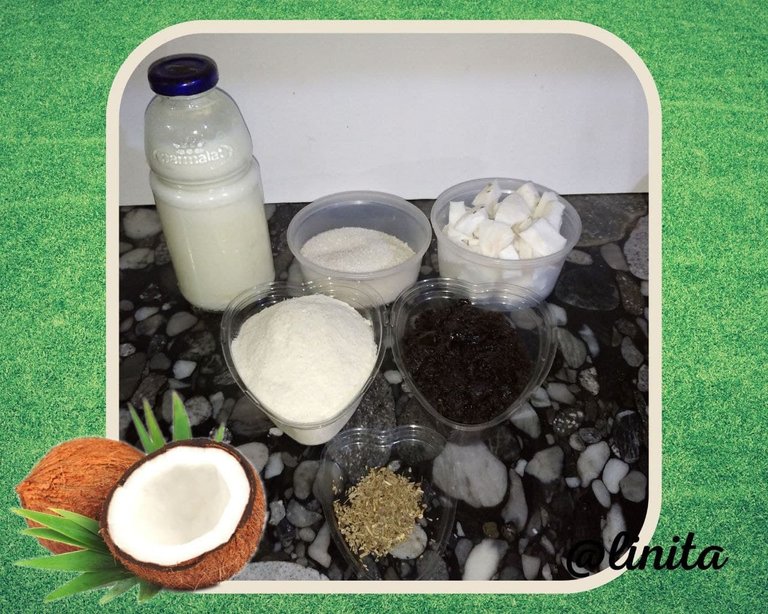 Spanish
1 litro de leche
2 cocos
300 gr de harina de maíz precocida blanca
200 gr de papelón rallado
300 ge de azúcar
2 cdas de anis dulce
English
1 liter of milk
2 coconuts
300 gr of white precooked cornmeal
200 gr of grated paper
300 ge of sugar
2 tbsp sweet anise
---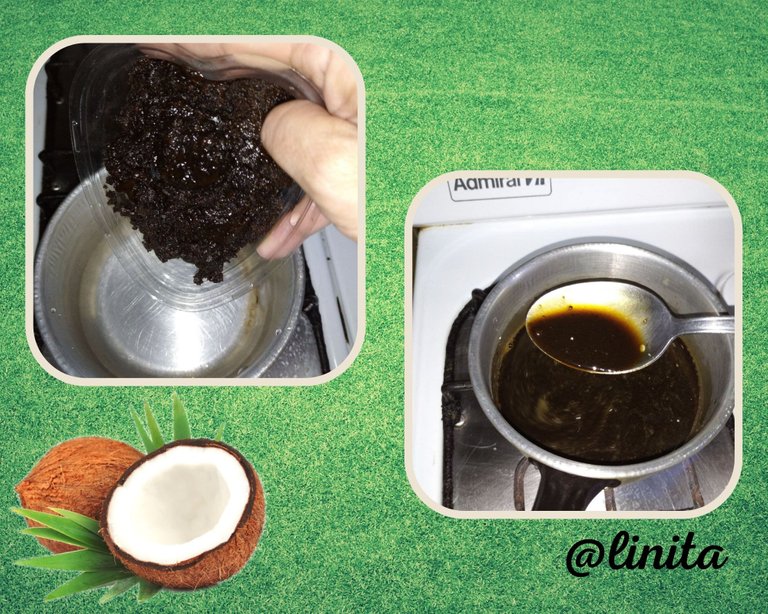 Spanish
En una cacerola agregamos 1 taza de agua y el papelón rallado. Cocinamos hasta diluir y reservamos.
English
In a saucepan add 1 cup of water and the grated paper. Cook until diluted and reserve.
---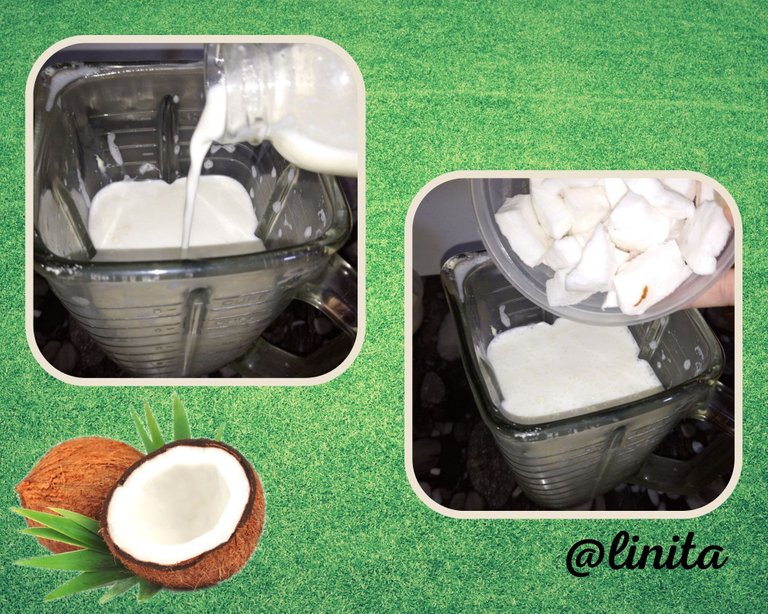 Spanish
Agregamos el litro de leche y 3/4 partes de los cocos, previamente sacados de la concha, pelados y picados en trozos, en el vaso de la licuadora.
Procesamos hasta moler bien.
English
Add the liter of milk and 3/4 of the coconuts, previously removed from the shell, peeled and chopped into pieces, in the blender glass.
Process until ground well.
---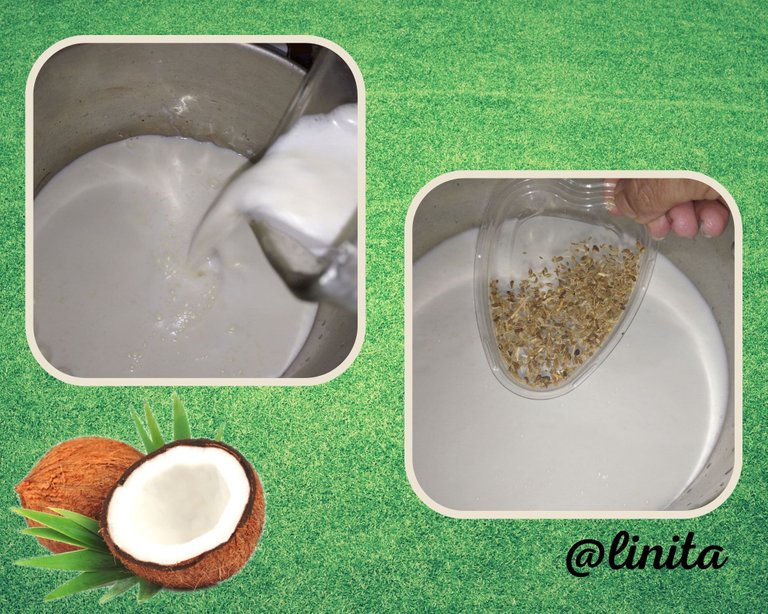 Spanish
En una cacerola grande, con capacidad para 4 litros aproximadamente, agregamos el licuado i las dos cucharadas de anís dulce y cocinamos a fuego medio alto para extraer los sabores del coco y el anís.
English
In a large saucepan, with a capacity of approximately 4 liters, add the smoothie and the two tablespoons of sweet anise and cook over medium high heat to extract the flavors of the coconut and anise.
---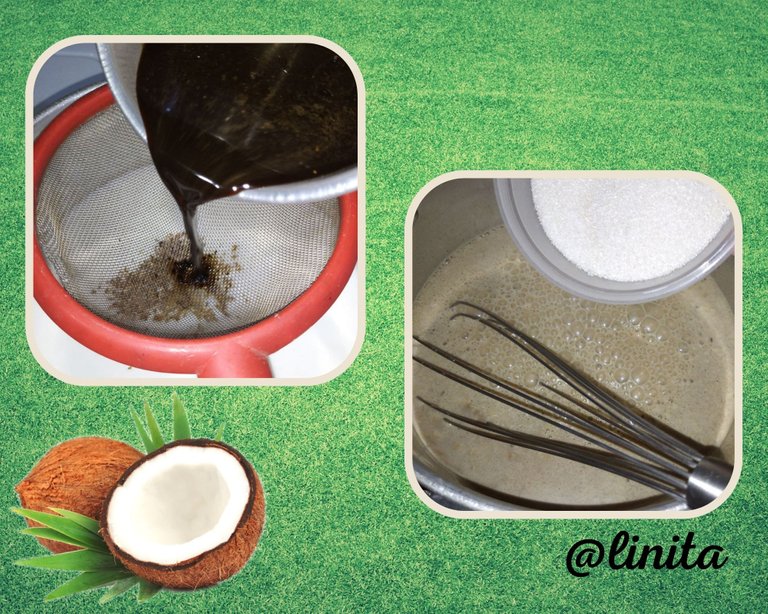 Spanish
Agregamos en papelón disuelto, pasándolo por un cernidor para eliminar posibles residuos y mezclamos con un batidor de mano o paleta.
Luego agregamos el azúcar y removemos.
English
We add in dissolved paper, passing it through a sieve to eliminate possible residues and mix with a hand mixer or paddle.
Then we add the sugar and stir.
---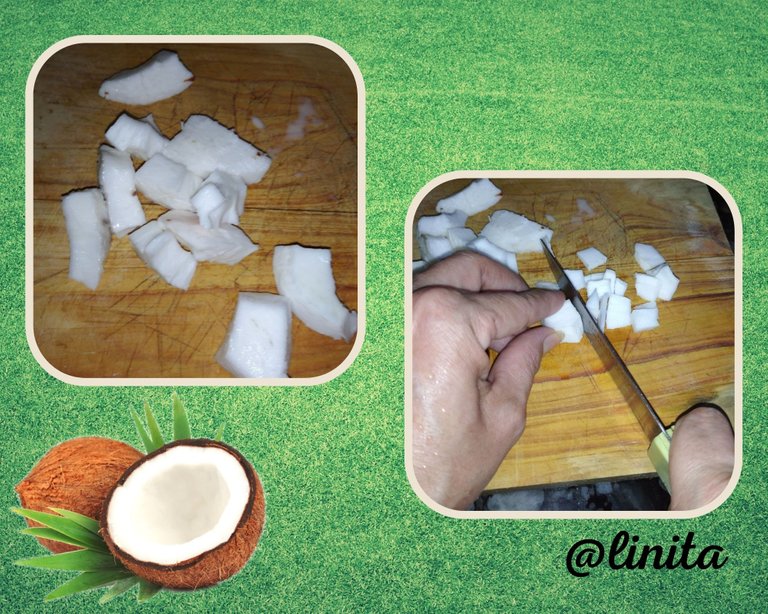 Spanish
Mientras hierve la leche de coco con los demás ingredientes, procedemos a picar el resto del coco en trocitos pequeños.
English
While the coconut milk boils with the other ingredients, we proceed to chop the rest of the coconut into small pieces.
---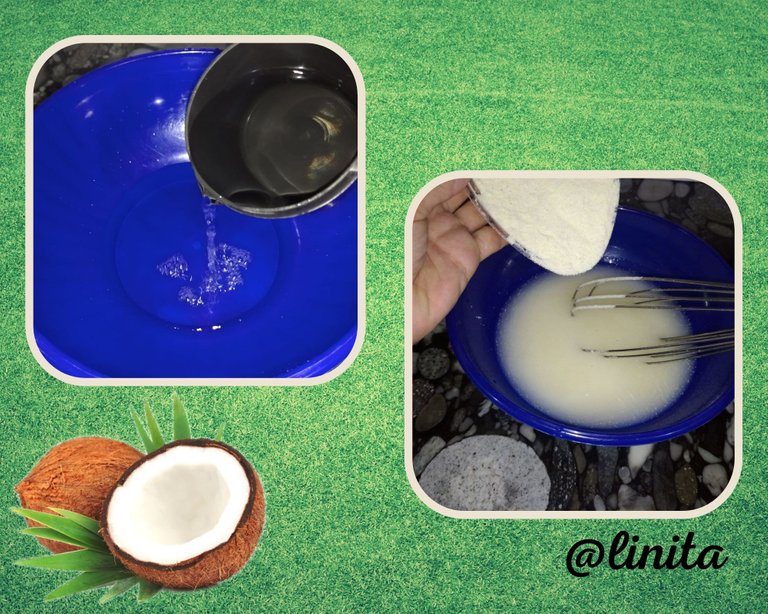 Spanish
En un tazón con dos tazas de agua disolvemos la harina de maíz precocida. Este proceso nos permitirá evitar que de formen grumos cuando vertamos en la leche. Puede realizarse directamente pero debe mezclar
muy rápido e ir agregando la harina poco a poco.
English
In a bowl with two cups of water we dissolve the precooked corn flour. This process will allow us to avoid lumps from forming when we pour into the milk. It can be done directly but you must mix
very quickly and add the flour little by little.
---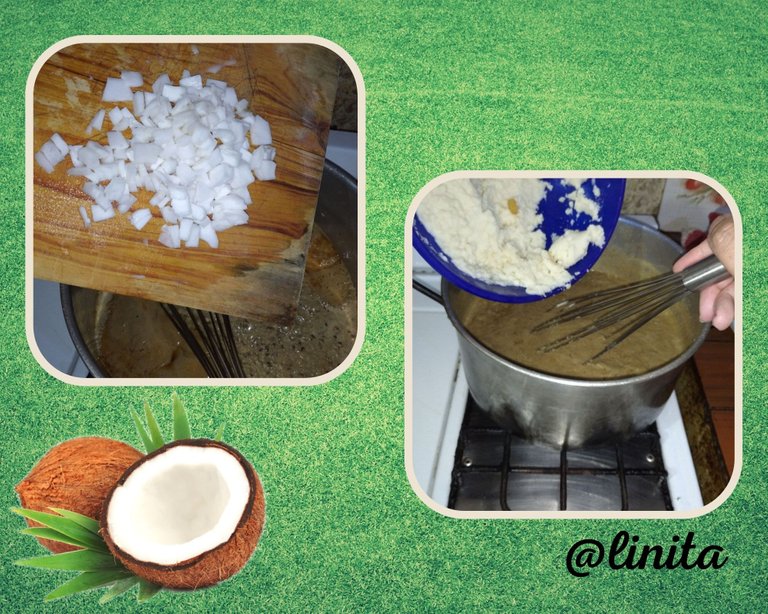 Spanish
Cuando rompa el hervor, colocamos la llama a fuego bajo y agregamos los trocitos de coco y la harina previamente disuelta en porciones medianas y mezclamos
English
When it breaks the boil, we place the flame over low heat and add the coconut pieces and the previously dissolved flour in medium portions and mix.
---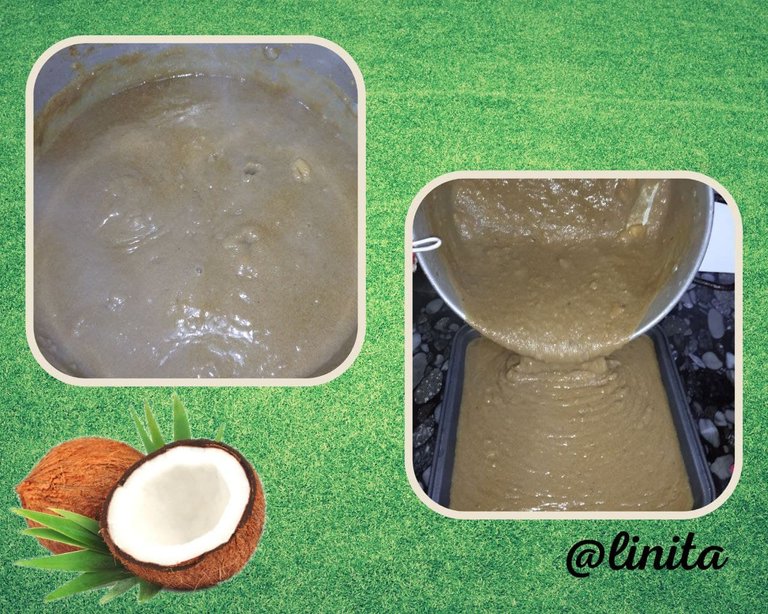 Spanish
Sabremos el punto exacto cuando veamos que se rompan burbujas o se despegue de las orilla de la cacerola.
Apagamos y vertemos en una bandeja y dejamos enfriar para que se endurezca. Refrigeramos y listo para comer.
English
We turn off and pour into a tray and let it cool to harden. Refrigerate and ready to eat.
---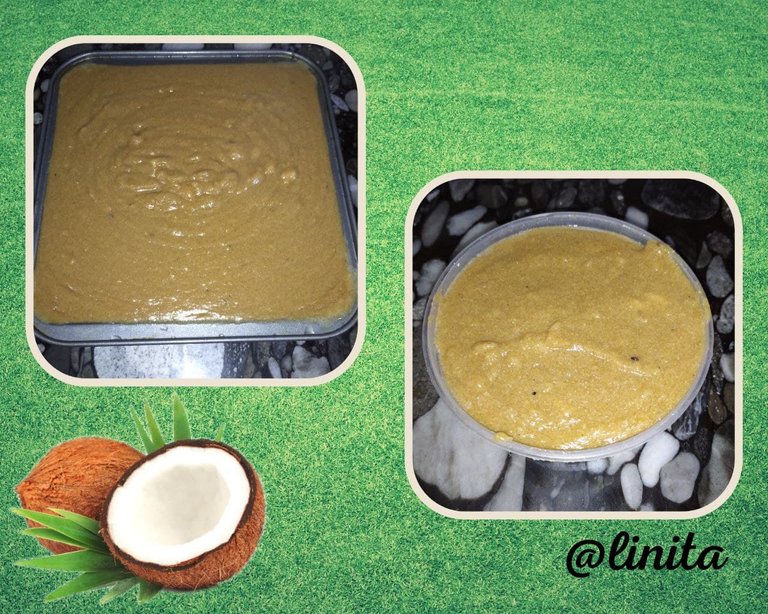 Spanish
Podemos desmoldarlo y rociarle canela en polvo o picamos en ración para servir, como sea más de su agrado. Este manjar se puede comer bien sea frío o a temperatura ambiente. Esto es todo mis estimados. Espero les haya gustado. Nos vemos en la próxima entrega.
English
We can unmold it and sprinkle it with cinnamon powder or chop it in portion to serve, whatever you like. This delicacy can be eaten either cold or at room temperature. This is all my estimates. I hope you liked it. See you in the next installment.
---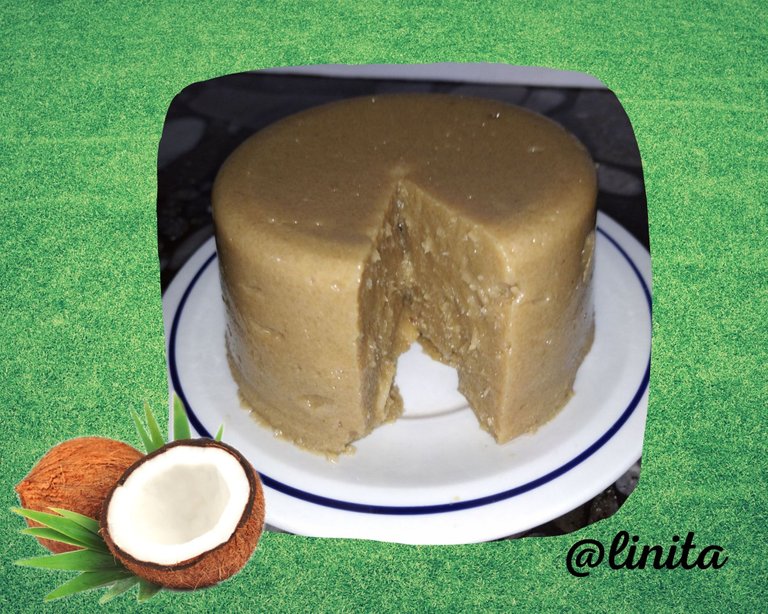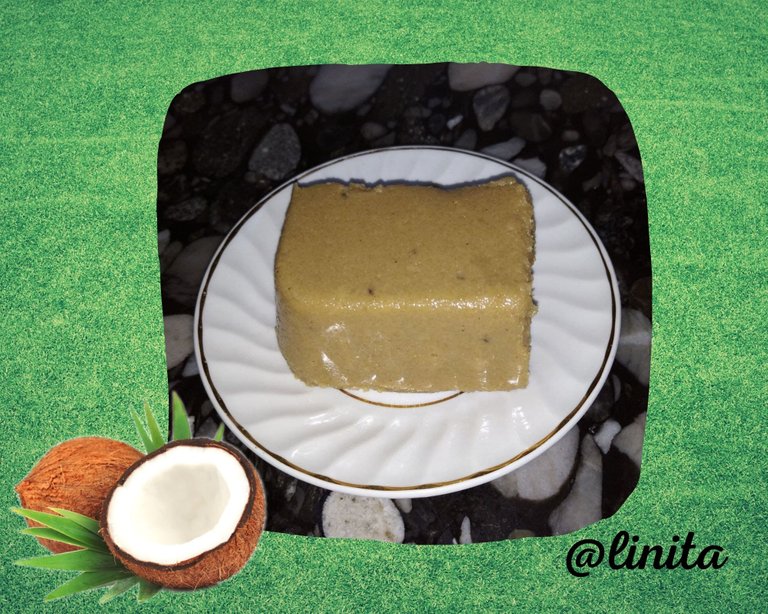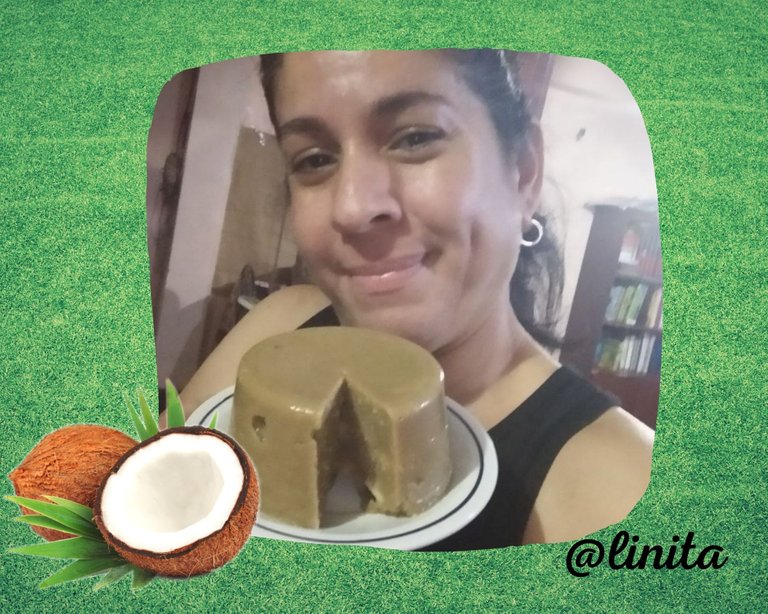 ---
---