I just crumbled one of these babies on my morning buckwheat bowl, and I'm not complaining. I hope I'm not the only one who adorns their morning bowls with "the works" (raise your hand if you go through an impressive/disturbing amount of almond butter every week!). I get in breakfast ruts, making the same thing every morning for months on end. I'm type-A. I like routine. This is how I stay productive -by "routinizing routine."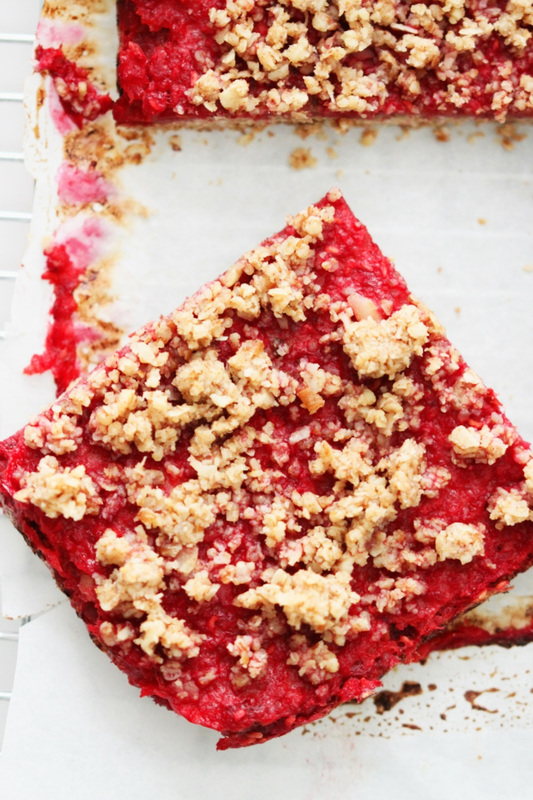 I wasn't going to crumble one of these squares on my morning buckwheat bowl, but I did. I broke my routinizing routine ethos, and went against the grain. It was breakfast liberation. It was delicious. It was pie for breakfast. And you know what? It sparked my creativity and helped me come up with some new ideas for future blog posts. Routine is good, "boring is productive," but food should be anything but. I encourage you to break free of your food ruts, make these Raspberry Pie Squares, and load up your plate with exciting new decisions -with a side of kale.
Vegan Raspberry Pie
Ingredients:
Bottom layer
1/3 cup pecans
½ cup raw buckwheat groats
1 cup gluten-free rolled oats
1 tsp cinnamon
¼ tsp sea salt
¼ cup pure maple syrup or agave
1 tbsp coconut oil
Raspberry middle layer
1 apple, cored, peel left intact, cut into chunks
1 cup raspberries
2 tsp lemon juice
Top layer
3 tbsp pecans
1/3 cup gluten-free rolled oats
¼ tsp cinnamon
1 tbsp coconut oil pinch of sea salt
Instructions:
To prepare the bottom layer: Preheat oven to 350°F. Line an 8x8 square baking pan with parchment paper, leaving some overhang for easy removal. In a food processor, combine pecans, buckwheat, oats, cinnamon, and sea salt until a coarse flour is formed. Add in maple syrup and coconut oil and pulse until fully combined. With slightly wet hands, press mixture evenly into the bottom of the square pan.
To prepare the top layer: In a food processor, pulse all ingredients until a coarse meal is formed. Set aside.
To prepare raspberry middle layer: In a food processor, puree all ingredients until smooth, stopping to scrape down the sides once or twice. Spread mixture evenly over bottom layer.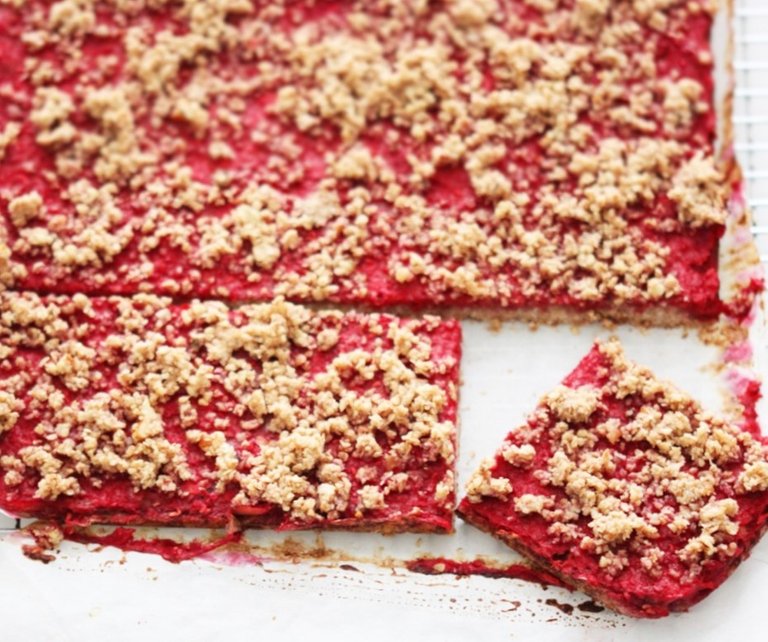 Crumble the reserved top layer evenly over the raspberry middle layer. Bake for 25 min. until lightly browned. Remove from oven and cool completely in pan. Using the parchment overhang, remove bars and slice into 9 large squares (or make them smaller). Store in a container in the refrigerator or freezer.