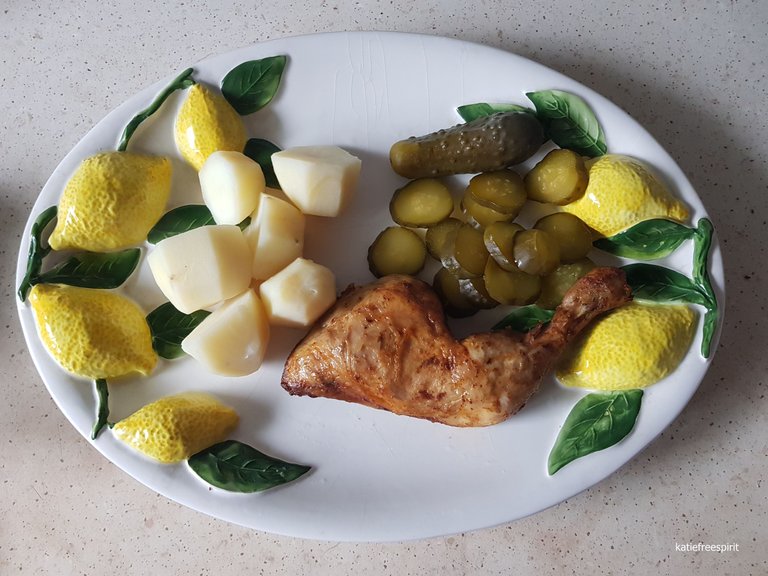 Today I returned to traditional dishes in my menu. I wanted a meat dish with potatoes and something pickled. Pickled cucumber or sauerkraut? For a moment, such a dilemma appeared for me, in the end, I chose a pickled cucumber. I was also tempted by the rotisserie chicken in the store. I remember when I was a child such a chicken was bought at special booths and it was a real delicacy - a chicken with a taste different than the traditional one, and with a delicious, crispy crust. Now you can buy it in supermarkets and serve it with dinner after heating.
Dzisiaj wróciłam w moim jadłospisie do dań tradycyjnych. Miałam ochotę na danie mięsne z ziemniakami i coś kiszonego. Ogórek kiszony, czy kapusta kiszona? Przez chwilę pojawił się u mnie taki dylemat, w końcu wybrałam ogórka. Skusiłam się też w sklepie na kurczaka z rożna. Pamiętam jak w dzieciństwie takiego kurczaka kupowało się w specjalnych budkach i był to prawdziwy rarytas - kurczak o innym smaku niż tradycyjny, a do tego z pyszną, chrupiącą skórką. Teraz można go kupić w supermarketach i po podgrzaniu podać do obiadu.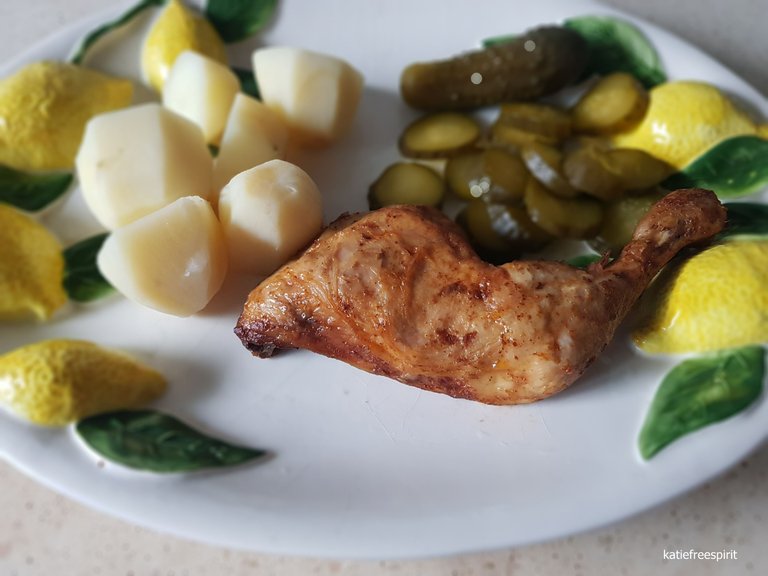 Ingredients:
rotisserie chicken
new potatoes
pickled cucumbers
Składniki:
kurczak z rożna
młode ziemniaki
ogórki kiszone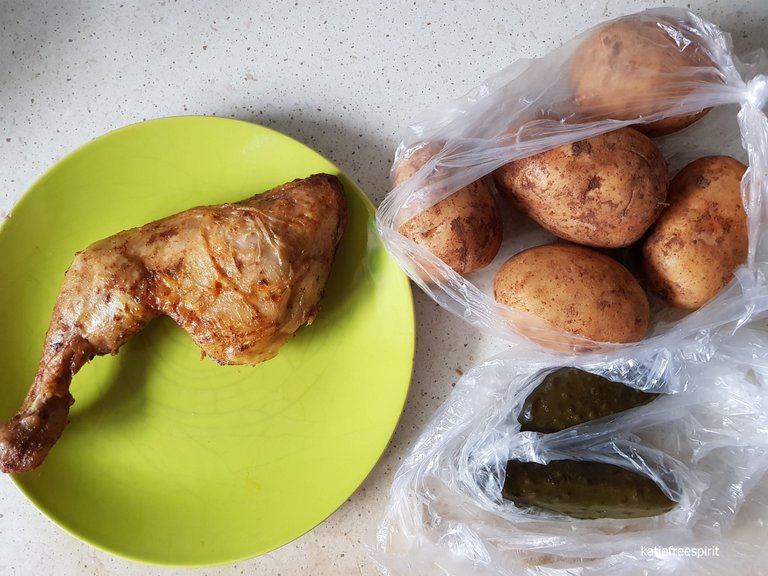 To make this dish, you need to heat the chicken - either in a pan or in the oven, peel and cook the potatoes (I cook them for 25 minutes). You can make pickled cucumber salad with or without side dishes. I just cut the cucumbers into slices. My mother always adds diced onion, some oil, pepper, and salt.
Aby zrobić to danie trzeba podgrzać kurczaka - albo na patelni, albo w piekarniku, obrać i ugotować ziemniaki (ja gotuję je przez 25 minut). Surówkę z ogórków kiszonych można zrobić z dodatkami lub bez. Ja po prostu pokroiłam ogórki na talarki. Moja mama zawsze dodaje pokrojoną w kostkę cebulkę, trochę oleju, pieprz i sól.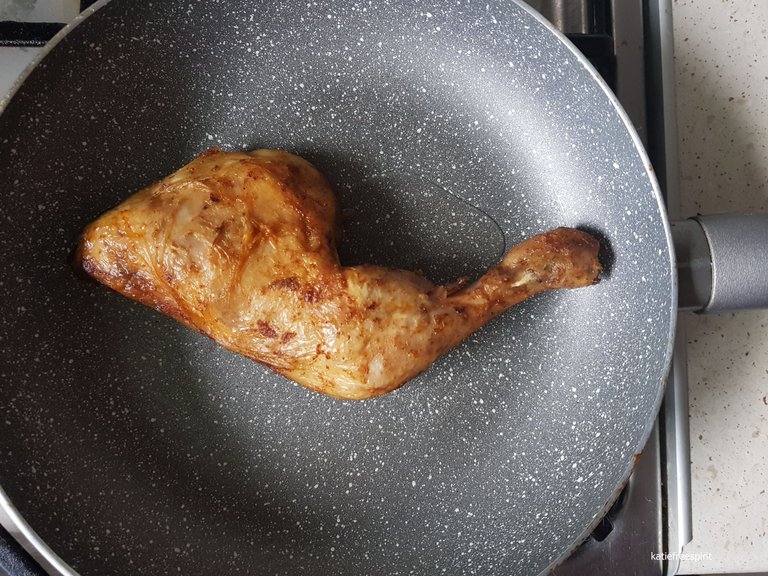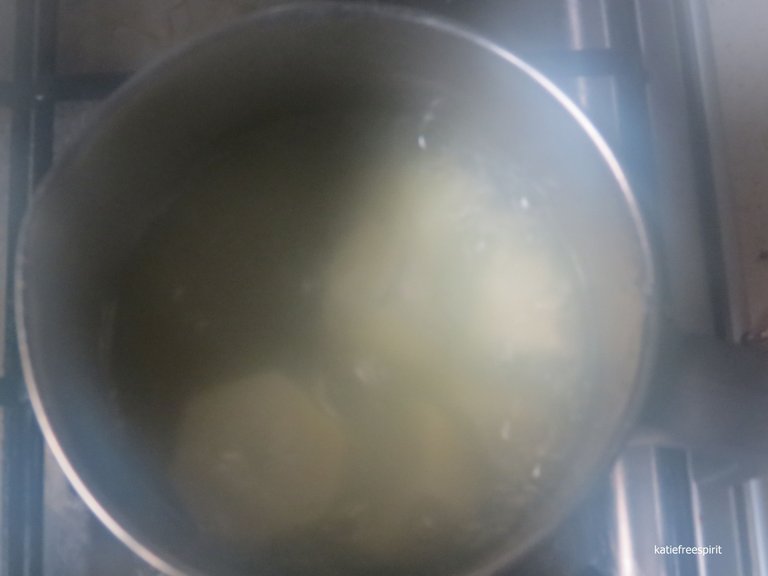 This is what the finished dish looks like. Potatoes can be cut into pieces or crushed.
Tak wygląda gotowe danie. Ziemniaki można pokroić na kawałki, albo je rozgnieść.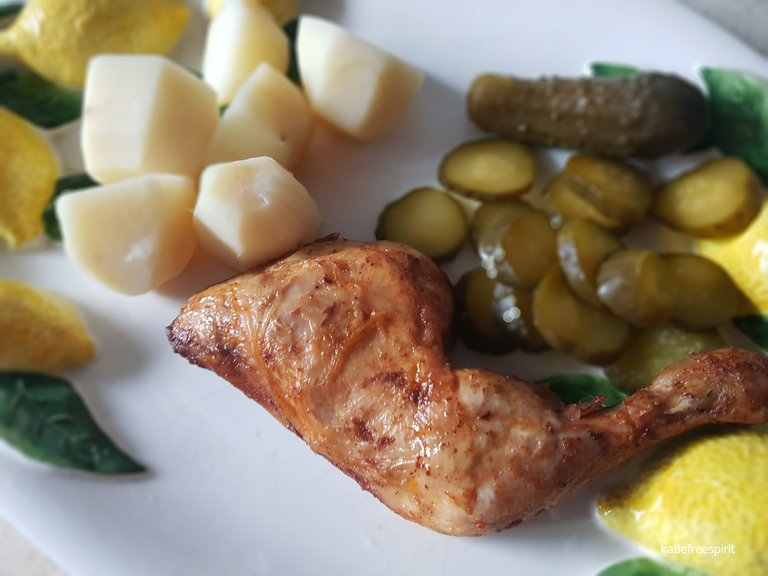 Enjoy your meal!
Smacznego!