There's nothing like having dinner at your mom's. My mother makes the best duck in the world ;) It is perfectly seared and seasoned. So far, I have not managed to make a similarly delicious one, but it may be a matter of time until the student surpasses the master... we will see. Today I will write to you how to make such a duck with delicious toppings - my favorite baked apples, potatoes, and carrot, and apple salad.
Nie ma to jak obiad u mamy. Moja mama robi najlepszą kaczkę na świecie :) Jest idealnie przypieczona i doprawiona. Mi jak dotychczas nie udało się zrobić podobnie pysznej, ale może to kwestia czasu, aż uczeń prześcignie mistrza... zobaczymy. Napiszę wam dzisiaj jak zrobić taką kaczkę z pysznymi dodatkami - moimi ulubionymi pieczonymi jabłkami, ziemniakami i surówką z marchwi i jabłek.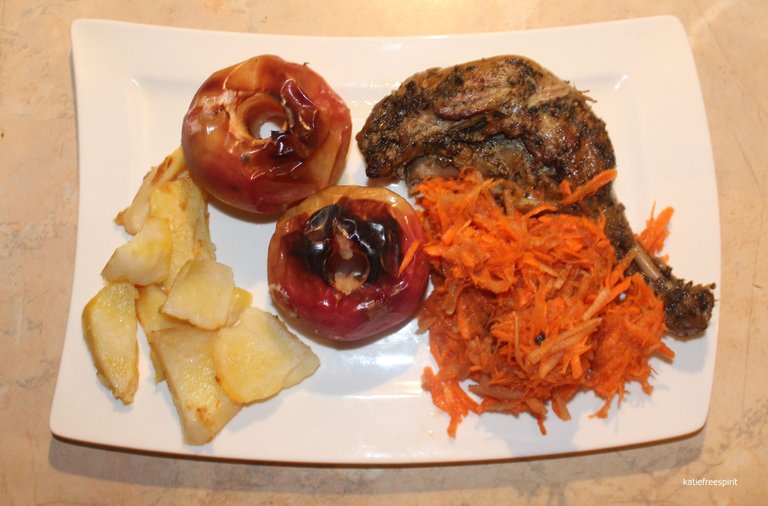 Ingredients:
duck legs
apples
carrot
potatoes
salt and pepper, spices
Składniki:
udka z kaczki
jabłka
marchew
ziemniaki
sól i pieprz, przyprawy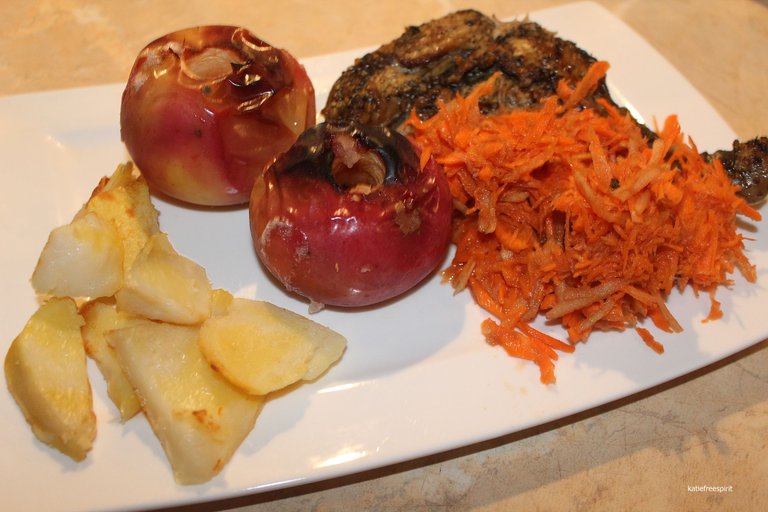 Marinate the duck legs in salt and pepper, and in your favorite spices. I saw a nice mix of spices for the duck which included savory, dill, marjoram, sweet pepper, and garlic. Some people find that duck tastes great when baked with rosemary sprigs. Place the duck's thighs and apples in an ovenproof dish and bake for 75 minutes at 180 degrees. Ps. This is not the duck from my today's tangerine duck post ;)
Udka marynujemy w soli i pieprzu, a także w ulubionych przyprawach. Widziałam fajną mieszankę przypraw do kaczki, która zawierała cząber, koperek, majeranek, słodką paprykę i czosnek. Niektórzy uważają, że kaczka fajnie smakuje, gdy pieczona jest z gałązkami rozmarynu. Udka kaczki i jabłka wkładamy do naczynia żaroodpornego i pieczemy przez 75 minut w 180 stopniach. Ps. To nie jest ta kaczka z mojego dzisiejszego wpisu o kaczce mandarynce ;)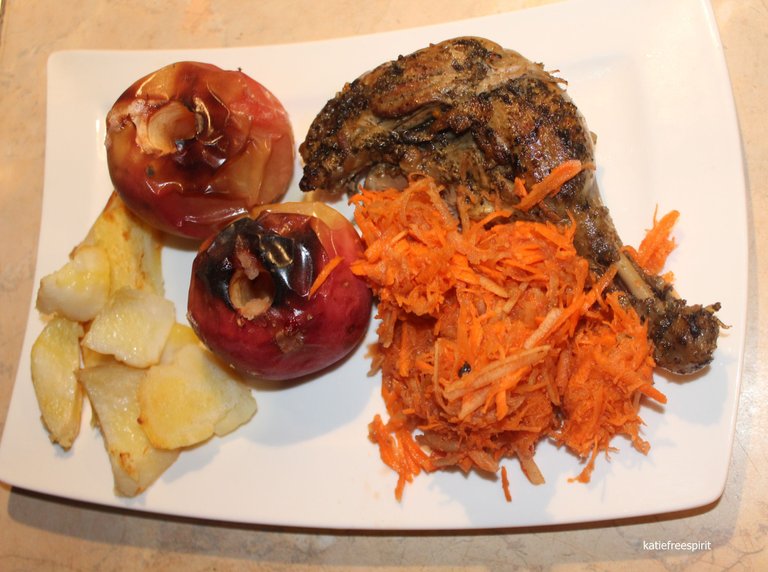 Boil the potatoes for 25 minutes and then fry them for a while in the pan. You can also make baked potatoes by baking them together with the duck and the apple. Make carrot and apple salad by grinding fruit and vegetables on a coarse-mesh grater and then mix them together.
Ziemniaki należy ugotować przez 25 minut, a później przez chwilę podsmażyć na patelni. Można też zrobić pieczone ziemniaki, piekąc je razem z kaczką i jabłkiem. Za to surówkę z marchwi i jabłek robimy ścierając owoce i warzywa na tarce o grubych oczkach i następnie mieszając je ze sobą.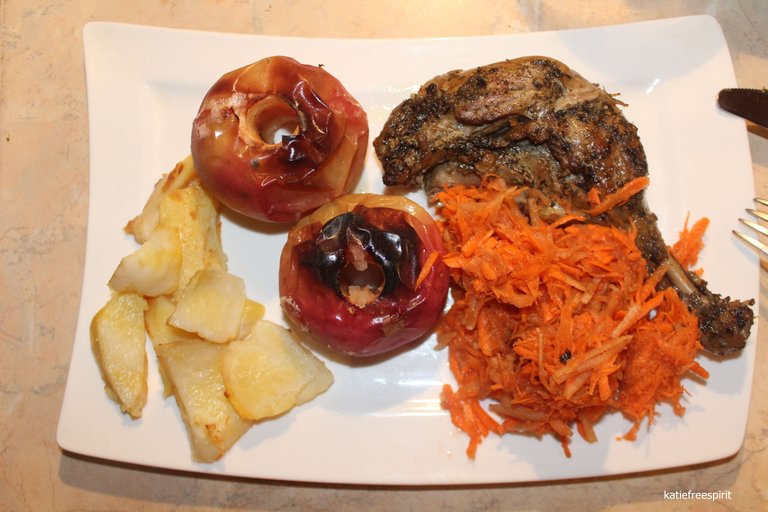 Enjoy your meal!
Smacznego!