Mama-Splatts picked up this bright pink Yellow Fin Tuna at the store a while ago. I am glad it was vacuum sealed because it was that long ago. Now we aren't talking pink like salmon pink... No pink as in Bright PINK Here I am taking about how pink that tuna is and I don't even have a dang photo!! Wow, sometimes I amaze myself... But honestly it almost looked fake. I have only ever had tuna in a can. It's white, not pink?!?! You know tuna as in fish sandwiches, tuna melts, tuna salad, tuna casserole... dang I sound like Bubba from Forest Gump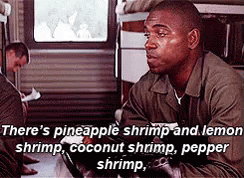 source
So let's just see how Smokin this Tuna is gonna turn out shall we??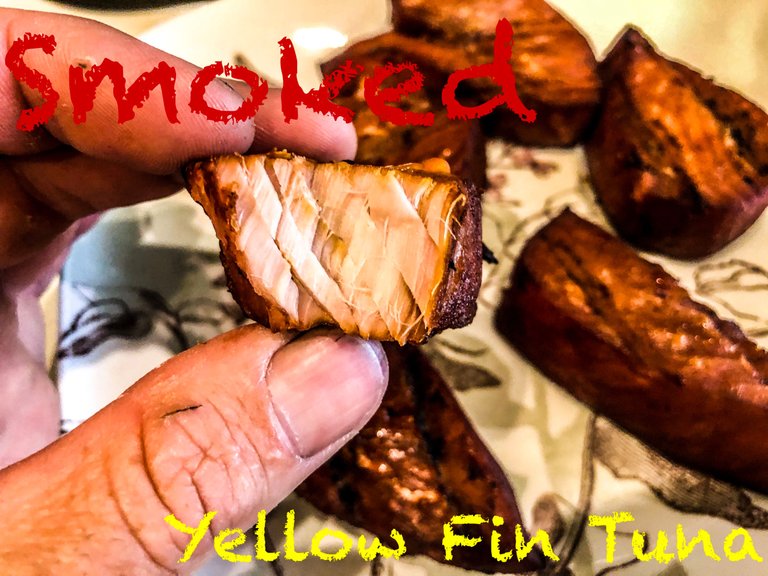 First thing is grab your favorite marinade or bbq sauce. I chose this Smokey Apple BBQ sauce I found the other day. I have never had it before and to be honest, it just looked tasty. Remember if you are using BBQ sauce as a marinade, thin it out a little bit with water or some sort of juice if you want it a little sweeter. I opened the bottle of this and gave it a taste and ummm ya, I am gonna be buying the store out of this stuff. Wow it is good!!
"Can I Get a Pallet of this BBQ Sauce Please!"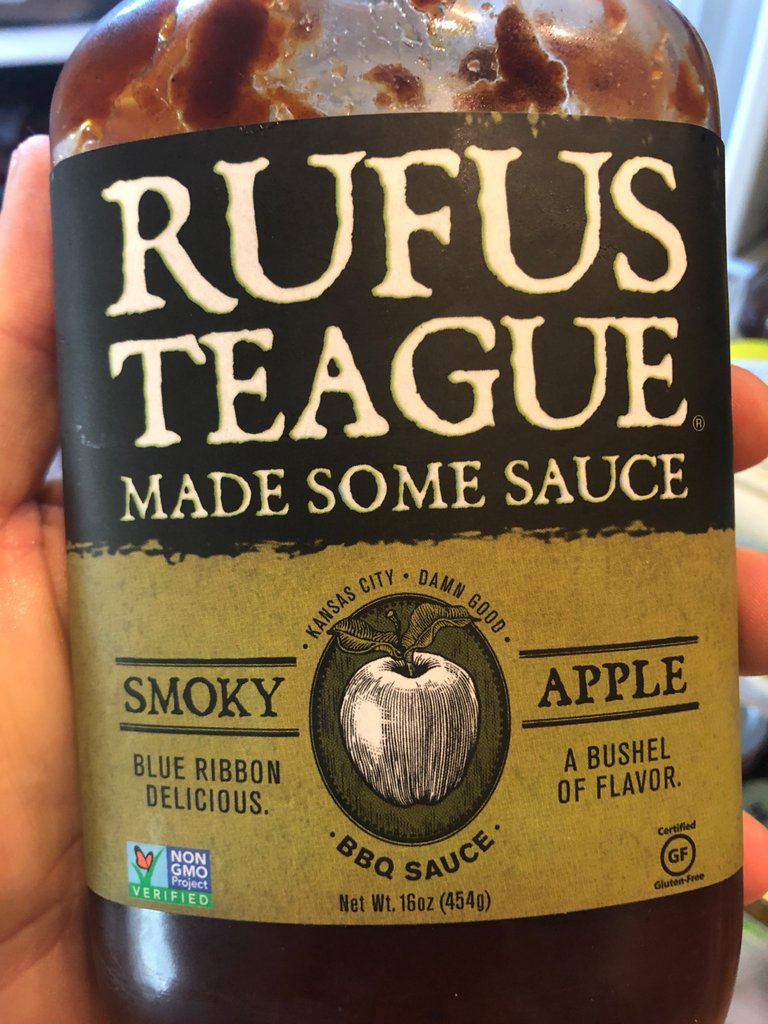 After marinading for a day or so in the fridge, shoot you could do it for just a few hours depending on how much of that flavor you want, heat your smoker up to 180F. Everyone has their way of smoking meats. I have a Green Mountain Pellet grill so I am a bit of a cheater. Just set the temp and let it do the work. Lol.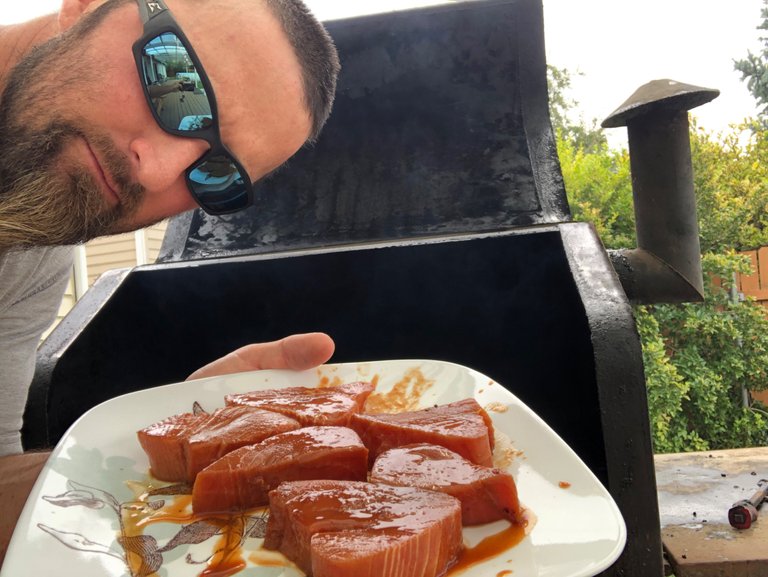 Lay those thick chunks marinaded of tuna out on the grill grate and let them get a nice dose of some smoke.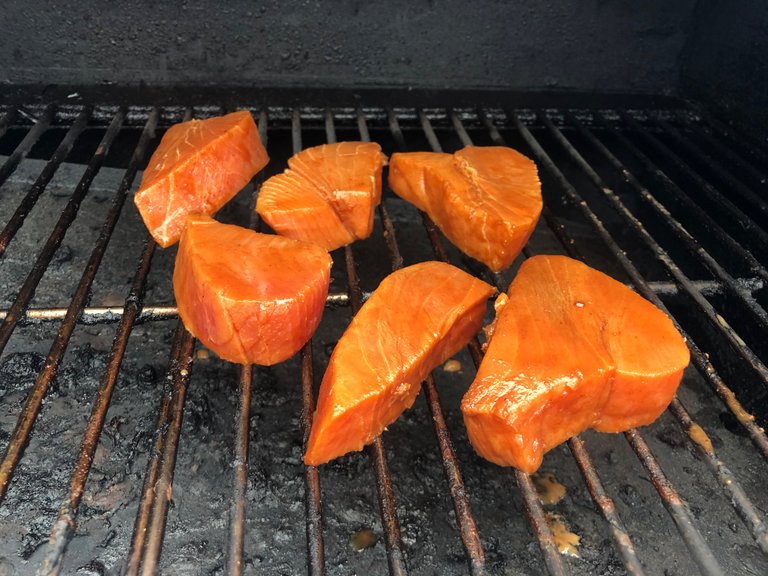 After 1/2 hour rotate them around and give them a flip and give them another 1/2 hour to get some more of that Smokey flavor. I was tempted to just keep smoking it until it was completely done but I chose not to.
After a total of an hour of smoking, turn the temp up to 250F and let them cook until the internal temp is 145F. It takes about another 45 minutes or so depending on how thick and how big the pieces are in general.
Check these out!!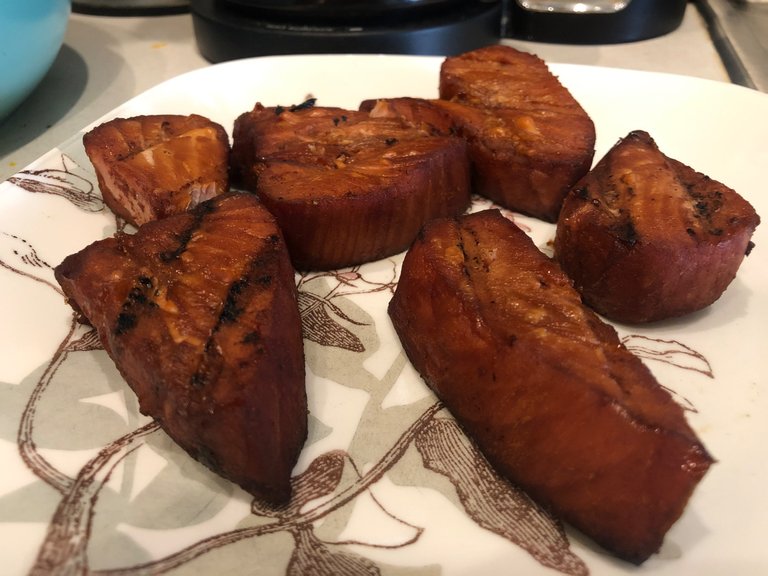 After having a little taste test, of these tasty morsels, they have a candy coating on the outside. WOW Maybe I should have brushed some BBQ sauce on them a couple times while they were cooking at 250F to add to that candy coating even more.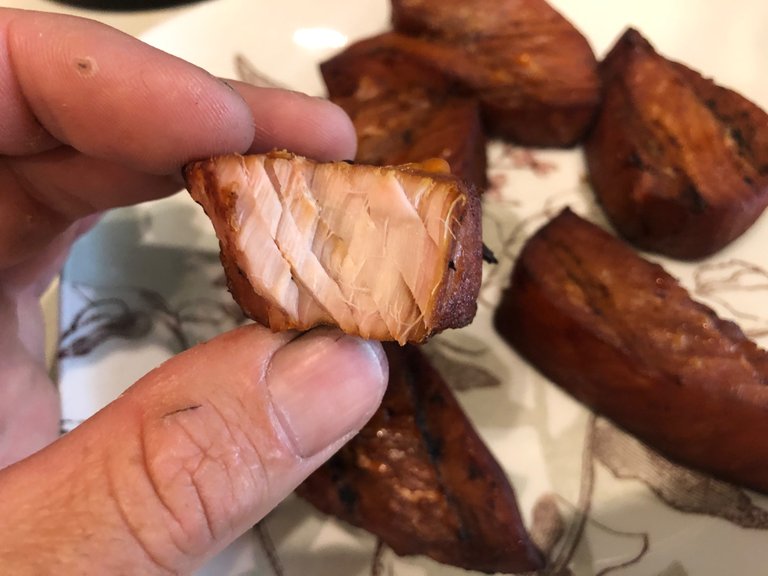 That plate of Smoked Yellow Fin Tuna didn't last long in the Splatts house. Lol. I don't know what went faster, the Smoked Salmon or the Smoked Tuna??? With a big Salmon fishing trip planned for September, maybe I need to talk to my Dad about a fishing trip and load up on some tuna. :wink:wink
Until Next Time...



Hive On
and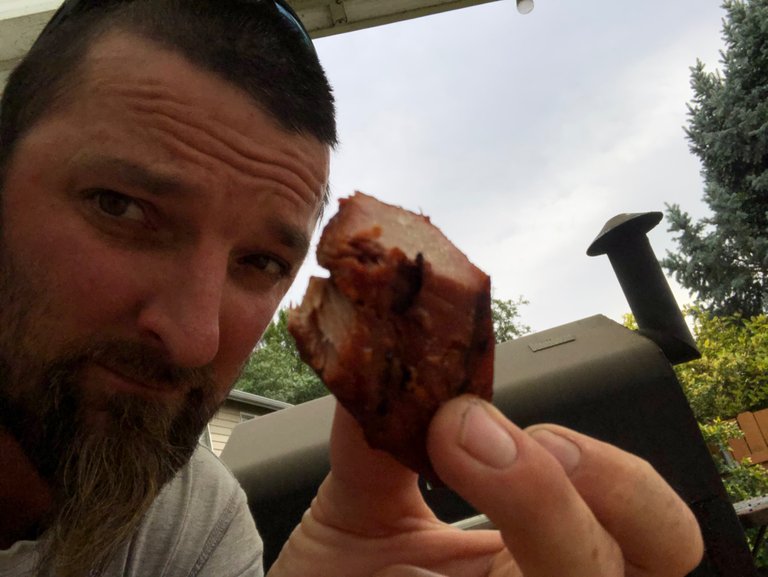 Not too often
You See me
Without a Hat