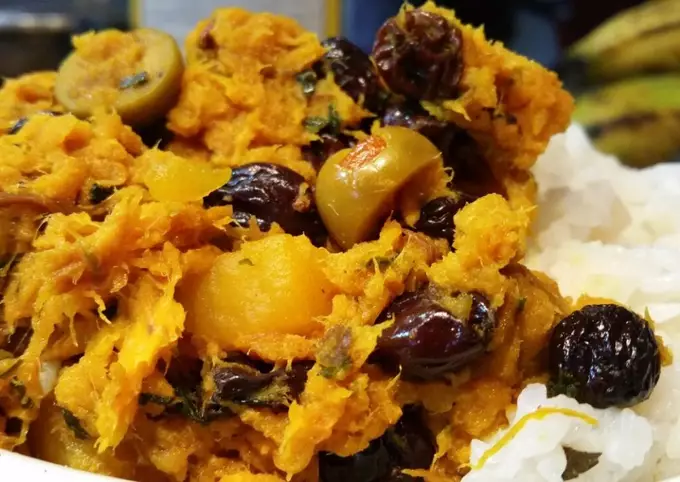 Source: https://cookpad.com/ar/recetas/1966338-mojito-de-pescado-chucho-en-vzla-acompanado-con-arroz-blanco?
The fish mojito is nothing more than white fish meat, the variant that I bring you here is how it is made in Maracaibo, Zulia State, that is why the Maracucho style is the name of the people of this city.
Ingredients:
Fish
oil
garlic
Salt
onion
Sweet pepper
parsley
coconut milk
raisins
olives
capers
potato
color
Pepper
preparation:
Cook the fish for about 20 minutes in water, salt and a piece of onion. Take it out of the water and fry it, it will be easy because it is a very gentle meat and easy to separate.
If you do not have coconut milk, you can scratch a coconut and squeeze the striped pulp to get 1 cup of milk, you can add a little hot water to release the milk until the cup is complete.
In a frying pan, sauté the onion, sweet pepper, garlic and seasonings. Add the fish fry, the potatoes in squares and the coconut milk. Let cook until the potato is soft and add the raisins, chopped olives and capers.
Serve with rice and patacones.
This is my entry to my friend @zord189's Hive Creative Contest
https://hive.blog/hive-120586/@zord189/hive-creative-contest-or-lets-go-fishingcontest-details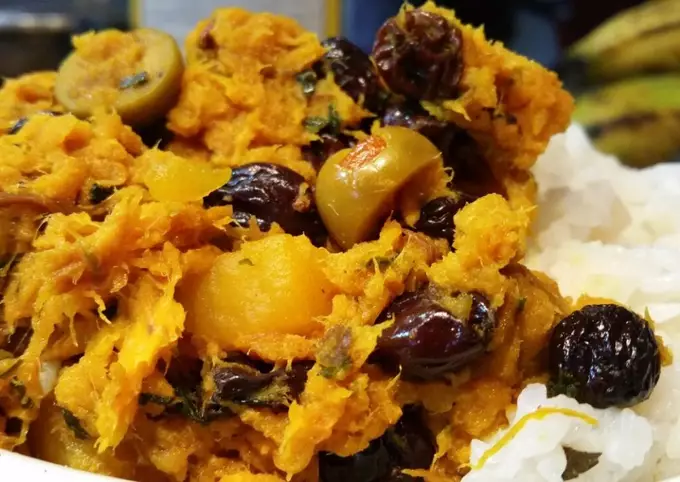 Traducción al Español:
El mojito de pescado no es más que carne de pescado blanco esmechado, la variante que aquí les traigo es como se hace en Maracaibo, Estado Zulia, por eso lo del estilo Maracucho, es el gentilicio de las personas de esta ciudad.
Ingredientes:
Pescado
aceite
ajos
sal
cebolla
ají dulce
perejil
leche de coco
pasitas
aceitunas
alcaparras
papas
color
pimienta
Preparación:
Cocinar el pescado unos 20 minutos en agua, sal y un trozo de cebolla. Sacarlo del agua y esmecharlo, será fácil porque es una carne muy gentil y fácil de separar.
Si no tienes leche de coco, puedes rayar un coco y apretar la pulpa rayada para sacar 1 taza de leche, puedes agregarle un poco de agua caliente para que se suelte la leche hasta completar la taza.
En una sartén sofríe la cebolla, el ají dulce, el ajo y los aliños. Agrega el pescado esmechado, las papas en cuadros y la leche de coco. Dejas cocinar hasta que esté blanda la papa y agregas las pasitas, aceitunas picadas y las alcaparras.
Sirve con arroz y patacones.
Esta es mi entrada al concurso que realiza mi amigo @zord189 en Hive Creative Contest.