It has been a long while since I last participated in this series of Worldsdailyfood Photo Contest, I'm not even sure if this series of challenges is still ongoing or had it died of natural death since the life spend of many of these challenges don't last. Anyhow, here I am feeling rather nostalgic and as I browse through some of the previous templates which I've been keeping for a while - and then I bumped into this! I was rather a great follower and supporter of this series.
So, for today, I decided to share about one of th famous-must eat Vietnamese Street Food - Vietnamese sandwich (Bánh mì)
An equally popular street food as the Rice noodle soup (Phở) is the Bánh Mì, a Viet-style French baguette sandwich which has made a name for itself globally.
The crusty baguette is packed with pickled vegetables, coriander, fresh chilli, cuts of meat – typically pork – and smeared with a coat of pâté. Other toppings can include egg, chicken, meatballs and more. Bánh Mì can easily be found everywhere and anywhere in the streets of Vietnam; enjoyed for any meal in the day or night. Totally affordable from VND15,000 to VND30,000 and extremely filling as well.
The one of the left
That's an empty Bánh Mì which is very common to many. Those who prefer to just chew on an empty bun will opt for this - cost only VND3,000 - VND5,000 each. Sometimes, I'll buy one and make my own sandwich at home. To make sure that it's still crunchy, I'll keep it warm in the oven at 65 degrees for about 5-10 minutes.
The one of the right
This is the real Bánh Mì.. with it's filling. One that I regularly buy from my favourite Bánh Mì shop near my apartment. Cost me only VND20,000 and fills my stomach for a half the day. I would enhanced it further by frying an egg and placing it in between the bread. Since I don't like the cut green chillies that is a condiment to this street snack, I opt for chilli sauce.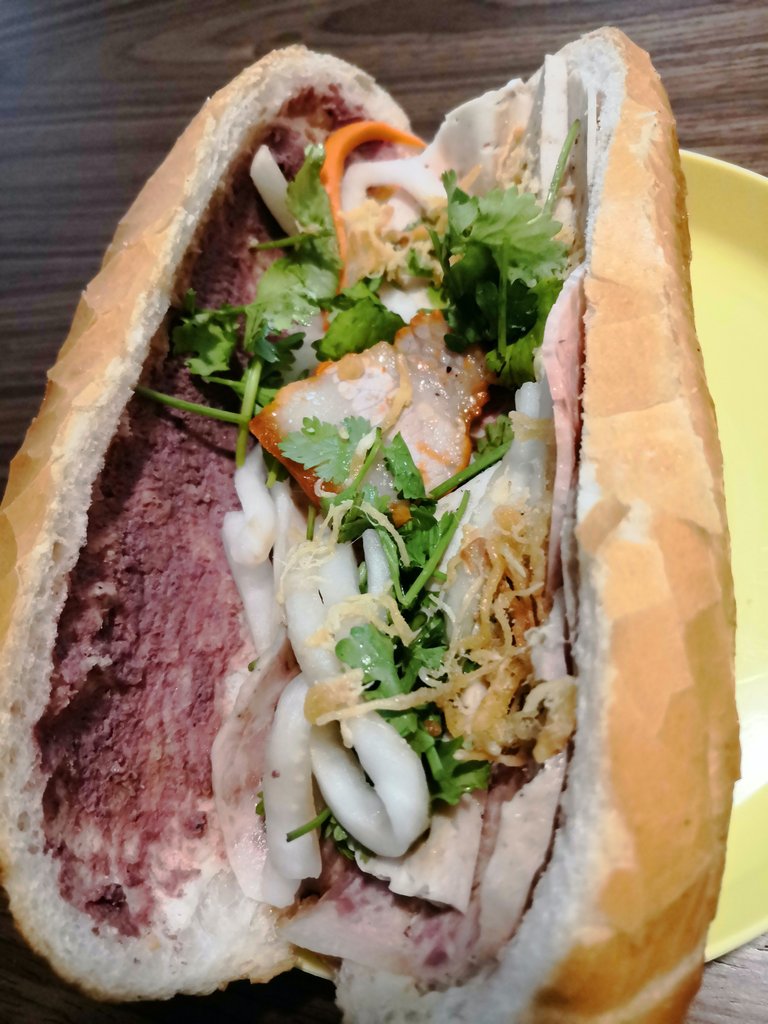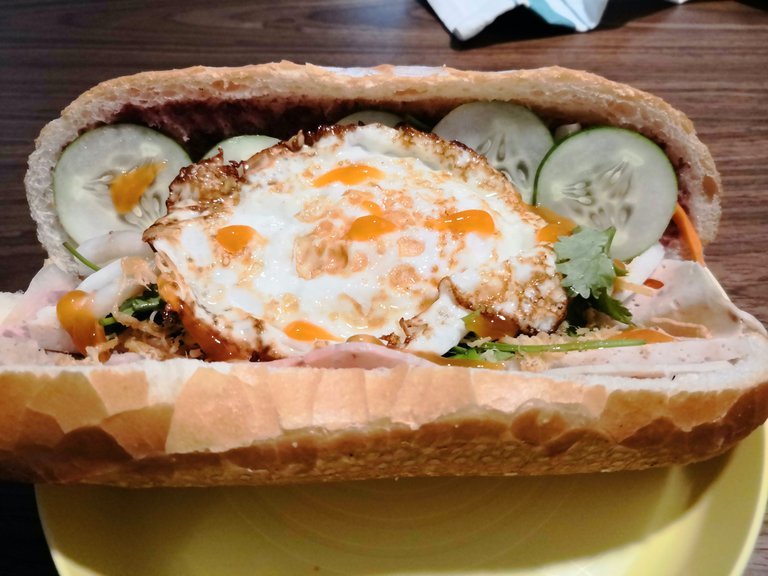 A perfect meal - cheap and filling !
---

I hope you enjoy my photo as it's taken from my Huawei phone.

Thank you @travelsbyblue owner of THE HOME OF @worldsdailyfood for introducing me to this new world.
Join the fun in #worldsdailyfood photo contest:
MONDAY DRINKS
TUESDAY APPETIZERS and/or SOUP
WEDNESDAY MEAT DISHES
THURSDAY SEAFOODS
FRIDAY PIZZA and/or PASTA
SATURDAY SALAD and/or DESSERT
ANYTHING GOES SUNDAY