I've had these photos for a long time but never got around to sharing it; mainly because I wasn't sure what it is really called in Vietnamese until recently. It may not be fully vegan dish since it has a glutinous rice is the main ingredient but this is a nice sweet dessert for the locals. Something filling and pleasant to enjoy plus it can be eaten anytime of the day by both adults & children.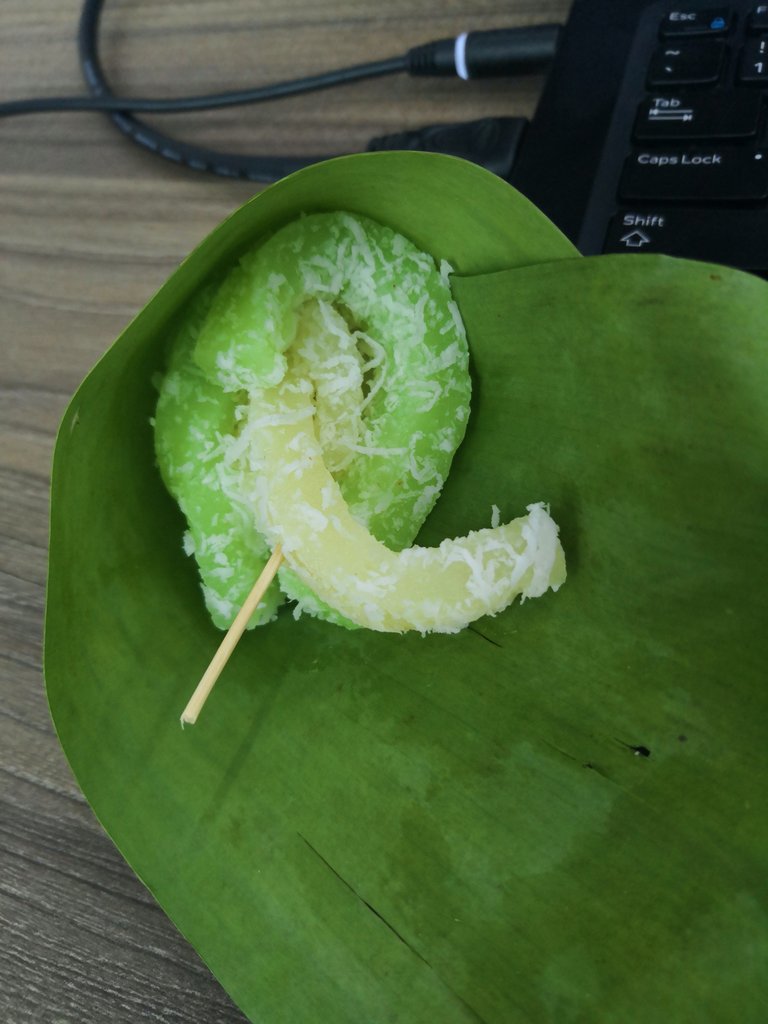 The ingredients:
Glutinous rice - steamed till soft
Shredded coconut flesh
Pandan leaves - chopped and squeezed the juice
Sugar - as sweetener
History
Pandan sticky rice dessert or Xôi Lá Dứa is great blend of sweet, salty, and nutty flavors. The star here is the amazingly aromatic pandan leaves highlighted by sweet coconut brought together by warm sticky rice. The main flavour comes from pandan leaves which is found in many Vietnamese desserts. These leaves have a wonderful & intoxicating aroma.
You can find pandan extract from the local supermarkets but most local wet market sell fresh pandan leaves which is much healthier. Go for darker green leaves since they're more mature and will impart a stronger aroma. The greener leaves will also give more color for the rice to absorb.
Steaming the sticky rice
Choose a steamer with holes small enough so your rice won't fall through. If the holes are too big, just line the steamer tray with loose cloth, such as cheesecloth.
You want to get the steamer on high heat first, so the water hits a boil. Then lower the heat until the water maintains a low boil (and some steam, of course!). I've been told that by auditing a few tablespoons of coconut milk helps to bring the flavour out from the sticky rice and mix better.
Top with freshly grated coconut. Some say that this dessert isn't complete without the sesame topping though I've never tried this combination before.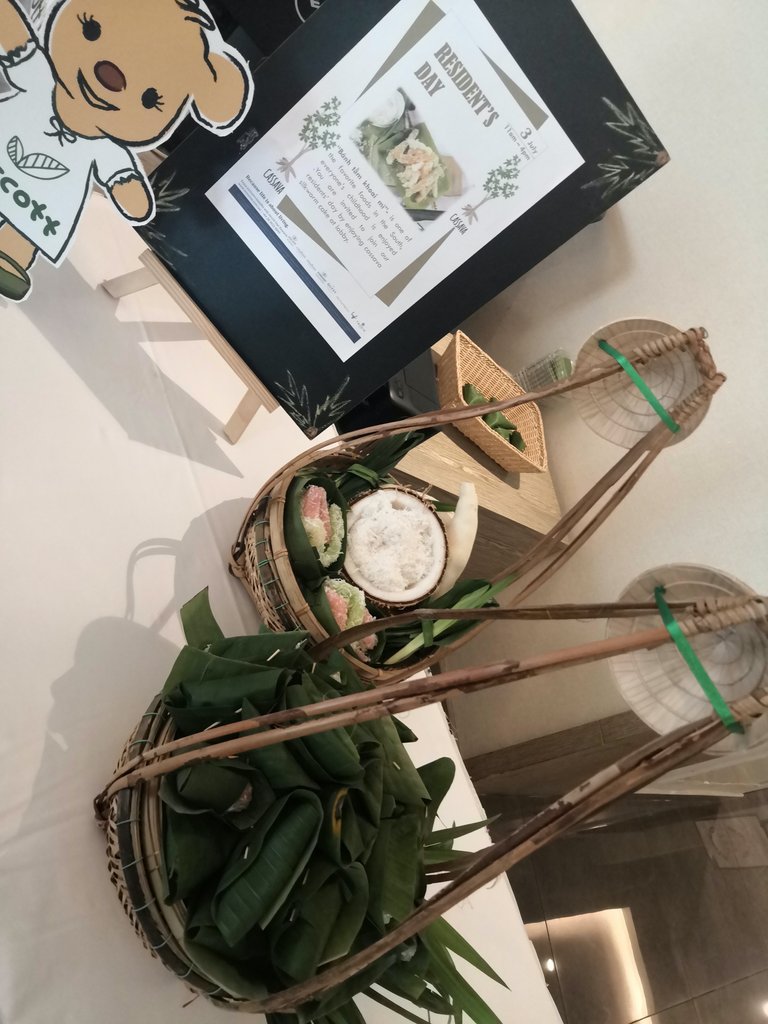 We gave these away to our residents during one of the Resident's Day event. A nice touch of localization and packed in pandan leaf too. Got to say that the bamboo tray is a nice presentation too.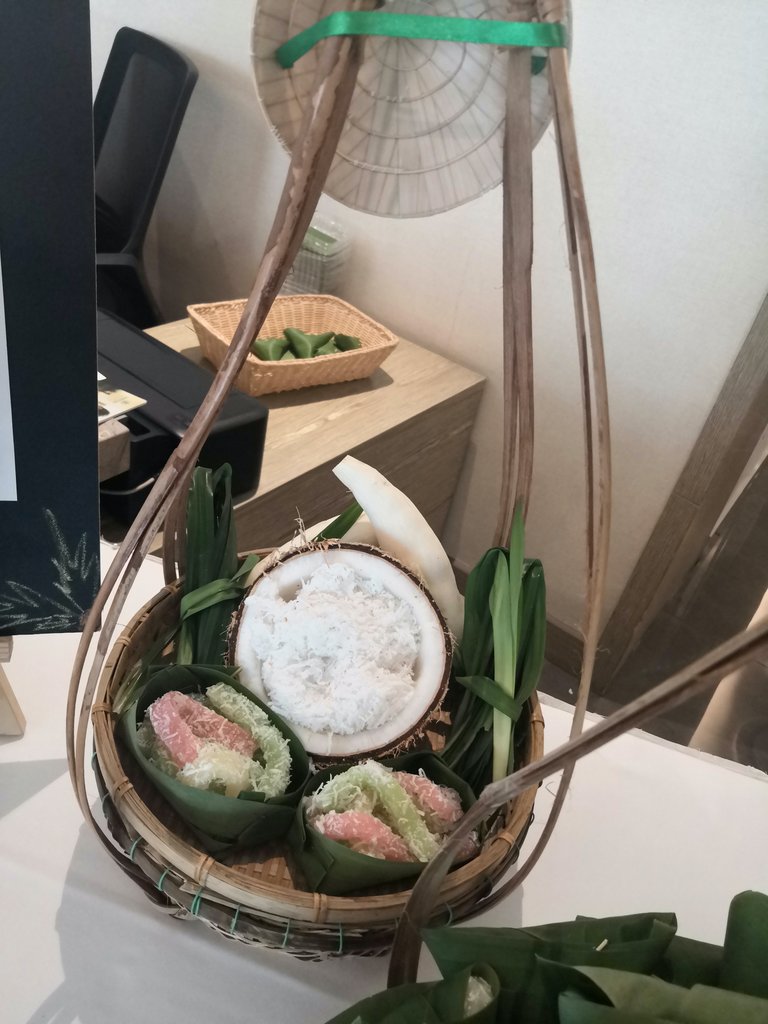 A close up look - isn't this nice..
Okay.. I'll be honest as I'm not sure how vegan this is but since it doesn't have any meat or dairy product in it, I guess it can be considered as a vegan product. What do you think ?
---
I'll definitely share more in my next post. Hope you enjoy my photo taken from my Huawei

Come & join FRUITS & VEGGIES MONDAY by @lenasveganliving
• Take and post at least 3 photos of fruits and vegetables. (It can be variety or just one kind from the garden, supermarket or anywhere you wish, PLANT BASED RECIPES ARE WELCOMED).
• One entry only!!!
• PLEASE MAKE SURE THE ENTRY IS 100% ORIGINAL CONTENT!!! (images and text)
• Text must be at least 100 words.
• Use hashtag #fruitsandveggiesmonday
• Mention the creator @lenasveganliving, the host @plantstoplanks and the title FRUITS AND VEGGIES MONDAY